The BGN News Archive
June 20, 2011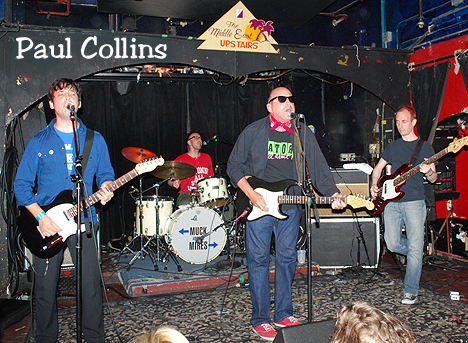 Blowfish went the the Middle East up on Friday to see the pop show there....
I've missed Paul Collins the last few times he came through town because I was...I don't know....stupid?
Muck and Mires set up this gig with Watts , Muck and Paul Collins, a pop heavy line up. I missed Watts which was my loss. I walked in on Muck and the Mires and also a very hot and sweaty room, looks like the Middle East isn't going to turn on the AC again this year. Some of these summer shows are an endurance contest for no good reason.

Muck was in great form. Dave Aranoff seems more comfortable this time around. Evan says they are going to England for their new album. Is that true? In any case the thought of a new album is good news. There is a good crowd and they love Muck and are primed for Collins.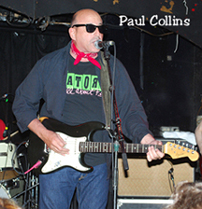 As Collins steps onstage for the set up you can see he's a regular looking guy, not only non-rock looking but actually your uncle Harry at the grill sort of guy. His demeanor is also very avuncular. When he plays it is immediate pop heaven. From the first note to the last Paul, the songs, and the group never flag. The set seemed long, twenty songs? It seemed like it and no clunkers. His songs and playing are at a level he never goes below. The songs are all a simple matter, only a few chords (many just D, G and A) a few leading tones and suspended notes. From that he spins his gold. He just knows how to write those three minute gems and it's as simple as that - as if that's easy.

He featured songs from the beginning with the Nerves (Hanging on the Telephone) right up to his latest The King Of Power Pop and they are all consistently quality pop nuggets. The guy is a treasure. To think he has been doing this from the time that punk started and yet the music is empty of any punk influences. I didn't see one instance of the two note power chord; he plays 6 string folk style chords the way any good garage band would play in the sixties.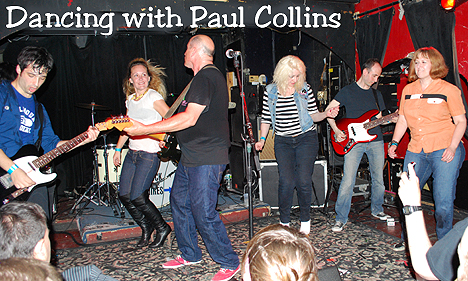 The crowd hung around to the end even in the uncomfortable heat. Nothing will beat seeing this guy live but don't stop from getting The King of Power Pop for a good dose of the timeless pop he creates.
And our roving reprter Michele Meadows went to Jacques in Bay Village to see Jet Set and The Liz Borden Band...she reports that "Jacques basement has been completely revamped...its so nice and clean and new it smells like a little tiny baby's bottom. it felt great in there, its what they should do to the Cantab!
JetSet were a real surpise, they were very moody, dark and almost a little Jazz inspired. They were great! Liz Borden's band was holding on ot he 80's punk feel, her back up band is super strong, especially the drummer! It was areally great night. The thing you want to remember when you go to Jacques is that they have a music curfew of midnight, sop the music stops at 12." Thanks for the report Michele!!
So let's see its still June so there's still events at the ICA: Rock'n'Roll Yard Sale events at The ICA in June!! (click to see specifics ).. Friday, June 24 - Record Sale + DJs + Collectors Spinning Vinyl The Record
And mark your calendars now for the Rock'n'Roll Yard Sale in Union Square Somerville in August on the Sunday, the 21st,
and we have.....
finally, this week: the Del Fuegos reunion at The Paradise to benefit Right Turn; June 23rd with the Nervous Eaters and the 24th with the Lyres.
its a swinging night in the environs of Boston on Saturday June 25th in town it is ROY's BIRTHDAY!!! At The Rosebud with The Rudds, Robin Lane and the Chartbusters, Old Jack and the Ray Mason Band - ya gotta go on down and say hi to Roy...a true scenster who loves our music scene here on Boston!!
And Rich Mirsky has his CD Release party #2 at Club Bohemia on Saturday the25 with Scott Damgaard Band, Richard Mirsky and Heavy Sirip and Red Arlington
Also we got an awesome, practically all day event at The Beachcomber in Quincy is Hotrods & Hooligans- Fisher House Benefit-Greg Burke Memorial Show. A Hotrod Show during the day and a punk rock show at night with The Pug Uglies, Welsh Boys, Dead Friends, Cradle to Grave and Lenny Lashley
Thursday June 30th has Nobunny, Triple Thick and The Tampoffs at Church…
And Friday July 1st It's the Idle Barons Summer Ball!!...The Idle Barons, the world's laziest motorcycle group having their semi-annual Idle Barons Ball a year and a half late. As always a heck of a rockin' soiree and here's the line-up: Dirt Mall, AM Stereo, Jay Allen and The Archcriminals and The Tenafly Vipers...
Friday July 15th is another Fredstock event...more mention of Colo-Rectal Cancer...go out and support this...and hey it's a good show too! Muck and The Mires, The 360s Black Fortress of Opium and Curious Rituals.....
And well worth a mention and a trip out on a Thursday night it's JJ and Thee Cuban Heels with The Weistronauts and Hillbilly Holiday at Church….on July 21st...
Saturday , July 16th there is a great show at The Rosebud with Razors in The Night and Tijuana Sweetheart - yeah!!...

Frank Rowe...crosses the line to 60 in a celebration at The Midway on August 13th Oh its gonna be a excellent evening.....
We are very happy to get the inside scoop from Ralph Fatello about the CARS reunion gig at the House of Blues with some back stage up close photos too. The Cars at the House of Blues
...Email us click click click