The BGN News Archive
June 20,2016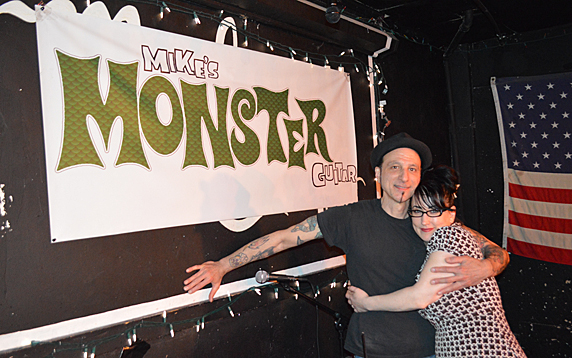 The Monster Mike's Guitar Bash
Photo: Blowfish
Soon after finishing the BGN last Sunday we headed to The Midway for Mike's Monsters Guitar Third Annual Birthday Bash. There was a lot to see at last years show at TT's. And Andy California would also be playing this year and that is always an occasion for who knows what.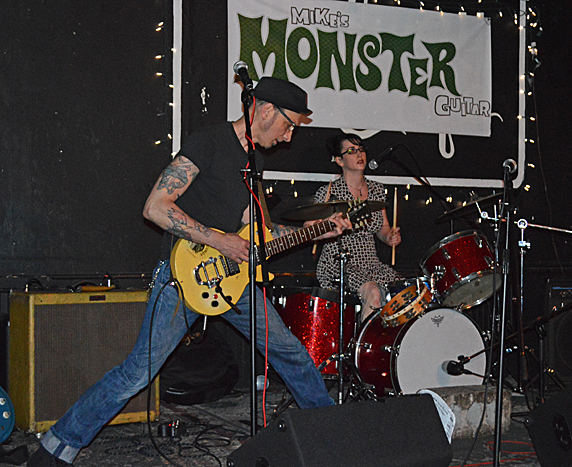 Hambone Skinny
Photo: Blowfish

DDDDDDDDDDDDDD

The line-up was punk and Americana rural and then Axemunkee who do their own thing. We got there just as Skinny Mike was going on with Steph on drums for Hambone Skinny. They bring the sounds of the swamp. It's dirty voodoo blues evoked with lots of slide guitar. They do a version of the "Green Manaleshi" by Fleetwood Mac that is dripping in more mojo magic creepiness than the original. It shows you how much you can do with keeping things bare boned.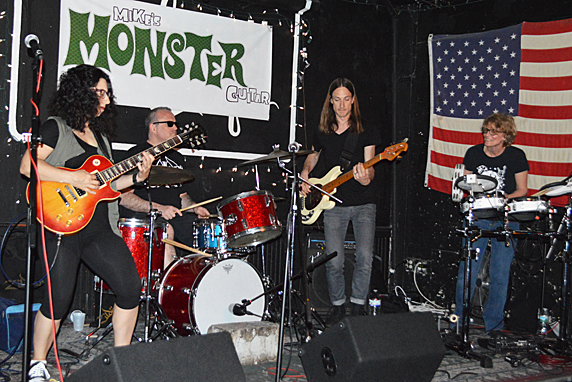 Axemunkee
Photo: Blowfish
That's not the case at all with Axemunkee. At the helm is Catherine Capozzi who famously walked in of the street cold and won a big guitar contest. It takes a while to appreciate what she does because she does many things. She can sound simple and crude like she did with the group Darling Pet Munkee (whose songs were salutes to comic book ads) but then she can play like Django Reinhardt.
The band does a version of "Dark Eyes" and updates it so Django would have raised his eyes. They also crank up "March of the Toreadors" from Carmen.
Capozzi has a million pedals going, wha wha and flanging her way through it all. They also have someone on synth drums and they add a lot to the rhythms and sounds that thicken up the mix. At some points they are in jazz fusion country.
A last minute addition to the Monster Bash is the Guitar Fashion Show which was a brilliant idea and turns out to be a highlight. Mike brought six guitars from his store and they had six musicians 'model' them as Jay Allen gave the commentary, all very funny. The crowd was really into it. The models hammed it up and the guitars were very cool. They're going to double down on this next year and make it even a bigger, more thought out show.
You can see some of those guitars at Mikes gallery on his store site Mike's Monster Guitars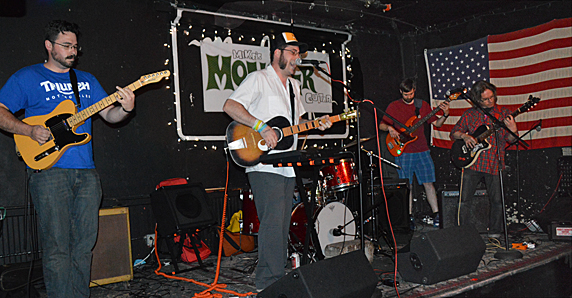 Baluchitherium
Photo: Blowfish
Next up was Baluchitherium, and I'm glad I can write that and not have to pronounce it. They are all members of other bands that got together and play a mishmash of many things. There's that Americana thing most prominent. They come across as low key hicks but actually do some very sophisticated playing. I don't think I understood it all but it was intriguing.
Andy California
Photo: Blowfish
Then all stops for Andy California - that's Andy McBain with a microphone duck taped to his guitar singing blues songs. Not just a joke, he can finger pick some blues! It's that other confrontational thing that makes you laugh. He did some close face singing, Miss Lyn got a little of that, some crotch singing and some on the floor crawling. At one point a couple walked out...and Andy followed them out the door and taunted them and singing the whole time.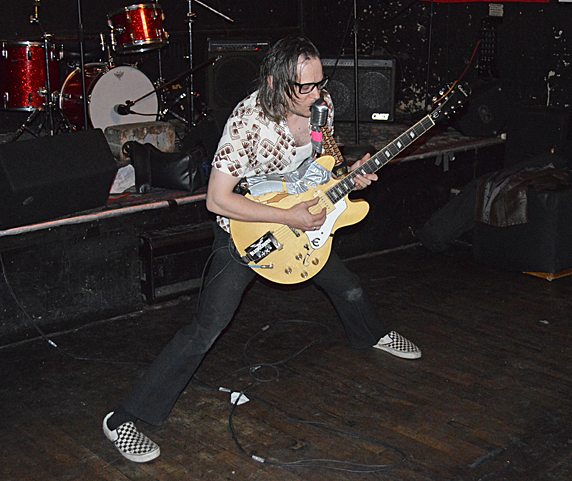 Andy California
Photo: Blowfish
Henry from Ten Dollar Mistake and Shiny Beasts walked on stage mid Andy set to do some simple drumming for a few songs. Andy joined him up there for a song or two. On his last song Andy went through a progression and was at the last note which would resolve the song and he held off for 30 seconds and then…did not play the note. He walked away leaving with that feeling of something not complete. That's our guy. We love him!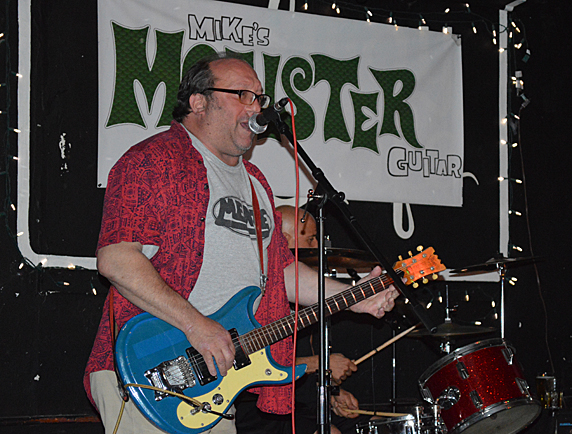 Jay Allen
Photo: Blowfish
Then it was the headliner Jay Allen and the Archcriminals a suitable topper to the motley bill. Jay has the smartest dumb songs of anyone we know. "Bustin My Balls", "Toaster Oven", "Twist My Nuts" are song titles that should be dismissed at the mere mention but no, they turn out to be worthy tales of woe from your ordinary Joe Punk. Jay has great taste in punk songs and comes up with covers you sometimes don't know as covers. One of those is (I Feel Like) Gerry Cheevers from Chixdiggit a Canadian group
It was a lot of music and still only 8 pm. Not to forget Monster Mikes Guitar store and its conveniently located just outside of Central Square on Mass Ave and offers other gear, and repairs...and Catherine Capozzi teaches guitar lessons there too!
Binky
Photo: Blowfish
We totally blew it on Saturday. It looked like a great show at PA's Lounge. We checked out two groups Binky and The Bookhouse Boys. Binky were crazy carnival/metal. That was borne out by their video. The Bookhouse Boys had a dark brooding thing going on a la Nick Cave again the video seemed intriguing. Or so we thought......the problem those weren't the groups we actually playing at PA's! Those groups (in the video links above) are from San Francisco and London.....the groups actually playing at PA's were from Milton and Ashburnham, MA.
Binky did some smoldering psych that erupted now and then. It sounded very good on an early Saturday. Their Bandcamp offerings don't capture the psychedelic effects we heard.
Punk Rock Sommelier Presents.....

| | |
| --- | --- |
| | |

Bummed out by the major screw up...we headed to Jerry's Liquors next door, as we left mid-set, looking for other entertainment options. There it was: Raw Power, a Australian Shiraz. This is a single vineyard red and the label has a whole story about an Australian Punk called Rawley Power who was frontman for a band called Anti-Power back in the day who has turned to the business of making wine. The label has a list of Anti-Power "songs" like Holiday in Angle Vale, Anarchy in the SA, Vineyard Calling and I Wanna Be Macerated. Any good? It's dark and there's berry notes and some spice and just a touch of oak. One review says "this wine's a sheila mate". Read another here.


Last week...well just because....we tried another wine we had to grab off the shelf because of the label- DMZ!!! This is a Cabernet Rose from South Africa. The fruit for DMZ Cabernet Rosé is selected from premium trellised vineyards located in cooler areas of the South Africa's Western Cape characterized by well-drained soils of weathered granite. And check this out: The grapes were handpicked at between 21 and 22.5 brix, de-stemmed and lightly crushed. The juice was left in contact with the skins for about three hours, until a soft pink hue was attained. The must was settled overnight, then cooled and fermented in tank to maintain a fresh fruit profile. It was lightly fined and filtered before bottling. And all that work made for a nice, not too sweet but juicy quaff that was very pretty to look at too!!
The North Shore scored another cool gig at the Spotlight on Saturday. If we could get the car to go that far we should have been there. Arthur Freedman was there though. He caught the whole night. He caught Terry Brenner and his dancing shoes too.
The Spotlight in Beverly



Nervous Eaters
Photo: Arthur Freedman




Nervous Eaters
Photo: Arthur Freedman




The Darlings
Photo: Arthur Freedman




The Darlings
Photo: Arthur Freedman




Corolla DeVille
Photo: Arthur Freedman




Corolla DeVille
Photo: Arthur Freedman
We put in John Keeganís page on Cock Sparrer and Cherie Currie late in the week, so we are posting that for those who might have missed it. His next installment this week is on King Khan and the Shrines and Giorgio Murderer who played the Sinclair. See the links below.
And in other news
In the crowd at the Monster Guitar Party were Justine Covault and Steve Prygoda....both working on new bands!! Justine's got Justine and the Total Bastards featuring Judd Williams, Charles Hansen and Carl Biancucci! They'll debut at the Midway on July 15th. Steve P has The Cold Expectations which will feature Jo Ellen from WMFO on bass. Can't wait to hear them!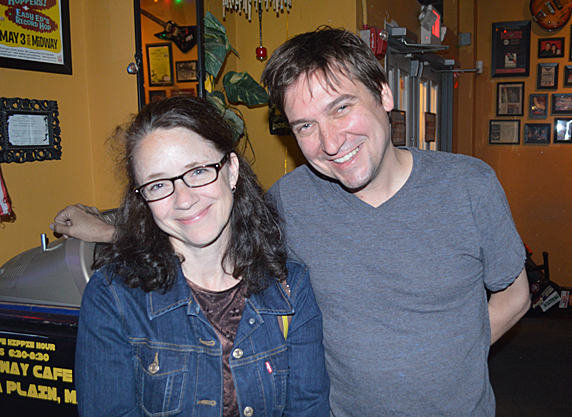 JoEllen and Steve Prygoda
Photo: Blowfish
*********************************************************************
We also want to mention a very worthy cause that we hope everyone will donate to...every bit helps here!! Long long long time Punk Rocker Sonny Vincent's family were in a terrible and tragic fire that badly burned Sonny's son, daughter in law and grandson. it's really bad. Sonny has been a dedicated and talented punk rocker from day one and has lived the life all these years. We've seen him when he's come to Boston and Providence - he's given us amazing shows...its time like these though when we hope the Punk Rock Community will come together to support a fine person and musician like Sonny whose life has been drastically altered because of this horrific and tragic event.
Please visit Sonny's Go Fun Me page and help out.
*********************************************************************
Reminder- Jan Crocker has Boston Flashpoint and it is a great concept. Photos from the old days along with video interviews of musicians and scenesters who were there at the time. Right now there's a lot of pics and remembrances of The Underground by the likes of Clint Connolly, Jim Sullivan, Jan, Eric Martin, Peter Dayton and a host of others. The great thing about this site is anyone can contribute so it will grow and change as time goes on. There's a punk timeline of events, there's videos of bands, and tons more stuff. Check it out Boston Flashpoint Music & Arts Explosion from 1978 to 1982.
Here's some good shows coming up this week.....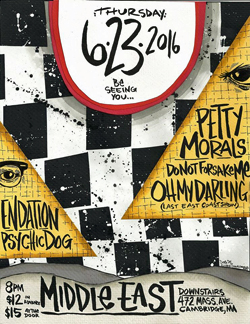 June 21 (Tuesday) Allston Pudding Presents an All Ages show with Free Pizza, Nice Guys, and The Monsieurs
June 23 (Thursday) Do Not Forsake Me Oh My Darling are saying Bye Bye Boston with their last show here - joining them are Petty Morals, Endation, and Psychic Dog - at the Middle East Up
June 24 (Friday) Gymnasium and Mike Gent & The Rapid Shave are at The Tavern at the End of the World
June 25 (Saturday) Dead Kennedys are at The Paradise and they have an AWESOME line up bands playing before them!! Jerrys Kids - 10.15pm, Straw Dogs - 9.30pm, The Welch Boys - 8.45pm and Burning Streets - 8.00pm- Get tix HERE!!
June 25 (Saturday) The FORZ have a new album out! To celebrate the release they are doing a show at the New World Tavern, Plymouth MA. Also on the bill will be Muck and The Mires and Viewers Of.
June 26 (Sunday) Making Waves For Autism benefit - featuring John Powhida, The Dogmatics, Girl On Top at Sally O's (this is a 1-5PM show)
And further out past this week....
June 27 (Monday) Pere Ubu at The Sinclair
June 30 (Thursday) Randy Black & The Heathcroppers and the Trick Wallace Trio are at Sally OBrien's
July 1 (Friday) Rock The Cradle - A Two Day Benefit for Cradles to Crayons Night 1 is with Cactus Attack, Live Nude Girls, Mark Lind, time and place, Evan Weckbacher and Darn Coyotes at The Midway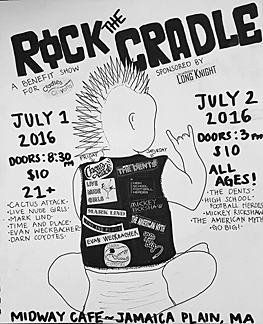 July 2 (Saturday) Rock The Cradle - A Two Day Benefit for Cradles to Crayons -Day 2 (this one's 3-8PM) is with The Dents, High School Football Heroes, Mickey Rickshaw, The American Myth and Go Big - at The Midway
July 9 (Saturday) Happy Little Clouds (It's their Album Release), The Rationales, Powerslut and The Knock Ups at O'Brien's
July 9 (Saturday) Jason Bennet and the Resistance, You Scoundrel, The Pity Whores, Game Over and Olde Boy (Liam from The Old Edison) are doing an afternoon 4-8PM) show at the Midway
July 9 (Saturday) Tsunami of Sound, Fireking, Popgun, and The Beachcombovers are at The Midway
July 9 (Saturday) Caged Heat and Erron Geer & The R'n'R Bastards are at the Plough
July 10 (Sunday) Boston Hassle's BLACK MARKET is taking it outside for the summer! They'll be at 420 Amory Street in Jamaica Plain!
The location is T accessible, just a two minute walk across the street from Green Street Station on the Orange Line. Hours - 11AM- 5PM. This one-day outdoor event will spotlight a featured artist, and boasts everything from secondhand to handmade: artwork, zines, body care, records, baked goods, patches, pins, books, T-shirts, leather goods, knits, woodwork, pottery, vintage clothing, jewelery, tea, hair cuts, tarot card readings, face-painting, portraits, & MORE!!
July 10 (Sunday) Kenne Highland, Tokyo Tramps, Los Texicanos and Crooked Mirror are doing an afternoon (4-8PM) show at the Midway.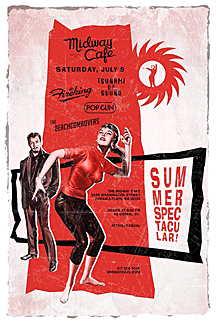 July 11 (Monday) Guided by Voices are at The Paradise
July 11 (Monday) Beach Slang, Lucky United and Potty Mouth are at Fete Music Hall, 103 Dike Street, Providence, RI,
July 14 (Thursday) The Late Risers Club Punk Rock Trivia night will be at "the Greek" in Union Square (more info to follow) Of course Eric Law's team will win but it'll be fun just the same. Starts at 8PM - And there'll be free pizza!! Team BGN will be there too!
July 16 (Saturday) Justine and The Total Bastards are at the Midway
July 16 (Saturday) OC45 celebrates their 5 year anniversary at the Middle East Up along with Burning Streets, The Jukebox Romantics and Jumper!
July 22 (Friday) Fur Purse, Thalia Zedek, Weather Weapon, Phurnne, Death Cloud at the Midway
July 22 (Friday) Screw Cart, Psycho, Rockin' Bob Punk Band, and 4 Sids are at The Cantab down.
July 22 (Friday) The Downbeat 5 and Tom Baker and The Snakes at the Plough
July 23 (Saturday) The FUs, Silver Screams, Electric Street Queens, Il Mostro (mems of The Humanoids) are at The Midway
July 29 (Friday) The Warning Shots, Duck & Cover, Quiggs, and Tenafly Vipers are at the Greek in Union Square (FB page)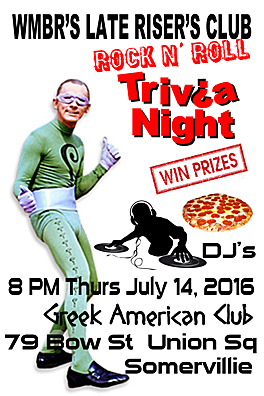 August 1 (Monday) The Schisms and Sassy Goose both from Austin TX along with The Knock Ups are at the Midway. This should be an interesting show!!
August 6 & 7 (Sat & Sunday) The Boston Rock Opera presents Stardust to Blackstar: The Lives of David Bowie at Once Ballroom: a concert dedicated to the late rock god David Bowie. "David Bowie taught us all so much about performance and stagecraft. If B.R.O. is going to, like Lazarus, rise up again then it should be to honor and celebrate his amazing music." The night begins with fellow B.R.O. co-founder Mick "Mondo" Maldonado directing and performing Bowie's "The Rise and Fall of Ziggy Stardust and The Spiders from Mars" with a full band and guest vocalists. Following that, is an original live arrangement of Bowie's final opus work "Blackstar" performed by an all star band and chorus under the direction of Either/Orchestra's Russ Gershon. The evening continues with a celebration of songs from Bowie's vast catalog as even more Boston musicians take the stage to perform.
August 12 (Friday) The Handymen are at The Plough & Stars
August 13 (Saturday) FRANK ROWE's 65th BIRTHDAY PARTY!!! starring: Kenne Highland, Stop Calling Me Frank, The Dogmatics, Classic Ruins, Richie Parsons Band, and The Stigmatics - at The Midway
August 15 (Monday) X are at The Brighton Music Hall - nice venue to see them!!
August 19 & 20 (Friday & Saturday) The 4th annual Boston Fuzzstival takes place on August 19/20 at The Middle East Downstairs. Fuzzstival is a celebration of our regional music scene and local music community. Bands are Doug Tuttle, Lyres, The Monsieurs, Mr. Airplane Man, Mini Dresses
Painted Zeros, Black Beach and a whole lot more...check out the FB page for updates etc
August 20 (Saturday) The Road Devils C.C. Boston Massacre Pre-Party!!! featuring Taxi Driver, The Hi-End AND MORE!!! FB page for more info as it develops
August 20 (Saturday) There's a great daytime (4-8PM) show at the Midway with The Lost Riots, The Scrapes, Whoopi Sticks, Go Blank and Point Blank
August 20 (Saturday) The Upper Crust, Devil on Horseback, Watts, Gymnasium at The Middle East Up.
August 27 (Saturday) Idiot Genes, Duck & Cover, Silver Screams and Jack Widows at O'Brien's
September 27 (Tuesday) Buzzcocks at the Royale ...they played this very room back in 1980! And we were there then too!
October 15 (Saturday) Idiot Genes, Duck & Cover, Chanticlear and Jack Widows are at O'Brien's
October 15 (Saturday) The Upper Crust, Hickoids, The Grannies & Devil On Horseback at Once
October 21, 22 & 23 (Fri., Sat & Sun) The Boston Rock Opera presents Hair at Once Ballroom.
September 1 (Thursday) Thalia Zedek Band, Minibeast , Black Helicopter, Positive Negative Man are at Great Scott
CONTACT US AT....misslynbgn@yahoo.com - Send us your gig listings, your news and anything else ya got!!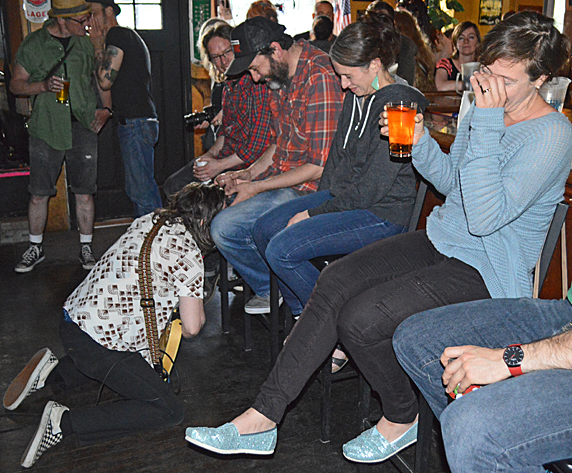 Andy California - crotch singing
Photo: Blowfish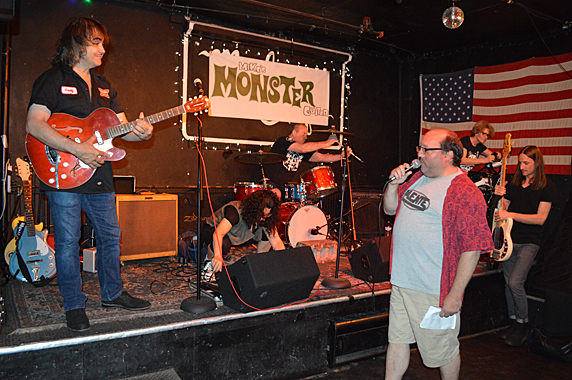 Jay Allen giving the commentary
Photo: Blowfish