The BGN News Archive
June 21, 2010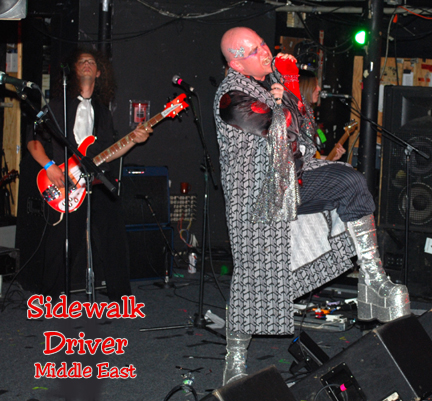 The past weekend we couldn't get in to TT's to see Triple Thick celebrate their CD release , we spaced on the pre-purchase and it sold out - damn!! But we took a few extra steps and went to The Middle East down to see Sidewalk Driver. They were just incredible!!! They came on stage and whipped us into submission with three super strong songs: "Dancing With Her Friends", "Jenny Don't Really Like the Boys" and the really awesome "Tornado". WOW!! We were blown away!!
If you want to scare yourself look at the hit charts just pre-punk, it's Captain and Tennille, Olivia Newton-John and disco all over the place. One of the only refuges for the rocker was glam. Slade, TRex and Bowie had a crunch to them and a light hearted attitude. The last couple of years have seen a few groups picking up the glam banner. That brings us to Sidewalk Driver.
They do it all up right starting with the dress up. The main singer has the over the top theatrical kitsch look and mannerisms. The band is strong with a warm hard tone. The two guitarists have square footage of pedals that shape their sound. But it would all be lost without the songs. They have a set of very catchy ditties. The first three songs on this night just sucked us in and yes transported us back to the seventies. It's all fun party music and the group themselves are smiling and having a ball on stage even as they are taking care of business.
We have enjoyed Sidewalk Driver in the past and can see them getting better. They are a sure bet any time they play.
They have a new album out: For All the Boys and Girls and it is available at CD Baby....
And they are playing at TT's on Friday July 16th at midnight, go check em out!!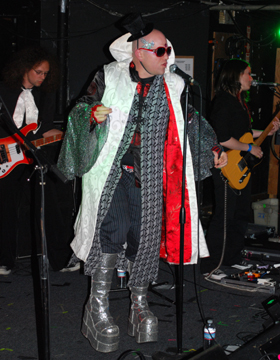 Now for what's coming up that sound of interest: This Thursday at Great Scott's in Allston is Cult 45 The Murder Mile, Brown Boot and Cheap Leather.
Saturday, 6/26 over at The Cantab is a Nancy Neon Show with Sins of America; The Varmints and The Doom Buggies.
Oh yeah and now we are going into July: Thursday July 1at the Middle East Up you got The Saints, Acrobrats, 007 Hundred Club and Burning Streets
Friday July 2nd is that final Swinedells gig at The Midway and it's a great bill: DJ Easy Ed is spinning some fine tunes and on stage will be Nick Curran and The Low Lifes along with the Swinedells. Also as a special added treat: if you show up early at like 8PM you can get free 50's dance lessons from the lovely ladies Miss Arinae and Miss Beck
Also on Friday the 2nd is a excellent show over at O'Brien's in Allston: The Naiheads, The Nose Jobs and Triple Thick.....The Nailheads are from Montreal and say this about themselves: "The Nailheads' sound and statement is and always will be strictly for those of you that can't get enough of that tight, stripped down soundin', do-it-yourself, raw energy fueled Punk Rock that marked its territory in 1977." Well that is a lot to promise and live up to! …I'm looking forward to the show.
Friday July 9th at The Midway there's a great show with Buried in Leather, Cocked and Loaded, Tiajuana Sweetheart and Tenafly Vipers - Whew!

Saturday, July 17 at The Middle East up is Bonecrusher, The Welch Boys, Buddha & The Boys and The Beantown Boozehounds Monday, July 19th (Monday??? Why Monday???) GBH, the old punk bastards are playing at Harper's Ferry!! They just released a new CD Perfume and Piss!
And Monday July 26th there's an interesting show at Charlie's Kitchen for Kermit's Finger, Penis Fly Trap and Classic Ruins.
and don't forget the Somerville Rock'n'Roll Yard Sale 2010is coming up on : Saturday August 7 in Union Square Somerville:
there will be tons of amazing vendors selling everything from Vinyl Records and other music memorabilia, Vintage Eyewear and Apparel, to Local DIY Handmade Goods. See you there!!!
Check this out: This is a very special show, at Club Lido in Revere on August 29th.
In celebration of the film: xxx ALL AGES xxx and it is also a Gallery East Reunion!
Boston pioneer hardcore punk bands DYS, Jerry's Kids, Gang Green and FUs will perform with New York City's Antidote and guests for a monumental reunion show …AND the show will be featured in the film xxx ALL AGES xxx.
Produced by Gallery East in association with Stone Films NYC and the Boston Punk Rock Oral History Project (BPROHP) Here's some cool quotes about the show and The Gallery East:
"Of all the reunion offers we've received over the years, the chance to do it in our home city, in support of old friends, and have it all filmed as a climax to the Boston Hardcore movie was the one we had to say yes to," said Jonathan Anastas, DYS co-founder and bass player. Added DYS co-founder and singer Dave Smalley, "Duane and Gallery East were very important to our growth as a band. We look forward to bringing it back to Boston." "Jerry's Kids are scheduled to play the Gallery East Reunion Show and nothing else. If you want to see us, you better come." said Bob Cenci, singer of Jerry's Kids. "We promise to make it worth your while."
SO um, I would say DO NOT Miss this Show!!
And my friends THIS is the way to start off your September:
a stupendous show at The Middle East UP, lots of tatts, stand up bass and crazyness: The Cockabilly Records Tour Featuring: Viva Le Vox, Jason and the Punknecks, Guitar Bomb, The Holy Roller Sideshow, Hickry Hawkins with The Squidling Bros. Circus Sideshow and Live Burlesque! Whew...hooo
AND Swans are doing a tour and will be at The Middle East down on Thursday September 30th!!! OK, that's it.....

... you can email us at: Miss Lyn email......