The BGN News Archive
June 22, 2009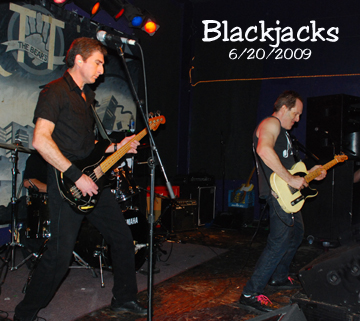 Ah yes we did venture out Saturday evening for The Blackjacks, Classic Ruins, The New Alibis and Mark Lind & The Unloved at TT's on Saturday. It was a great show, brought us back to the early 80's and yes,as John has so aptly stated; you can't go back...but you can sure have an awesome time remembering!!
Friday saw TT's jammed. Saturday had a good crowd.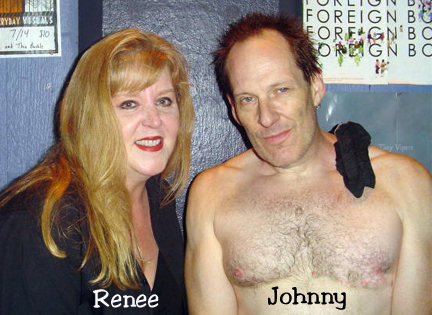 So we have some photos for you as well........
And what's coming up???
THIS Monday, June 22nd is The Midnight Creeps, Moto and The Tampoffs, now that's worth going out on a Monday night!!
and Eric Law is raving 'bout TUESDAY 6/23 at Church coz its a Marsman Underground night with Kepi Ghoulie Electric! (ex-Groovie Ghoulies ) and The Pleasure Kills ...this should be an awesome night of pop punk!
This FRIDAY 6/26 at Church there's a Super Soul Spectacular!! With The Swinedells , Jordan Valentine & the Sunday Saints, Jenny Dee and the Delinquents, Black Mosettes and The Young Tremors (new band for the fantastic Alan Levesque!!!)....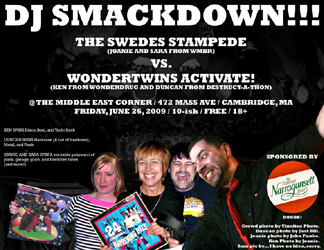 Also on Friday June 26th, FREE!!!, and at 10 PM at The Middle East Corner is
DJ SMACKDOWN with "The Swede Stampede" (Joanie and Sara from WMBR) and "The Wondertwins Activate" (Ken and Duncan)
Stuff to remember is comin' up in July: Wednesday July 1st, The Germs are at Harper's Ferry!!
Bunratty's Reunion....AJ Wachtel will be on Sunday afternoon, July 19 at the Wonder Bar (formerly BUNRATTY'S!!!!) in Allston.
And here's some very cool news:
coming up Friday, August 7th, at Church is Faster & Louder, who's dat??? you say??
Why it's the Neighborhoods rhythm section with members of Unnatural Axe, Gang Green/Band 19, and Johnny Black Trio/Johnny and the Jumper Cables:
See it's like this folks:
Richie "Swinging Dick" Parsons - vocals, "Fritz the Boss" Erickson - guitar, Johnny "Top 20" Black - guitar, Lee "The Lawman" Harrington - bass and "Johnny Rock" Lynch - drums
They will play the entire Bloodbrothers album by the Dictators and a few more 'Tators tunes.
This awesome band even has the blessings of Top Ten and Andy Shernoff - So this is a show you will not want to miss!!
And in August, the 21st, At The Middle East UP to be exact it is the return of THE MARVELS!!! (here's their MySpace site) , Along with Dirty Truckers, Vagiant and Pulp 45....that is a most awesome show my friends and only to be equaled by the NEXT night at ME Up with the Midnight Creeps, Red Invasion and a couple other bands...OH...I'm at the ME that weekend!!
Ok folks, that's it for this week.....click and write me!.... Lyn