The BGN News Archive
June 25, 2012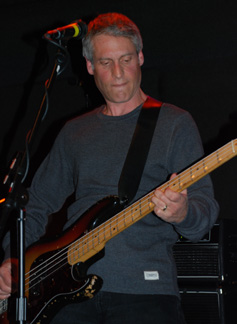 Jeff Sugarman
First order of things this week is to mention the very sad news of bass player Jeff Sugarman, to brain cancer. Jeff was best known for his long tenure in The Prime Movers but also for being a generally awesome guy to so many in the scene (as well as his beloved family). He will be very much missed and very very well remembered- RIP Jeff…so many will miss you!!!
Here is a link to Jeff's obituary in the Globe. Also- there will be a memorial service for Jeff this coming Tuesday June 26th at 1PM at Levine Chapel at 470 Harvard St. in Brookline with a reception to follow.
And here's a great video from 1986 of the Prime Movers at TT's...with Jeff upfront and center....
Now we continue on with our usual stuff: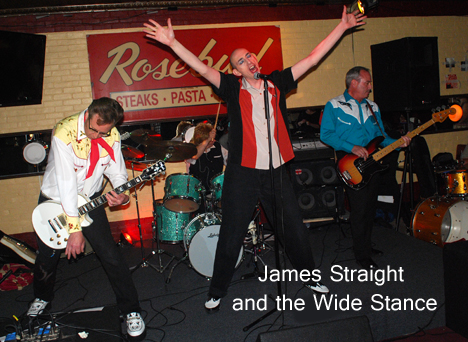 We continue our stalking of James Straight and the Wide Stance. We can't help it. We became converts the first time we heard their songs and punchy sound and saw their stage show. This night they play in a bill drawn up by Cal Cali at the Rosebud.
We walked into the tail end of the Cadillac Heart's set. There ended up being 5 bands and the night started a little early. Cadillac Heart was playing Slow Down and the crowd was dancing, which they did all night. Tonight there was a very dancey fun group of club goers that made for an engaging nice feeling evening. It turns out that Erna Connors' brother was celebrating his birthday with the Connors (Billy Erna and their two daughters) Erna's sisters, and his own family and they were all on the dance floor and whooping it up through the night.
We were pleasantly surprised to see Danny McCormack in Gary Soprano's spot on guitar. Was it for one night or permanent? We forgot to ask. Great reporters that we are.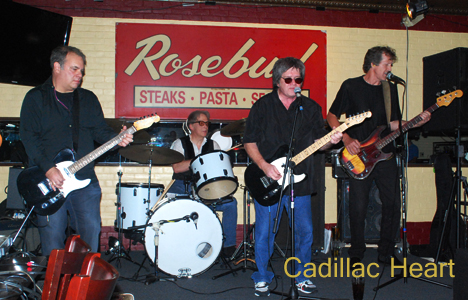 Tom White was strolling around in his yachting gear which signals his transformation from Unnatural Axe man to Beachcombover twang master. Tom has done this side project for a few years now and it has developed nicely. He has nailed down the surf tone perfectly, expanded his repertoire and added details to the songs themselves to make them more authoritative. The band is made up of other MIT denizens and is top notch, especially the drummer. He was snappy and tick tock tight.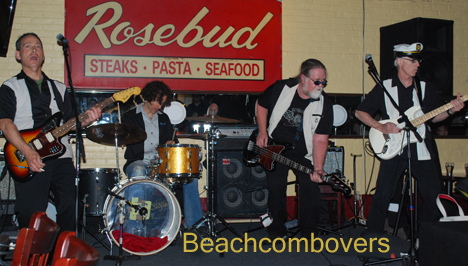 Outside the warhorses like Pipeline and Wipeout, which excited the dance crowd, Tom had an instrumental he fashioned from bits and pieces of an Axe song, one from Kenny Kaiser (Africa Corps) called Surfing Ayatollah and an arrangement of Hall of the Mountain King via a group that had Richie Blackmore as a guitarist in days gone by. One thing we pine for is a reunion of the Mighty Ions, which Tom was in, and tonight we got a short version when Danny McCormack stepped up to play just one song from the group. That was cool.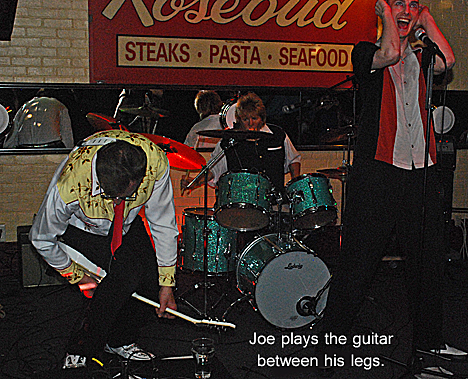 Up to this point we have only seen James Straight and the Wide Stance at The Magic Room. Tonight we wonder what they will be like without the amazing synced video behind them. Joe Fagan wrenches out a few riffs during his set up and they have that patented dirty sound he gets with his cheap guitar and two foot square mini Marshall. With that reassurance they whip out two songs in a row that sound like some great covers but are instead great originals. It's hard to believe that the first song is over 30 years old. Michael Abbott grabs your attention with his dramatic stage moves but Joe on guitar wants attention too so he jumps on a chair, falls to his knees, plays behind his back and plays between his legs. The beauty is that the songs stand up to all these shenanigans.
The songs aren't just love songs and heartbreak stories; they cover political issues and cultural facets. That makes you want to hear the lyrics which are very clever. It's all part of the package that separates James Straight and the Wide Stance from the pack.
Then they do some well picked covers and end with Rebel Rebel by Bowie. Fantastic.
Michael says they are almost finished recording a CD full of material. Since the material seems radio ready one hopes that mucho airplay is imminent as well as a step up in visibility. Seeing many groups at this level (like Cadillac Heart) I wonder what they can do as a next move to get national attention, but I guess that's always been the game.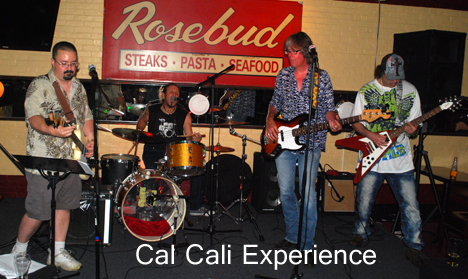 Cal Cali goes up last, a position in the bill he has himself to blame, since he set up the show. The Cal Cali Experience did the same set we saw a while ago- they've put together a "This is Your Life" - musically - set of tunes that range far back to our teenage years. But tonight they are off their game. I don't even know what was going on but some simple pop songs where in territory usually inhabited by free form jazz. They got it together for their version of Stormy Weather by Echo and Bunnyman from 2005. This is a nice find by Cali and he does a great job singing it. Here's a Link to Stormy Weather.
Cali put together a great bill at this cozy nightclub. It was a long night with us closing the club at 1am but it was more than worth it.
So for what's going on...there's: The Mark Sandman movie "Cure For Pain, The Mark Sandman Story," is playing at the Brattle from June 22 through July 1st.
That said; it's time to close out June folks: on Saturday 6/30 it is a very busy night with lots of good shows:
There's a daytime show at the Middle East (up) (Starts at 1PM) with Razors in the Night, The Blue Bloods and Cradle to the Grave and By The Throat

Then you need to run over to Somerville and get to Precinct…I haven't seen any interesting shows at Precinct in some time so it's good to know they can still put one on: Mars opens up the night followed by My Own Worst Enemy, Muck and the Mires and Brownboot
We are going to miss WFNX. They are having a going away party at the Paradise on Saturday June 30. Groups O Positive, Orbit and Parlour Bells will play. Along with some DJ sets from Paul Driscoll, Adam 12, Bruce McDonald, Duane Bruce & Boy Troy plus Mike Gioscia spins X-Night til close. Then some film action with a first peek at upcoming WFNX documentary "We Want The Airwaves."
And it's almost here - just a two weeks away!: Johnny Angel (now Johnny Angel Wendell or hereto referred to as JAW) and his crew of pals takes over Radio in Union Square Somerville July 6 and 7 and Dolphin Striker July 8th in Portsmouth NH to play lots and lots of new and old tunes in his inimitable fashion.
The show on the 6th is a reunion of sorts as it features JAW and old friends Robin Lane (minus Chartbusters) and John Felice (with his Real Kids) (Mini Set at 9:30 on the 6th) ) all together in the same room for the first time since.....well, let's not go there.
Plus, chanteuse Mary Lou Lord and tough guy rockers WATTS round out that line up.
The 7th is another reunion as well, with old friend Eric Martin and the Illyrians kicking it off and Audrey "Up In Her Room" Clark and her smokin' 360's closing the show--with JAW and doing a mini set of Thrills' songs including the "classic" "Hey, Not Another Face In The Crowd". The great Darling Pet Munkee does their wild thang in there as well.
JAW's presentation is a little unorthodox--as touring with band is too expensive and solo acoustic too boring, he brings his "band" with him on disc, a la "Johnny Oke". Included in his set are some of his new disc "IT!!"s popular songs like "Crazy Eyes" and "Do I Ever Cross Your Mind" as well as the tunes off a forthcoming vinyl 7'', including the rousing polysexual anthem "My Lesbian Friend".

Assuming Mr. AW is called back for more, a Blackjacks song or two is likely. Both shows are 10.00. Beginning at 9PM…..
Now there was a bit of drama surrounding the whole thing about the Real Kids playing this show, but it IS being said that they will in fact play…but hey…we know from experience how these promises of Real Kid go…we've heard it before and found it didn't happen…so just in case folks, here are some REAL kids doing All Kindsa Girls at the Middle east up…. and they even do La Peste's Spy Master as well… Yup folks it's the 21st Century Fugitives rockin' out for ya…..awesome.
Thursday July 19 Surf Guitar Legend Dick Dale is at the Middle East down with Muck and the Mires
Jerry LeHane is putting on a benefit for Cancer Research check out this AMAZING line up for this two night show:
Appearing Friday night, July 27 are The Flies (first reunion ever!), Bristols Piranha Brothers, and Sourpuss and the Hired Men (with Peter O'Halloran) .
On Saturday night July 28 are Dogmatics, New Frustrations, Lucky 88's, and Lenny Lashley.
The show's at the Johnny D's in Somerville. Tickets can be purchased online here , and in advance for $16 at the club and if still available (coz they are going fast!!) , $20 the night of the show. The show is 18+. Proceeds go to benefit the Pan Mass Challenge and local musician Peter Sisco.
And then we got some stuff coming up in August you'll want to plan for:
Thursday August 2nd, Merle Allin and his band of marauders - The Murder Junkies are playing at The Cantab (oh this should be GOOD!!) By the way it seems all the clubs in town are afraid to book these guys which is why they do tours, play all the surrounding areas but nowhere in Boston! Oh and maybe Merle will be able to grow some new log toenails to sell at the show as he is trying to do on Facebook....save your money kids...you won't want to miss that fab bargain when it becomes available again!!
Of course there BC60 - The Bob Colby 60th Birthday Party at TT's - Sunday August 12th- at this point there are so many bands I think the show will have to start at 9AM!!! But seriously folks it starts at Noon and goes til midnight- it's a huge ton of all awesome bands including Mary Lou Lord, My Own Worst Enemy, The Classic Ruins, even the Port Charles Quintet is getting together for this show…even Willie Alexander is coming to town for this show…even Kenne Highland is making an appearance for this show…and there'll be plenty of BC faves like Shepardess and Nina Violet….I'm taking Monday off that's for sure!!
….And of course everyone is buzzing about the Human Sexual Response reunion…All the original members…at the Paradise on Saturday, November 10th better grab those tickets soon...
EMAIL US AT…….misslynbgn@yahoo.com