The BGN News Archive
June 27,2016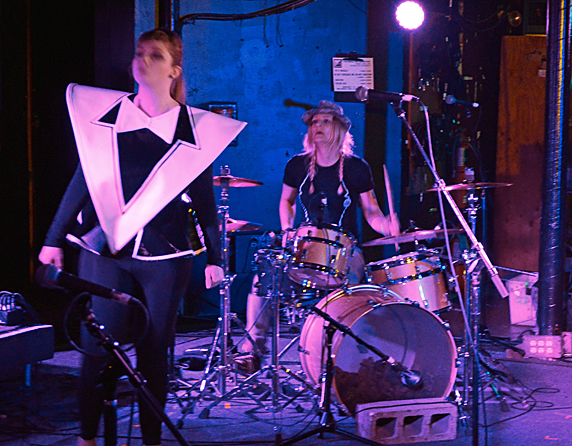 Do Not Forsake Me Oh My Darling
Photo: Blowfish
When we interviewed Wayne Viens we had a moment where we exchanged ideas about what to do with all our Boston punk material in preparation for when we die. We weren't being morbid but realistic. We've had similar conversation with many others. There are a lot of people reading this that have collections of memorabilia; magazines, flyers, artwork, vinyl, photos etc. We think these things are important because the times seemed so important to us and still do. I don't have to convince you of that but what about convincing an institution that has the capacity to house and archive these materials beyond our life spans? Do they consider it important? The answer is basically no. The exception would be the Harvard Film Archive collection of Arthur Freedman.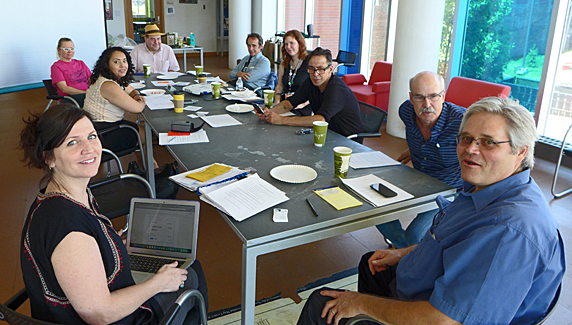 Grove Hall Library meeting of Boston Archive
Photo: Blowfish
That brings us to the meeting at Grove Hall Branch of the Boston Library. Librarian Paul Edwards, who has a history on the Boston scene, took up a suggestion by co-worker Kate to somehow deal with the Boston scene and its 'historical' material. There were 10 people there at 10am (yikes) including Wayne Viens. Importantly Tom Johnston, another with a lengthy Boston Punk/Rat history, who is with the Mayor's Office of Arts and Culture, was present and very involved. The discussion was very interesting to say the least and even this one session immediately exposed the width and breath of the issue.
The concept is spot on: "to provide a place, both physical and virtual, for Boston's rich rock music history to be housed". The execution could be a mammoth undertaking. This collection would be public and accessible. It would also involve shows of the material at libraries, clubs or whatever venue was appropriate. It is doable. The model for this is the DC punk scene who has such a collection at their library.
To contact the people in this Boston Project email bostonrockarchive@gmail.com. They are accepting digital material even now and have a Dropbox for over 25MB material. There will be another meeting once some of the issues discussed are addressed. That will be at night somewhere and we will have info here.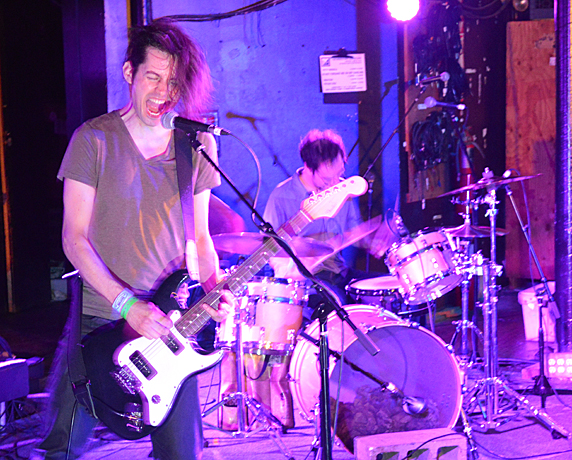 Endation
Photo: Blowfish
Later Thursday we were at the Middle East for the going away show for Do Not Forsake Me Oh My Darling. The club was only about a third full but that's still a hundred plus people. It took a while to get used to seeing the duo Endation, who we have seen a half dozen times in intimate venues (last time at Store 54 ), now be on the big stage. It was different but the music did work on the bigger platform. They said they were playing all new songs. That's amazing right there. The new songs have all the attributes of the old ones.
They had Matt's drums miked up and they sounded huge. That coupled with his machine precision and contrapuntal style made for a compelling footing. Anthony got a big roar out of his four string guitar with surprising variety. He knows how to leave spaces to give a dramatic wallop. His singing grasped the emotions of the songs which erupt with vocal shredding screams and body contortions. That visceral reaction is what people were responding to. The audience gave them healthy cheers. That's the best reaction I've seen them get. It was true acceptance of their challenging material.
Video of Endation at the Middle East
Do Not Forsake Me Oh My Darling
Photo: Blowfish
We do like our duos around town now. Along with Endation we have When Particles Collide, Hambone Skinny, Mr. Airplane Man and then the next act Do Not Forsake Me Oh My Darling. A while ago Michael J. Epstein wrote an open letter about leaving Boston. He felt he wasn't getting enough support for his projects, especially from the city. ( letter on Facebook Story on Vanyaland ) He's moving to California. He has his calling card which is the incredible video of "EPISODE 1: ARRIVAL" that recreates the Prisoner intro shot by shot. It's a real tour de force sure to impress anyone.
For this show they added a drummer, so we got a trio. The sound is bare boned as you would expect with just two instruments. Epstein plays bass and he had that sucker turned up to the pain threshold. A guitar at that level is one beast a bass is another creature. My ear plugs were useless as the low vibrations rattled my skull. Then there was the stunner - Sophia Cacciola came out in a Klaus Nomi dadist vinyl tux. The coolest single thing I've seen on stage that I can remember. How did she get that or make that? She looked ůso cubist! Then she played it up by moving her body jerky with lots of hand movements. I couldn't take my eyes of her! Her singing often escalated to the screaming level and that worked the with the bass/drum attack. The audience was jammed up front and took it all in. That was a suitable final remembrance for the group.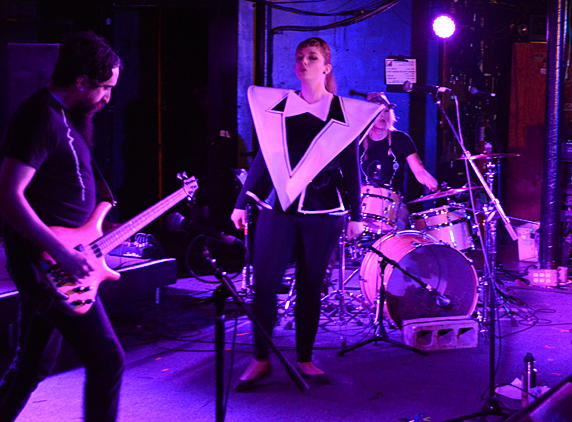 Do Not Forsake Me Oh My Darling
Photo: Blowfish
Epstein is a concept guy and I think that will go over big in LA. Good luck out west! Here is their new three song effort on Bandcamp which includes a cover of Working For the Weekend. It's it electronic based in contrast to the live show.
Arthur Freedman was at the Girl On Top show at Sally O'Brien's that was a benefit for Autism.
Girl on Top
Photo: Arthur Freedman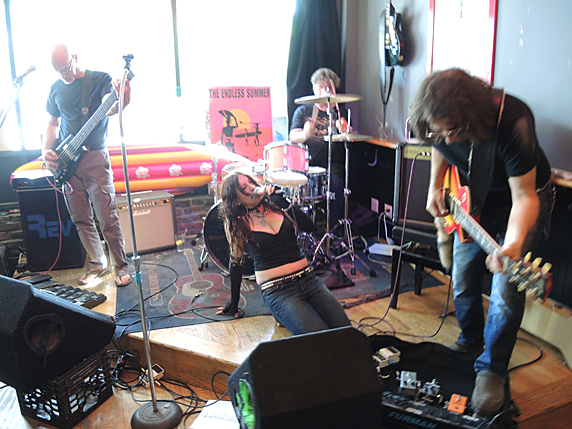 Girl on Top
Photo: Arthur Freedman
Other news....
Vanyaland reported on the second in a series of meeting concerning the problems of clubland. They talked about having earlier times for some shows. Some bookers and club owners were there and heard that, so that's something that could happen. You can read the story here.
Woody Geisman had a stroke and is on the mend- we are wishing him a full and speedy recovery!!!.
Here's some good shows coming up this week.....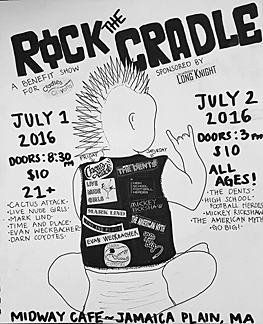 June 27 (Monday) Pere Ubu at The Sinclair
June 30 (Thursday) Randy Black & The Heathcroppers and the Trick Wallace Trio are at Sally OBrien's
July 1 (Friday) Rock The Cradle - A Two Day Benefit for Cradles to Crayons Night 1 is with Cactus Attack, Live Nude Girls, Mark Lind, time and place, Evan Weckbacher and Darn Coyotes at The Midway
July 2 (Saturday) Rock The Cradle - A Two Day Benefit for Cradles to Crayons -Day 2 (this one's 3-8PM) is with The Dents, High School Football Heroes, Mickey Rickshaw, The American Myth and Go Big - at The Midway
July 9 (Saturday) Happy Little Clouds (It's their Album Release), The Rationales, Powerslut and The Knock Ups at O'Brien's
July 9 (Saturday) Jason Bennet and the Resistance, You Scoundrel, The Pity Whores, Game Over and Olde Boy (Liam from The Old Edison) are doing an afternoon 4-8PM) show at the Midway
July 9 (Saturday) Tsunami of Sound, Fireking, Popgun, and The Beachcombovers are at The Midway
July 9 (Saturday) Caged Heat and Erron Geer & The R'n'R Bastards are at the Plough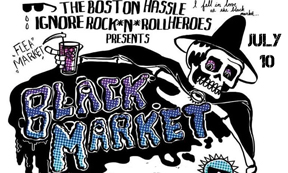 July 10 (Sunday) Boston Hassle's BLACK MARKET is taking it outside for the summer! They'll be at 420 Amory Street in Jamaica Plain!
The location is T accessible, just a two minute walk across the street from Green Street Station on the Orange Line. Hours - 11AM- 5PM. This one-day outdoor event will spotlight a featured artist, and boasts everything from secondhand to handmade: artwork, zines, body care, records, baked goods, patches, pins, books, T-shirts, leather goods, knits, woodwork, pottery, vintage clothing, jewelery, tea, hair cuts, tarot card readings, face-painting, portraits, & MORE!!
July 10 (Sunday) Kenne Highland, Tokyo Tramps, Los Texicanos and Crooked Mirror are doing an afternoon (4-8PM) show at the Midway.
July 11 (Monday) Guided by Voices are at The Paradise
July 11 (Monday) Beach Slang, Lucky United and Potty Mouth are at Fete Music Hall, 103 Dike Street, Providence, RI,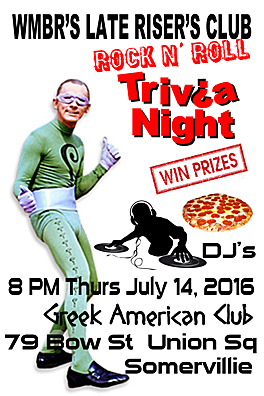 July 14 (Thursday) The Late Risers Club Punk Rock Trivia night will be at "the Greek" in Union Square (more info to follow) Of course Eric Law's team will win but it'll be fun just the same. Starts at 8PM - And there'll be free pizza!! Team BGN will be there too!
July 16 (Saturday) Justine and The Total Bastards are at the Midway
July 16 (Saturday) OC45 celebrates their 5 year anniversary at the Middle East Up along with Burning Streets, The Jukebox Romantics and Jumper!
July 22 (Friday) Fur Purse, Thalia Zedek, Weather Weapon, Phurnne, Death Cloud at the Midway
July 22 (Friday) Screw Cart, Psycho, Rockin' Bob Punk Band, and 4 Sids are at The Cantab down.
July 22 (Friday) The Downbeat 5 and Tom Baker and The Snakes at the Plough
July 23 (Saturday) The FUs, Silver Screams, Electric Street Queens, Il Mostro (mems of The Humanoids) are at The Midway
July 29 (Friday) The Warning Shots, Duck & Cover, Quiggs, and Tenafly Vipers are at the Greek in Union Square (FB page)
August 1 (Monday) The Schisms and Sassy Goose both from Austin TX along with The Knock Ups are at the Midway. This should be an interesting show!!
August 6 & 7 (Sat & Sunday) The Boston Rock Opera presents Stardust to Blackstar: The Lives of David Bowie at Once Ballroom: a concert dedicated to the late rock god David Bowie. "David Bowie taught us all so much about performance and stagecraft. If B.R.O. is going to, like Lazarus, rise up again then it should be to honor and celebrate his amazing music." The night begins with fellow B.R.O. co-founder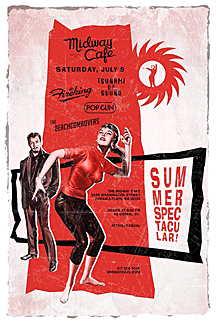 Mick "Mondo" Maldonado directing and performing Bowie's "The Rise and Fall of Ziggy Stardust and The Spiders from Mars" with a full band and guest vocalists. Following that, is an original live arrangement of Bowie's final opus work "Blackstar" performed by an all star band and chorus under the direction of Either/Orchestra's Russ Gershon. The evening continues with a celebration of songs from Bowie's vast catalog as even more Boston musicians take the stage to perform.
August 12 (Friday) The Handymen are at The Plough & Stars
August 13 (Saturday) FRANK ROWE's 65th BIRTHDAY PARTY!!! starring: Kenne Highland, Stop Calling Me Frank, The Dogmatics, Classic Ruins, Richie Parsons Band, and The Stigmatics - at The Midway
August 15 (Monday) X are at The Brighton Music Hall - nice venue to see them!!
August 19 & 20 (Friday & Saturday) The 4th annual Boston Fuzzstival takes place on August 19/20 at The Middle East Downstairs. Fuzzstival is a celebration of our regional music scene and local music community. Bands are Doug Tuttle, Lyres, The Monsieurs, Mr. Airplane Man, Mini Dresses
Painted Zeros, Black Beach and a whole lot more...check out the FB page for updates etc
August 20 (Saturday) The Road Devils C.C. Boston Massacre Pre-Party!!! featuring Taxi Driver, The Hi-End AND MORE!!! FB page for more info as it develops
August 20 (Saturday) There's a great daytime (4-8PM) show at the Midway with The Lost Riots, The Scrapes, Whoopi Sticks, Go Blank and Point Blank
August 20 (Saturday) The Upper Crust, Devil on Horseback, Watts, Gymnasium at The Middle East Up.
August 27 (Saturday) Idiot Genes, Duck & Cover, Silver Screams and Jack Widows at O'Brien's
September 27 (Tuesday) Buzzcocks at the Royale ...they played this very room back in 1980! And we were there then too!
October 15 (Saturday) Idiot Genes, Duck & Cover, Chanticlear and Jack Widows are at O'Brien's
October 15 (Saturday) The Upper Crust, Hickoids, The Grannies & Devil On Horseback at Once
October 21, 22 & 23 (Fri., Sat & Sun) The Boston Rock Opera presents Hair at Once Ballroom.
September 1 (Thursday) Thalia Zedek Band, Minibeast , Black Helicopter, Positive Negative Man are at Great Scott
CONTACT US AT....misslynbgn@yahoo.com - Send us your gig listings, your news and anything else ya got!!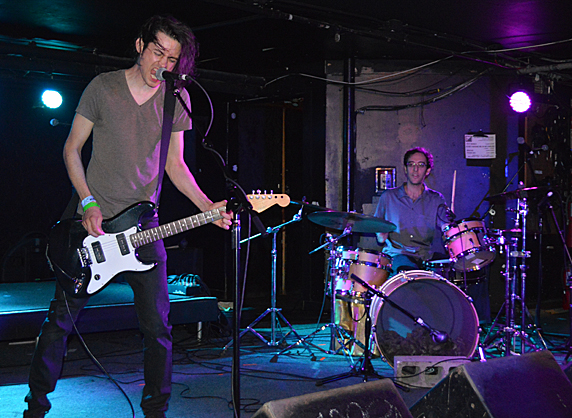 Endation
Photo: Blowfish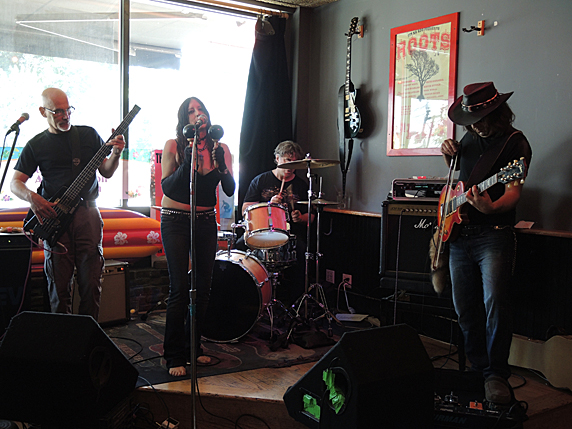 Girl on Top
Photo: Arthur Freedman