The BGN News Archive
June 28, 2021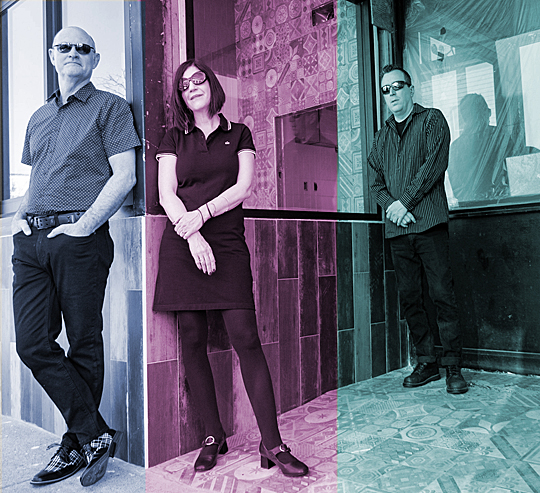 The BGN Chelsea Curve Interview

This week we have an exclusive interview with Red On Red artists The Chelsea Curve to introduce their fourth single in their Singles Scene Series this week on Tuesday. YES! This time it's "A Better Way", a raucous singalong about taking the higher road while resisting the urge to settle the score.

Their new song "A Better Way" is now released:

Here's some of the interview:

BGN- Your single and video "Girl Cavedog" kicked off a monthly release schedule culminating in an album on Red on Red later this year. What drove the decision?

Linda: We were thinking of doing something different; we kind of thought it would be good to bombard the public with song after song. It's either a really brilliant or a really stupid idea.

BGN- What do you and the band see as the pros and cons of working this way?

Tim: We like the singles thing because it keeps things fresh and there's some anticipation for the next one. Since there are no live shows, it's a good way to keep ourselves out there. And we've got enough material to put out a few months' worth of singles and still have some songs that will be new on the album.

BGN- Guilty musical pleasure?

Ron: Mine is definitely Guns N Roses. Growing up as a punk rock guy, I wasn't "supposed" to listen or like them.

Linda: I LOVE listening to Herb Alpert and The Tijuana Brass Band. I feel no guilt about this.

BGN- I recall a Jam cover at a gig. We take it The Jam is a huge influence but what two other bands make your influencer list?

Tim: The Clash, Buzzcocks, and Ramones are my top two.

Linda: Stiff Little Fingers, Blondie, Bad Religion, Hüsker Dü, Elvis Costello & The Attractions are my top two. HAHrhAHR!

Read the entire interview with awesome John Keegan photos by clicking the photo below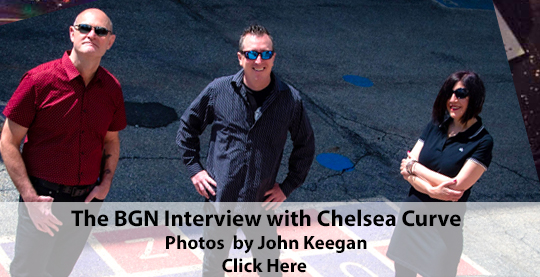 ---
Mateo Williams former LRC DJ had died. At this point we don't know that cause but here is a post from Columbia University where he was currently a PhD candidate. Some people got to see Mateo at the Late Risers Trivia nights, one of which was in 2016 at the Greek American Club.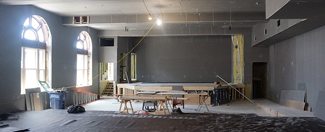 The Somerville Theatre in Davis Square is getting a rehab. In that process they're adding The Crystal Ballroom (the original name from way back when): "…a nearly 500-person-capacity performance hall dedicated to live music, special events and private engagements such as weddings and corporate gatherings." They mention : The main focus will be booking music acts, something Davis Square has lagged in since the amps went silent at Johnny D's back in 2016." Awesome!! Here's the article in Cambridge Day
Roger Miller of MOB is getting ready to play out again. He is still playing silent film soundtracks live with his new Anvil Orchestra. Larry Dersch will occasionally join on percussion . On August 28 he will play the sound track to Metropolis in Athens, Greece!! How cool is that!!??
Trinary System is still a thing and they'll be looking to play in the fall. Trinary System on Bandcamp Read Roger's blog page
SHORT CUTS......
The Midnight Creeps' music will be featured in the sound track of Thrust!, a new Xploitation/Horror genre feature film about dystopian rival girl-gangs in the post-apocalyptic future. The film is in the works and the production team has set up an Indiegogo page. Check it out and watch the director, Victor Bonacore, talk about the film. And speaking of the Creeps...they are doing a rare gig! July 18 at the Scurvy Dog Mega Show (see below in gig listings)
Courtney Barnett has a wide appeal. She's going to be at the Wang Theatre on Tuesday February 8, 2022. You can get tix here.
Once has a liquor license for their Boynton Yards concerts. They have 20 shows booked! Check out their calendar. and our choice listings below!!
The Hi-End recorded three songs this week at New Alliance.
VIDEOS......
For years we all knew Lee Harrington as the bass player for The Neighborhoods. Things changed as about a year ago he became a member of The Shang Hi Los and played guitar for one of Linda Bean Pardee's successful Garagecast series ( Here he is with Linda, and Justine Covault singing on "Cynical Girl" ) Just lately we see he played bass for the Kid Gulliver redo of "I Started a Joke" and he features prominently in that. Now he takes another step and is part of a new duo Lee Harrington & Lynda Mandolyn. We know Lynda from Tiger Bomb. They've released their first song called "Real Love". It has a punk roar as a base. The vocals are clear and romantic. It's an appealing mix.
We actually had a preview of this new duo…in a way. Track five on the The Neighborhoods Last Known Address album was ""Don't Look Down" which was written by Harrington/Mandolyn don't you know! It has a similar feel to the "Real Love" cut.
We were a bit reticent to post the passing of Kurt Allen Henry of Phobia with only a post from Facebook but we did get a confirmation from singer Melodye Chisholm. They have posted a video of "What Will You Do?" where you can see photos of Kurt playing the Space and when he plays you will hear that full chord rhythmic chopping that was is signature move. Kurt was also in the group Tall Pall with Frank Dehler of Unnatural Axe.
---
BOOKS......
Sonny Vincent's book Snake Pit Therapy, is short (91 pages), his police record is longer. Sonny got in a lot of trouble when he was young. Later rock and roll took up his energies.
The book is two thirds fiction. There's some short bursts of fevered fantasy. The point of some of his writing is just to let his imagination run wild.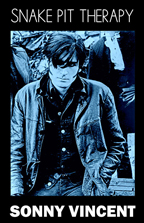 He has a few stories from his music career. He talks about touring with the Velvet Underground and about Stooges' drummer Scott Asheton, when Scott was down and looking for work. He has a few stories about Bobby Stinson of the Replacements that confirm how difficult it could be to work with him, as well as rewarding.
It isn't till the last twenty one pages that he gives a short run down on his time in punk. He has a few things to say about CBGB's and Hilly Kristol. Sonny played there many times in 1976 but since he never had a record he blames that for his band not being mentioned as part of the history of that era.
Sonny was playing rock before the term 'punk' was used. He says something that rang true to us: "Punk isn't something you "get into". It's not something you choose. It's something you are." AGREED!! That was true for us on the Boston scene who were out there taking in the music as the word punk came afterwards and labeled us.
The book is available from the publisher FarWest Press and from Amazon
FILMS......
The Brattle Theater will be showing The Sound of Metal in July...check their calendar for particulars...this film is SO GOOD!!! Watch the trailer here.
---
CD's / MUSIC.....
Mr. Airplane Man have honed their music to a fine point. They've defined the two person group for Boston fans for years. Their latest 6 song EP is called Winter Psalm.
There's a stillness and contemplation in the songs that makes calling them 'psalms' appropriate. There's also the swampy feeling that would make them a good soundtrack to a gothy noir.
Crystalline Silhouette is played as delicate in fine as the title would suggest.
"Eat the Young" is the pre-released song by The Jacklights off their upcoming 5 track EP titled Drift.
This is a good example of what they're doing. The songs bow to the lyrics most of all. Simple power chords give the drive. They give just enough hook in the chorus to make the song stick out. Here it's the line "I don't need your apathy" and then at the end with the line "eat the young". We think that "eat the young" line should be through the song, that's a grabber.
Back Porch Carousel have given us a regular line of new singles since their inception. This week they posted "Lethal Dose of Trouble" which is sung by the very identifiable Randy Black.
This brings up the whole idea of what's going to happen with the new live streams we've watched and listened to during the pandemic. Will Back Porch Carousel continue now that live shows are back? Back Porch was a successful outlet for the compatible group and seemed to serve their musical needs in ways they didn't have before the pandemic.
Today Junior has always listed surf rock as a description for their music. It's not the first thing you think of with their sound but it's there. You can certainly smell the beach and feel the sun in their seasonal release titled "Summer Heat". The guitar has a clear tone despite the echo effects, it seems like it's floating. It's likewise with the vocals.
Doug Tuttle has a new 5 cut EP out titled Pinecones. These songs were written during the pandemic period. Doug has two songs pre-released on Bandcamp.
"Lead Mask" is a low key folk pop affair until two and a half minutes in when he gives it a dose of psych guitar. "Weak Ends" is a low key but sumptuous at the same time. The combination of the bass work and the singing make the song very inviting.
---
Here's some good shows coming up (live stream and actually LIVE!! .....
July 1 (Thursday) The Baabes are back!!! Yes! Baabes, M8, Pigeon Man at The Jungle. 8PM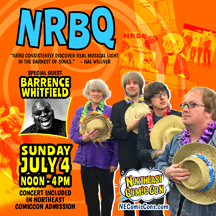 July 2 -4 (Friday, Sat, Sun) Northeast ComicCon has lots of live local music included in ComicCon admission Link for more info and tickets here!!:
July 2 (Friday) Northeast ComicCon - 1:00 pm Charlie Farren.8:00 pm - Walter Sickert Bunker Buds Live, also- Cowboy Mach Bell
July 3 (Saturday) Northeast ComicCon - Red on Red Records Showcase, 11:00 am - 7:00 pm, Justine & The Unclean, The Chelsea Curve, Kid Gulliver, The Daylilies and Tom Baker,
July 3 (Saturday) Jack's Barber Shack Grand Opening Party! The Shack opened in May but now there are parties...so celebrate right...with Jittery Jack with Amy Griffin on Guitar and special guests, U-EY at the BUOY. at the Manchester by-the-Sea American Legion, 14 Church St Manchester, MA FB page.
July 4 (Sunday) Northeast ComicCon - 12:00 noon Barrence Whitfield
July 4 (Sunday) 4th of JULY BIG SALE!! at 40 South St. Vintage - 12 Noon to 4PM - All clothing 20% off third item 50% off. 40 South St JP. FB page.
July 3 (Saturday) Doug MacDonald Band, Double Barrell, The Thigh Scrapers, The Bind at The Midway - this is a LIVE in person show!! 8-1AM. FB page
July 17 (Sunday) Thalia Zedek is celebrating the 20th anniversary of her first solo album Been Here and Gone by performing the entire album at the Midway. Also on the bill will be Richie Parsons and Eric Martin. 6:30 doors…The FB page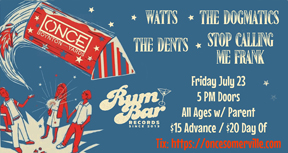 July 18 (Saturday) WHOA "mega-show" is right!!! In Provi, at the Scurvy Dog: Droplets, Midnight Creeps, Diablogato, Killer Kin, Pony Boy, 123 Astronaut, The David Tessier All-Star Stars (A.S.S.), Gamma Rage, Jodie Treloar Sampson and Steve Demers, Death Pesos, IonEye....FREE and music STARTS at 2PM with IonEye! FB page.
July 23 (Friday) A Rum Bar Records Summer Showcase with Watts, The Dogmatics, The Dents, Stop Calling Me Frank at Once at Boynton Yards. Doors at 5 music at 6. ALL Ages (with parent)
July 23 (Friday) At The Breakaway in Danvers Guns of Brighton as special guest in a Motley Crue tribute show.
July 30 (Friday) Muck and the Mires, The Hi-End, Modern Day Idols - the First rock and roll show BACK at The Square Root Roslindale!!!
July 30 (Friday) Motel Black, Gene Dante & TFS, M8, The Jacklights are at Ralph's Rock Diner
July 31 (Saturday) Walter Sickert & the Army of Broken Toys (Matinee) 1:00 pm - 4:00 pm - ONCE Somerville @ Boynton Yards.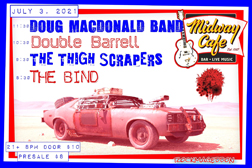 July 31 (Saturday) Walter Sickert & the Army of Broken Toys - 6:30 pm - 11:59 - ONCE Somerville @ Boynton Yards.
July 31 (Saturday) The Savtones Return with special guest Marco Giovinno on Drums at The Porch in Medford. FB page
August 5 (Thursday) No Small Children, Thrust Club, Bad Larrys, Tiffy - ONCE Somerville @ Boynton Yards - a 6PM show. FB page
August 6 (Friday) The Furniture, Today Junior, Children of the Flaming Wheel + special guests Garden Party at O'Brien's
August 6 (Friday) End of Summer All ages hardcore show with The Woods, Witchita Hangman, Half Mast, Mont Clair, Rocket Gods and Loser Birds,at the VFW post at 95 Essex St. Whitman, Ma - 6PM. FB page.
August 13 (Friday) Liz Borden (w/Stormtress), Gene Dante & The Future Starlets, Little Billy Lost at Once at Boynton Yards. 6PM Doors, Music at 7PM Tix etc here.
August 14 (Saturday) The Winter Project, A Bunch of Jerks, HIXX, Screwcart at The Jungle, 7:30 doors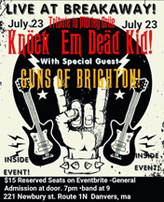 August 14 (Saturday) an evening with legendary rocker Robin Lane in support of her nonprofit Songbird Sings, which helps trauma survivors heal through songwriting and music. Performers include: Kid Gulliver, Justine and The Unclean, Nightspell,
The Jacklights ... and of course Robin Lane! FB page.
August 14 (Saturday) Sidewalk Driver, Freezepop, Worshipper at the Sinclair FB page
August 14 (Saturday) The Mal Thursday Quintet with special guests Tiger Bomb at Sun Tiki Studios Portland, ME FB page.
August 19 (Thursday) Kenne Highland's Air Force is at The Jungle.
August 20 (Friday) Bonecrusher, The Welch Boys, Riotgun at The Midway
September 3 (Friday) Rebuilder, Choke Up and Old Soul at the Sinclair - Tickets
September 3 (Friday) The Zulus rescheduled show at The Paradise - doors 8PM, music 9PM. FB event page
September 10 (Friday) The DollyRots at the Middle East Up.
September 11 (Saturday) Guided by Voices at the Sinclair. Tickets.
September 12 (Sunday) Mark your calendars! Frank Rowe's 70th Birthday Party featuring Classic Ruins and friends (more info soon) - at the Midway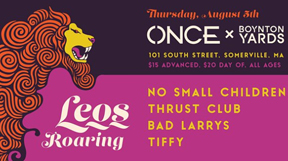 September 16 (Thursday) Bob Mould is at the Paradise - Tickets here
September 18 (Saturday) Martin, Morell, Fredette are having a residency at The Midway. These are early shows - 3-7PM
September 19 (Sunday) It's the return of Tubefest -New England Surf/Instro Showcase! Lots of surf and instrumental bands for your enjoyment! Tubefest Facebook page. This will be an afternoon/early evening show
September 24, 25 and 26 The New England Shake Up is back. The rockabilly festival will happen this year in Framingham. The line-up of bands is way long. They also have a picnic record party 11AM-4PM on Saturday the 25th with Barrence Whitfield spinning vinyl. Get more details and ticket info on their website.
September 30 (Thursday) Nervous Eaters/Barrence Whitfield/Willie Loco and the Boom Boom Band/Carissa Johnson at the Paradise . Get Tickets Here!
October 4 (Monday) Gary Neuman at the Paradise Tickets
October 14 (Thursday) Ministry at the House of Blues. Tickets
October 18 (Sunday) Martin, Morell, Fredette are having a residency at The Midway - 3-7PM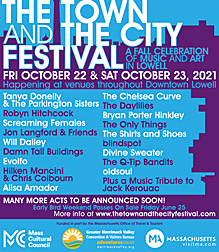 October 22 & 23 (Friday & Saturday) The Town & The City Festival, Lowell. Music by: Tanya Donelly & The Parkington Sisters, Robyn Hitchcock, Screaming Females, Jon Langford & Friends, Will Dailey, Damn Tall Buildings, Evolfo, Hilken Mancini & Chris Colbourn, Alisa Amador, The Chelsea Curve, The Daylilies, The Shirts and Shoes, Daisybones, blindspot, Divine Sweater, The Q-Tip Bandits, The Only Things, oldsoul, and Brian Porter Hinkley. Website for tix & info ... FB Event page.
October 31 (Sunday) Dropkick Murphys At Hogan's Run again 7-11PM...best Tessie costume wins a free drinks bracelet for the night. FB page.
November 11 (Friday) Hardcore Stadium and Grayskull Booking Presents: Slapshot - Celebrating 35 Years of Hardcore Day 1- Stars & Stripes, Noi!se, COA, Patriot, Violent Way at Sonia - (already sold out!!)
November 12 (Saturday) Hardcore Stadium and Grayskull Booking Presents: Slapshot - Celebrating 35 Years of Hardcore Day 2 -Slapshot, Sheer Terror, Death Before Dishonor, Pummel, Count Time - at The Middle East Down. (already sold out!!)
November 19 (Friday) Joan Jet & the Blackhearts will be at the Chevalier Theatre in Medford Square. Tickets.
November 27 (Saturday) Dinosaur Jr. at the House of Blues on Saturday Nov 27. Tix
March 13, 2022 (Tuesday) Reigning Sound at the Sinclair Tickets: https://www.axs.com/events/402182/reigning-sound-tickets
CONTACT US AT....misslynbgn@yahoo.com Send us your gig listings, your anything else ya got!! You want your CD reviewed?? Contact us for that too.
---