The BGN News Archive
June 29, 2009
So first we want to say RIP to Skye Saxon, a great loss to the history and community of rock'n'roll...
and ya gotta admit Michel Jackson was a huge musical influence everywhere...I wish he had been a happier person, RIP Michael....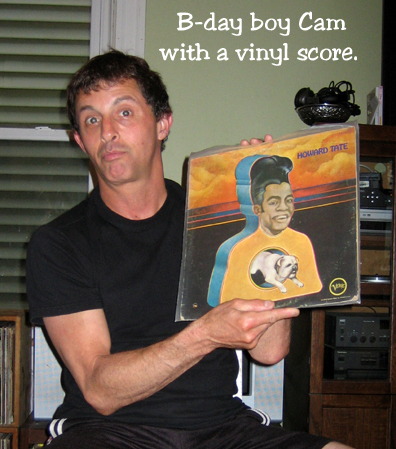 on a better and brighter note we send out a huge HAPPY BIRTHDAY CAM ACKLAND!!!!
Yup we just came from his very exclusive birthday party and even got a pic of the birthday boy for ya....
Now, from what I am hearing we have to wait until about September for Cam's new band The Port Charles Quintet to make their debut...I'm sure it will be worth the wait!!, Happy Bday Cam!!
Now, WHERE is my summer???????
I am getting really bummed out by this weather!!! I mean its almost July!!!!
....Here I was writin' about Johnny Angel and the Blackjacks. He's come and gone (it was great seeing you John!!) and now July is like, just about HERE!!!...
So this Wednesday July 1st is The Germs at Harper's Ferry....good way to start summer...IF it starts that is...either way good show!!
And then Friday July 10th there an excellent show: at Middle East UP is The New Alibis CD Release Show also featuring The Have Nots, , Razors in the Night, and Burning Streets...oh yeah!!
Saturday, July 18th there's a good show over at Great Scott in Allston when The Turnbull Athletic Club presents RIPPIN'EST TOWN 5: it's a Mods & Rockers Scooter Rally plus bands like: The Antibodies, The Sprained Ankles, The Alrighters, Blood Stained Brindle, with Get Smart! DJs: Prince Dubplate and Fordy Buxworth....
But on the other side of the pond (Cambridge that is) we got The Doom Buggies and The Egos at The Cantab on Saturday the 18th as well....
Bunratty's Reunion.... will be on Sunday afternoon, July 19 at the Wonder Bar (formerly BUNRATTY'S!!!!) in Allston.
And here's some very cool news:
coming up Friday, August 7th, at Church is Faster & Louder You know, Neighborhoods rhythm section with members of Unnatural Axe, Gang Green/Band 19, and Johnny Black Trio/Johnny and the Jumper Cables:
See it's like this folks:Richie "Swinging Dick" Parsons - vocals, "Fritz the Boss" Erickson - guitar, Johnny "Top 20" Black - guitar, Lee "The Lawman" Harrington - bass and "Johnny Rock" Lynch - drums
They will play the entire Bloodbrothers album by the Dictators and a few more 'Tators tunes.
And in August, the 21st, At The Middle East UP to be exact it is the return of THE MARVELS!!! (here's their MySpace site) , Along with Dirty Truckers, Vagiant and Pulp 45....that is a most awesome show my friends and only to be equaled by....,
the NEXT night at ME Up with the Midnight Creeps, Red Invasion and a couple other bands...OH...I'm at the ME that weekend!!
Ok folks, that's it for this week.....click and write me!.... Lyn