The BGN News Archive
June 30, 2008
Gene Dante and The Future Starlets

| | |
| --- | --- |
| | |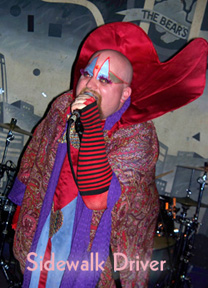 So the BGN went on another outing this week,
and we ended up at TT The Bear's Place on Saturday the 28th for The Mercy James Gang, Gene Dante and The Future Starlets and Sidewalk Driver. A good bill, the bands sounded good together. Gene Dante and The Future Starlets were very early Bowie/Mott The Hoople brit-glam great lead-singer rock inspired. It was all over their sound. The guitarist was really good, he has a great touch and looks like he was born to play guitar the way his fingers move so effortlessly over the strings. I think he should have been turned up more, I couldn't hear him and there should have been much more of him to hear, not that I like guitar solos but I kept thinking of Mick Ronson and wanted a little MORE!, they should have showcased a bit more of his sound I think. . and that Gene Dante is quite a dish. He's a hottie for sure and has a great voice and an excellent stage presence. The band sounded tight and rehearsed and sure of themselves up there. Go to their site HERE!! See when their next gig is…..
Oh then, the audience started all filling up the space in front of the stage and all night I saw this big bald guy in a glittery cape walking around the club. Now here he was in the dressing room getting ready, last minute make up touches being made and all…..but I couldn't understand it because the band that was one stage did NOT look like the band he would be playing with, they were all in t-shirts and jeans. But on the stage he did go….red false eyelashes and all. The was Sidewalk Driver and their lead singer Tad. What a bundle of contradictions Tad seems to be; he looks very tough, a big guy, bald head, facial hair, but when he's on stage he's sporting boa-trimmed gloves and lots of glitter and make-up and his voice!; a falsetto...and very very good! These guys were great!!! I would definitely go seem them again! Here's their song "Tornado"…a hit for sure!
And here's their website as well…..Sidewalk Driver But my crush of the night was hands-down, Dan the bass player!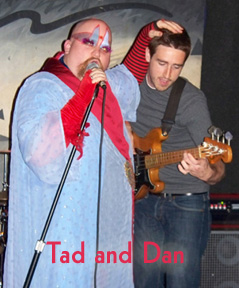 Great week for music coming up:
Tuesday, July 1st, The Murder is at Great Scott's in Allston
Wednesday, July 2nd, at Harper's Ferry a big and most awesome show: it's Agent Orange (!!!), Jason Bennett & The Resistance, The Scars and Pulp 45
next night rockabilly it out at TT The Bear's is another awesome show with The Swinedells, The Stumbleweeds, Rocky Velvet and Nate Gibson & The Gashouse Gang…oh yeah, a fun bill not to be missed!! I can't think of a better way to make your way in to the 4th of July weekend…..
But then again there's the Abbey with Squallie Greenthumb at the Pub Stage and The Scars, Guns On The Run, Dead Like Death and Tried and True on the regular stage…oh yeah!
And for July 4th, between fireworks and stuff there's a big Joe Harvard to-doo at The Middle East UP with Status Green, Joe Harvard Band, Forego Famine, Rick Barry & Keith Monacchio, PLUS readings by 33 1/3 authors Joe Harvard and LD Beghtol , cool!!
And here's are two truly excellent shows to mark your calendars for:
1) Thursday July 16th at Church; The Freeze, Psycho, Moral Decline and Mob Hit
2) Saturday July 19th at O'Brien's in Allston its Red Invasion, Classic Ruins, The Radio Knives, and The Last Second
And lastly have you tuned in to Strike The Box on WMFO, 91.5 FM, DJ Chris Major is always spinning some great stuff on Thursdays from Noon - 2 so check it out. To give you a better idea, go to his Strike The Box page and see what's up!
Well friends that's about it for this week….again just click and email us with your news and shows and comments…see ya. Miss Lyn
Further down the raod.....
Because of the heat issuing from the bowels of hell itself at last year's Late Risers Club Anniversary they are having an evening on year latter to allow people to see the Jan Crocker videos and the LRC's documentary from Marissa Acosta. There will also be some DJ action from Joanie, Albert O and Mark. It will be at the Alchemist Lounge in Jamaica Plain on Friday September 5, 10PM to 1AM...and maybe some FREE PABST.
Meanwhile, Joanie Lindstrom continues to become a punk version of Zelig, this time she shows up at the opening of that posh hotel in Newton where the only way we could get in is as cleaning help and chummies up to Dee Snider of Twisted Sister.