The BGN News Archive
June 30, 2014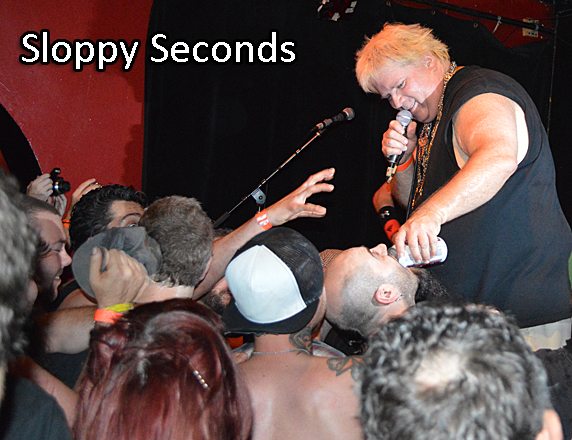 Blowfish is our weekday rover: Dot Rats on the bill attracted me to the Middle East gig early in the week. It turns out I missed them but caught The Pity Whores and Sloppy Seconds. It was a Monday show but the club was on the full side. As they posted on the Pity Whores web site; "It was great to see, hangout, and indeed molest many good friends that turned out to the Middle East tonight and braved the omnipresent thoughts of "Shit, work is going to suck tomorrow."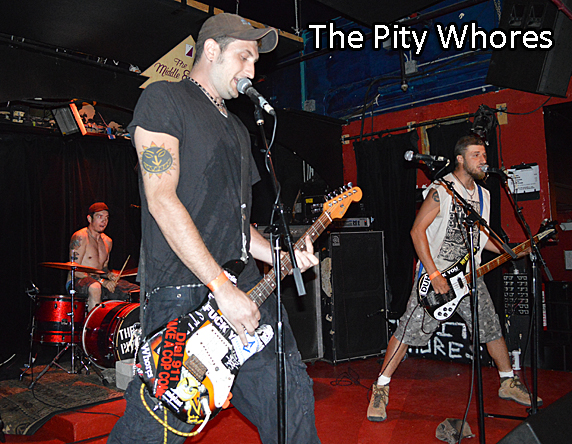 The Pity Whores, like the Queers who they are connected to, just bang out the goods; basic punk. They give you the fix that Triple Thick does when you have listened to other bands that come with baggage, complications and excuses for this and that and you get sick of it. The bass playing was busy and knocking my head around, in a good way. Wimpy Rutherford did a guest shot and doled out even more energy. Here's a video of Pity Whores at the Midway. This video doesn't give you the bottom end so you will miss the fine bass playing.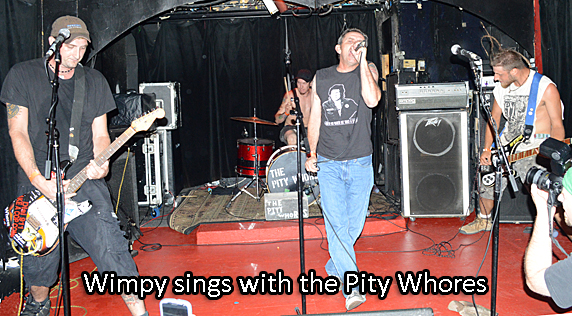 The main attraction tonight was Sloppy Seconds who I was clueless about outside of listening online beforehand and liking the Ramones type rock I was getting. Everyone else though, were fans, and the band was treated like returning heroes and After the set I could see why. They were a mix of cartoony fun, satire and Ramones rock. Their lyrics have bite, despite what seems like a light manor. Everyone knew the lyrics and were singing along all night and cheered as each fave tune was introduced. Moshing, stage diving and beer spilling...check, check, check.
The lead guitarist, who looks like Weird Al Yankovic, was high stepping it around stage and did his share of mugging and was still was able to deliver the buzz while doing it. On the last song he unveiled his secret weapon, a guitar whose body looked like a box of Fruit Loops. Just a cool thing. Lead singer B.A. had seen Kenne Highland in Bloomington at the Gizmo reunion the week before and Kenne was there in attendance as a return.
Here's a video of You Can't Kill Joey Ramone that shows their delivery and you can imagine how people sing along with this. I'm a big fan now and will catch them every time they come to town.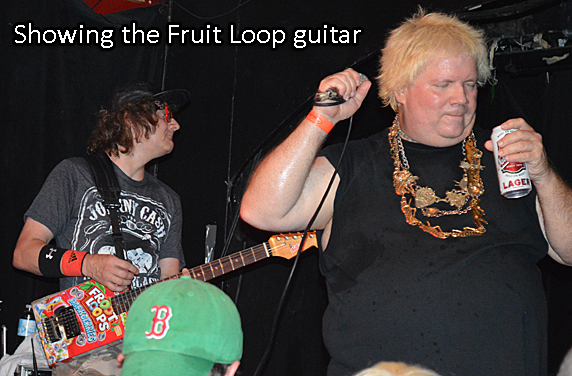 I tried to catch a hardcore show at the Middle East on Thursday but couldn't find a parking space! Central Square was swarming with crowds. It was an overflowing stream of people walking down the sidewalk. Was it the perfect weather or something school oriented? I don't know. It was better luck and less people on Saturday when we went to The Cantab to check out The Drunk Nuns. They won us over on our first exposure at Church. Next time I saw them at O'Briens they played well but the crowd was unresponsive. Tonight they get a very responsive audience.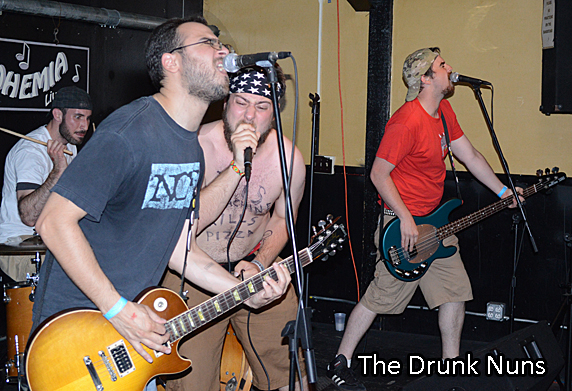 These people were in a friendly and playful mood and ready to interact. Whenever Joe Barron the singer said anything he got some funny retorts from the audience. There was some contained moshing. The band did their thing which is no frills punk with interesting songwriting and some catchy hooks in the vocals. On stage they pump out energy and personality. Joe the singer is decked out in a flag bandana, a Willie Nelson t-shirt and flag motif slippers. He later de-shirts to reveal a magic maker note on his chest; "THIS MACHINE KILLS PIZZA".
He's off the stage now and then joining the moshers too. He's a character and a focus of attention but the Nuns work as a group. They illustrate how even if the music is good the show is important too. As always with groups we love, we think they should be getting more attention.

The Nuns went on last at almost midnight but the club, which was about two thirds full, remained about one half full till the end. We are used to seeing the crowd leave around 11 o'clock to get the last bus/train. This might be the first time we notice the difference of the MBTA running to two o'clock. It's a new populated world for the last bands.
Check out The Drunk Nuns on Bandcamp.
The gig also featured Sweetree Ink, the art/printing shop run by Dave Tree of the late group Tree. They were selling shirts and artwork on the side and the great thing was people were buying!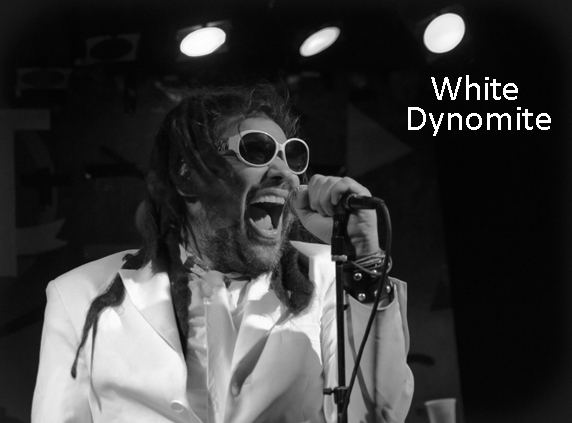 In other news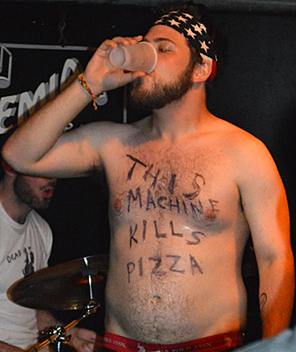 Ace Of Hearts on the list of 10 essential punk labels ...(and it should be!) on the music website Caught in the Carousel!!Congrats Rick Harte!! This is a cool site check it out here: Caught in the Carousel
and of course ....Kenne Highland recently returned from his Gizmos Reunion tour and has a brand new column for your reading pleasure and possible confusion....he has some memories of his tour and tells about his other goings on out and about this past week...check out this week's Kenne Highland at Large.
So what's comin' up for gigs?....
I wish I could transport myself to New Haven, CT for the night!! This Thursday July 3rd a night of female fronted rock presented by Go Kat Go! and headlining is the Skeleton Beats (who we loved when we saw them in Feb of this year) Also on the bill is The Evil Streaks. It's at Cafe Nine. (The Skeleton Beats are playing around here August 10 red below)
It sucks that the tried and true Out of The Blue Gallery on Prospect St in Cambridge has to move after 18 years at that location!! So they are having a series of benefit shows to help cover the costs of finding a new space etc...You can donate at their Go Fund me page or/ and you can go to the shows ...Sunday July 6th at TT's they've got So Sol, Thick Wild, Ex-Magicians, All Eyes On Me and DJ Sterling Golden
will be the host, MC, & spinning between bands.
Trip to NYC time!! Saturday July 12th at the R Bar int eh Bowery NYC there's a Jerry Nolan & the Profilers Final Recordings Record Release Party and its featuring Greg Allen's Fringe Religion (with original Profilers Greg Allen and Chicago Vin Earnshaw), Buddy Bowser, Johnny Rao, Gass Wild, Android also performances by Jennie Vee, King Bee & the Stingers, Wrong Era, Lip Action.
Next night: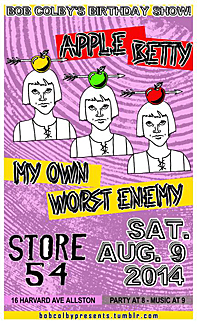 Sunday July 13th Greg Allen and His Fringe Religion are playing at the Annual Johnny Thunders Birthday Bash at The Bowery Electric in NYC. Also on the bill Walter Lure and a whole lotts other bands too!
July 15th has FuzzStompin' GarageSoul with Thee Legendary Rockin' Prophets at O'Brien's.
July 19th Great Scotts has We're All Gonna Die, Cocked n' Loaded, Murcielago, Hey Zeus and The Humanoids
Friday July 25th at The Midway, Cincinnati band Wussy is playing along with locals Slowdim and Brother Fight.....
Friday July 25th has a great show at Great Scott's with Razors In The Night (Record Release Party! & we're happy to see they are out and about again!), Panzerbastard, The Blue Bloods, and Taxi Driver Friday August 1st has Tsunami of Sound, Tommy White's The Beachcombovers and Cal Cali's New Experience at Sally O'Brien's
Saturday July 26th tune in to Brian Young and his Crash Course for the Ravers show on WMFO 91.5 he's gotta a bunch of folks on the show: -Cal & Al with ....Frank Rowe (Classic Ruins), Anthony Kaczynski (Fireking) -Randy Black and Vikki Porter
And then that very same evening (7/26) ....over at the Tavern at the End of the World is Cal Cali's Summertime Soiree with Fireking, Cal Cali Band, Randy Black & the Heathcroppers and Vikki Porter Band....and at the Tavern there's NO COVER!!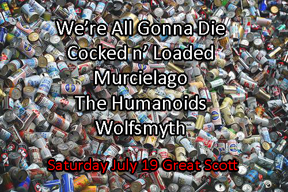 The we start off August with Beyond the Beach!! at Sally O'Brien's with Tsunami of Sound, The Beachcombovers, Cal Cali Band and Boston Monkey
Terry Brenner's bringing The Real Kids and Nervous Eaters and Greg Allen's Fringe Religion to The Spotlight Tavern in Beverly on Saturday August 2 Thank you Terry!!
In Boston on August 2 there's the Boston Fuzzstival at the Middle East....check out this Line up…..28 degrees Taurus, Abadabad, Atlantic Thrills, Beware the Dangers of a Ghost Scorpion!, Black Beach, Creatorus, Dinoczar, Doug Tuttle, The Fagettes, Fat Creeps, Ghost Box Orchestra, Gymshorts Magic Shoppe, The New Highway Hymnal, and , The TeleVibes And At The Sinclair its suck n muck with The SuperSuckers and Muck & The Mires on Sunday August 3rd.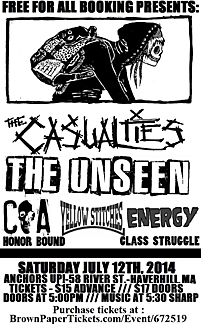 And in Allston on 8/2 you got the Sprained Ankles, Hope + the Husbands, Das Muerte and Tsunami of Sound at O'Brien's
Friday August 8th - awesome Rock On Cruise with Aquanutz/White Dynomite/Petty Morals
Saturday August 9th there's a excellent show at Store 54 with My Own Worst Enemy and Apple Betty.
Sunday August 10th there's an afternoon show (4-8PM) at the Midway with Greg Allen's Fringe Religion, The Swindlers, The Skeleton Beats and The Knock Ups.
Saturday August 16th over in Allston O'Brien's has The FU's, MOTO, Round Eye and Daikaidju (sounds like a wild show!!)
On Saturday August 23rd start the afternoon off with Brian Young and Crash Course for the Ravers Show with his special guest this day being Willie "Loco" Alexander!! (WMFO 91.5PM 1-4PM)
It's Hixxmas in August folks! On August 23rd at Club Bohemia at The Cantab it's Hixx and Psychic Dog and more bands TBA...
This should be an interesting evening...at The Cantab August 30th....The Sound Down Cellar, Nelson Slater (tentative), Annie Activator and the once a year gig by Love & Flame featuring Danny Rybar, Lady Carolyn and Joe Viglione along with Mike Quirk on bass, Kenne Highland on guitar. (they are on at 9:30) and The Guns of Brighton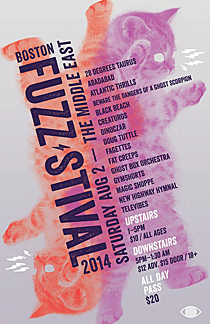 We finally get to see Dave Minehan with The Replacements since they are on the bill for the Boston Calling Show September (5,6 & 7)!
But also put this on your calendar: At O'Brien's on Friday Sept 5...It's Fri Lisa & Malibu's 10 Year Anniversary Rock Off!!! Featuring: The Kurt Baker Band, The Connection, Tom Baker & The Golden Shower Band (Members of The Dirty Truckers & Watts)and ZipGun Bomber
The Legendary Shake Shakers are coming to the Middle East down September 12th.
Saturday September 13th is Matt Burns' 60th Birthday Party! He's celebrating at The Lizard Lounge. So far the bill includes Litehouse, The Handymen, Kenne Highland, and more bands to come.....
There's also a excellent show at The Midway on Sept 13. Cal Cali brings us Lyres-Nervous Eaters-Cal Cali Band- The Invaders (Les Envahisseurs-from Quebec) - whew!!!
And at TT's in September there's a couple great shows coming up - Sunday Sept 21 is Queerstock 2014 with Gunpowder Gelatine, Thalia Zedek, The Kitchenettes and Fur Purse and to finish off the week on a definite , awesome actually, punk note Friday the 26th they have The Angry Samoans, Reagan Youth, Burning Streets and The Welsh Boys opening the night.
The Rat Beach Party set for September 14th& 15th you get all the info on their Facebook page
September 14th -a Sunday daytime show- at the Midway will bring us The Members!!
October 5th - a Sunday daytime show at The Midway will bring us The Vibrators!!!
And September 22nd at the Middle East up is a great show with Shonen Knife and Petty Morals.
The Damned are touring this Fall with TSOL. They are playing Halloween in NYC but playing Boston on Saturday October 25th at the Royale...tix here....
CONTACT US AT......misslynbg@yahoo.com Send us your gig listings, your news and anything else ya got!!