The BGN News Archive
July 2, 2018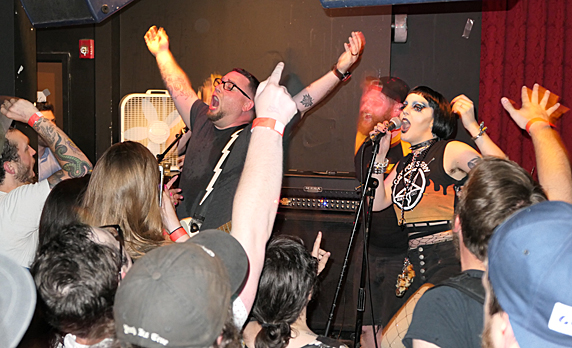 Trophy Lungs
Photo: Blowfish
---
Tuesday was the reunion show for Trophy Lungs at O'Brien's. They used the occasion to make it a fundraiser for the Student Immigration Movement. Then they threw in a drag show. The full club was a happy mix of these three groups, it's not often that this sort of thing happens.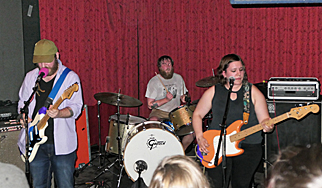 Birdwatching
Photo: Blowfish
We caught some of Birdwatching who we've seen before. They have an indie vibe. The guitarist had a distorted sound that also had character. You can hear that captured on their song "Lint Muffen" on Bandcamp. It was always there as a backdrop to the singer who has a voice that delivers their intelligent lyrics with conviction. A listen to their song "Night Physics" shows that.
Next the speaker for the Student Immigration Movement gave a short but stirring speech. This subject is at the top of national discussion and the crowd was vocal in support. In the end they raised $1,300.00 for the cause.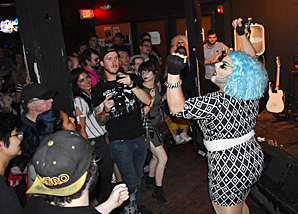 Photo: Blowfish
Then the drag acts started. There were about five lip-syncers. The first did several Green Day songs. One went at it to a metal/electronic version of "My Sharona", that was ripping by any standard. Then the MC of the drag part did a live set of a few songs. That was rocking like crazy too. We have a video of one song below.
Then it was Trophy Lungs time. We first saw Trophy Lungs at O'Brien's in August of 2013 and then many times after that eating up their pop punk. They grew and got bigger sounding over time. At the end they had good gigs like being an opener at the Brighton Music Hall. We've missed them.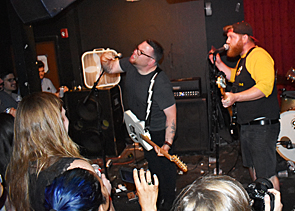 Trophy Lungs
Photo: Blowfish
They came out full of energy and started playing the familiar tunes. One thing that started early with this group is the tradition of the beer can throw. It became a thing somehow. Soon enough the beer cans were being whipped on stage and it never let up. You can see it happening in the video below. We also have a photo of the beer can littered stage in the photos below the show listings. The problem is that the guys were getting hit a lot and in the face too. It didn't seem pleasant but they kept going.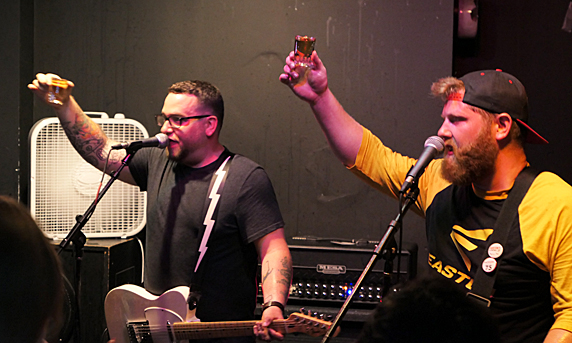 Trophy Lungs
Photo: Blowfish
It was a wild set. They stopped at one point for some whiskey shot toasts and then went on to finish with the always touching Bathroom Graffiti, about those who have died. It begins with the lines:
"This one's for Mike, this one's for Callin, this one's for Chompy.
And all the friends we know we lost too soon."
They yell those lines out and they are like a rallying call for all to join in. There was always a feeling of comradery with this band and their fans. It was nice to see it again.
Trophy Lungs did a lot with this show. They helped a worthy cause, they got three different scenes in one club and they had their reunion.
Thursday there was a Screw Cart show in a new club to us. Maggy's Lounge is on Washington St. in Quincy. It was about a mile from Pete's Grille another Quincy club we had to google to find when they booked the Nervous Eaters last February.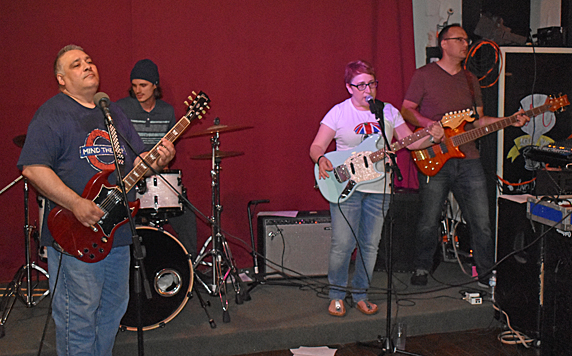 Kid Gulliver
Photo: Blowfish
Maggy's looks like a house outside and has a nice set up for bar food and music. They had a dedicated room for the bands. Kid Gulliver was nearing the end of their set when we got there. We were able to catch "Julie is on Chemotherapy". We're hoping that will be recorded at some point.
There was only a handful of people at the club. That was probably to be expected on a Thursday at a new place.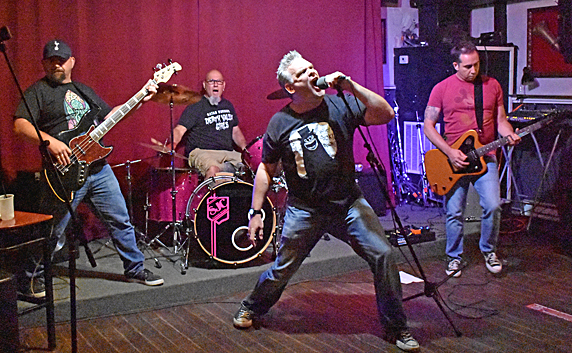 Screw Cart
Photo:Blowfish
Screw Cart was always an intense affair and they were still that at Maggy's but they also had cleaned up their sound and tightened their set. They just had three instruments. The bass player could be heard clearly and he was all over the fret board with complete control. The drummer was interesting all night. The guitarist did a lot of soloing and it was all impressive.
A lot of the songs were riff based where the guitarist and bass hit the figure in the lower strings and together rocked it out. Examples of that were two songs they did from the new EP Gas My Ride: "Comes a Monkey" and "My Way". You can hear them on Bandcamp.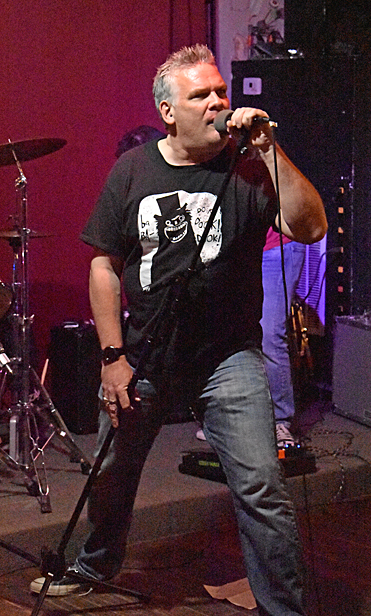 Mark Kennedy - Screw Cart
Photo:Blowfish
Mark Kennedy was a beast unto himself. He had a commanding presence on stage as he injected a feeling of menace into the songs. You couldn't take your eyes off him as he delivered the Screwcart load of strange songs that are seemingly full of evil thoughts. They began their set with the first song they released a few years ago named "Cheese Wheel". Why would a song with that title have the feeling of a veiled threat? Whatever the reason, that's how the Screwcart songs go. For the final song they covered fellow traveler in the dark Roky Erickson's "I Walked with a Zombie". That's a perfect cover for them. It was the best set we've heard by Screwcart. We wish others were there to hear it.
Arthur Freedman went up to Beverly for Tom Abbott's band the Flying A Holes. Who, aside from their name, are a practiced power pop outfit. Pretty decent originals and a few cool covers including "Pictures of Matchstick Men" by Status Quo and "Locomotive Breath" by Jethro Tull. Ran into Rich Mirsky, Lenny Scaletta and a couple of gals from Corolla Deville who mentioned that they will be playing a show at Club Bohemia downstairs at the Cantab with the Flying A Holes this summer. This all took place at 9 Wallis St, a really nice, small venue and the owners are very nice folks. I noticed that Barrance Whitfield is playing there on July 18th. Nice Stage, Lights, Sound...Good Drinks... Hope to catch lots more shows there!
Flying A Holes at 9 Wallis

| | |
| --- | --- |
| The Flying A Holes | The Flying A Holes |
| The Flying A Holes | Tom Abbott, Rich Mirsky and Lenny Scaletta |
We thought that Smitt E. Smitty was just the...drummer but time has shown he's much more. He is an artist that makes the best flyers out there. He's got a big personality and stage presence that makes him the perfect host, which he has done for the International Pop Overthrow. He organizes all sorts of shows in Boston and in his home town of Detroit. He put the show on in Once on Saturday where he added bandleader to his list of accomplishments.
Smitt E Smitty
Photo:Blowfish
With a new EP all done up Smitty got a big band together. It seemed like a party on stage. It evoked a different era. Joe Cockers' Mad Dogs and Englishmen tour came to mind or like one of the soul review shows.
Danny Lee, ex of Come, was drumming and Jim Melanson of Pop Gun was on guitar. Everyone seemed comfortable and having fun onstage, especially the singers and Jim who was supplying some dirty fills.
Smitty's song "Modern Guy" stuck out and seemed like that will be his signature song. Smitty was mostly singing but being a drummer chose a drum leading "Lust for Life" as a cover. They carried that song off exactly right. Latter the drum heavy song "I Want Candy" was driven home with three drummers, including Smitty. Before you knew it, the song morphed into "Panic in Detroit". Smitty had to be pleased with the reception of his new endeavor.
The Bowie cover was the first thread of glam to enter into the night. After that it was all glam, all the time.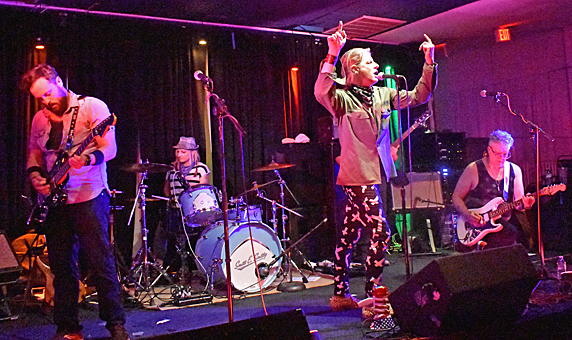 Parlour Bells
Photo:Blowfish
Parlour Bells were heavily Bowie influenced. They don't want to rock too hard, just enough to make their catchy songs click. They have their style and everything is in the same mold. They have pleasing melodies, effects laden guitar lines and vocals with plenty of character. It all nuanced so there is plenty to listen to all the time.
This was a night of memorable front men and the Parlour Bells singer was definitely that with Goddamn Glenn up front.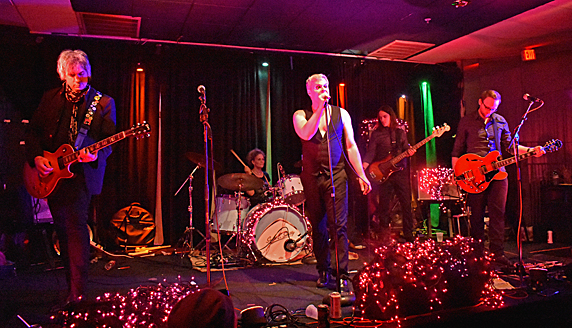 Gene Dante and the Future Starlets
Photo:Blowfish
Gene Dante and the Future Starlets were the main draw on this bill. To us they, along with Sidewalk Driver, seemed to start the glam revival in Boston in 2008/2009. Bowie is their god. They've made a name for themselves because their songs are unforgettable. Gene had lots of funny stage patter. He was born to be on stage.
All the sets at this point were on the long side. These groups had lots of material and lots to say.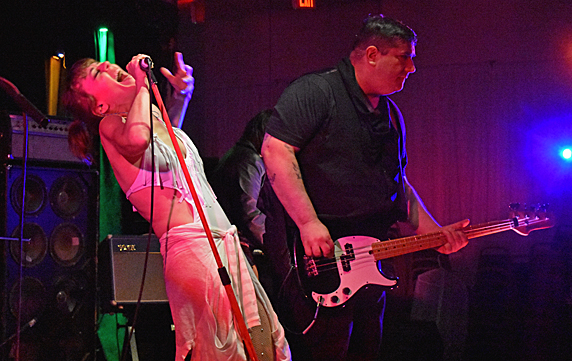 The Gala
Photo:Blowfish
The Gala however made it short and sweet and proved the efficacy of that way of doing things. They got our attention from the first time we saw them and have seen other people instantly become fans within one song of hearing them. That happened at Once too.
It's pretty simple garage/new wave rock which they have personalized and bring home with mucho energy and stage antics.
We have more on this night with a page from John Keegan. He's got more words and many more photos. Click the photo link below.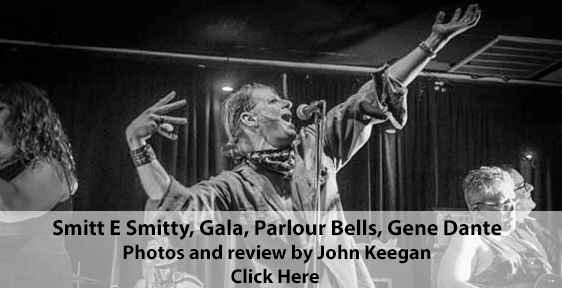 More band photos after the show listings
---
And in other news ....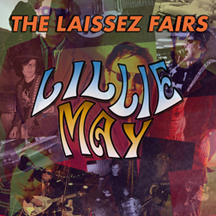 Kiss the Ass of My Heart …what the heck does that even mean? That's the name of the new song released by the Cheap Cassettes on Rum Bar. Weird idea there but the song is good.
Also on Rum Bar, The Laissez Fairs sound like English psych and a lot of other things. This EP (a split with Cromm Fallon) has songs "Lilly May" and "Scars Like You" with two more extras.
Now let's give a little time to Ocelot Records who put out a split single with two songs each by Oh the Humanity and The Hideout. They're two compatible bands. There's a lot of emotion packed in there.
Richie Parsons's Kickstarter for his new album Black Throated Blue reached $19,000.00!! Its goal was $16,000.00. You can still get in there and get some extras.
We were talking to Fred Pineau at the show on Saturday. His current band Little Billy Lost and the Cocks of the Walk has finished recording an EP at Woolly Mammoth with Minehan at the board. Gee, that guy has been busy lately! Patrick Moynihan, who worked with Fred in Big City Rock is now on bass.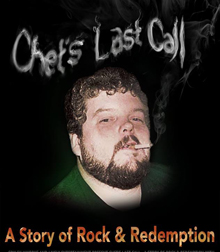 Don't forget that the Chet's Last Call documentary will make it's debut at the Wood's Hole Film Festival on August 3.
Coming soon to a theater near you (we HOPE) is The Public Image Is Rotten which "tells how Johnny Rotten picked himself up after the dissolution of the Pistols and formed the post-punk band PiL.
First-time director Tabbert Fiiller helmed the film featuring commentary by Flea, Ad-Rock, Ginger Baker and Thurston Moore, among others, alongside interviews with Lydon and archival footage."
Can't wait for that one! Here's a great review of the film from Variety.
Steve Soto shockingly passed away of a heart attack in his sleep this past week. He had a deep influence on punk (Agent Orange. Adolescents, among a lot of other projects) besides being a great guy.
We saw a fun show in 2015 where he got together with Greg Hetson, Stan Lee and Derek O'Brien to do a Punk Rock Karaoke tour. People in the audience were hugging him when they met him then!! Thank you and RIP Steve Soto!!
Steve Soto at the Punk Rock Karaoke show at Church in 2015
Photo:Blowfish
---
Here's some good shows coming up this week.....

July 3 (Tuesday) it's another Rock'n'Roll Trivia Night with Erin and Brett!! There's no excuse -"JULY 3, OUR MOST PATRIOTIC ROCK AND ROLL TRIVIA YET! YOU DON'T HAVE TO WORK ON THE 4TH - COME ON OUT AND SLEEP IN TOMORROW!"
July 3 (Tuesday) Appalachian Terror Unit, Hard Charger, City Problems, Boot Rot at AS220 Provi RI
July 6 (Friday) Black Beach, Blood Built Empire, Numbers Have Names at Great Scott
July 6 (Friday) Bloodshot Bill, Jittery Jack & Miss Amy Griffin, DJ Easy Ed are at Sally O'Brien's
July 6 (Friday) Thee Fightin Fish, Mercury on Mars, Highway Chapel, Melted Chapstix at Club Boho at the Cantab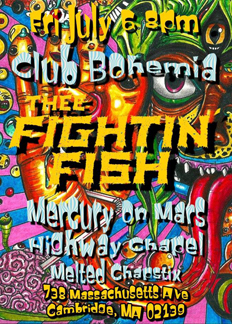 July 6 (Friday) Zip-Tie Handcuffs, Graneros, Goddamn Draculas at KOTO in Salem
July 7 (Saturday) Cruel Hand, Restraining Order, Pummel, Rained In at 6:30 PM at Massasoit Elks Lodge Central Sq Cambridge
July 7 (Saturday) Hixx are at the Midway for a day show (4-8PM) with Crunchtime, The Cast Irons, and the Trick Wallace Trio
July 7 (Saturday) Pajama Slave Dancers (reunion) with special guests Trusty Sidekick, Grey Matter (ft. Eric Gaffney), and The Weisstronauts at The Midway
July 8 (Sunday) Step 13, Genuine Rust, The Martians, Cry Havoc at the Midway for a 4-8PM show
And further out we have...
July 10 (Tuesday) The duo Grex is at the Midway with Fable Grazer, The Modern Voice, and Brown Lasers
July 11 (Wednesday) The Goddamn Gallows, The Koffin Kats, Viva Le Vox at Alchemy in Provi, RI
July 12 (Thursday) Koffin Kats, The Goddamn Gallows, Viva Le Vox at The Middle East
July 12 (Thursday) When Particles Collide, Bad Larry's, Whoopi Sticks, The OK Oks at Opus in Salem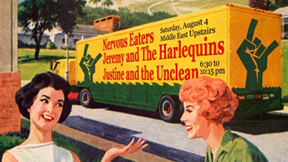 July 13 (Friday) Last Ones and CalCali Band are at Tavern at the end of the world. (Rick must be back from his Grand Tour!)
July 13 (Friday) Fireking, The Grip Weeds, Watts, Modern Day Idols at Thunder Road -get tix here.
July 13 (Friday) The Devil's Twins, Worshipper, Tigerman Woah, Heavy Necker at Once
July 13 (Friday) The Gala, Frantic Endeavor, Skytigers, Thunderosa at Opus in Salem
July 13 (Friday) Morning Afters, The Brave Noise, Jason Bennett & Resistance at Ralph's in Worcester
July 14 (Saturday) il Mostro, Psychic Dog, The Laces, Jim Healey for a 4-8PM show at the Midway
July 14 (Saturday) Zip-Tie Handcuffs, Thompson Springs, Jake Mckelvie And The Countertops, Tyler Berd at O'Brien's Pub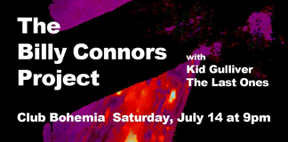 July 14 (Saturday) The Billy Connors Project with The Last Ones and Kid Gulliver at Club Bohemia at the Cantab
July 14 (Saturday) Walter Sickert & the Army of Broken Toys, The Men That Will Not Be Blamed For Nothing, Frenchy And The Punk, Radiator King at Once Ballroom
July 14 (Saturday) Revilers, The Von Traps, LEWD, Pint Killers and Foul Fellows at the Hotel Vernon in Worcester
July 14 (Saturday) Peterossi, Oberon Rose, The Maxims, Four Point Restraints at Koto in Salem
July 16 (Monday) The Dirty Byrds, Blame It On Whitman, Mojo Rot at The Middle East Up
July 18 (Wednesday) Thee Fightin' Fish,Wired Up & Captain Martini at Opus/Salem
July 20 (Friday) Boston Massacre 2018 with the Straw Dogs, Mung, Jerry's Kids and more TBA at the Middle East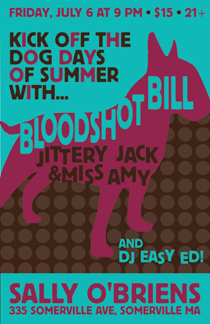 July 20 (Friday) Crimespree, Noogy (TX), Secret Spirit & Straight Eights at Club Boho at theCantab
July 20 (Friday) Crunchtime, Doug MacDonald, Highway Chapel at Sally O'Brien's
July 20 (Friday) Kid Gulliver, OTP, The Knock-Ups & The Surprise Party at KOTO/Salem
July 21 (Saturday) Kermit's Finger, The Grommets, The Only Things, The Instamatics 4-8PM at the Midway
July 21 (Saturday) Hub City Stompers, Brunt Of It, Barfight Champs early show at 6:30PM at The Middle East Up
July 21 (Saturday) The Monseiurs are playing Fenway Park with The Foo Fighters!! That should be interesting. Andy won't be able to walk into the crowd for his usual contact.
July 21 (Saturday) It's O'Brien's' Grub Sweat and Beers weekend - Day 1- Saturday is Bible Of The Devil, Sasquatch, Sundrifter, Hey Zeus, Birnam Wood, Scaphism, The Northern Skulls, Labor Hex, The Humanoids, Test Meat, Red Mantis = 15 bucks starts at 3PM
July 22 (Sunday) It's O'Brien's' Grub Sweat and Beers weekend -Day 2 Sunday - Wolfsmyth, Mollusk, The Rupert Selection, The Heave Ho, Witchkiss, Backwoods Payback, Set Fire, Diablogato, Freak On! Starts at 2Pm - 10 bucks
July 26 (Thursday) Distressor, Offside, Psychic Weight, DNZL at O'Brien's
July 26 (Thursday) The Runouts, Sonic Libido, Mercury on Mars, KCUF at Club Boho at The Cantab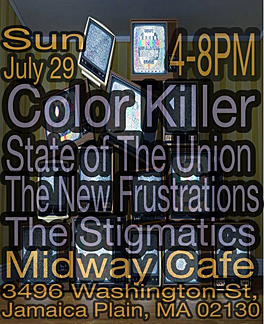 July 26 (Thursday) Radium Girls, Thrust Club, Lonely Leesa and the Lost Cowboys, Yes Commander at Once Ballroom
July 26 (Thursday) D.O.A 40th Anniversary Tour at The Middle East Up- doors are at 7PM
July 27 (Friday) The F.U.'s, Grey Matter, Scare City at Ralph's Rock Diner, Worcester
July 28 (Saturday) Punk Night at The Chit Chat with The Radiator Rattlers, Jonee Earthquake Band, Kermit's Finger, Wkeah, The Lipstick Boys at the Chit Chat Lounge Haverhill, MA
July 28 (Saturday) Hixx are at Beatnicks in Worcester (433 Park Ave) with Road Soldier
July 28 (Saturday) Rockin' The Dune Tunes with Sport Shakes, Love Strangers, Carissa Johnson, Cordobas at Whitecrest Beach Wellfleet Cape Cod 5-9PM FB page
July 29 (Sunday) Color Killer, State of the Union, The New Frustrations, The Stigmatics at The Midway for a Matinee Show 4-8PM
August 3 (Friday) Carissa Johnson & The Cure-Alls, The Life Electric, Psychic Dog, The Appleyards at The Middle East Up
August 3 (Friday) Bim Skala Bim, The Dogmatics & the World premiere of the film Chet's Last Call at Grumpy's Pub in Falmouth, MA FB page for more info
August 3 (Friday) Fuzzy Bumble, Get Set Go, Deep Space Diving Suit, Sternman at PA's Lounge
August 3 (Friday) Blondie are playing out at Mass MOCA also on the bill And The Kids Mass MOCA page WOW!!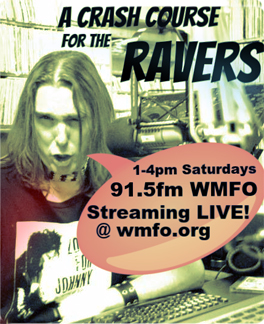 August 3 (Friday) PanzerBastard, Taxi Driver, Brix'n Mortar and The Downhauls at Opus in Salem
August 4 (Saturday) Scissorfight, White Dynomite, Northern Skulls, Red Mantis at Once Somerville
August 4 (Saturday) Descendents w/ A Wilhelm Scream & Pavers at State Theatre, Portland, Maine FB page
August 8 (Wednesday) The Blasters come back to ONCE
August 13 (Monday) Agent Orange, Fea, and more at Ralph's Diner in Worcester FB page
August 15 (Wednesday) Agent Orange are at the Brighton Music Hall TIX! Silver Screams will be opening up for them. TIX here.
August 16 (Thursday) Agent Orange w/ FEA, MOTO and Zero Holds at Alchemy in Provi, RI
August 16 (Thursday) Michael Kane & The MAs, Reverand Dan, Volstead Act, Jonee Earthquake at the 13th Floor Music Lounge -JJs Tavern Florence, MA
August 24 (Friday) Lyres, Glider, Pop Gun, Knock Ups at Koto in Salem
August 25 (Saturday) Stop Calling Me Frank, Hi-End, The Stigmatics, The Legendary Cazbats at Club Boho at The Cantab
August 26 (Sunday) Sunday Matinee with Reason To Fight, Abductors, BFC, Pint Killers at the Midway 4-8PM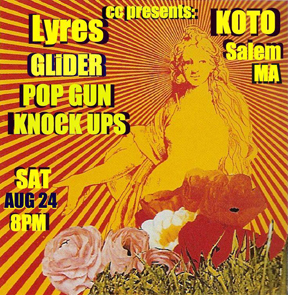 August 28 (Tuesday) In The Whale, Tied To A Bear, Blood Built Empire at O'Brien's Pub
August 28 (Tuesday) FAVL (from Italy), Brix N' Mortar, The Martians, Union Boys at Opus in Salem
August 31 (Tuesday) Battery Bridge reunion gig with Elle Zee, Corolla DeVille and Screw Cart at Club Bohemia
September 8 (Saturday) Richard Mirsky's CD Release Party at the Midway (night show)
September 9 (Sunday) Slim Cessna's Auto Club and Kid Congo Powers at Once - music starts at 8:30
September 9 (Sunday) The Queers, The Prozacs, CityState, Color Killer, Wretched Hive at the Waterfront Tavern Holyoke MA FB page doors at 7Pm
September 11 (Tuesday) Killing Joke on their 40th Anniversary Tour at the Paradise FB page
September 12 (Wednesday) Cheetah Chrome's new Dead Boys, The Ghost Wolves at Sonia.
September 13 (Thursday) Fall-Fest 5 Day 1: featuring The Avengers! also on the bill - Silver Screams, Boot Rot, City Problems and a bunch more bands. It's at Alchemy. Music starts at 8PM Here's the FB page
September 13 (Thursday) Hudson Falcons, Genuine Rust, Sonic Libido and more TBA at This is an ALL AGES Matinee! at Thirsty First: Tavern & Grill, Lowell.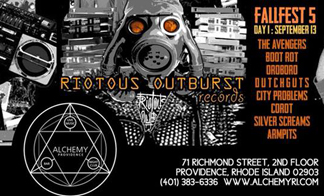 September 18 (Tuesday) Cheetah Chrome's "Dead Boys" with The Ghost Wolves are at Sonia
September 18 (Tuesday) ALL AGES MATINEE- 1-6PM : Hudson Falcons, Genuine Rust, Sonic Libido, Losers Circle at the Thirsty First Tavern in Lowell.
September 28 (Friday) Stop Calling Me Frank, Soraia, Hambone Skinny & The Connection at Sally O'Brien's
October 12 (Friday) Salem Horror Fest After Party with Diablogato, Gray Bouchard and the Dedications and Petty Morals at Opus in Salem
October 18 (Thursday) The Proletariat, Savageheads, Silver Screams at Sonia
October 20 (Saturday) Nervous Eaters, Indonesian Junk, Duck & Cover at the Middle East Up
October 27 (Saturday) Lyres, GLiDER, the modifierS at The Middle East Up- Early show doors at 6:30PM
October 27 (Saturday) The Descendents w/ Teenage Bottlerocket at The Palladium in Worcester FB page for tix etc
November 2 (Friday) Roky Erikson at Once. Tix here.
November 10 (Saturday) The FUs, GLiDER, Classic Ruins at Club Boho @ The Cantab. This is show 1 in a series called The Rosebud Rocks...remembering and celebrating our beloved Rosebud in Davis Square that was sold 4 years ago.
CONTACT US AT....misslynbgn@yahoo.com Send us your gig listings, your news and anything else ya got!! You want your CD reviewed?? Contact us for that too.
Gene Dante
Photo:Blowfish
The Gala
Photo:Blowfish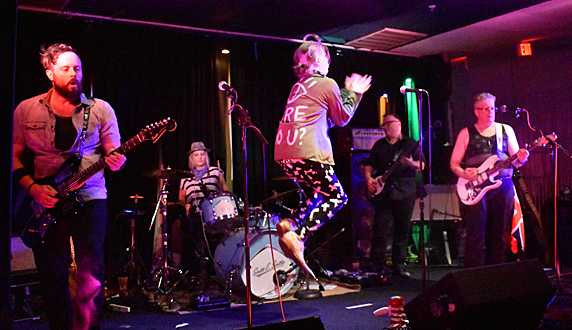 Parlour Bells
Photo:Blowfish
Smitt E. Smitty
Photo:Blowfish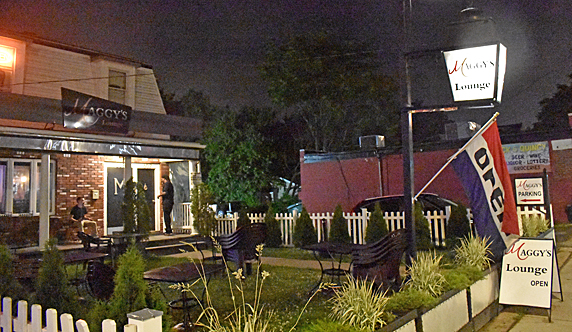 Maggy's in Quincy
Photo: Blowfish
Screw Cart
Photo: Blowfish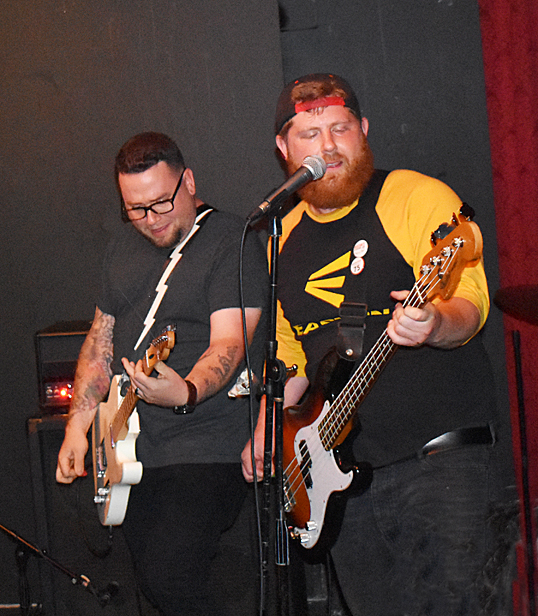 Trophy Lungs
Photo: Blowfish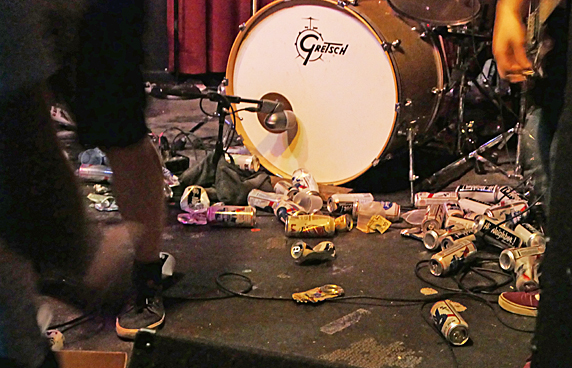 The can debris at the Trophy Lungs
Photo: Blowfish