The BGN News Archive
July 3, 2017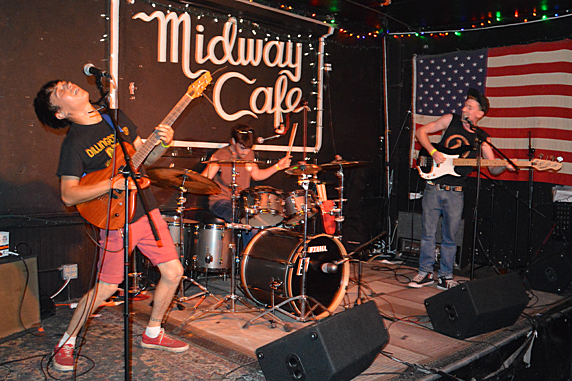 Blame It On Whitman
Photo: Blowfish
Oh the Humanity has put a lot of work into spreading the word on their new 5 song EP and we thought we'd reward that by showing up at least to their CD release party. O'Briens was over half filled by the time we got there which was the beginning of the set by Minor Revolution. They are from New Hampshire and have been together for a while. The thing with these guys is that their influences are all over the map and that comes through in the music. We like that punk is at the top of the list.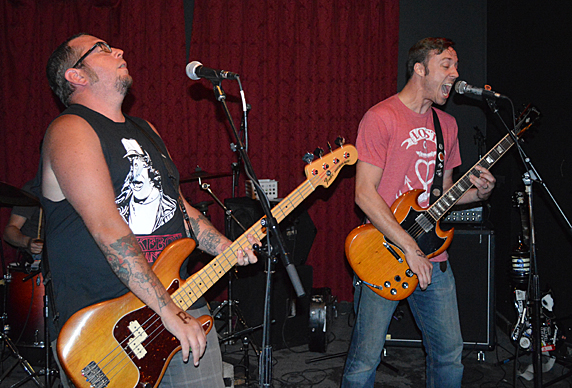 Minor Revolution
Photo: Blowfish
The first diversion you pick up on is the ska sections they hit. They play it very well but we liked it better when that snappy beat and deep bass filter into their punk songs. As if to fit in all the creative elements they come up with into a composition the songs have sections. There were times when we didn't know if it was a new song happening or an odd change up on the previous song. It was brain tickling. Even with close listening we know we were missing things but it didn't matter. They were having fun and we were, and it rocked.

Oh the Humanity
Photo: Blowfish
We've seen Oh the Humanity a few times. The last time was at the Cantab/Club Bohemia in March. They remind us a lot of Actor/Observer in that they have an overpowering group sound and emotional vocals. Physically you're getting hit by the sound waves and mentally you are hit with empathetic waves. There was a lot of detail in the music - and you don't expect as much in a group that verges on hardcore. They did a few twin leads that created a few aural oases in the roar and showed their metal side. They had lots of dynamics with stops and starts. They have every move and note rehearsed to the max.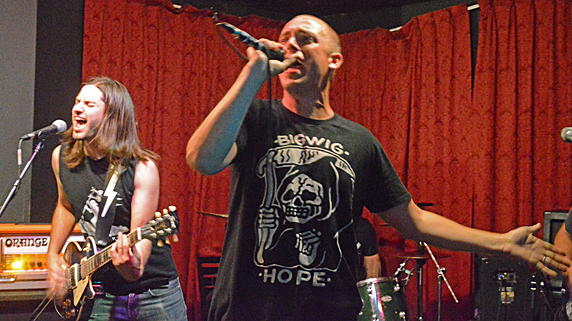 Oh the Humanity
Photo: Blowfish
Then there are those vocals that get you. They have that emo quality that projects involvement with life and working through problems. The songs were very wordy, it's an outpouring with urgency that you feel. They had a friendly charming way on stage.
It was one of those nights where you felt rewarded for venturing out. We picked up the EP and hope to review that soon.

Like last Saturday we took the opportunity of an afternoon show, this time at the Midway. There were a few groups we knew and one we didn't.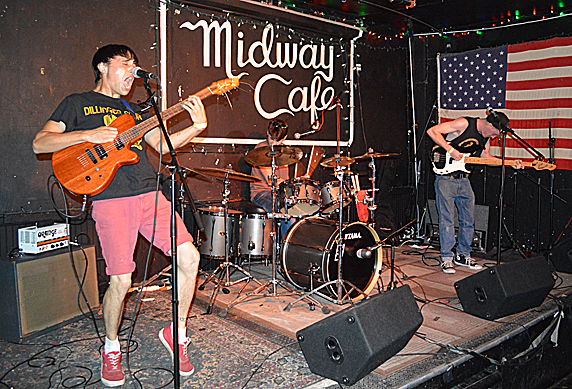 Blame It On Whitman
Photo: Blowfish
It was the first gig by Blame It On Whitman. Earlier the bill listed Jumper! Turns out Blame It On Whitman is two thirds of Jumper! Listening online revealed that Jumper! was a breezy punky outfit, and we were looking forward to that. It turned out that's what Blame It On Whitman was too.
They're young guys. Overall they came across as punk but it didn't seem like they were trying to cop a punk attitude or dress. It was more or less that's just what they came to naturally and that was refreshing. They were fast paced and full of energy. The drummer was hitting the two/four beat constantly. That kept things bare and when he did a fill it always hit its mark. The guitarist was the center of attention as he flailed his guitar around

The songs were short and punky. One song, as explained by the singer, was a revenge one, "I had sex with your mother, hope that didn't hurt you." It came across as a mean version of Stacy's Mom by the Fountains of Wayne. Take a dip into the Bandcamp page of their former Jumper! to see the fun they are having with the songs. One album is called Call the Cops, I Don't Give a Fuck.
We think if our old friends from 1977 came out to hear this group they would love them. So, there's the recommendation.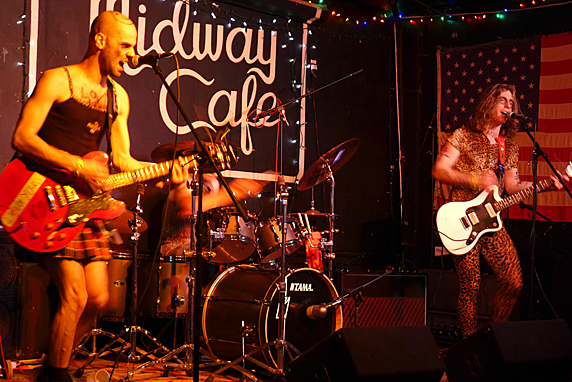 Exit Academy
Photo: Blowfish
Exit Academy is another group that had a name change. Seems like the original drummer left and with that they left their previous name Noisebreaker. We saw them last October also at the Midway.That show was wild and intense! One strange thing that set was the sudden movement of what we thought was a mannequin of a person with a horse head which turned out to be a real person who stood stock still for the whole set until the last song. And that person was Carrisa Johnson as it turned out, the winner of this year's rumble.
This set was a bit less weird but just a bit. They look weird on purpose - with the drummer and bass wearing leopard print outfits and the singer with a short plaid kilt and a hard rock woman's spaghetti strap top cut so it was very much midriff baring. And he had a happy face on his bald head in magic marker plus "Love Please" on his chest.
You cannot dismiss them, not even for a minute after the music starts because it is really well crafted songwriting. They have a gift for melody that shines through it all. Every song is just one part of a large suite of songs that move seamlessly from one to the next for maybe 20 minutes. The first video below goes for 8 minutes and there's no stops. They used the beginning of Beethoven's Fifth Symphony as a connector at one point. The singer has an actors gift of transmitting the tension, aggravation and frustration of his lyrics.
He stomps around complaining of "no pills" for instance. And when he sings his version of "Sugar Sugar" by the Archies you get a little scared (video on right above). It's way different than Zappa or the Tubes say but has that idea of rethinking about the music and stage presentation. They are very smart and very entertaining.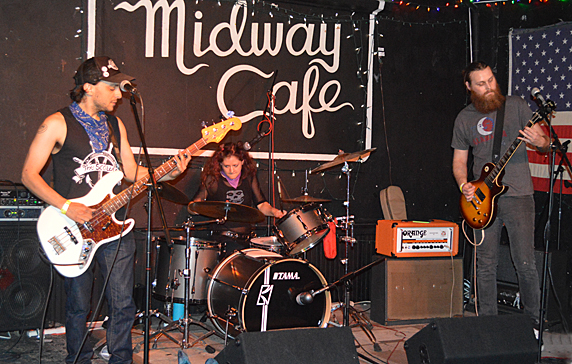 Whoopi Sticks
Photo: Blowfish
It's some more eccentricity with Whoopi Sticks. Driven by drummer Lindsey they reach back into punk and give a jerky raw performance. This is music we understand. They are a low key outfit having fun on stage. Lindsey channels Poly Styrene in the vocals and we just love that. For the last song the bass player/singer deadpans "You're gonna need a bigger boat" as they throw out a stuffed shark which gets thrown around - see photo below the news section.
It was Lindsey's birthday and her mom gives out cupcakes but then they announce from stage it was Sam's birthday and they presented him with more cupcakes and a cool hand made birthday card. it made for a real fun atmosphere.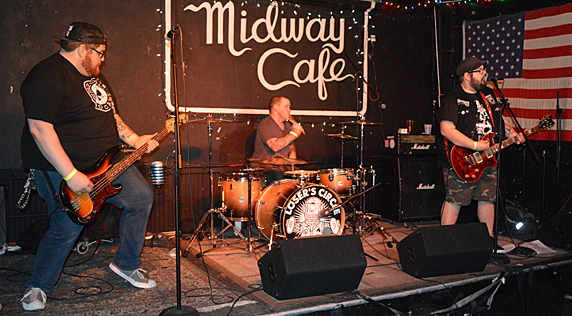 Loser's Circle
Photo: Blowfish
We've been catching Loser's Circle regularly. They're ready to go on tour and are prepping a drummer for the road. Judging by what we heard there's no problem there. He was playing with confidence and no flubs at all that we could hear. He was playing hard and sweating up a storm. Their regular drummer Matt sings so Mike the guitarist picks up a few vocals and that worked well. It was two people singing rather than the three but it if you didn't know it sounded just fine. They played a lot of songs from their new album. Slimedog was there and he's heard it and already declares it the best of 2017.
Sam the birthday guy said that to him Loser's Circle get better every time he sees them. We agree. They are hitting their stride on stage and with the songwriting. Their Boston next show is in August as the last show of their tour which starts in Chicago and goes to Memphis and Atlanta among other cities.

In the middle of the heat and humidity of the day we were in the nice AC of the Midway eating cupcakes and catching a bill full of a variety of great music. Living the punk life.....aaaaah.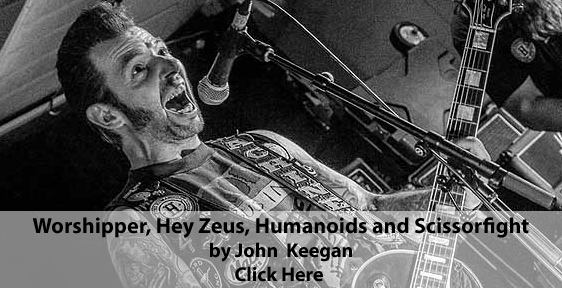 ---
And in other news.....
The Somerville Rock'n'Roll Yard Sale is coming up on September 10th. Chris & Jennifer, from What Cheer, who run the show are looking for vendors!! Go here if you want in: R'n'R Yard Sale-Vendors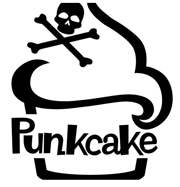 But......Ralph's in Worcester has their own Punk Rock Flea Market. The next one is August 27. It's a Punkcake Pop Up and Punk Rock Flea!!
With live music by Blood Stained Brindle, The Prozacs, After the Blackout and Barroom Heroes.....AND... lots of incredible artists, crafters, makers, bakers, readers, and vendors setting up tables to sell their wares! Not only that it's Free to attend, open to all ages, and (weather permitting) pet friendly! Check out the FB page for all the details.
In case you didn't see it last week: The BGN has been online since 2002. (Our archieved news pages since 2008) That's like a thousand years in web time. When we started there were a few other Boston centric sites that were also going. Most stopped at some point. D-Filed.com was one. That site had Chris Parcellin contributing pages. When the site folded Chris went on to filming The Boys From Nowhere documentary. Chris has allowed us to republish four of his pages. They are DMZ, Willie Loco, Nervous Eaters and JJ Rassler, done around 2001/02 time frame.
Check 'em out:
Nervous Eaters --- Willie Loco Alexander--- DMZ --- JJ Rassler
---
Here's some good shows coming up .....

July 7 (Friday) Steep Leans, Today Junior, Black Beach, Spirit Ghost are at The Middle East Up
July 7 (Friday) Mr. Airplane Man, Tall Teenagers, Andy California and Little Tomb are at The Providence Garage Fest at the News Cafe in Pawtucket, RI.
July 7 (Friday) Rat Beach Party 1 Friday Monthly Show at The C Note in Hull with Ed Moose Savage and The Beachcombovers.
July 8 (Saturday) JP Porch Fest Noon to 6Pm - The Manglers, Kermit's Finger, The New Frustrations, The Grommets, The Instamatics and MORE check out the link for address etc
July 8 (Saturday) Cortez, The Humanoids, The FU's and Gasko are at O'Brien's
July 8 (Saturday) Quick Look Busy, The Lousy Instruments, Freeze Up, & Breakfast Lunch and Dinner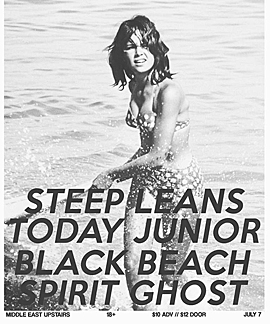 July 9 (Sunday) Wimpy Rutherford and the Cryptics, Neutrinos and The Worried at Dusk in Provi RI (FB page)
And further out....
July 13- 16 VIVA EAST Rockabilly Weekender and Custom Car Show in Marlboro, MA check out the info here.
July 13 (Thursday) Tiger Bomb is at Congress Sq Park in Portland, ME 6-9PM
July 14 (Friday) Bim Skala Bim Concert Cruise (Check out FB page for details)
July 14 (Friday) Loser's Circle Tour Kickoff w/ Captain Martini and the Key Stoners & SkyTigers @ UnchARTed in Lowell(FB page for directions etc)
July 15 (Saturday) LYDIA LUNCH Retrovirus, Doomsday Student, (NE) Pats, Peach Ring are at The Elks Lodge on Bishop Allen Dr. Central Square Cambridge- Thank you Boston Hassle!! FB page here.
July 15 (Saturday) Devil Music Record Release Show w/ Oneida and A Band Called E at Great Scott
July 15 (Saturday) Charms, Tiger Bomb and The Knock Ups are at the Chit Chat Club in Haverhill MA.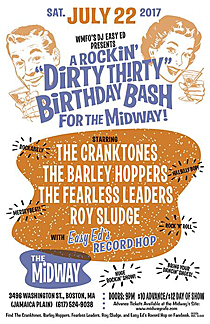 July 17 (Monday) Township, The Dents, Love Love and Weather Weapon at The Midway- Night 1 of the Midway Dirty 30.
July 19 – July 30: The Midway's Dirty 30th Anniversary Celebration Spectacular
July 20 (Thursday) Kal Marks, A Deer A Horse (NY), Nice Guys and Zip-Tie Handcuffs at O'Brien's
July 21 (Friday) Stray Bullets, Hobo Chili, Warning Shots and Stop Calling Me Frank at The Midway!! Night 5 of the Midway Dirty 30.
July 21 (Friday) The Alarm, Big City Rockers and Goddamned Draculas are at Once
July 22 (Saturday) DJ Easy Ed Night with The Cranktones, The Barley Hoppers and Fearless Leaders at The Midway!! Night 6 of the Midway Dirty 30.
July 22 (Saturday) Negative Approach, Bloodclot, Opposition Rising, PanzerBastard, Buried Dreams and Ritual Blade at The Hardcore Stadium Bishop Allen Dr Central Sq Cambridge. Show starts at 6PM.
July 22 (Saturday) Mr. Airplane Man returns to town. They'll be at The Lily Pad in Inman Square with Thalia Zedek. FB page
July 26 (Wednesday) Thrust Club, sister, Death Cloud and Double Star are at The Midway
July 28 (Friday) The Scandals, Neutrinos, Burning Streets at Dusk in Provi...early show 7-10PM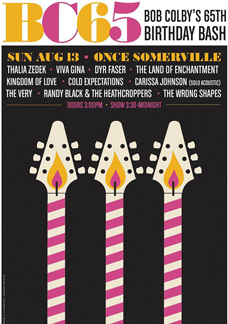 July 28 (Friday) My Aim Is True turns 40 - A Night of Elvis Costello covers with three SUPER Groups you won't want to miss - members include Anthony Kaczynski, Jonathan Screnci, John Sheeran, Melissa Gibbs, Charles Hansen, Tom Baker, Linda Shore- and more!! At Sally O'Brien's check otu the FB page
July 29 (Saturday) The Scandals, Burning Streets, Michael Kane & TMA and The Lot at The Midway - afternoon 4-8PM show
July 29 (Saturday) The Knock Ups, Endation, Dalton Deschain and Girl On Top at PAs Lounge
July 29 (Saturday) The Electric Queens record release party with pals Creaturos, Beware the Dangers of Ghost Scorpion and Dandy Sherman at The Lilypad Inman Square. 10PM start.
July 29 (Saturday) The Real Kids, Muck & The Mires, Watts and Gene Dante & The Future Starlets night 13 of the Midway Dirty 30!!
July 29 (Saturday) Out in wistah at Ralph's - State of the Union
July 27 (Thursday) The Upper Crust, Supersuckers and Salem Wolves at ONCE Ballroom
July 27 (Thursday) Hambone Skinny, Detroit Rebellion and Jon Bach are at The Plough & Stars
July 30 (Sunday) Fast Times Nervous Eaters, BarRoom Heroes, The Revilers -4-8PM at The Midway!! Night 14 of the Midway Dirty 30. at The Midway
August 5 (Saturday) Brian Young's A Crash Course for the Ravers has Carissa Johnson - on WMFO 91.5 from 1-4PM
August 5 (Saturday) Coffin Lids, Downbeat 5, Other Girls, Bunch of Jerks at Sally O'Brien's
August 5 (Saturday) The Silver Mirrors, Instant Shawarma, The Facc-Tones and The Sound Down Cellar at The Midway
August 5 (Saturday) The Knockups, The Caught Flies, Black Hatch and the Labor Pains are at The Chit Chat Club in Haverhill
August 5 (Saturday) Rancid and The Dropkick Murphys are at the Brockton Fair! 4:30-9Pm check out the FB page
August 6 (Sunday) Loser's Circle's Record Release Show! they are back from their US tour and celebrating their new release on CD and vinyl! at The Midway FB page
August 6 (Sunday) World/Inferno Friendship Society with Diablogato and Stars Like Ours at The Middle East
August 8 (Tuesday) Poptone...which is Daniel Ash and Kevin Haskins from Bauhaus, Tones on Tail and Love and Rockets are at The Paradise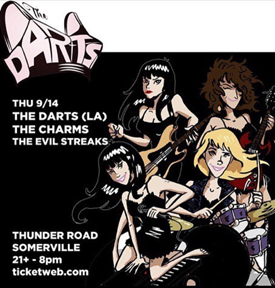 August 12 (Saturday) They're on the road again - OC45 Summer Tour Kickoff! feat. El Escapado, In The Meantime at the Middle East for an early-ish show 6:30 PM - 11:55 PM
August 12 (Saturday) The Modern Voice, Black Helicopter, Wrought Iron Hex, Scuzzy Yeti at The Midway
August 13 (Sunday) Pinkerton Thugs all ages punk show at The Middle East = also on the bill The Warning Shots and Duck and Cover. This is a daytime show- 1-6PM Check the FB page for more info as it is posted.
August 13 (Sunday) - This is Bob Colby's 65th Birthday Extravaganza - it is also he LAST show in Boston!! Viva Gina, DYR FASER, The Land of Enchantment, Kingdom of Love, Cold Expectations, Carissa Johnson (solo acoustic), The Very, Randy Black and the Heathcroppers and The Wrong Shapes. At Once in Somerville and the show runs 3PM until Midnite! FB page
August 27 (Sunday) Stop Calling Me Frank, State of The Union, The New Frustrations, The Only Things at The Midway - afternoon show 4-8PM
August 27 (Sunday) Brian Young's A.C.C.F.T.R. featuring Casanovas in Heat! 91.5 WMFO 1-4PM
September 7 (Thursday) Teenage Bottlerocket, OC45 and MakeWar at The Middle East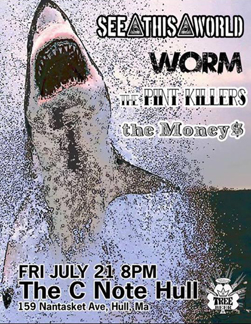 September 8 (Friday) The Nervous Eaters and Glider , State of the Union and Casanovas in Heat at Out of the Blue Gallery Central Sq. here's the FB page to get updates.
September 9 (Saturday) The Stigmatics are on A Crash Course for the Ravers on WMFO 91.5 from 1-4PM
September 10 (Sunday) GBH and The Casualties at The Brighton Music Hall
September 11 (Monday) Roky Erickson at the Brighton Music Hall. WOW!! Get yer tix here.
September 16 (Saturday) Boston vs Tokyo Rock n Roll Showdown with Muck And The Mires, The Fadeaways (from Japan), Mellvins (from Japan), Jittery Jack at O'Brien's Pub
September 16 (Saturday) Chameleons VOX At the Middle East Also on the bill: Soft Kill , Way Out and The Milling Gowns FB Page
September 20 (Wednesday) X doing their 40th Anniversary Tour- at the Brighton Music Hall
September 22 (Friday) The Ataris and The Queers at The Middle East - this is an early show- 6PM -10Pm
September 28 (Thursday) Stiff Little Fingers are doing their 40th Anniversary tour they have Death by Unga Bunga opening for them - at the Brighton Music Hall
October 8 (Sunday) Petty Morals are having a Ballroom Blitz at Once Ballroom with a Flea Market and Art Show -also on the bill Muck & The Mires, The Dazies and Lady Pill (set times and more are on the FB page) It's 2PM- 8PM
November 4 (Saturday) Human Sexual Response at HOB
CONTACT US AT....misslynbgn@yahoo.com -Send us your gig listings, your news and anything else ya got!! You want your CD reviewed?? Contact us for that too.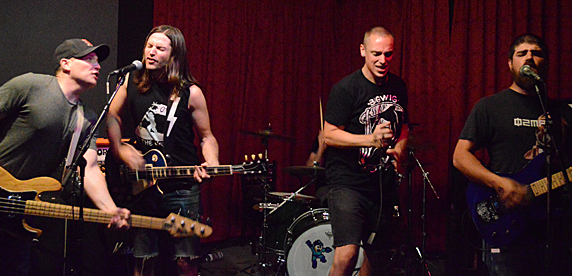 Oh the Humanity
Photo: Blowfish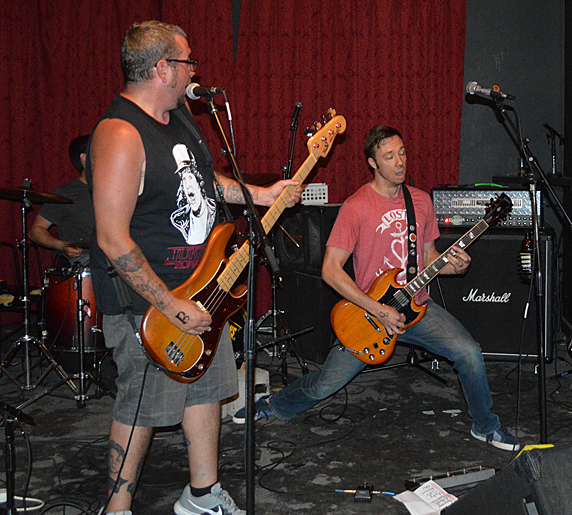 Minor Revolution
Photo: Blowfish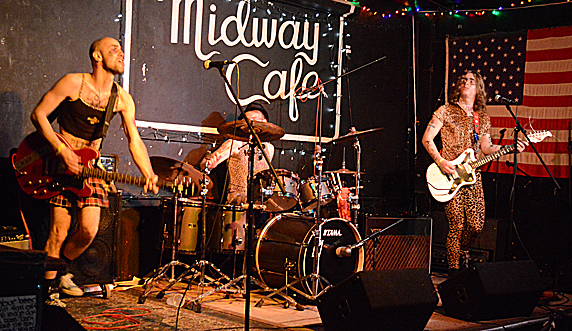 Exit Acadamy
Photo: Blowfish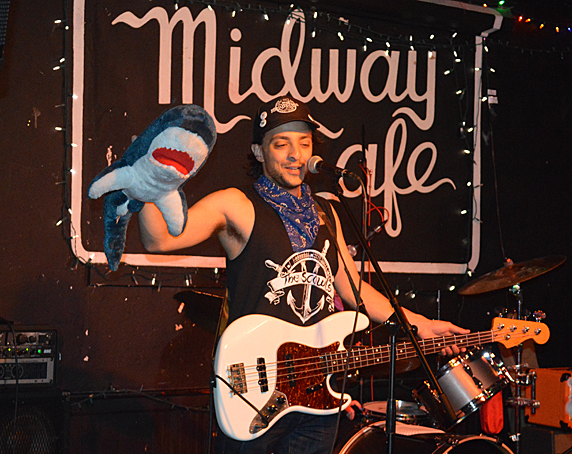 Whoopi Sticks
Photo: Blowfish