The BGN News Archive
July 4,2016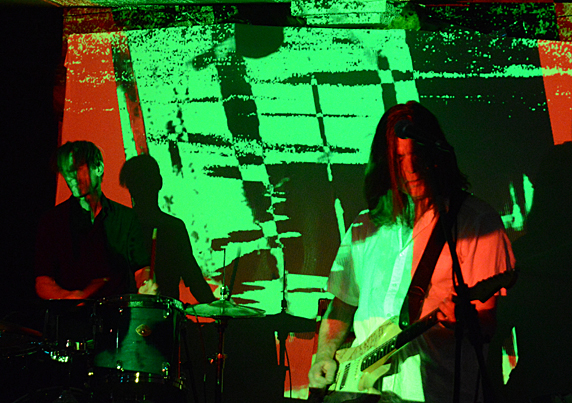 Trinary System
Photo: Blowfish
Last Sunday I did what I did a few weeks ago. I heard a song on Joanie Lindstrom's LRC show, I added it to our Top Ten and then went to see the group. Last time it was The Digs. This time it was The So So Glos.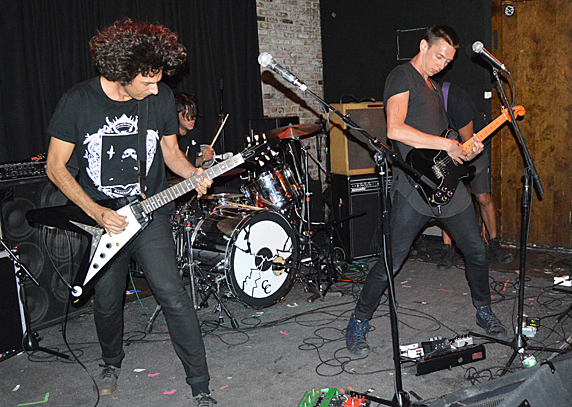 The Honduras
Photo: Blowfish
There was a good amount of people at Great Scotts when I got there and The Honduras were just getting on. They are from the very trendy Brooklyn. How can you fit that many bands in that borough? They had some psych in their garage sound. I like the guitarist's long melodic lines that threaded through the tunes. Several times both the guitarists were on their knees playing the pedal boards. It was down to earth dirty rockin'.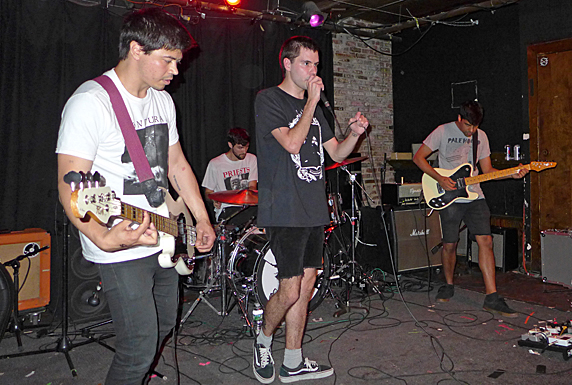 The Big Ups
Photo: Blowfish
The Big Ups (from NY, NY) we had seen in December of 2015. Then they had a nerdy art rock sound but they did get loud. They've transformed and now are hard rocking all the time. The singer was yelling it out most of the time.
He is the most distinctive thing about the group. He has a lot of rubbery moves. Then he's mugging constantly. He can look like a young Henry Rollins then he's Jerry Lewis. Like in this photo. He's animating the lyrics most of the time and it would add a lot if one could catch them but that's always impossible it seems. They play the not simple songs with rehearsed precision and enthusiasm.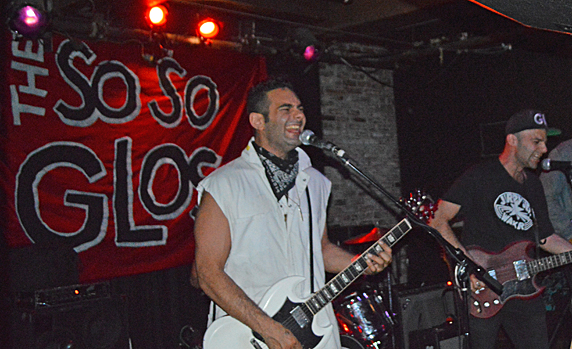 The So So Glos
Photo: Blowfish
That was two good sets. The So So Glos also put on a lively set but I was less enthusiastic about it. They came out ready to party. I know that because they kept saying it. And truth be told the audience emptied the back of the club and were all up front. This was who they left the house for on a Sunday and waited till midnight for.
They had everyone rocking and singing along. What was my problem? To me they were a bit muddy sounding and the 'let's party' motif seemed too easy and contrived. I listened to their song Devil's Doing Handstands again and I still like it though.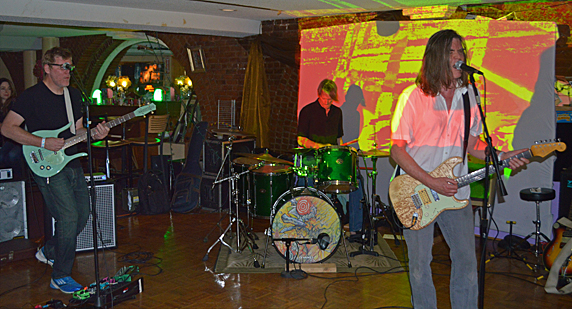 Trinary System
Photo: Blowfish
Saturday at Once had some more sober groups but not less rocking. Two out of three MOB members where in groups that will become primary if MOB decide to call it quits, which seems to be looming.
The show at Once was upstairs in the lounge not in the hall downstairs. This is something they've started to do. Maybe based on pre-ticket sales. There were about 50 people there during this Fourth of July weekend.
Roger Miller has Trinary System. They have an album out now on Bandcamp called Amplify the Amplifiers . We have Dave Davis from that album on our TOP TEN.
Roger created a group where anything goes. A lot of the MOB earmarks are there but he's opened the door to a much wider sound. Every song seems to go through several styles or phases or deconstructions or where ever Roger's creativity leads him. This is often called 'challenging' listening but I like to think of it as adventurous. Like the aforementioned Dave Davis which starts out like a normal rock song with a nice melody then the dirty guitar intrudes and things get wonky.
They covered the Beatles but went for the dark one, She Said She Said.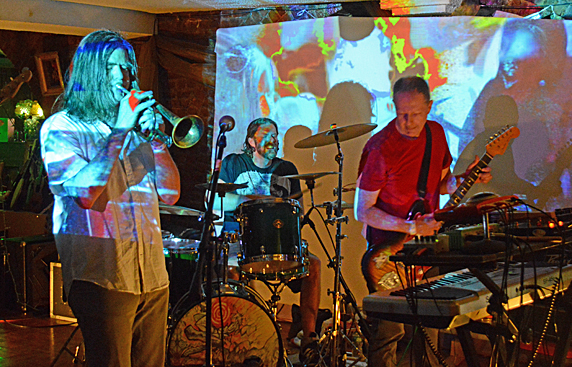 Roger blowing trumpet for Minibeast
Photo: Blowfish
A few songs began with metal riffs that lead you in before the fracturing begins. The din is down compared to MOB. The feedback and volume are at a more human level. With a trio all the players can be heard clearly. Roger was actually under amplified. He should have bided by his own advice and Amplified the Amplifier. Drummer Larry Dersch who is subtle in Randy Black and the Heathcroppers was playing busy as hell. He was all over the drum set with fills and syncopations. What a difference from how we perceive his playing. He was doing everything but playing the main beat. Indeed there seemed to be no center as the players took off on tangents. Things were often jam like or straight out jamming. I think this is a perfect vehicle for Roger and rewarding for Larry and P. Andrew Willis, the bass player.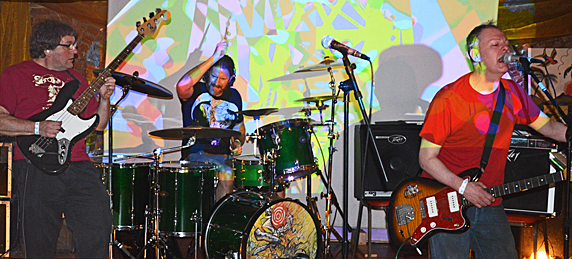 Minibeast
Photo: Blowfish
Minibeast is Peter Prescott's group. We saw them at Once before. Boy have they changed from then. They didn't have the sheer power before, that they displayed this time. The bass/drums now put out an undeniable massive sound. The bass player did a few repetitive bass lines last time but now it's all repetitive lines. The drummer used to play complicated beats but now he's in a solid grove. Between the two of them the groove is ginormous. They are a beast, no mini about it.
As the rhythm section lays down the law Peter individualizes the songs with his guitar, vocals and his bag of electronic manipulations. There was a video backdrop that worked with the repetitive beats to create a hypnotic effect. I was totally captivated. At the end of the set I wanted more. I'm going to check their recorded efforts but I don't know if you can get the full impact any other way except live.
This is a video of MINIBEAST from the show where you can hear some of what I'm pointing out.
Henry of Ten Dollar Mistake/Timy Beasts had a parking lot party at Whitecrest Beach in Wellfleet on Saturday June 25. Bands were Slim Jim and the Mad Cows, Thick Shakes, Atlantic Thrills, CreaturoS. There was a Bonfire on the beach after the show. John Keegan made the scene. Check out the slide show below.
And below that is his report on the Pere Ubu concert at the Sinclair.
Here's some good shows coming up .....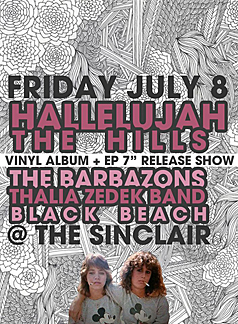 July 8 (Friday) Hallelujah the Hills are having their Vinyl Release Party- also on the bill are The Barbazons, Thalia Zedek Band and Black Beach at Sinclair
July 9 (Saturday) Happy Little Clouds (It's their Album Release), The Rationales, Powerslut and The Knock Ups at O'Brien's
July 9 (Saturday) Jason Bennet and the Resistance, You Scoundrel, The Pity Whores, Game Over and Olde Boy (Liam from The Old Edison) are doing an afternoon 4-8PM) show at the Midway
July 9 (Saturday) Tsunami of Sound, Fireking, Popgun, and The Beachcombovers are at The Midway
July 9 (Saturday) Caged Heat and Erron Geer & The R'n'R Bastards are at the Plough
July 9 (Saturday) in Beverly- a Benifit for PittieLove Rescue at The Spotlight Tavern with Order 66, The Ungraded, The Wrong Chaneys, Guns of Brighton, The Scrapes and others.....
July 10 (Sunday) Boston Hassle's BLACK MARKET is taking it outside for the summer! They'll be at 420 Amory Street in Jamaica Plain!
The location is T accessible, just a two minute walk across the street from Green Street Station on the Orange Line. Hours - 11AM- 5PM. This one-day outdoor event will spotlight a featured artist, and boasts everything from secondhand to handmade: artwork, zines, body care, records, baked goods, patches, pins, books, T-shirts, leather goods, knits, woodwork, pottery, vintage clothing, jewelery, tea, haircuts, tarot card readings, face-painting, portraits, & MORE!! FB page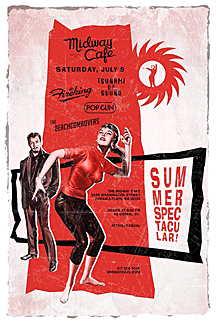 July 10 (Sunday) Kenne Highland, Tokyo Tramps, Los Texicanos and Crooked Mirror are doing an afternoon (4-8PM) show at the Midway.
July 11 (Monday) Guided by Voices are at The Paradise
July 11 (Monday) Beach Slang, Lucky United and Potty Mouth are at Fete Music Hall, 103 Dike Street, Providence, RI,
July 13 (Wednesday) The Shallow End Divers, Vanishing Point, The Wrong Chaneys, Above the Din are at The Midway
July 14 (Thursday) The Late Risers Club Punk Rock Trivia night will be at "the Greek" in Union Square (more info to follow) Of course Eric Law's team will win but it'll be fun just the same. Starts at 8PM - And there'll be free pizza!! Team BGN will be there too!
July 14 (Thursday) Shepherdess are at Once.
July 15 (Friday) Dawn Kipphut Celebration of Life & Family Benefit at The Cantab's Club Bohemia with Club Linehan AGoGo (MJQuirk-Kenne Highland) & Hixx
July 16 (Saturday) Justine and The Total Bastards are at the Midway
July 16 (Saturday) OC45 celebrates their 5 year anniversary at the Middle East Up along with Burning Streets, The Jukebox Romantics and Jumper!
July 22 (Friday) Fur Purse, Thalia Zedek, Weather Weapon, Phurnne, Death Cloud at the Midway
July 22 (Friday) Screw Cart, Psycho, Rockin' Bob Punk Band, and 4 Sids are at The Cantab down.
July 22 (Friday) The Downbeat 5 and Tom Baker and The Snakes at the Plough
July 23 (Saturday) The FUs, Silver Screams, Electric Street Queens, Il Mostro (mems of The Humanoids) are at The Midway
July 29 (Friday) The Warning Shots, Duck & Cover, Quiggs, and Tenafly Vipers are at the Greek in Union Square (FB page)
July 30 (Saturday) Your Friend Fest 2016 at Once....music comedy vendors and friends all together at Once - there'll be things going on both up and downstairs. Bands: The Knock Ups, Psychic Dog, Mercury on Mars, Thrust Club and the debut of Rrrright? (Jess Jacobs and Jasmine LaRue)
August 1 (Monday) The Schisms and Sassy Goose both from Austin TX along with The Knock Ups are at the Midway. This should be an interesting show!!
August 6 & 7 (Sat & Sunday) The Boston Rock Opera presents Stardust to Blackstar: The Lives of David Bowie at Once Ballroom: a concert dedicated to the late rock god David Bowie. "David Bowie taught us all so much about performance and stagecraft. If B.R.O. is going to, like Lazarus, rise up again then it should be to honor and celebrate his amazing music." The night begins with fellow B.R.O. co-founder Mick "Mondo" Maldonado directing and performing Bowie's "The Rise and Fall of Ziggy Stardust and The Spiders from Mars" with a full band and guest vocalists. Following that, is an original live arrangement of Bowie's final opus work "Blackstar" performed by an all star band and chorus under the direction of Either/Orchestra's Russ Gershon. The evening continues with a celebration of songs from Bowie's vast catalog as even more Boston musicians take the stage to perform.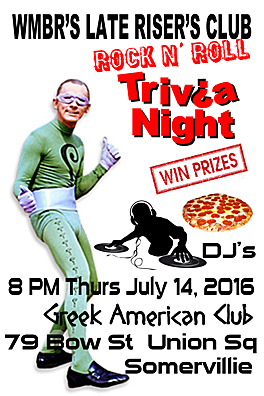 August 12 (Friday) The Handymen are at The Plough & Stars
August 13 (Saturday) FRANK ROWE's 65th BIRTHDAY PARTY!!! starring: Kenne Highland, Stop Calling Me Frank, The Dogmatics, Classic Ruins, Richie Parsons Band, and The Stigmatics - at The Midway
August 15 (Monday) X are at The Brighton Music Hall - nice venue to see them!!
August 19 & 20 (Friday & Saturday) The 4th annual Boston Fuzzstival takes place on August 19/20 at The Middle East Downstairs. Fuzzstival is a celebration of our regional music scene and local music community. Bands are Doug Tuttle, Lyres, The Monsieurs, Mr. Airplane Man, Mini Dresses
Painted Zeros, Black Beach and a whole lot more...check out the FB page for updates etc
August 20 (Saturday) The Road Devils C.C. Boston Massacre Pre-Party!!! featuring Taxi Driver, The Hi-End AND MORE!!! FB page for more info as it develops
August 20 (Saturday) There's a great daytime (4-8PM) show at the Midway with The Lost Riots, The Scrapes, Whoopi Sticks, Go Blank and Point Blank
August 20 (Saturday) The Upper Crust, Devil on Horseback, Watts, Gymnasium at The Middle East Up.
August 20 (Saturday) Warn The Duke, Diablogato Dan Webb & The Spiders and Bundles are at O'Brien's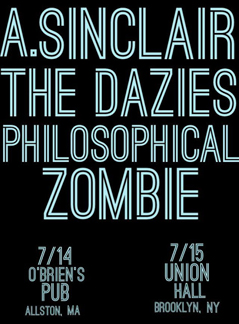 August 27 (Saturday) Idiot Genes, Duck & Cover, Silver Screams and Jack Widows at O'Brien's
September 1 (Thursday) Thalia Zedek Band, Minibeast, Black Helicopter and Positive Negative Man at O'Brien's
September 27 (Tuesday) Buzzcocks at the Royale ...they played this very room back in 1980! And we were there then too!
October 15 (Saturday) Idiot Genes, Duck & Cover, Chanticlear and Jack Widows are at O'Brien's
October 15 (Saturday) The Upper Crust, Hickoids, The Grannies & Devil On Horseback at Once
October 21, 22 & 23 (Fri., Sat & Sun) The Boston Rock Opera presents Hair at Once Ballroom.
September 1 (Thursday) Thalia Zedek Band, Minibeast , Black Helicopter, Positive Negative Man are at Great Scott
CONTACT US AT....misslynbgn@yahoo.com - Send us your gig listings, your news and anything else ya got!!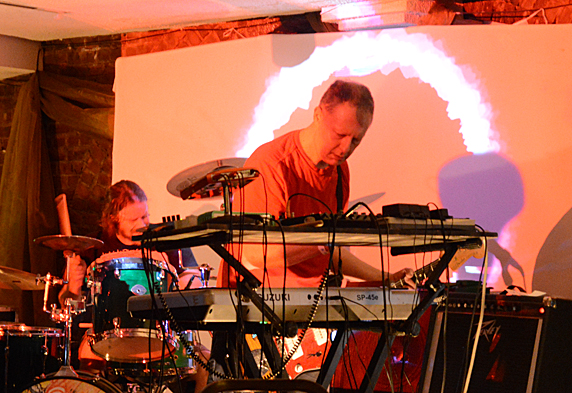 Minibeast
Photo: Blowfish
The Big Ups
Photo: Blowfish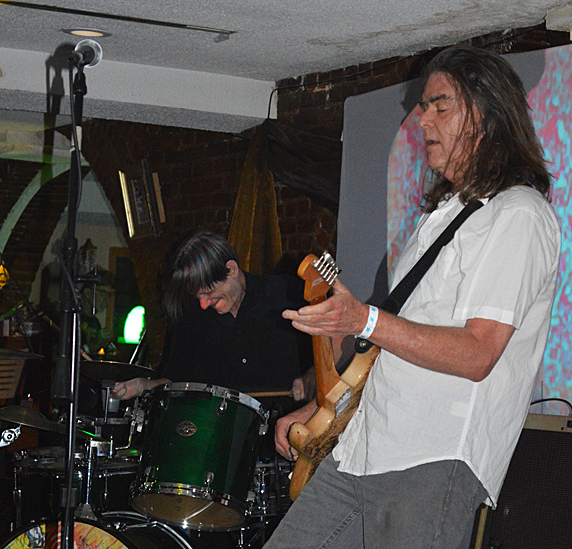 Trinary System
Photo: Blowfish