The BGN News Archive
July 5, 2010

For our weekend's entertainment we went to O' Brien's ...I was intrigued by what the Nailheads wrote on their MySpace site...well I guess they are just so out of it they have NO clue....this was NOTHING like 1977 music!! I was expecting something punk and young like Red Invasion....um, not these guys, so wrong they don't even realize what came before all the Oi bands. Not only that they looked like idiots too....really awful, what a disappointment.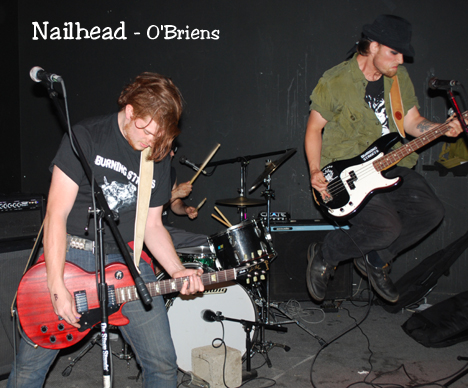 BUT on the other hand we saw With a Bullet and Triple Thick and they were both GREAT!! ... With a Bullet is new...I hear they've only been playing out for about a month now....the ubiquitous Swid from the Acrobrats is on bass and Josh Gallows from Beantown Boozehounds is doing background vocals, the lead vocals are Ian Clark, who's in Razors In The Night and was in Pure Impact. The songs were short and to the point. The lead guitar also kept leads short, melodic and tasty. I don't know if Swid is getting better or I just noticed more in the good mix this night but he was a standout. He had some memorable bass lines. Some were melodic and some two string efforts that were more sophisticated than you would expect in a punk group. We'll be keeping our eyes and ears on this guy.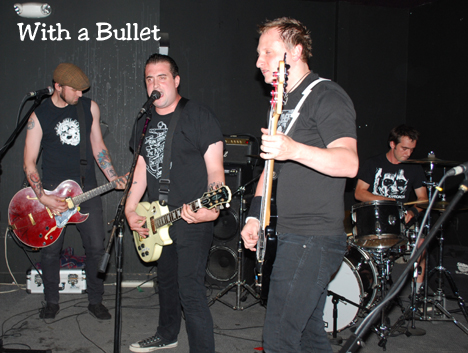 And then Triple Thick was up, wow killer great garage rock from awesome guys!! I just love their attitude and they were blowing everybody away this night. I love the true core of the group; which to me is Mitch and Jim they are so cool but Elias sure does add an awesome punch to the band AND tonight was Henry's singing debut!! Last review we saw him debut on stage with the band...and he is still as devoted as ever!! Great job Henry!
Triple Thick are one of the most likable groups in town. There nice guys who know punk/garage inside out and use that to shape their music. That means songs are short and have some point to them; a unique sound, vocal hook or instrumental riff. About a third of the songs are covers but covers so obscure you don't know them, by that I mean, I don't know them and I know a lot. I could hear some Kinks here and there but you hear a little of a lot of things with these guys. They had Henry (lead maracas) sing a new song called "Girl of My Dreams" that was a standout and a big fave with all of us this night. Long live Triple Thick. .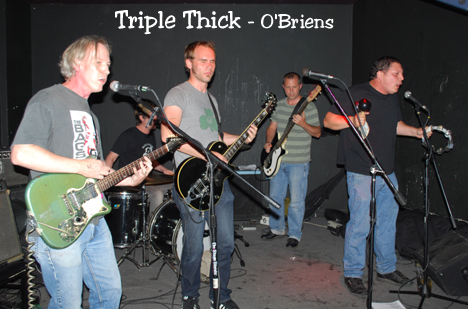 Hey here's some good news: there is a new Lawless Records release is out! And you KNOW it has to be good! Yup, a split 45 with Boston punk legends Unnatural Axe and the smoking hot, sexy Nasties from Italy.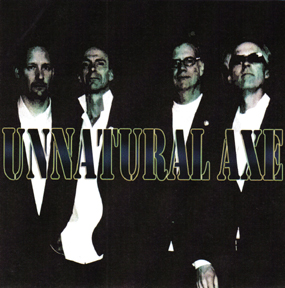 Two songs each. A brand new Unnatural Axe song "I Am The Way". Their first newly recorded material in over 28 years!!! The second song they cover the Nasties "Back To L.A.'.
The Nasties side has a Nasties original, "Maybe" and a cover of Unnatural Axe's "The Creeper". There are only 290 pressed on mint julep green vinyl. Hand numbered. AND they are only $8 ppd for the U.S. and Canada. You can pay by paypal - contact Eric Law ......also contact him for paying by check or money order.
Now coming up this Friday July 9th at The Midway there's a great show with Buried in Leather, Cocked and Loaded, Tiajuana Sweetheart and Tenafly Vipers - Whew! What a great bill and Buried in Leather don't play out much at all anymore so catch 'em while you can!
Then on Saturday, July 10th at The Beachcomber in Quincy there's an excellent show with 8Hr Waste, Beantown Boozehounds, Continental (that's Rick Barton's new band) , The Take-Back, The Scrapes
Saturday, July 17 at The Middle East up is Bonecrusher, The Welch Boys, Buddha & The Boys and The Beantown Boozehounds Monday, July 19th (Monday??? Why Monday???) GBH, are playing at Harper's Ferry!! They just released a new CD Perfume and Piss!
And Monday July 26th there's an interesting show at Charlie's Kitchen for Kermit's Finger, Penis Fly Trap and Classic Ruins.
and in August we got a Union Sq weekend: with The Sprained Ankles, Muck & the Mires, The Opiods (formerly Black Mosettes)! on Friday, August 6 at Precinct.....Rona says, "My band formerly known as the Black Mosettes is now called "The Opioids".. Current Line-Up includes myself on vocals, Andy Excuse on bass, Bob on guitar, and Boby Bear on the drums! We will be playing some oldies and newbies.."....sounds like an excellent show to me!!!....
then the Somerville Rock'n'Roll Yard Sale 2010is during the day: Saturday August 7 (in Union Square Somerville):
there will be tons of amazing vendors selling everything from Vinyl Records and other music memorabilia, Vintage Eyewear and Apparel, to Local DIY Handmade Goods. See you there!!!
And don't forget...the show, at Club Lido in Revere on August 29th.
In celebration of the film: xxx ALL AGES xxx and it is also a Gallery East Reunion!
Boston pioneer hardcore punk bands DYS, Jerry's Kids, Gang Green and FUs will perform with New York City's Antidote and guests for a monumental reunion show....AND the show will be featured in the film xxx ALL AGES xxx.
Produced by Gallery East in association with Stone Films NYC and the Boston Punk Rock Oral History Project (BPROHP) SO um, I would say DO NOT Miss this Show!!
OK, that's it....
... you can email us at: Miss Lyn email......