The BGN News Archive
July 6, 2009
Hey check it out the squeaky wheel gets the worm..ot whatever the saying it.....we got us some nice weathah!!!!!
So party , yay!! coming up this week
This Saturday July 11th Corolla Deville is at The Cantab with The Battleships, Pistol, and Scott Bishop
Next Thursday July 16th there's Sarah Borges & The Broken Singles, The Dirty Truckers and Stonehoney at TT's....
and on Friday the 17th Joannie Lindstrom is DJing at TT's!! cool!!
Then on Saturday, July 18th there's a good show over at Great Scott in Allston when The Turnbull Athletic Club presents RIPPIN'EST TOWN 5: it's a Mods & Rockers Scooter Rally plus bands like: The Antibodies, The Sprained Ankles, The Alrighters, Blood Stained Brindle, with Get Smart! DJs: Prince Dubplate and Fordy Buxworth....
But on the other side of the pond (Cambridge that is) we got The Doom Buggies and The Egos at The Cantab on Saturday the 18th as well....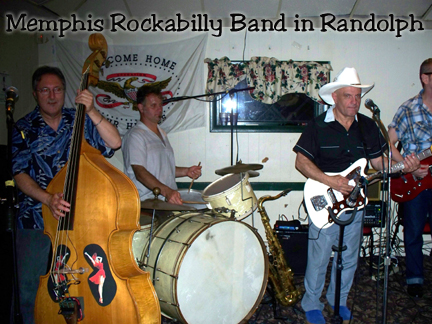 Bunratty's Reunion.... will be on Sunday afternoon, July 19 at the Wonder Bar (formerly BUNRATTY'S!!!!) in Allston. Music starts at 2PM and here's the latest from AJ Wachtel: the Bristols are performing for the first time in 9 years. Their versions of Aerosmith's Seasons of Wither is their only song they have ever recorded. They will be going on at about 4PM. Black Number Nine is also performing for the first time in many moons. this is Charlie Leger's band. Charlie used to be in Unattached and the Fighting Cocks. I think they will also "back up" Nikki Stone and Des from The Boston Brats for a few songs. Alizon Lissance x from Girls Night Out and now in the Lovedogs will be performing as will Jody Sandwich. And Marky Mark's old friend Jada Tringale will also be live and onstage at Bunratty's on Sunday afternoon July 19. this should be a pretty cool show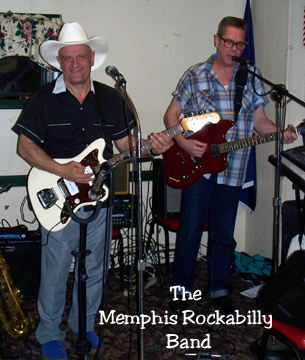 Blowfish says.....
The Memphis Rockabilly Band at the Randolph AmVets - July 3
I saw this gig posted by Joe Coughlin on the Noise Board. Not the usual club venue but it was pretty nice. Free admission and cheep booze for starters and a nice low key crowd finally my age for a follow up.
The band is all experienced players who have it down pat. The guitarist did it all - rock, country bends and double stop runs, chicken picking, Duane Eddy style and then picks up a sax and blows a solid lead! The other guitarist also plays piano and the bass player used an electric and stand up bass.
They play with a quiet authority and little fuss, nothing between them and the music, no big dress up or tattoo fetish.
This was a neat night of rockin' in the suburbs. Check out The Memphis Rockabilly Band if you get a chance.
And hey check this out: The Crybabies return to the stage at The Midway Café Friday July 31st and they have a new line-up: Artie Sneiderman- Lead vocals, Steve Aquino - Guitar, Danny McCormack - Guitar, background vocals, Kevin Mahoney (from Lucky 57 and Diamond Platinum Rings)on Bass, and Richee Johnson- drums.....don't miss 'em!!
Thursday August 6th at The Cantab Club Bohemia it's the Frank Strom's Birthday Bash!!!! This party starts early with Corolla DeVille on at 8PM, then Hotrod Fury, , Black Mosettes and the Sprained Ankles
And of course coming up Friday, August 7th, at Church is Faster & Louder that's Richie "Swinging Dick" Parsons - vocals, "Fritz the Boss" Erickson - guitar, Johnny "Top 20" Black - guitar, Lee "The Lawman" Harrington - bass and "Johnny Rock" Lynch - drums
They will play the entire Bloodbrothers album by the Dictators and a few more 'Tators tunes.
And in August, the 21st, At The Middle East UP to be exact it is the return of THE MARVELS!!! (here's their MySpace site) , Along with Dirty Truckers, Vagiant and Pulp 45....that is a most awesome show my friends and only to be equaled by....,
the NEXT night at ME Up with the Midnight Creeps, Red Invasion and a couple other bands...OH...I'm at the ME that weekend!!
Hey there's talk of a Neats reunion in October...and they have a release of some sorts coming out as well! ....I've azlso heard talk of a Low Miami tribute coming up...more on that soon...
Hey did you read the New Alibis CD review written by Blowfish?? If not read it here and then use the link to go buy it@! It is excellent!!!!
Also, just added is Joanie Lindstrom's latest Rock and Roll ( and eating and drinking) vacation in South America......Joanies Vacation.
Ok folks, that's it for this week.....click and write me!.... Lyn