The BGN News Archive
July 6, 2015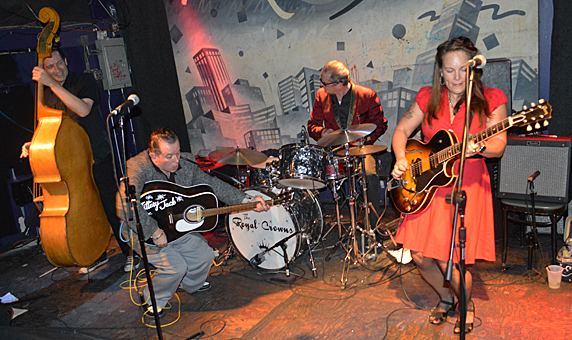 Jittery Jack and Miss Amy
Sir Blowfish was out and about this week:
The Shods' gig almost got by me, I just found out about it on Monday, the day of the show. It was billed as a showcase of Lowell bands. Including Varsity Drag who I like but arrived just to hear the last song. For a change there was a lot of people in the club on a Monday. The Shods have some loyal fans. There were rumors that this was their last gig because band members were moving out of the country.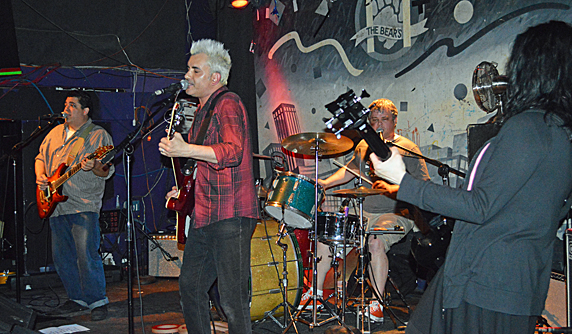 Varsity Drag
Walker preceded the Shods. Somehow they are from Rhode Island and eluded the Lowell theme. They were psych-like and noisy. Most of the time they had effects on the guitars but I like it when they played with a clear tone, they had hills and valleys with loud and quiet sections. Their second to last song transmogrified into I Wanna Be Your Dog and Kevin Stevenson of the Shods jumped up on stage and sang along.
Walker
There was the air of expectation as the Shods took the stage. This audience was comprised of a very dedicated fans. The Shods are very straight ahead rock musically. Without Dave Aaronoff on guitar they sounded very sparse and they made that work for them by making simple and effective music. Scott Pittman is an exceptional drummer. His playing went beyond rock into jazz or big band styles or maybe just well executed drumming. Rhythms were varied and tick tock tight. The lyrics talk of the Lowell mill town and that gives them a down to earth grittiness. Lead singer Kevin Stevenson did a lot of talking. He was enjoying the night as well he should. He looks a lot like Joe Strummer to me and had that sort of presence on stage.
Shods
They have lots of material to pick from so it's no surprise the songs were varied and they all worked. They played my favorite: Things Will Be Different (A later version can be found here). They also covered Johnny Cash's Folsom Prison Blues. The set went by so fast that it was five minutes to 1am before I knew it. That's TT's closing time on Mondays. The Shods just kept playing till finally relenting and the TT's staff shuffled people out (me too), still being lawful in the last days.
As this emotional and energetic show was going on I couldn't help but think: this club will be gone in a month. People are salivating over the bands that might play in the last week but it's all the gigs like this that will be missed so much.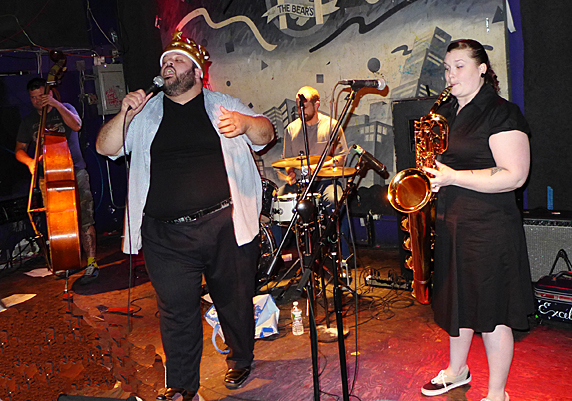 The Alrighters
You must be tired of us telling you about these Rockabilly shows put on by Easy Ed but here we go again....and this July 3 show was the best yet. It was another group of people saying good by to TT's. I saw four of the six groups in the big line up.
The Alrighters had the crowds full attention as I walked in. The lead singer Andrew was getting a lot of attention in his Burger King crown while throwing out insults in Tourette fashion. You had to laugh. Backing him up was a trio of a drummer, bassist and baritone saxophone (that was Kim a member of DiabloGato. The actual singing was a bit rough but there was no denying the energy and fun. I got swept up in it and then the unusual instrumentation was a refreshing change up.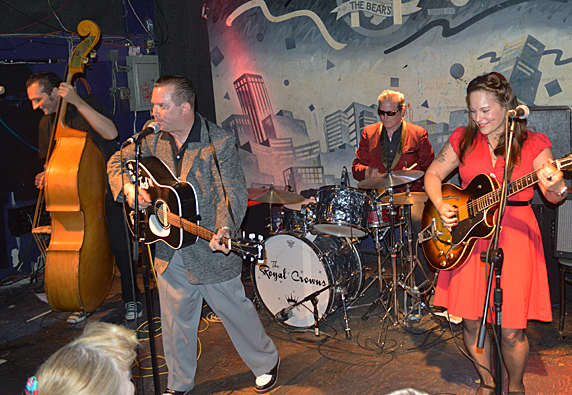 Jittery Jack
I've seen Jittery Jack and Miss Amy a few times, the last time at Atwoods in Cambridge. Jittery Jack (Kevin Patey) is an enthusiastic front man often hitting the floor to make an emotional point. He keeps things moving with fast chatter in between songs. Sporting sunglasses, Judd Williams looks as well as plays the part of the suave Rockabilly drummer. He's got every tasty fill and turn around in the book. I would just listen to him the whole time but there's Miss Amy pouring out endless riffs on guitar. It seems like she has a bottomless well of creativity. I don't remember her repeating anything even from verse to verse.
These guys play out often enough; if you want a dose of Rockabilly you should seek them out. They brought on members of The Racketeers, a long time Psychobilly band, as guests for a few songs. As is usual with these shows you also get Easy Ed playing amazing tunes in between the sets. A few times a half dozen women would do the Stroll during Ed's tunes; that's just another cool thing at these gigs.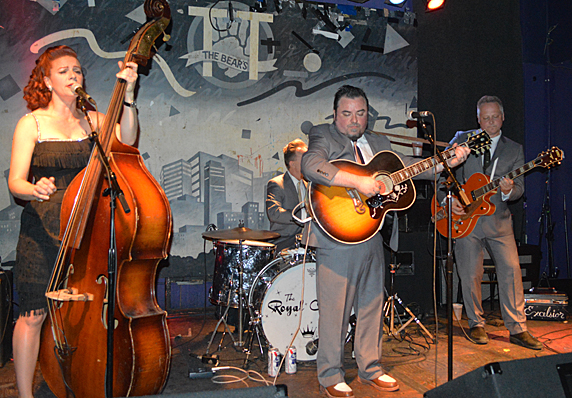 Millwinders
The Millwinders (from Toronto) played one of the Shake Up shows and people were saying good things about them before hand. The guys had spiffy suits and the woman had a black fringe laden dress. They also have a 50's vibe in the music. They exuded a calm control over a smooth performance. There was plenty of nuance in the restraint. Sarah the singer didn't sound flashy but time and time again she would grab your attention with the way she would capture a melody and bring the lyrics home. They weren't stuffy and they weren't quiet. It was just a dose of sophistication you don't usually see in a rock situation.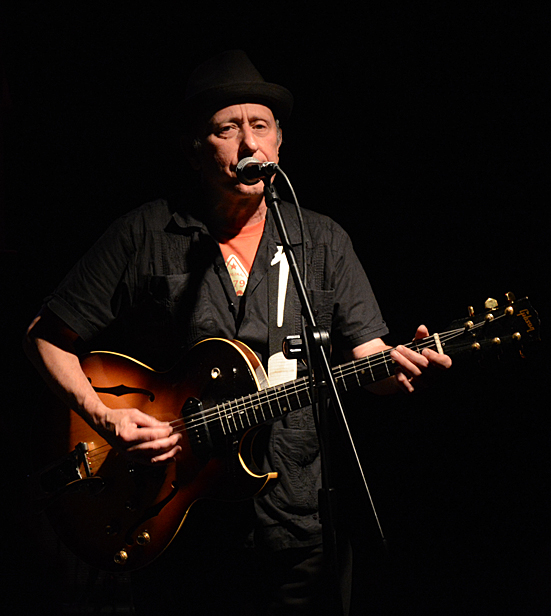 "Crankie" Frankie of the Cranktones
Then it was to the Cranktones who don't play a lot so it's an occasion when they do. They have a history. Guitarist "Crankie" Frankie Blandino has been playing a long time and his playing contains elements of jazz as well as rockabilly. It seems like you are getting the real deal when he plugs in. He's funny on stage to boot. It seemed like desert after a those three other bands. I heard so much music and I sadly missed Johnny Carlevale and the Rollin' Pins, another fave. These Rockabilly nights are something to catch. We sure will be at the next one.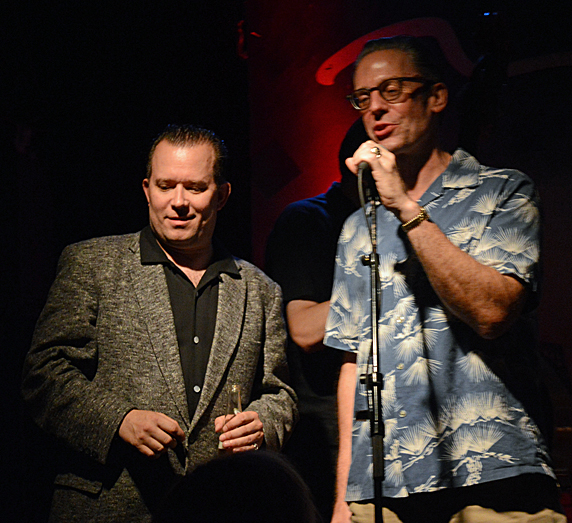 Jittery Jack and Easy Ed
and in other news.....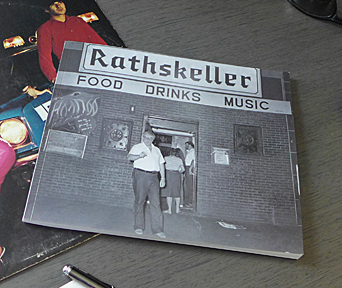 You've heard about the Rathskellar Suite at the Commonwealth Hotel. We wrote about it a couple of weeks ago. Along with Jim Harold and photographers Phil N Phlash, Wayne Viens, Richie Parsons and JJ Gonson they've produced a really nice photo book of Rat pics (with a forward by Jim Harold). Problem is the book was created only for the people that spend a night in the Rat room. Everyone who sees the book, and lots of people who haven't, have been raising a fuss about getting their hands on a copy. Well we got in touch with the folks at the Hotel Commonwealth about this predicament and they are willing to sell it to those of us that want one. It doesn't come cheap, its $49.69 but that is actually the price the hotel pays for each copy so you're getting it at cost. All you have to do is contact Jessie Stephenson at the Hotel Commonwealth. You can email Jessie at: jstephenson @ hotelcommonwealth.com to get your very own copy!
And what? ANOTHER Rat movie?? We love it!! A Ratrospective is a film in the works about the Rat, this one focusing on the latter days: "Touching on a brief history and concentrating on the final years before its sudden closing in 1997."
Have you been feeling a little overwrought lately?? Well check this out folks, researchers at the University of Queensland in Australia did a study on the effects of extreme music on people and found "Participants listening to the likes of the Sex Pistols and Slayer not only emitted positive emotions, but were found to be as relaxed as those who had been sitting in silence." We knew this all along didn't we? Here's the article in Newsweek: Nevermind the Bollocks: Study Shows Punk, Metal Help Calm Nerves
The Gizmos World Tour CD has finally been released by Gulcher records. All songs recorded live during the 2014 Gizmos World Tour: "The Gizmos rock their way through all 15 of the songs from their three EPs: "Kiss Of The Rat," "Mean Screen," "Regular Dude," "Amerika First," "Human Garbage Disposal," "Muff Divin'," etc. Plus the MC5's "Black To Comm" and "Ramblin' Rose," "The Devil Talks In Tongues" by Eddie's band Crawlspace, Kenny Kaiser's "Don't Get Fresh With Me" (from the 1978 Korps LP with Kenne Highland), and a brand new Gizmos song from Ted Niemiec called "Around." And you can get yours here!!
Here are some shows that are happening this week....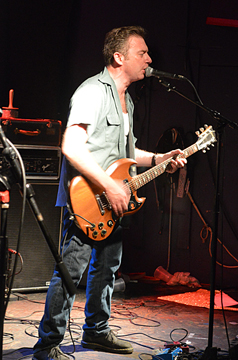 Shods
July 10 (Friday) Mr. Airplane Man are back in town with The Monsieurs and Party Pigs are at Cuisine en Locale (FB event page)
July 10 (Friday) a little more North, in Salem there's the Salem Wolves, Oh the Humanity, The Jukebox Romantics and Ghost Ayeria at Koto (90 Washington St Salem) Their show are only 5 bucks!!!! (FB event page)
July 11 (Saturday) it;'s beach season so....there's Rockin Dune Tunes at Whitecrest Beach in Wellfleet, MA with Mr Airplane Man, Thick Shakes, The Barbazons and Hambone Skinny Here's the FB page. This is a 5-9PM show.
July 11 (Saturday) There's an afternoon show in the city, in Cambridge coz Savtones return to Atwoods. This one is 4-6PM. Atwood's has a nice menu and an outdoor patio too.
July 11 (Saturday) Mudhoney along with White Dynomite will be at The Brighton Music Hall
July 11 (Saturday) The FUs, Ungraded, Sewer Rats, Jay Allen and the Arch Criminals and Kenny Chambers are at Cuisine en Locale
July 11 (Saturday) it's official The Gizmos (and a TON of other bands) are playing Mutant Fest II at the Blockhouse in Bloomington IN. FB event page
July 12 (Sunday) it's the final TT's Rock n Roll Flea Market & Bloody Mary Bash 11AM- 5PM and its Free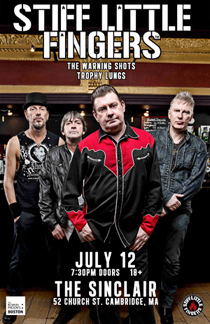 July 12 (Sunday) At The Sinclair there's Stiff Little Fingers with The Warning Shots and Trophy Lung.
July 12 (Sunday) at The Midway are Beantown Boozehounds, El Escapado, Lucky United, Deranged Youth and Bad Movies
And coming up after this week we have.......
July 14 (Tuesday) - WHAT a great show this will be The Rezillos with Petty Morals and Casanovas in Heat at Johnny D's. And the Rezillos have a new full length CD out. There will be a CD and a limited edition vinyl album available at the shows !! Get tix here.
July 16 (Thursday) Wolf's Farewell to TT's Party (also his 22nd Bastille Day A go-go) and what a show this will be!! with the Legendary Vudu Krewe & special guests Jenny (Dee) D'Angora, John Powhida, Amber Casares, Asa Brebner, Kevin Connelly, Jittery Jack, Anthony Kaczynski (Fireking), Michelle Paulus (Dents), Ramona Silver and more! Music start at 7:30 folks so don't arrive late. In fact the music is mostly 7:30 - 10PM !!
July 17 (Friday) through July 25 (Saturday) - make sure to keep your calendar open for the TT's Farewell Bash happening all week!!
July 17 (Friday) at Club Bohemia - Greg Allen's Fringe Religion, Caged Heat, and the Black Souls.
July 17 (Friday) at Sally O Brien's - Richie Parsons, Aca Brebner and The Trick Wallace Trio
July 17 (Friday) at The Midway - The Dirty Truckers, A Bunch of Jerks, The Dents and Jay Allen & The Archcriminals
July 17 (Friday) The Brigands are putting on a Wounded Warriors "Garage Night" Benefit at Spotlight Tavern in Beverly, MA. Here's who's on the bill and the music starts at 9PM: Pop Gun, Corolla DeVille, The Brigands, The Flying A-Holes and Gary Shane.
July 18 (Saturday) Roy Sludge Trio is doing an early show (6PM) at Sally O'Brien's. Perfect for dinner and music!!
July 18 (Saturday) Mission of Burma opens for The Foo Fighters and the Mighty Mighty Bosstones at Fenway Park
July 20 (Monday) The Detroit Cobras and Fireking are at Great Scott - Get your tix here.
July 22 (Wednesday) Jaz Coleman founding member of Killing Joke is doing a Spoken Word performance at The Middle East Down. its al about his new book: "Letters from Cythera". Jaz will delve into his many experiences that have influenced his philosophical outlook on life and also discuss, Supersynthesis, a principle which has facilitated his many accomplishments including acting, conducting, singing, composing, geometry, architecture, and occult history. Tix available here. This one will be different, there's seating and VIP seating tix for this show.
July 22 (Wednesday) up North in Portland ME at The Space Gallery (538 Congress St, Portland, Maine 04101) are Kid Congo Powers & the Pink Monkey Birds with Tiger Bomb and Cheerwine Here's the FB page for this one.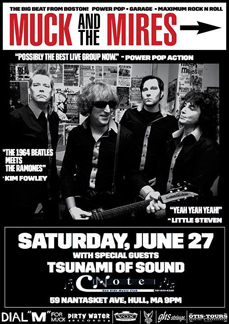 July 24 (Friday) WOW! check this out: Bim Skala Bim and the Pajama Slave Dancers are at The Middle East Down along with Brunt Of It, Zeme Libre and The Porter Squares
July 24 (Friday) at The Midway - BrownBoot, Barbusters and Hambone Skinny
July 25 (Saturday) A Crash Course For The Ravers is featuring Ajda The Turkish Queen! That WMFO 91.5 from 1PM - 4PM.
July 25 (Saturday) The final day of TT The Bear's Place...and they have Scruffy The Cat this night!!
July 25 (Saturday) Muck & The Mires, The Nervous Eaters and Richie Parsons are at The Midway (FB event page)
July 25 (Saturday) The Shambolics, Greg Allen's Fringe Religion, Jay Berndt & The Orphans are at Sally O'Brien's
July 26 (Sunday) a Matinee Show at the Middle East Up - 1PM doors with Band Without Hands, The Knock Ups, Radio Compass, and Happy Little Clouds
July 26 (Sunday) Screeching Weasel, plus The Queers and The Mr. T. Experience are at The Royale. You can get tix here. This is a 6PM show!!
July 26 (Sunday) Matinee show at The Middle East Up with Band Without Hands, The Knock Ups, Radio Compass, Happy Little Clouds. Doors are a 1PM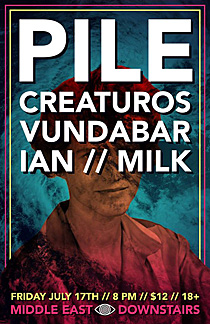 July 30 (Thursday) There's a mega hardcore show at Cuisine en Locale with Power Trip, Foreseen, Boston Strangler, Peacebreakers, Freedom, Fury, Red Death, Intent, CIAC and Take Control. Music starts at 6:30 SHARP doors are at 6.
July 30 (Thursday) X, with all original members, are at The Sinclair Tix here
July 31 (Friday) "THE DAMNED: Don't You Wish That We Were Dead" documentary is FINALLY playing in Boston!! It's at the Regent Theater at 7:30. You can buy tix here. Watch the trailer here.
August 1 (Saturday) Tiger Bomb is on Crash Course for the Ravers on WMFO 91.5FM from 1-4PM
August 1 (Saturday) The Static Dynamic, The Wrong Shapes, Hope & the Husbands and Alchemilla at The Middle east (FB page for upcoming updates)
August 2 (Sunday) A Punk Show at Koto with USA Waste (ex A Global Threat), Adults, The Earbleeds, Gravel and Farce!
August 3 & 4 (Monday and Tuesday) Darkbuster returns!! at The Sinclair. Well, no tix available anymore congrats to Darkbuster for two night of sold out shows!!!c
August 3 (Monday) Tsunami of Sound and The Vista Cruisers are at Opus Underground, Salem.
August 6-8 (Thursday - Saturday) Boston Fuzzstival 2015 is at The Middle East Down. The Fuzztival highlights "the best bands in the region that make psychedelic/fuzz/garage/surf rock" and its goal is "to build bridges within the local music community." Stay tuned for the lineup and more info keep checking their FB page!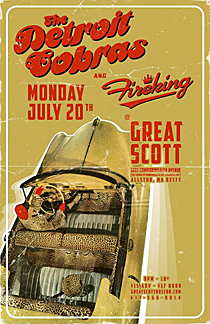 August 8 (Saturday) - Head over to Store 54 to help Bob Colby celebrate his birthday (two days early) with The Rationales and My Own Worst Enemy!
August 8 (Saturday) - The Bush Tetras and headlining at The Sinclair and also on the bill are E, Gene Dante & The Future Starlets and DJ Gang of One (Gang of Four's Hugo Burnham) get tix here.
August 8 (Saturday) The Memphis Rockabilly Band are doing an early show at Johnny D's (FB page) 7-9PM

August 14 (Friday) at The Midway are The Connection, The Above, Fireking & Special guest to be announced...watch for updates on the FB event page
August 22 (Saturday) Memphis Rockabilly Band is at the Marshfield Fair. check out the particulars here
August 29 (Saturday) The Ten Foot Polecats are gonna be on A Crash Course for the Ravers with Brian Young and Mike Stewart on WMFO 91.5 - that's 1PM- 4PM.
August 31 (Monday) The Fake Boys, Petty Morals, BDSX, Spectre Hawk and The broken glass kids at Opus Underground Salem.
and of course The New England Shake-Up! September 25,26,27 2015! Keep yourself updated at their FB page
September 3 (Thursday) Wormwood (mem of Doomriders), Mountain God (NY), Conclave (ex Warhorse), and Livver are at Obriens

September 18 (Friday) Livver, Tenafly Vipers, Dead Cats Dead Rats and Profit Margin are at Koto in Salem, MA
September 19 (Saturday) Pop Gun along with Fireking, Classic Ruins and 138 are at Koto in Salem, MA
CONTACT US AT…….misslynbgn @ yahoo.con Send us your gig listings, your news and anything else ya got!!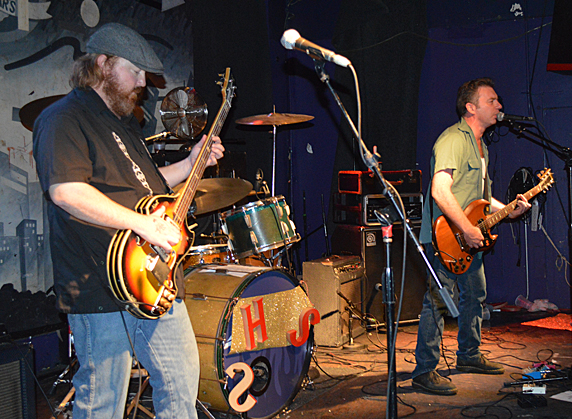 The Shods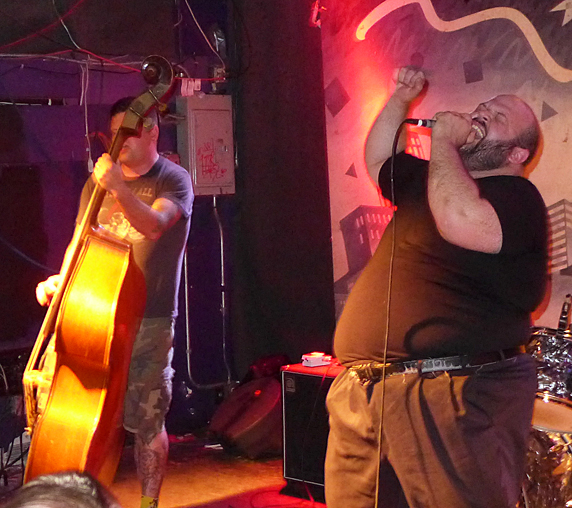 The Alrighters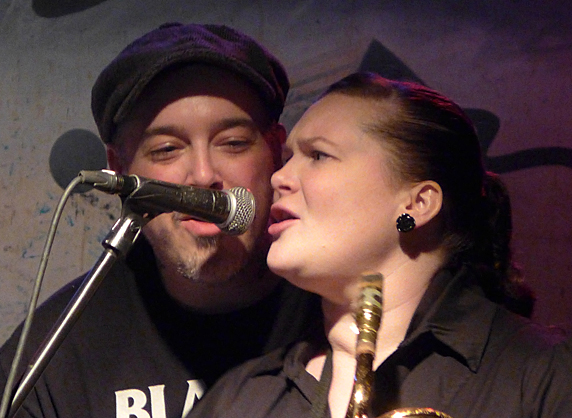 The Alrighters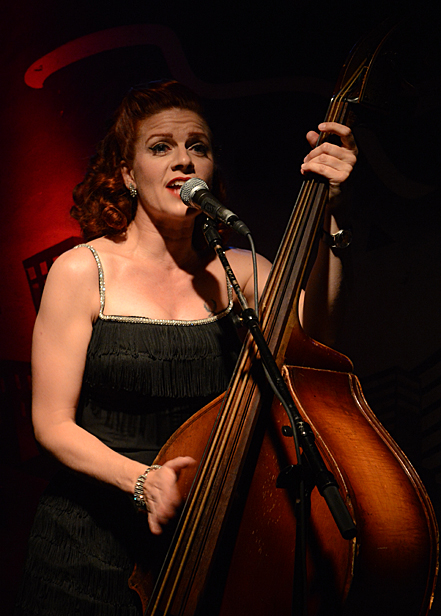 Millwinders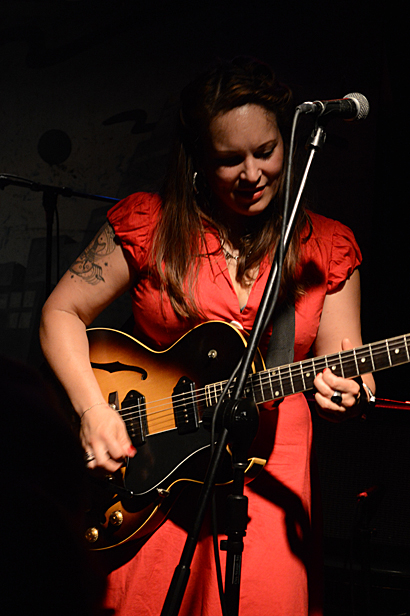 Miss Amy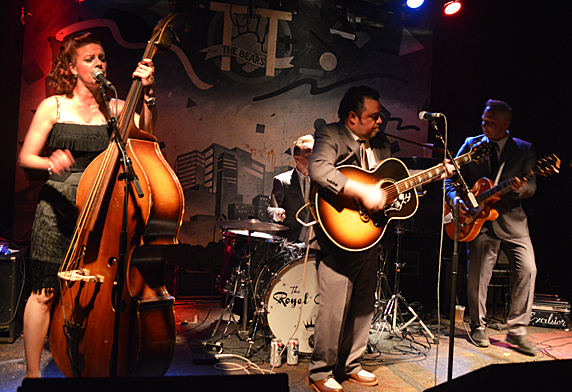 Millwinders