The BGN News Archive
July 7, 2014
Here's some news for ya:
You may have heard that Liz Borden was int eh hospital and at home now recuperating but she's got a bit of a slow recvoery ahead of her so there has been a GoFundMe page started for her
All we know is what has been said on-line: "Our friend Liz Borden is experiencing a health issue which will sideline her for about a month. Working for herself as a musician she will be unable to earn an income while she is recovering. We all know how stressful it is to have a health issue but put not earning your income on top of that and it is cause for worry. We would like for Liz to be able to recover without having to worry about money. Liz has brought so much joy to many of us through her performances for many years in Boston. We are hoping that Boston can show Liz some love! Rock on!" BEST wishes for a speedy recovery Liz!!!
Looks like another batch of DOT ALE is on sale…they're doing tastings at Morrissey Boulevard Wines and Liquors.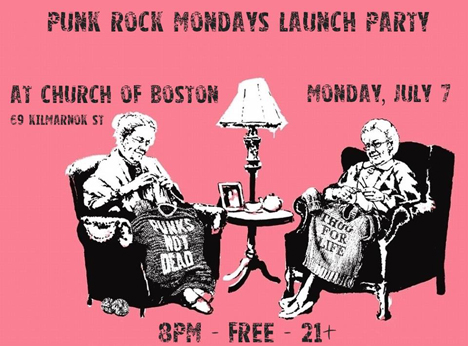 We are kinda glad to hear that Church now has Punk Rock Mondays...starting this very Monday July 7th with a luanch party! its FREE They are saying: a rotating group of curators, with the goal of having a weekly that represents the diversity of the local punk rock community. The goal for this event is to get people (bands, people interested in helping out, etc) to check out the space and brainstorm with us about the night. BUT WHY a Monday??? Grrrr.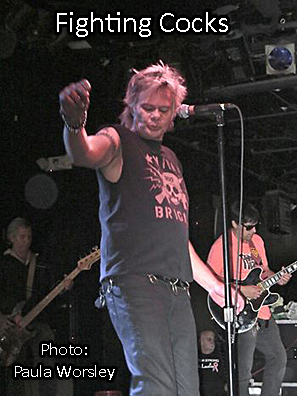 It was great to see ex-Unattached Jamie Sever performing onstage in Boston for the 1st time in years at the Boston Rocks-Music Drives Us benefit at the Paradise on 6/22. Jamie's band The Fighting Cocks featured Tony Savarino and Pete Cassani on guitars,Carl Biancucci on bass, and Tom Leger on drums. We hope it won't be another 5 years between FCs shows
Here's a video of last weeks Drunk Nuns gig. It's a rough one but we appricialte that someone took this amist some moshing.
So what's comin' up for gigs?....
Trip to NYC time!! Saturday July 12th at the R Bar in the Bowery NYC there's a Jerry Nolan & the Profilers Final Recordings Record Release Party and its featuring Greg Allen's Fringe Religion (with original Profilers Greg Allen and Chicago Vin Earnshaw), Buddy Bowser, Johnny Rao, Gass Wild, Android also performances by Jennie Vee, King Bee & the Stingers, Wrong Era, Lip Action.
Next night:
Sunday July 13th Greg Allen and His Fringe Religion are playing at the Annual Johnny Thunders Birthday Bash at The Bowery Electric in NYC. Also on the bill Walter Lure and a whole lotts other bands too!
July 15th has FuzzStompin' GarageSoul with Thee Legendary Rockin' Prophets at O'Brien's.
July 19th Great Scotts has We're All Gonna Die, Cocked n' Loaded, Murcielago, Hey Zeus and The Humanoids
Up north it's Surf, punk, jazz while you bowl and drink...The Beachcombovers, All girl glitter punk band Tiger Bomb and free jazz by Le Wildcat are at the Bayside Bowl in Portland ME for the Glam-a-Lam Festival on Saturday July 19th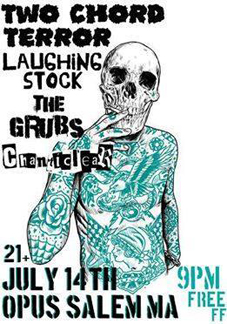 Friday July 25th at The Midway, Cincinnati band Wussy is playing along with locals Slowdim and Brother Fight.....
Friday July 25th has a great show at Great Scott's with Razors In The Night (Record Release Party! & we're happy to see they are out and about again!), Panzerbastard, The Blue Bloods, and Taxi Driver Friday August 1st has Tsunami of Sound, Tommy White's The Beachcombovers and Cal Cali's New Experience at Sally O'Brien's
Saturday July 26th tune in to Brian Young and his Crash Course for the Ravers show on WMFO 91.5 he's gotta a bunch of folks on the show: -Cal & Al with ....Frank Rowe (Classic Ruins), Anthony Kaczynski (Fireking) -Randy Black and Vikki Porter
And then that very same evening (7/26) ....over at the Tavern at the End of the World is Cal Cali's Summertime Soiree with Fireking, Cal Cali Band, Randy Black & the Heathcroppers and Vikki Porter Band....and at the Tavern there's NO COVER!!
The we start off August with Beyond the Beach!! at Sally O'Brien's with Tsunami of Sound,The Beachcombovers,Cal Cali Band and Boston Monkey
Terry Brenner's bringing The Real Kids and Nervous Eaters and Greg Allen's Fringe Religion to The Spotlight Tavern in Beverly on Saturday August 2 Thank you Terry!!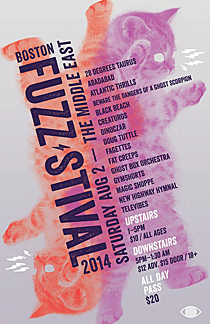 In Boston on August 2 there's the Boston Fuzzstival at the Middle East....check out this Line up…..28 degrees Taurus, Abadabad, Atlantic Thrills, Beware the Dangers of a Ghost Scorpion!, Black Beach, Creatorus, Dinoczar, Doug Tuttle, The Fagettes, Fat Creeps, Ghost Box Orchestra, Gymshorts Magic Shoppe, The New Highway Hymnal, and , The TeleVibes And At The Sinclair its suck n muck with The SuperSuckers and Muck & The Mires on Sunday August 3rd.
And in Allston on 8/2 you got the Sprained Ankles, Hope + the Husbands, Das Muerte and Tsunami of Sound at O'Brien's
Friday August 8th - awesome Rock On Cruise with Aquanutz/White Dynomite/Petty Morals
Saturday August 9th there's a excellent show at Store 54 with My Own Worst Enemy and Apple Betty.
Sunday August 10th there's an afternoon show (4-8PM) at the Midway with Greg Allen's Fringe Religion, The Swindlers, The Skeleton Beats and The Knock Ups.
Saturday August 16th over in Allston O'Brien's has The FU's, MOTO, Round Eye and Daikaidju (sounds like a wild show!!)
On Saturday August 23rd start the afternoon off with Brian Young and Crash Course for the Ravers Show with his special guest this day being Willie "Loco" Alexander!! (WMBR 91.5PM 1-4PM)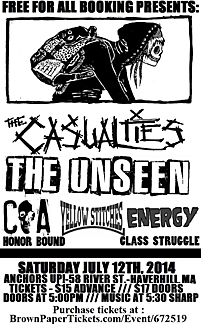 It's Hixxmas in August folks! On August 23rd at Club Bohemia at The Cantab it's Hixx and Psychic Dog and more bands TBA...
This should be an interesting evening...at The Cantab August 30th....The Sound Down Cellar, Nelson Slater (tentative), Annie Activator and the once a year gig by Love & Flame featuring Danny Rybar, Lady Carolyn and Joe Viglione along with Mike Quirk on bass, Kenne Highland on guitar. (they are on at 9:30) and The Guns of Brighton
We finally get to see Dave Minehan with The Replacements since they are on the bill for the Boston Calling Show September (5,6 & 7)!
But also put this on your calendar: At O'Brien's on Friday Sept 5...It's Fri Lisa & Malibu's 10 Year Anniversary Rock Off!!! Featuring: The Kurt Baker Band, The Connection, Tom Baker & The Golden Shower Band (Members of The Dirty Truckers & Watts)and ZipGun Bomber
Crash Safely is coming up in September - here's some news from Vanyaland on that!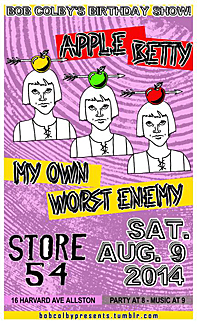 The Legendary Shake Shakers are coming to the Middle East down September 12th.
Saturday September 13th is Matt Burns' 60th Birthday Party! He's celebrating at The Lizard Lounge. So far the bill includes Litehouse, The Handymen, Kenne Highland, and more bands to come.....
There's also a excellent show at The Midway on Sept 13. Cal Cali brings us Lyres-Nervous Eaters-Cal Cali Band- The Invaders (Les Envahisseurs-from Quebec) - whew!!!
And at TT's in September there's a couple great shows coming up - Sunday Sept 21 is Queerstock 2014 with Gunpowder Gelatine, Thalia Zedek, The Kitchenettes and Fur Purse and to finish off the week on a definite , awesome actually, punk note Friday the 26th they have The Angry Samoans, Reagan Youth, Burning Streets and The Welsh Boys opening the night.
The Rat Beach Party set for September 14th& 15th you get all the info on their Facebook page
September 14th -a Sunday daytime show- at the Midway will bring us The Members!!
October 5th - a Sunday daytime show at The Midway will bring us The Vibrators!!!
And September 22nd at the Middle East up is a great show with Shonen Knife and Petty Morals.
The Damned are touring this Fall with TSOL. They are playing Halloween in NYC but playing Boston on Saturday October 25th at the Royale…tix here....
CONTACT US AT.......misslynbg@yahoo.com Send us your gig listings, your news and anything else ya got!!