The BGN News Archive
July 11, 2011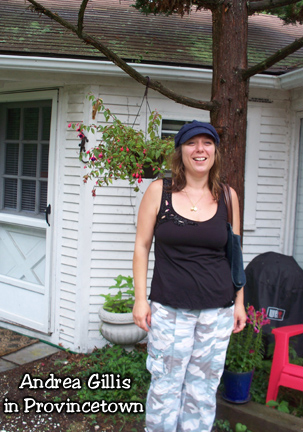 I figured I'd take a trip outta town this past week...Michele and I went to Provincetown for the day...I step out of a store on Commercial Street and am face to face with Andrea Gillis!! ....she's living down there for the summer and the band was coming down to play at the Joon Bar that night.....though we could not stay it was fun to run into Andrea and visit for a while...total surprise!....
Man this Monday is a killer rockabilly night at TT the Bear's ...with The Raging Teens and The Roy Sludge Trio along with Kim Lenz and her Jaguars, that is quite an excellent bill....
Fredstock folks, this Friday July 15th at Church ...go out and support this...and hey it's a good show too! Muck and The Mires, The 360s, Black Fortress of Opium and Curious Rituals.....
Also, on... Friday July 15th at Obrien's there's a good show with The Acrobrats, Cradle to the Grave, The Scandals and Full Body Anchor....
Then you got Saturday , July 16th there is a great show at The Rosebud with Razors in The Night and Tijuana Sweetheart - yeah!!...
And next Monday July 18th The F.U.'s along with Lenny Lashley's are at Charlie's Kitchen......
And don't forget next Thursday night (on July 21st.) it's JJ and Thee Cuban Heels with The Weistronauts and Hillbilly Holiday at Church.....
Also on the 21st, in Davis Square are Cadillac Heart and Liz Borden at the Rosebud
Friday July 29th...should be a very interesting evening over at The Middle East down with Sidewalk Driver (and Tad's ever changing and improving costumes) and Walter Sickert and his Army of Broken Toys....whew!!
The Rosebud does it again with a great show on Friday, Aug 5 - The Port Charles Quintet, Brownboot, Thee Cuban Heels
Frank Rowe's ...big birthday bash is shaping up to be a very special night! Also added to the bill at this point is Sourpuss.... (feat.The Dogmatics' Jerry Lehane and The Turbines' Jack Hickey) And they keep adding more bands to the list as we approach the date...so stay tuned and mark this one in da calendar: The Midway on August 13th Oh its gonna be a excellent evening......
also for your calendars : the Rock'n'Roll Yard Sale in Union Square Somerville in August on the Sunday, the 21st,
And on August 26th another Birthday Bash, this one for Nancy Neon is shaping up and will be at the Cantab - Port Charles Quintet and Classic Ruins, more news to come on that one!
And Robin Lane has launched her film project on Kickstart ...looks pretty interesting!! Check it out and donate....it's a biography with amazing twists and turns of Robin Lane, called A Woman's Voice.....
...also check out our most recent page featuring one of Joanie's vacations...this one down south...in Elvis country....Joanie's Deep South Vacation.
...Email us click click click