The BGN News Archive
July 11,2016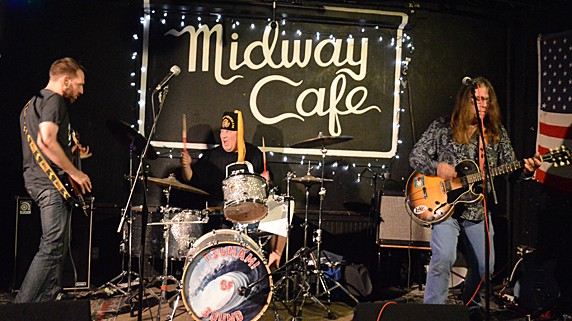 Fireking
Photo: Blowfish
We went to a Saturday afternoon show at the Midway to see the Pity Whores but they never showed up to the gig. A block from the Midway we heard one of the bands playing the Jamaica Plain Porchfest. There was literally music in air in JP.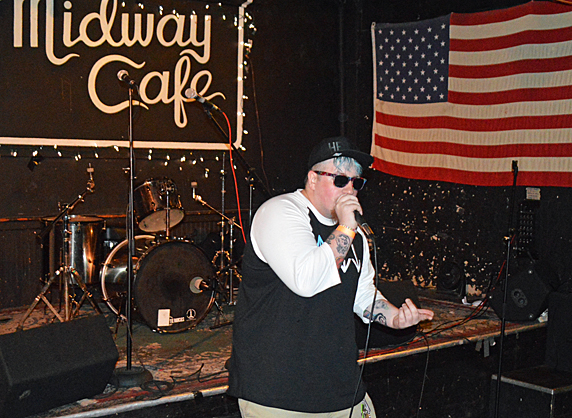 Rapping at the Midway
Photo: Blowfish
We wondered why there were so many people out in front of the club when we could hear what sounded like music coming from inside. We walk inside and we were greeted by a guy rapping. Rapping? Yes, rapping. I couldn't process that then and I can't now. There was enthusiastic applause from a small group of his friends - so I guess he was alright, it just isn't our thing.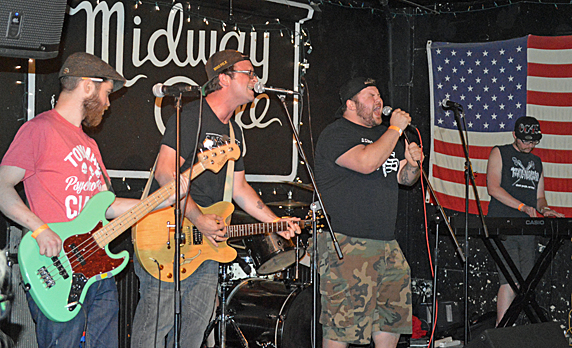 You Scoundrel
Photo: Blowfish
You Scoundrel was an Emo group. I liked the songs and lyrics. The singers were fairly off key a lot of the time and that was jarring. The group sound was a bit jumbly too. They had good elements in there though.
The Pity Whores evidently have a bad reputation for making gigs it seems, as we found out too late. The next band kicked ass and that took the sting out of it.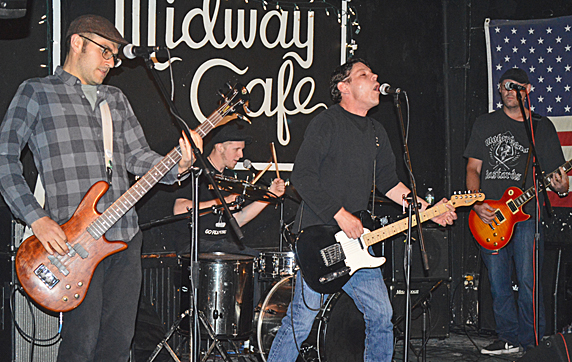 Jason Bennett and the Resistance
Photo: Blowfish
Jason Bennett and The Resistance (Their Website) have been around a while but we never caught them. Slimedog from Thrash n Bang was there and he told us that they now have Aria Rad and Matthew Bulmers Trainor the rhythm section from the Radicals. They made a tight group sound for Jason who is a stand out front man. Jason has a strong gravelly voice reminiscent of the Stiff Little Finger's singer and Joe Strummer. The group approached the SLF/Clash sound but never got quite that punky. They pounded out a more traditional rock/pop sound and they pounded hard.
The songs are excellent and we were sucked in by the performance. We definitely want to hear them again and check out their recorded material. They have a new album coming out in the next few months.

It was off to eat and then like the recidivists we are it was back to the scene of the crime again for the evening show at the Midway. It was proclaimed a Summer Spectacular with Surf by the Beachcombovers at the beginning and the Tsunami of Sound (fresh from playing in front of Fenway Park) at the end.
John Keegan caught the Beachcombovers where Tom White of the Unnatural Axe shows he's instrumental prowess.
The two middle bands were also very compatible: Pop Gun and Fireking. Both draw from the seventies for their basic sound and both have superior songwriting. They also are the nicest group of guys and some of that infuses the music.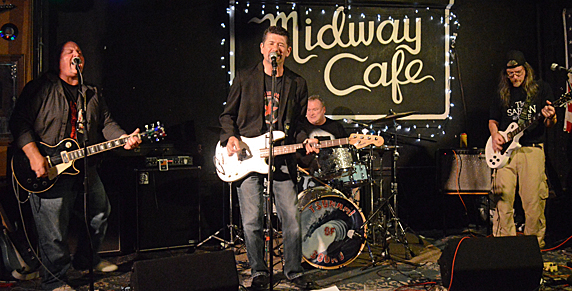 Pop Gun
Photo: Blowfish
Pop Gun had a much played album (American Soul) and a local hit with the song No One Knows. Album on Bandcamp Many of their songs are like No One Knows they may seem like a plain rocker but the lyrics are observant and the chorus an earworm. Two new songs were in the same ball park; Evelyn and Stop the World. I think they should get Stop the World out there now. That is begging to be played on radio and Skybar from WMFO was there and would play it right now.
These guys are veterans on the stage and the performance was ace. I loved the drummer who hit the 2/4 beat the majority of the time but when he did fills he had chops there too. Way to go, I say.
A highpoint was their cover of the Chambers Brother's Time Has Come Today. They hit it hard and nailed the riffs and that middle section. Smitty from Fireking ran to his drum set up and got the cowbell and gave them, you know, more cowbell.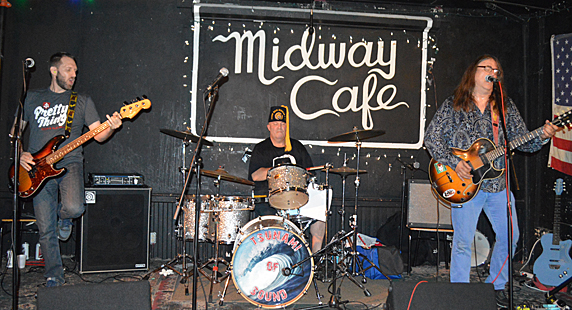 Fireking
Photo: Blowfish


Smitty then got his chance with Fireking taking the stage. Before we saw Fireking live we heard their double LP Double Trouble. That work gained them many fans. If you haven't taken the time to digest that album it would be our suggestion to give it a listen. Check it out on Bandcamp
We've seen them live and I think they have gotten tighter these last two years. The very discerning Matt Burns, who is a heavy club goer too, voiced the same thing to me after the show. Smitty on drums is a star; it's time for the rock world to realize that.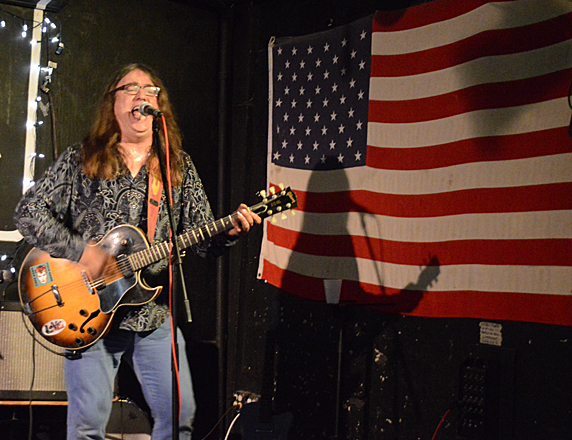 Fireking
Photo: Blowfish
The thing with Fireking is that they do everything right. They never seem to make a false move. Tony Kaczynski has a prolific creative nature. Not long after making that double album he had written another album worth of songs. Some are in the set now. The other thing is that Tony writes songs that showcase his voice's positive features. He has a thick midrange voice with lots of character that he pushes into an upper register, often in the chorus, that's coupled with a lyric melded to the melody. It creates those patented Fireking moments you wait for.
They began with a new song, I think, that had just Tony singing and the group only playing on the choruses. An attention getting variation that worked because the song was catchy. Basically they could do no wrong all night.
After the set was time to bail since we had got to the club initially about six hours before so we had to miss Tsunami of Sound and their firepots.
And in other news
Scott Crawford, Washington, D.C. filmmaker who created Salad Days about the local DC Punk scene of the 80s/90s is working on a new film....on Creem Magazine!!! I know a LOT of people who will want to see this one! And we'll make sure to get there early so its not sold out damn it!! Read about it here.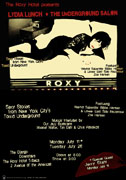 And fromt he 70s to the 80s check out these pics of the post punk goth death rock punks on PostPunk.com
And since Kenne Highland won't stop talking about Lydia Lunch we want to tell you about her NYC shows at The Django Lounge at the Roxy Hotel: Lydia Lunch Underground Salon: Sexy Stories From New York City's Torrid Underground, Featuring Warhol Superstar Bibbe Hansen & Lower East Side Raconteur Zoe Hansen. On the Huffington Post Ms Lunch describes it as "Anyone who has or hasn't lived through extreme experiences I think will appreciate hot women telling racy stories about just how raunchy the 60's, 70's and 80's were." Monday July 11 and Tuesday July 26 and this could -and hopefully will- run into August and September. Read more here. Music by Out Jazz Brutarians Weasel Walter, Tim Dahl & Chris Pitsiokos.
if you were/are a Bauhaus/ Love and Rockets fan you'll want to head to Provi this August 3 & 4 - David J. is reading from his new book Who Killed Mr. Moonlight? on the 3rd and performing live on the 4th - info in the listings below.
Here's some good shows coming up .....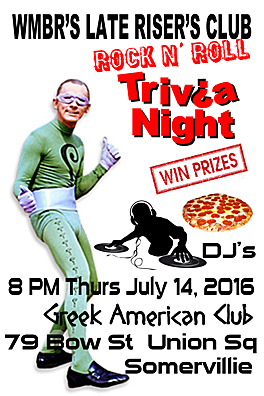 July 11 (Monday) Guided by Voices are at The Paradise
July 11 (Monday) Beach Slang, Lucky United and Potty Mouth are at Fete Music Hall, 103 Dike Street, Providence, RI,
July 13 (Wednesday) The Shallow End Divers, Vanishing Point, The Wrong Chaneys, Above the Din are at The Midway
July 14 (Thursday) The Late Risers Club Punk Rock Trivia night will be at "the Greek" in Union Square (more info to follow) Of course Eric Law's team will win but it'll be fun just the same. Starts at 8PM - And there'll be free pizza!! Team BGN will be there too!
July 14 (Thursday) Shepherdess are at Once.
July 15 (Friday) Dawn Kipphut Celebration of Life & FamilyBenefit at The Cantab's Club Bohemia with Club Linehan AGoGo (MJQuirk-Kenne Highland) & Hixx
July 15 (Friday) There's a Swingin' Psycho Summer Soirée at the Midway with Jay Allen & The Archcriminals, Muck & The Mires, Spectacle and Justine and The Unclean (this is their debut show!!)
July 15 (Friday) The Classic Ruins are at In a Pig's Eye in Salem.
July 16 (Saturday) OC45 celebrates their 5 year anniversary at the Middle East Up along with Burning Streets, The Jukebox Romantics and Jumper!
July 16 (Saturday) Carissa Johnson, Duck and Cover, The Dents, and Devil on Horseback at Sally O Brien's.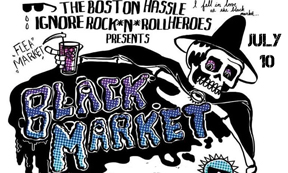 July 17 (Sunday) Boston Hassle's BLACK MARKET RAIN DATE REDO- last Sunday got reskedged coz of rain- They'll be at 420 Amory Street in Jamaica Plain which is T accessible, just a two minute walk across the street from Green Street Station on the Orange Line. Hours - 11AM- 5PM. This one-day outdoor event will spotlight a featured artist, and boasts everything from secondhand to handmade: artwork, zines, body care, records, baked goods, patches, pins, books, T-shirts, leather goods, knits, woodwork, pottery, vintage clothing, jewelry, tea, hair cuts, tarot card readings, face-painting, portraits, & MORE!! FB page
July 17 (Sunday) Sunday Night Mess Around at the Plough & Stars with Jay Allen, Justine Covault, Tom Baker and Keith Pierce
July 22 (Friday) Fur Purse, Thalia Zedek, Weather Weapon, Phurnne, Death Cloud at the Midway
July 22 (Friday) Screw Cart, Psycho, Rockin' Bob Punk Band, and 4 Sids are at The Cantab down.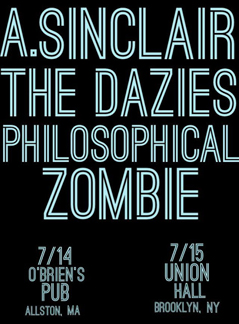 July 22 (Friday) The Downbeat 5 and Tom Baker and The Snakes at the Plough
July 23 (Saturday) The FUs, Silver Screams, Electric Street Queens, Il Mostro (mems of The Humanoids) are at The Midway
July 23 (Saturday) whoa!!!! Willie Loco, Nervous Eaters and The Real Kids who are fresh off their very successful European Tour are at the Spotlight Tavern in Beverly!!
July 29 (Friday) The Warning Shots, Duck & Cover, Quiggs, and Tenafly Vipers are at the Greek in Union Square (FB page)
July 29 (Friday) For you folks on the Cape Sidewalk Driver and Jenny Dee & The Deelinquents are at The Red Nun in Dennis Port! (more info here)
July 30 (Saturday) Your Friend Fest 2016 at Once....music comedy vendors and friends all together at Once - there'll be things going on both up and downstairs. Bands: The Knock Ups, Psychic Dog, Mercury on Mars, Thrust Club and the debut of Rrrright? (Jess Jacobs and Jasmine LaRue)
July 30 (Saturday) For you folks on the Cape who missed 'em last night- Sidewalk Driver and Jenny Dee & The Deelinquents are at The Beachcomber in Wellfleet
August 1 (Monday) The Schisms and Sassy Goose both from Austin TX along with The Knock Ups are at the Midway. This should be an interesting show!!
August 3 (Wednesday) David J. of Bauhaus and Love and Rockets fame reads from his memoirs Who Killed Mr. Moonlight? at Symposium Books in Downcity Providence. Event is FREE and his book will be available there. More info here
August 4 (Thursday) David J. of Bauhaus and Love and Rockets fame will be performing in a living room style show at Firehouse 13 in Providence. Tickets must be purchased in advance HERE Aug 3 & 4 are David 's ONLY New England appearances.
August 6 & 7 (Sat & Sunday) The Boston Rock Opera presents Stardust to Blackstar: The Lives of David Bowie at Once Ballroom: a concert dedicated to the late rock god David Bowie. "David Bowie taught us all so much about performance and stagecraft. If B.R.O. is going to, like Lazarus, rise up again then it should be to honor and celebrate his amazing music." The night begins with fellow B.R.O. co-founder Mick "Mondo" Maldonado directing and performing Bowie's "The Rise and Fall of Ziggy Stardust and The Spiders from Mars" with a full band and guest vocalists. Following that, is an original live arrangement of Bowie's final opus work "Blackstar" performed by an all star band and chorus under the direction of Either/Orchestra's Russ Gershon. The evening continues with a celebration of songs from Bowie's vast catalog as even more Boston musicians take the stage to perform.
August 12 (Friday) The Handymen are at The Plough & Stars
August 13 (Saturday) FRANK ROWE's 65th BIRTHDAY PARTY!!! starring: Kenne Highland, Stop Calling Me Frank, The Dogmatics, Classic Ruins, Richie Parsons Band, and The Stigmatics - at The Midway
August 15 (Monday) X are at The Brighton Music Hall - nice venue to see them!!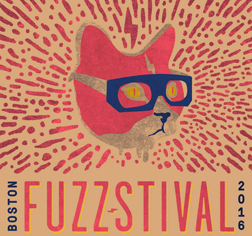 August 19 & 20 (Friday & Saturday) The 4th annual Boston Fuzzstival takes place on August 19/20 at The Middle East Downstairs. Fuzzstival is a celebration of our regional music scene and local music community. Bands are Doug Tuttle, Lyres, The Monsieurs, Mr. Airplane Man, Mini Dresses
Painted Zeros, Black Beach and a whole lot more...check out the FB page for updates etc
August 20 (Saturday) The Road Devils C.C. Boston Massacre Pre-Party!!! featuring Taxi Driver, The Hi-End AND MORE!!! FB page for more info as it develops
August 20 (Saturday) There's a great daytime (4-8PM) show at the Midway with The Lost Riots, The Scrapes, Whoopi Sticks, Go Blank and Point Blank
August 20 (Saturday) The Upper Crust, Devil on Horseback, Watts, Gymnasium at The Middle East Up.
August 20 (Saturday) Warn The Duke, Diablogato Dan Webb & The Spiders and Bundles are at O'Brien's
August 27 (Saturday) Idiot Genes, Duck & Cover, Silver Screams and Jack Widows at O'Brien's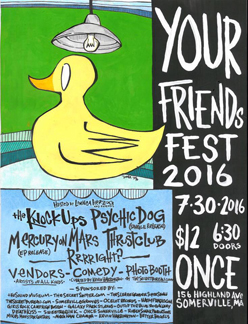 September 1 (Thursday) Thalia Zedek Band, Minibeast, Black Helicopter and Positive Negative Man at O'Brien's
September 17 (Saturday) Huntingtons, Mongorellis, 138, and Profit Margin are at Koto in Salem.
September 27 (Tuesday) Buzzcocks at the Royale ...they played this very room back in 1980! And we were there then too!
September 29 (Thursday) Barrence Whitfield & The Savages and Diablogato are at ONCE Ballroom
October 15 (Saturday) Idiot Genes, Duck & Cover, Chanticlear and Jack Widows are at O'Brien's
October 15 (Saturday) The Upper Crust, Hickoids, The Grannies & Devil On Horseback at Once
October 21, 22 & 23 (Fri., Sat & Sun) The Boston Rock Opera presents Hair at Once Ballroom.
September 1 (Thursday) Thalia Zedek Band, Minibeast , Black Helicopter, Positive Negative Man are at Great Scott
CONTACT US AT....misslynbgn@yahoo.com - Send us your gig listings, your news and anything else ya got!!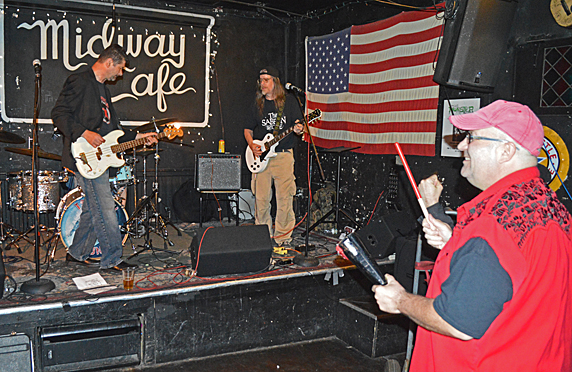 Smitty doing the cowbell duties during Time Has Come Today
Photo: Blowfish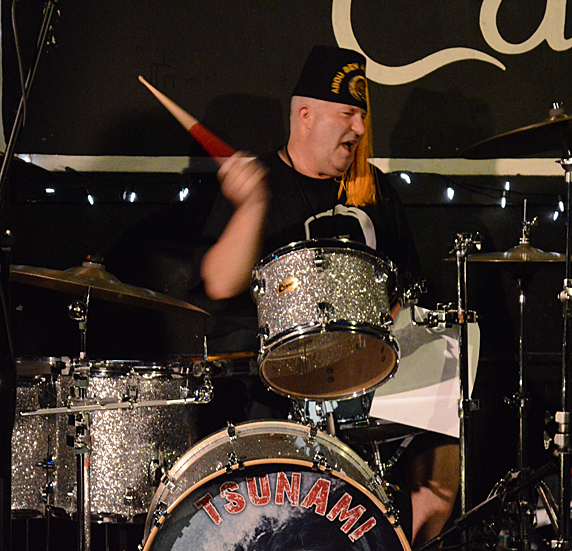 Smitty of the Firekings
Photo: Blowfish