The BGN News Archive
July 12, 2010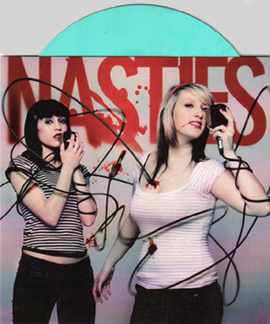 Unbelievably there are still some of the new Lawless Records Axe & Nasties disc available! Here's the lowdown: a split 45 with Boston punk legends Unnatural Axe and the smoking hot, sexy Nasties from Italy.
Two songs each. A brand new Unnatural Axe song "I Am The Way". Their first newly recorded material in over 28 years!!! The second song they cover the Nasties "Back To L.A.'.
The Nasties side has a Nasties original, "Maybe" and a cover of Unnatural Axe's "The Creeper". There are only 290 pressed on mint julep green vinyl. Hand numbered. AND they are only $8 ppd for the U.S. and Canada. You can pay by paypal - contact Eric Law ........ also contact him for paying by check or money order.
And hey, what's to do: This Friday the 16th, Sidewalk Driver are at TT The Bear's with The Motion Sick.
Saturday, July 17 at The Middle East up is Bonecrusher, The Welch Boys, Buddha & The Boys and The Beantown Boozehounds
And Sunday at TT's there is a very excellent show: Jesse Malin, The Dirty Truckers and The Illyrians!!
Monday, July 19th, GBH, do their gig at Harper's Ferry!! They just released a new CD Perfume and Piss!
And Monday July 26th there's an interesting show at Charlie's Kitchen With Kermit's Finger, Penis Fly Trap and Classic Ruins.
and in August we got a Union Sq weekend: with The Sprained Ankles, Muck & the Mires, The Opiods (formerly Black Mosettes)! on Friday, August 6 at Precinct.....Rona says, "My band formerly known as the Black Mosettes is now called "The Opioids".. Current Line-Up includes myself on vocals, Andy Excuse on bass, Bob on guitar, and Boby Bear on the drums! We will be playing some oldies and newbies.."....sounds like an excellent show to me!!!....
then the Somerville Rock'n'Roll Yard Sale 2010is during the day: Saturday August 7 (in Union Square Somerville):
there will be tons of amazing vendors selling everything from Vinyl Records and other music memorabilia, Vintage Eyewear and Apparel, to Local DIY Handmade Goods. See you there!!!
And don't forget...the show, at Club Lido in Revere on August 29th.
In celebration of the film: xxx ALL AGES xxx and it is also a Gallery East Reunion!
Boston pioneer hardcore punk bands DYS, Jerry's Kids, Gang Green and FUs will perform with New York City's Antidote and guests for a monumental reunion show ...AND the show will be featured in the film xxx ALL AGES xxx.
Produced by Gallery East in association with Stone Films NYC and the Boston Punk Rock Oral History Project (BPROHP) SO um, I would say DO NOT Miss this Show!!
OK, that's it.....
....you can email us at: Miss Lyn email......