The BGN News Archive
July 12, 2021
| | |
| --- | --- |
| Hilken Mancini of Punk Rock Aerobics | |
Hilken Macini is getting A LOT Of attention these days!! The latest? A really good interview on Authority Magazine: Women In Wellness: Hilken Mancini Of Punk Rock Aerobics On The Five Lifestyle Tweaks That Will Help Support People's Journey Towards Better Wellbeing. And she certainly is deserving of so much attention...the woman has done so much!! she's got a history few can compete with...in the band Fuzzy, signed to Atlantic in the 90's.....she co-created Punk Rock Aerobics, led classes all over the US and in London, ...she started Girls Rock Camp, a non-profit to empower girls through music...her vintage store 40 South Street in JP....The Monsieurs... and her latest is pairing up with Chris Colbourn to perform and release "autumn-soaked music with bright melodies written from both male and female perspectives." Wow does she ever rest???
In this interview Hilken stays true to her punk roots. When asked about her 5 'lifestyle tweaks' she includes: "SAY NO to the status quo." " DIY- Do it yourself " and "BE BRAVE."
The Sheila Devine rebooted the Sinclair on Saturday night. It was the first show in 16 months. The Dig have an interview with lead singer Aaron Perrino. They discuss what he's been doing during the shutdown.
Middle East is up and running. Most shows now are in the Corner Bakery and Zuzu with a few starting in Middle East Up. Sonia starts doing shows at the end of July. The Middle East website The Middle East is still up for sale … if you have a few spare millions. Here's the listing.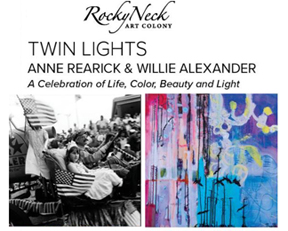 If you missed the opening reception for Twin Lights: Willie Alexander and Anne Rearick: A Celebration of Life, Color, Beauty and Light you can still see (and even purchase their work.. The show runs until August 1st at The Cultural Center at Rocky Neck, 6 Wonson Street, Gloucester, MA. .Anne has worldwide recognition for her insightful photos. Willie has had shows of his artwork but here he will be showing acrylic paintings from 1962 to 2021. If you can't make it to Gloucester the show is also on line at The Rocky Neck Gallery here. You can see the work and purchase items on line as well.

Against Me's Laura Jane Grace and Brendan Kelly of the Lawrence Arms are performing together. at the Four Seasons Total Landscaping (in Phil, Pa) on August 21st– ya, that place. Brendan Kelly said "It's not often you get to touch history, but that's what Laura and I will be doing in this most hallowed of political and mulching grounds." The story is on the Stereogum website

1.4.5. had their origins in Syracuse's Flashcubes in 1977. That group just got into the online Power Pop Hall of Fame. The Flashcubes are also included in Rockets of Love, a new album of "Power Pop Gems".along with Cheap Trick, The Knack, Marshall Crenshaw, The Searchers and the Kinks. That's available on Amazon Rockets of Love

The video below is the Flashcubes back in the day doing "Christi Girl".

The Johnny Thunders tribute that happened on April 23 this year is up on YouTube now. One of the best parts was with Joe Mazzari now of 61 Ghosts. Photo above. Back in the early 80's Joe played with Johnny. Thunders wrote of the song "Are You Living" for Joe's group, and Joe plays that along with two others. Joe comes in around the 27 minute mark. The video can be seen on YouTube - here.

Todd Haynes who made the glam movie Velvet Goldmine and the Bob Dylan historical fiction I'm Not There has now finished The Velvet Underground documentary.

It's being shown at Cannes this year. There's lots of Cale interviews and Johnathan Richman has some time. Apple TV has secured rights to world-wide distribution.

The article in The Playlist website is here And here's an interview with Haynes on Deadline and another article from Yahoo news

The 30 second trailer is not too thrilling, but we have it to the right.

AMYL and the Sniffers from Australia made a big impression at their Middle East show in 2018. To promo their new album, Comfort to Me, they're going to do a live stream on Oct 5 at 9pm. Tickets are available here

We find all things Patti Smith worth checking out. Here is a short piece with Patti in Bustle magazine. They have a series about what women were doing when they were 28. For Smith that would be 1974/75. That's the year Horses came out. She also was working at the Strand book store. Very interesting read.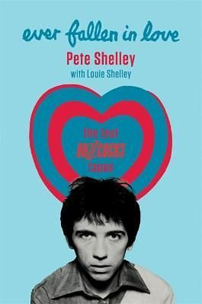 Ever Fallen in Love is a book of conversations with Pete Shelly. Recorded over a series of late-night calls with a close friend, the tapes hear Pete talk song-by-song through Buzzcocks releases to reveal the personal memories behind the music and the inspiration for masterpieces such as 'Ever Fallen in Love (With Someone You Shouldn't've)' and 'What Do I Get?'.
It starts with the story of the Buzzcocks which is mostly things you already know. Then it gets to what it's all about; Pete talking about each of the Buzzcocks songs one by one. Like the songs, the discussions are short and to the point. Pete has no axe to grind and is willing to talk about what inspired him to write.
One of the tricks with the Buzzcocks songs was the negative situation in the lyrics while the music was sunny and bopping along. Pete says it this way: " I like that thing where you have a happy tune and the most depressing wrist-slitting thoughts behind it." The two people who come up most often beside band members are Malcolm Garrett who did those stunning sleeve designs for the singles and producer Martin Rushent.
This is only for people familiar with the Buzzcocks catalog. It's all about being in the Buzzcocks world. You can get it on Amazon
A good companion piece with this is Shelly's book of lyrics https://www.amazon.com/Collected-Lyrics-Pete-Shelley/dp/1912477157/ref=sr_1_1
The Buzzcocks also figure in this 18 minute video Before Dookie: How Punk Pop Developed (1976-87). At the very beginning it was the Ramones…then the Buzzcocks.
PODCASTS......
Kids Like You & Me interviewed record collector Tracy Wilson. Tracy reviews the scene in her home town of Richmond, Virginia. In the interview, Tracy outlines what she does to keep up with new music. She's always scouring the internet and it takes a lot of time and effort. She has our respect for that. She also does the Turntable Report, a review of new and interesting music. She also has a playlist on Spotify
Blowing Smoke with Twisted Rico talked with Tom Wilson this week. Tom started as a roadie (later a stage manager) for hardcore groups in 1982/83. He was right in the eye of the storm for those years. He also was a heavy drinker working for straight edge DYS. In his career he worked for the Cure, Amy Grant, Janet Jackson, and Depeche Mode. He did lights for the Orpheum and saw every show that played there for years.
Rat Tales had Richard Mirsky doing their Tavern Tales which is a live set. You know we want everyone to be happy but we like when Richard does those downer songs like "What's My Name" and "Losing My Mind" from his latest album Run Away. Also from that album was "Clear Fine Day", a hopeful and inspiring view of the hereafter.
---
CDs........
The Taken by Vultures EP titled The Geriatric Throne on Ocelot is the group's debut.
They play a melodic hardcore/skate punk style and the melodic part really does carry the day with this group. Their lyrics are also notable. They talk of some weird situations with plenty of humor. Right off they start with a self-aware introduction. "Welcome to our EP/Archetypal mess of/Self-titled indulgent/Quintessential intro. " That leads to the song "John Larroquette's Spine" which is a story of robots raiding said celebrity's grave. "Grandpa Joe is a Dirty Freeloader" is how he's going to break out of the geriatric facility on the energy he gets from a chocolate bar….if we understand it correctly. (Ed:Wrong. It was a Willie Wonka reference.)
This is a strong introduction to the group and it makes us wonder what the live show is like!! They are playing August 3 at the Midway. See the gig listings below and on it's new separate page here!!. Facebook event page
It's been a few years but Endation has a new album called Ultra Chromatic Bitter Bliss. We used to go crazy for them!! They were a two person group that proved the viability of that line up for us. It only takes a few seconds for drummer Matt Grabers to begin his insistent mechanistic drive for us to get sucked into the Endation sphere again. The only other drummer that does this is Keith Seidel from Minibeast, when you add the intensity of the voice and guitar with the drums that is the Endation magic. Singer guitarist Conley posted about eh LP: "If you have ever felt like giving up and need a release through music, I sincerely hope the music of Endation gives you hope that someone knows your pain and has set it to some of the loudest music to drown it all out, give you hope, free yourself, and move on to your best life."
It's amazing how good all the 13 cuts are. The album was recorded at New Alliance and the sound is full and clear. The recording was done a few years ago and is just being released now. We're going to point you toward "White Flag/Half Staff" but any song would do as well.
Kurt Baker has a stand-alone single posted on Bandcamp this week. "Anytime at All" starts with the familiar Bo Diddly beat. It adds a few different chords and then a gets further away with a different chorus section. The song was written by Morten Henrikson of the Yum Yums.
The recording is hot and sonically rich.
Gene Dante and the Future Starlets released their new single "She's Outside" on Spotify this week. It has a glam sound but is harder rocking than other songs in their catalog. It seems like it has a lot a guitar layers on it and they are all busy adding accents all through the song. It ends in a flurry of feedback.
Geoff Palmer has the third song in his preview of his new album Charts & Graphs. "Tomorrow" is another nicely crafted song and performance. It's another pop effort and has a bit of a retro feel to it which combines effortlessly with his modern sensibilities.
Boston Hassle is coming up on their 10 year anniversary. Hassle Plaque Tape 2021 is a compilation to celebrate it and raise some money for the Trans Emergency Fund of MA. The 48 cuts have a wide range of genres. We like listening through and getting a taste of styles we don't normally go to.
We liked the punk of Soft Pants (cut #29), Ottomans (cut 30), and Ghost Planet (cut #35). The stand out cut for us was Black Helicopter's "Young Jerks" (cut #34). Everything they do is quality work.
Super Powered Yaks song "Maybe Vanilla?" (cut #31) sticks out also. It's an early 60's influenced pop song. It's interesting to see today's young artists picking up on an era like that.
---
Here's some good shows coming up .....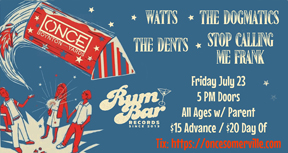 July 17 (Sunday) Happily Back at the Plough - The We Are Back Baby Mess-Around!! FB page
July 17 (Sunday) Thalia Zedek is celebrating the 20th anniversary of her first solo album Been Here and Gone by performing the entire album at the Midway. Also on the bill will be Richie Parsons and Eric Martin. 6:30 doors…The FB page
July 17 (Sunday) DYR FASER, Margaret Garrett, New Aura at Once @ Boynton Yards - music at 7PM
July 18 (Saturday) WHOA "mega-show" is right!!! In Provi, at the Scurvy Dog: Droplets, Midnight Creeps, Diablogato, Killer Kin, Pony Boy, 123 Astronaut, The David Tessier All-Star Stars (A.S.S.), Gamma Rage, Jodie Treloar Sampson and Steve Demers, Death Pesos, IonEye....FREE and music STARTS at 2PM with IonEye! FB page.
July 23 (Friday) A Rum Bar Records Summer Showcase with Watts, The Dogmatics, The Dents, Stop Calling Me Frank at Once at Boynton Yards. Doors at 5 music at 6. ALL Ages (with parent)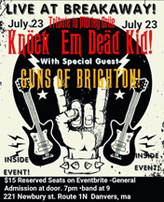 July 23 (Friday) At The Breakaway in Danvers Guns of Brighton as special guest in a Motley Crue tribute show.
July 24 (Saturday) Superjerk, Bad Larrys, Toward Space, Scare City at Ralph's Diner - this is an outside show, music at 8:30.
July 25 (Sunday) Neighborhood Shit, Reason to Fight, Cannibus Crypt, DNZL, Inserrector at The Midway starts at 3PM
July 26 (Monday) Disco Volante, Grasshopper Green, Speedfossil, Will DePiano at The Jungle 7PM
July 30 (Friday) Muck and the Mires, The Hi-End, Modern Day Idols - the First rock and roll show BACK at The Square Root Roslindale!!!
July 30 (Friday) Motel Black, Gene Dante & TFS, M8, The Jacklights are at Ralph's Rock Diner
July 31 (Saturday) Walter Sickert & the Army of Broken Toys (Matinee) 1:00 pm - 4:00 pm - ONCE Somerville @ Boynton Yards.
July 31 (Saturday) Walter Sickert & the Army of Broken Toys - 6:30 pm - 11:59 - ONCE Somerville @ Boynton Yards.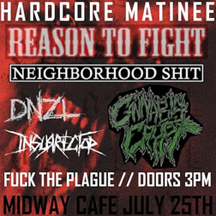 July 31 (Saturday) The Savtones Return with special guest Marco Giovinno on Drums at The Porch in Medford. FB page
August 2 (Tuesday) KCUF, Loser's Circle, Taken By Vultures, Blame It On Whitman at the Midway
August 5 (Thursday) No Small Children, Thrust Club, Bad Larrys, Tiffy - ONCE Somerville @ Boynton Yards - a 6PM show. FB page
August 6 (Friday) The Furniture, Today Junior, Children of the Flaming Wheel + special guests Garden Party at O'Brien's
August 6 (Friday) End of Summer All ages hardcore show with The Woods, Witchita Hangman, Half Mast, Mont Clair, Rocket Gods and Loser Birds,at the VFW post at 95 Essex St. Whitman, Ma - 6PM. FB page.
August 7 (Saturday) Nice Guys, Zip-Tie Handcuffs, Boston Cream, Rick Rude at Once @ Boynton Yards a 6:30PM show.
August 13 (Friday) Liz Borden (w/Stormtress), Gene Dante & The Future Starlets, Little Billy Lost at Once at Boynton Yards. 6PM Doors, Music at 7PM Tix etc here.
August 14 (Saturday) The Winter Project, A Bunch of Jerks, HIXX, Screwcart at The Jungle, 7:30 doors FB page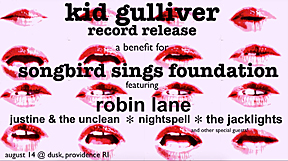 August 14 (Saturday) an evening with legendary rocker Robin Lane in support of her nonprofit Songbird Sings, which helps trauma survivors heal through songwriting and music. Performers include: Kid Gulliver, Justine and The Unclean, Nightspell,
The Jacklights ... and of course Robin Lane! FB page.
August 14 (Saturday) Sidewalk Driver, Freezepop, Worshipper at the Sinclair FB page
August 14 (Saturday) The Mal Thursday Quintet with special guests Tiger Bomb at Sun Tiki Studios Portland, ME FB page.
August 19 (Thursday) Kenne Highland's Air Force is at The Jungle.
August 20 (Friday) Bonecrusher, The Welch Boys, Riotgun at The Midway - doors are at 10PM. FB page
August 21 (Saturday) Mad Painter, Penny Outlaw, Shotgun Waltz, Glowbox at The Midway FB page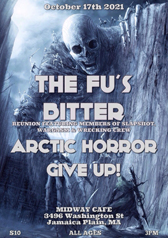 August 22 (Sunday) DNZL, Urban Waste, Controlled Substance, Grip Bite doing a matinee show at The Midway 3-7PM FB page
August 29 (Sunday) Johnnie G & The Royalty, Camelopard, The Stigmatics, Vanishing Point at The Midway MATINEE show.
September 3 (Friday) Rebuilder, Choke Up and Old Soul at the Sinclair - Tickets
September 3 (Friday) The Zulus rescheduled show at The Paradise - doors 8PM, music 9PM. FB event page
September 4 (Saturday) Actor|Observer, Girih, Dreamwell at O'Brien's
September 10 (Friday) The DollyRots at the Middle East Up.
September 11 (Saturday) Rock and Roll Yard Sale, Union Square, Somerville
We see that Tsunami of Sound has a poster for a show at Geno's Rock Club in Portland Me for September 24. We checked Geno's Facebook page and there's no info about the exact date of them starting up, but it must be coming.
September 11 (Saturday) Guided by Voices at the Sinclair. Tickets.
September 12 (Sunday) Mark your calendars! Frank Rowe's 70th Birthday Party featuring Classic Ruins, Unnatural Axe, and friends (more info soon) - at the Midway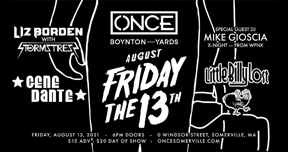 September 16 (Thursday) Bob Mould is at the Paradise - Tickets here
September 17 (Friday) The Dents, Duck and Cover, Fullmoon Vagrants, Deprogrammer Cult at The Jungle FB page
September 18 (Saturday) Martin, Morell, Fredette are having a residency at The Midway. These are early shows - 3-7PM
September 18 (Saturday) The Von Traps with Cathedral Ceilings at Ralph's Diner 8PM
September 19 (Sunday) It's the return of Tubefest -New England Surf/Instro Showcase! Lots of surf and instrumental bands for your enjoyment! Tubefest Facebook page. This will be an afternoon/early evening show
September 24, 25 and 26 The New England Shake Up is back. The rockabilly festival will happen this year in Framingham. The line-up of bands is way long. They also have a picnic record party 11AM-4PM on Saturday the 25th with Barrence Whitfield spinning vinyl. Get more details and ticket info on their website.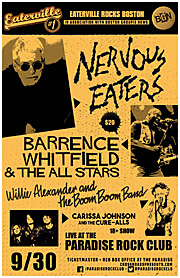 September 30 (Thursday) Nervous Eaters/Barrence Whitfield/Willie Loco and the Boom Boom Band/Carissa Johnson at the Paradise . Get Tickets Here!
October 4 (Monday) Gary Neuman at the Paradise Tickets
October 14 (Thursday) Ministry at the House of Blues. Tickets
October 18 (Sunday) Martin, Morell, Fredette are having a residency at The Midway - 3-7PM
October 22 & 23 (Friday & Saturday) The Town & The City Festival, Lowell. Music by: Tanya Donelly & The Parkington Sisters, Robyn Hitchcock, Screaming Females, Jon Langford & Friends, Will Dailey, Damn Tall Buildings, Evolfo, Hilken Mancini & Chris Colbourn, Alisa Amador, The Chelsea Curve, The Daylilies, The Shirts and Shoes, Daisybones, blindspot, Divine Sweater, The Q-Tip Bandits, The Only Things, oldsoul, and Brian Porter Hinkley. Website for tix & info ... FB Event page.
October 31 (Sunday) Dropkick Murphys At Hogan's Run again 7-11PM...best Tessie costume wins a free drinks bracelet for the night. FB page.
November 13 (Saturday) Field Day (x-Dag Nasty), Moving Targets, Lenny Lashley's Gang of One at the Middle East Up TIX!!
November 19 (Friday) Hardcore Stadium and Grayskull Booking Presents: Slapshot - Celebrating 35 Years of Hardcore Day 1- Stars & Stripes, Noi!se, COA, Patriot, Violent Way at Sonia - (already sold out!!)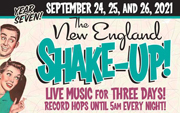 November 19 (Friday) Joan Jet & the Blackhearts will be at the Chevalier Theatre in Medford Square. Tickets.
November 20 (Saturday) Hardcore Stadium and Grayskull Booking Presents: Slapshot - Celebrating 35 Years of Hardcore Day 2 -Slapshot, Sheer Terror, Death Before Dishonor, Pummel, Count Time - at The Middle East Down. (already sold out!!)
November 27 (Saturday) Dinosaur Jr. at the House of Blues on Saturday Nov 27. Tix
March 13, 2022 (Tuesday) Reigning Sound at the Sinclair Tickets: https://www.axs.com/events/402182/reigning-sound-tickets
CONTACT US AT....misslynbgn@yahoo.com Send us your gig listings, your anything else ya got!! You want your CD reviewed?? Contact us for that too.
---