The BGN News Archive
July 13, 2009
Lots of good stuff to go see.....and I am SO sorry I missed the New Alibi's CD Release party...it was a good one I hear!... and did you read the New Alibis CD review written by Blowfish?? If not read it here and then use the link to go buy it@! It is excellent!!!!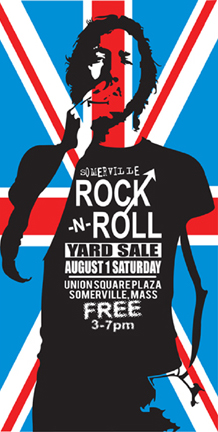 Excellent shows and events coming up my friends-
next Thursday July 16th there's Sarah Borges & The Broken Singles, The Dirty Truckers and Stonehoney at TT's....
and on Friday the 17th Joanie Lindstrom is DJ-ing at TT's!! cool!!
then on Saturday, July 18th there's a good show over at Great Scott in Allston when The Turnbull Athletic Club presents RIPPIN'EST TOWN 5: it's a Mods & Rockers Scooter Rally plus bands like: The Antibodies, The Sprained Ankles, The Alrighters, Blood Stained Brindle, with Get Smart! DJs: Prince Dubplate and Fordy Buxworth....
But on the other side of the pond (Cambridge that is) we got The Doom Buggies and The Egos at The Cantab on Saturday the 18th
and earlier in the evening you can head over to Third Life Studios right in the heart of Union Square Somerville, There's a b-day party for Rachel Lee and for entertainment Simon Ritt of The Darlings and Highland Moore will be playing as well as Swedish Fiddle music ya!!...come on down, its 3-7PM....
and of course the Bunratty's Reunion.... is Sunday afternoon, July 19 at the Wonder Bar (formerly BUNRATTY'S!!!!) in Allston. Music starts at 2PM and the Bristols are performing for the first time in 9 years. They will be going on at about 4PM. Black Number Nine is also performing for the first time in many moons. this is Charlie Leger's band. Charlie used to be in Unattached and the Fighting Cocks. I think they will also "back up" Nikki Stone and Des from The Boston Brats for a few songs. Alizon Lissance x from Girls Night Out and now in the Lovedogs will be performing as will Jody Sandwich. And Marky Mark's old friend Jada Tringale will also be live and onstage this should be a pretty cool show.
and hey check this out: The Crybabies return to the stage at The Midway Café Friday July 31st and they have a new line-up: Artie Sneiderman- Lead vocals, Steve Aquino - Guitar, Danny McCormack - Guitar, background vocals, Kevin Mahoney (from Lucky 57 and Diamond Platinum Rings)on Bass, and Richee Johnson- drums.....don't miss 'em!!
August 1st (Saturday) is the return of The Rock'n'Roll Yard Sale to Union Square Somerville! 3-7pm In Union Square Somerville...
the Somerville Rock & Roll Yard Sale is a free celebration of independent art, live music & other performances and is a showcase of the Somerville Arts & Cultural community. there will be a large number of varied sellers offering great music-related stuff as well as handmade DIY Art & Crafts along with lots of vinyl records & compact discs, silk-screened Posters t-shirts, vintage & locally designed clothing & accessories eyeglasses, jewelry, handmade cards & prints, etc . . . (and there'll be live music as well!!
Thursday August 6th at The Cantab Club Bohemia it's the Frank Strom's Birthday Bash!!! This party starts early with Corolla DeVille on at 8PM, then Hotrod Fury, , Black Mosettes and the Sprained Ankles
And of course coming up Friday, August 7th, at Church is Faster & Louder that's Richie "Swinging Dick" Parsons - vocals, "Fritz the Boss" Erickson - guitar, Johnny "Top 20" Black - guitar, Lee "The Lawman" Harrington - bass and "Johnny Rock" Lynch - drums
They will play the entire Bloodbrothers album by the Dictators and a few more 'Tators tunes.
And in August, the 21st, At The Middle East UP to be exact it is the return of THE MARVELS!!! (here's their MySpace site) , Along with Dirty Truckers, Vagiant and Pulp 45....that is a most awesome show my friends and only to be equaled by....,
the NEXT night at ME Up with the Midnight Creeps, Red Invasion and a couple other bands...OH...I'm at the ME that weekend!!
And for your viewing pleasure we have a couple things for you to check out: Tommy White did a fabulous job videoing The Blackjacks at TT The Bears this past June...check out their cover of Dead Flowers here....
And it's that time again when Jan Crocker, on KINODV posts his viddies...
Many of you might remember in the financial district, downtown Boston at the corner of Franklin St. & Batterymarch St., was a tiny punk rock club called The Space. Here is a clip of Mission of Burma performing "Break On Through" recorded at The Space in 1979:
Fourth of July Party Punk Jello Biafra kicks ass with the Dead Kennedys in a live version of Police Truck recorded in 1982 at the Brixton Academy London England. The left newspapers might whine a bit But the guys at the station they don't give a shit Dipatch calls "Are you doin something wicked? "No siree, Jack, we're just givin tickets" As we ride, ride, how we ride Let's ride, lowride
awesome!!!
Ok folks, that's it for this week.....click and write me!.... Lyn