The BGN News Archive
July 13, 2015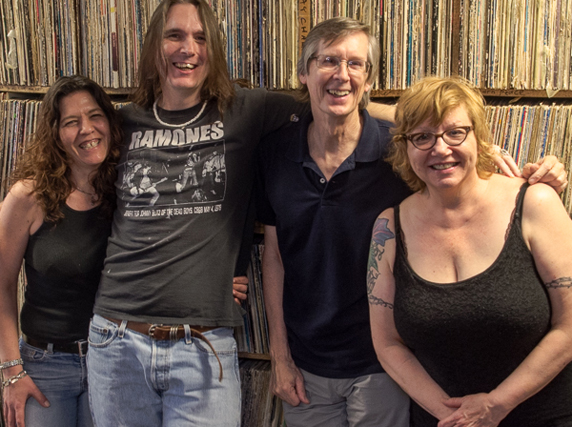 Marie, Brian, Blowfish, Miss Lyn
Photo:John Keegan
On my way to the Middle East this past Thursday I detoured to TT's and pick up a few tickets for their closing week shows.
The final day, July 25th, with Scruffy the Cat was sold out. But I was able to get some other tickets. The window for getting tickets for TT's final week is short since everyone wants to be there. Rumor has it that there's a good percentage of tickets being held for walk ups the night of the shows…but that's a rumor.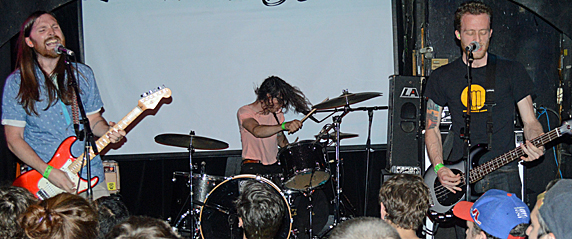 Zip Tie Handcuffs
At The Middle East was a show put on by Illegally Blind and they tend to have interesting groups. Zip Tie Handcuffs was in the lineup. I can see why they won the Rumble this year - they are exciting. One huge plus is the drummer; he's a madman. He sounds like he has a Keith Moon sized drum set when in fact he just has a few drums. He flails his arms in a whirlwind and puts out a thundering rumble. Also, the bass player is a busy player and between the two it sounds like subway cars running through your head.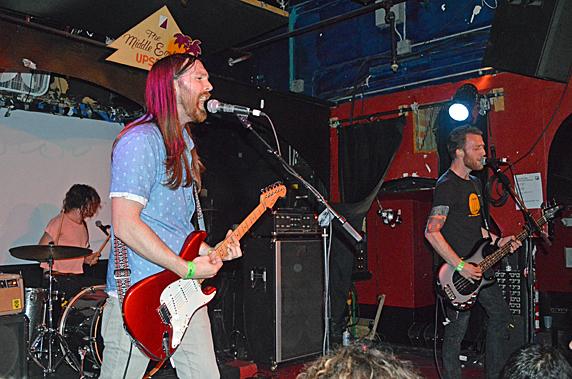 Zip Tie Handcuffs
The songs are in the three minute range. One of their signature moves is to sing in a falsetto in the choruses- all three band members simultaneously. Last time I heard that was - never. It's such a daring move; it can't stop thinking of it. Genius! They had a lot of other interesting tricks to vary things up. They know what they're doing. I really want to catch these guys again.
Other bands in the line up that night were Kal Marks, The Midriffs and the headliners Meatbodies, who are from LA and are getting attention from Pitchfork.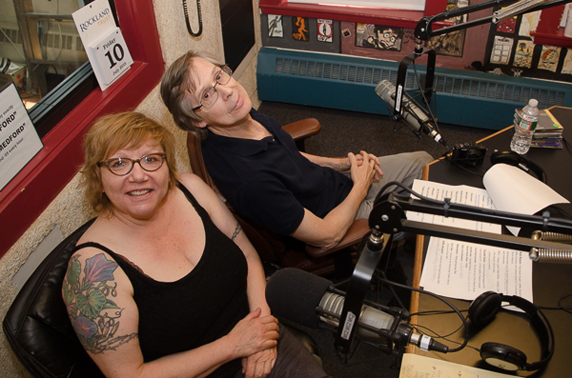 Miss Lyn and Blowie
Photo:John Keegan
Saturday we brought the BGN to the airwaves on Brian Young's A Crash Course for the Ravers on WMFO. We were there once before and it was even more fun this time. We got to introduce John Keegan who was standing on chairs and crouching under desks to get new angles for his photos. We went over our evening at the Rat Room reception, TT's upcoming Blowout gigs, our upcoming interview with David Minehan, Billy Borgioli memories and upcoming memorial show, The Monsieurs, Endation and other things about the current scene. We played a few related songs and a few new groups like The Offseason. We know Nancy Neon and Cal Cali were listening because Nancy posted on Facebook and Cal phoned in. It was lots of fun and we hope to listen to the archived version as soon as it 's available.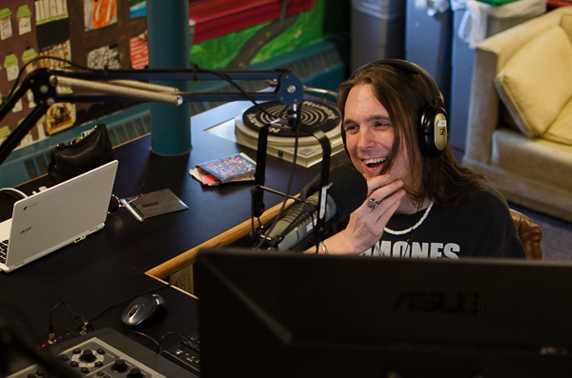 Brian Young on Crash Course for the Ravers
Photo:John Keegan
Brian keeps everything loose and makes you feel at home in the studio environment. He has guests that we care about like Richie Parsons two weeks ago. He did a Billy Borgioli tribute last week. This week the whole beginning of the show was a tribute to his father who died earlier in the week. Brian did the show almost for therapy. Our condolences go out to him and his family.
In other news.....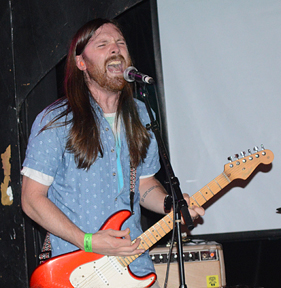 Zip Tie Handcuffs

The Bridgands posted a new song in demo form. It's more of the punk we love from them. Give it a listen here.

You would never know it from our site but U2 had a multi night stint at the TD Garden. It was more our speed when we saw them in 1980 at the Paradise at their first US show. No question - it was was one of the most memorable shows ever. In this month's issue of Boston Magazine Phil'n'Plash writes about seeing U2 at that very show in 1980 and he has a photo from that show on the page as well.

You can purchase Cheryl Egan-Donovan's Real Kids documentary All Kindsa Girls on her wesbite Controversy Films now!! Our suggestion – act fast. It's $19.99 and worth every penny! Go here to order it...now.

Here are some shows that are happening this week....

July 14 (Tuesday) - WHAT a great show this will be The Rezillos with Petty Morals and Casanovas in Heat at Johnny D's. And the Rezillos have a new full length CD out. There will be a CD and a limited edition vinyl album available at the shows !! Get tix here.

July 16 (Thursday) Wolf's Farewell to TT's Party (also his 22nd Bastille Day A go-go) and what a show this will be!! with the Legendary Vudu Krewe & special guests Jenny (Dee) D'Angora, John Powhida, Amber Casares, Asa Brebner, Kevin Connelly, Jittery Jack, Anthony Kaczynski (Fireking), Michelle Paulus (Dents), Ramona Silver and more! Music start at 7:30 folks so dont arrive late. In fact the music is mostly 7:30 - 10PM !!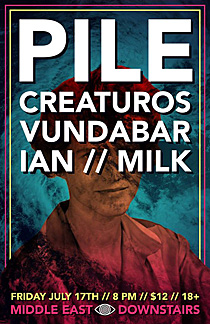 July 16 (Thursday) Ten Foot Polecats, Tsunami of Sound and Sprained Ankles are at Johnny D's.
July 17 (Friday) at TT's for their final blowout week: The Upper Crust, Last Stand, Stop Calling Me Frank, The Bristols, Reid Paley and Pooka Stew
July 17 (Friday) at Club Bohemia - Greg Allen's Fringe Religion, Caged Heat, and the Black Souls.
July 17 (Friday) There's an Illegally Blind show at The Middle East with Pile, Creaturos, Vundabar, Ian and Milk.
July 17 (Friday) at Sally O Brien's - Richie Parsons, Aca Brebner and The Trick Wallace Trio
July 17 (Friday) at The Midway - The Dirty Truckers, A Bunch of Jerks, The Dents and Jay Allen & The Archcriminals
July 17 (Friday) The Brigands are putting on a Wounded Warriors "Garage Night" Benefit at Spotlight Tavern in Beverly, MA. Here's who's on the bill and the music starts at 9PM: Pop Gun, Corolla DeVille, The Brigands, The Flying A-Holes and Gary Shane.
July 17 (Friday) And up in Salem at The Spotlight Tavern Pop Gun is putting on a Wounded Warriors benefit. Also on the bill Corolla Deville, The Brigands, The Flyin' A's and Gary Shane FB event page here
July 18 (Saturday) Roy Sludge Trio is doing an early show (6PM) at Sally O'Brien's. Perfect for dinner and music!!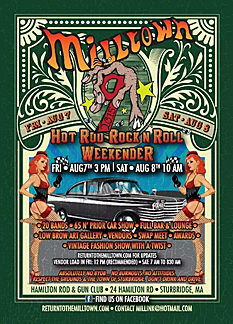 July 18 (Saturday) Mission of Burma opens for The Foo Fighters and the Mighty Mighty Bosstones at Fenway Park
July 19 (Sunday) TT's Final Blowout: The Daily Pravda, Bearstronaut, Animal Talk, Spirit Kid, The Luxury Paddy Saul
And coming up after this week we have.......
July 20 (Monday) The Detroit Cobras and Fireking are at Great Scott - Get your tix here.
July 20 (Monday) TT's Final Blowout: Mike The Considerate & The Interns, TT's Staff House Band!, Mary Lou Lord (with Annabelle Lord-Patey), Jules Verdone, and Matt & The Lower Standards
July 21 (Tuesday) TT's Final Blowout: Runner & The Thermodynamics, Thalia ZedekBand, The Dazies, Evan Dando, Willy Mason
and doing an accoustis set: The GrownupNoise
July 22 (Wednesday) TT's Final Blowout: The Lights Out, Ad Frank & The Fast Easy Women, Parlour Bells, Francine and Cujo (featuring Jen Trynin)
July 22 (Wednesday) Jaz Coleman founding member of Killing Joke is doing a Spoken Word performance at The Middle East Down. its al about his new book: "Letters from Cythera". Jaz will delve into his many experiences that have influenced his philosophical outlook on life and also discuss, Supersynthesis, a principle which has facilitated his many accomplishments including acting, conducting, singing, composing, geometry, architecture, and occult history. Tix available here. This one will be different, there's seating and VIP seating tix for this show.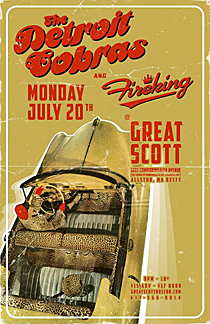 July 22 (Wednesday) up North in Portland ME at The Space Gallery (538 Congress St, Portland, Maine 04101) are Kid Congo Powers & the Pink Monkey Birds with Tiger Bomb and Cheerwine Here's the FB page for this one.
July 23 (Thursday) TT's Final Blowout: Harris, Emergency Music, Vic Firecracker, Orbit, Field Nurse (featuring TT's bartender John) and Atomic Spectra - music starts at 7:30 this night
July 24 (Friday) WOW! check this out: Bim Skala Bim and the Pajama Slave Dancers are at The Middle East Down along with Brunt Of It, Zeme Libre and The Porter Squares
July 24 (Friday) at The Midway - BrownBoot, Barbusters and Hambone Skinny
July 24 (Friday) TT's Final Blowout: The Dogmatics, The Neighborhoods, Howie & The Scrapes, Martin & Morrell and Bleu (members of The Neats & Del Fuegos)
July 25 (Saturday) A Crash Course For The Ravers is featuring Ajda The Turkish Queen! That WMFO 91.5 from 1PM - 4PM.
July 25 (Saturday) The final day of TT 's Final Blowout...Scruffy The Cat, O Positive, Randy Black & The Heathcroppers with Willie Loco Alexander.
July 25 (Saturday) Muck & The Mires, The Nervous Eaters and Richie Parsons are at The Midway (FB event page)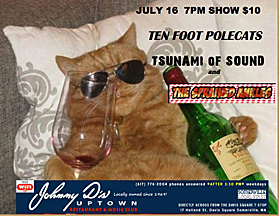 July 25 (Saturday) The Shambolics, Greg Allen's Fringe Religion, Jay Berndt & The Orphans are at Sally O'Brien's
July 26 (Sunday) a Matinee Show at the Middle East Up - 1PM doors with Band Without Hands, The Knock Ups, Radio Compass, and Happy Little Clouds
July 26 (Sunday) Screeching Weasel, plus The Queers and The Mr. T. Experience are at The Royale. You can get tix here. This is a 6PM show!!
July 26 (Sunday) Matinee show at The Middle East Up with Band Without Hands, The Knock Ups, Radio Compass, Happy Little Clouds. Doors are a 1PM
July 30 (Thursday) There's a mega hardcore show at Cuisine en Locale with Power Trip, Foreseen, Boston Strangler, Peacebreakers, Freedom, Fury, Red Death, Intent, CIAC and Take Control. Music starts at 6:30 SHARP doors are at 6.
July 30 (Thursday) at O'Brien's in Allston - Death Waltz '76 last show along with PowerSlut, Catching Moons and Sleep Crimes Doom Trio (instrumental set)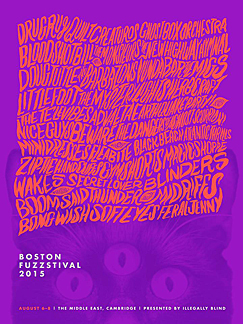 July 30 (Thursday) X, with all original members, are at The Sinclair Tix here
July 31 (Friday) "THE DAMNED: Don't You Wish That We Were Dead" documentary is FINALLY playing in Boston!! It's at the Regent Theater at 7:30. You can buy tix here. Watch the trailer here.
August 1 (Saturday) Tiger Bomb is on Crash Course for the Ravers on WMFO 91.5FM from 1-4PM
August 1 (Saturday) Later Tiger Bomb is at Club Bohemia at the Cantab along with Hambone Skinny featuring Mr & Ms Skinny Mike...
Jay Allen and The Archcriminals and The Sprained Ankles (FB event page)
August 1 (Saturday) The Static Dynamic, The Wrong Shapes, Hope & the Husbands and Alchemilla at The Middle east (FB page for upcoming updates)
August 2 (Sunday) A Punk Show at Koto with USA Waste (ex A Global Threat), Adults, The Earbleeds, Gravel and Farce!
August 3 & 4 (Monday and Tuesday) Darkbuster returns!! at The Sinclair. Well, no tix available anymore congrats to Darkbuster for two night of sold out shows!!!c
August 3 (Monday) Tsunami of Sound and The Vista Cruisers are at Opus Underground, Salem.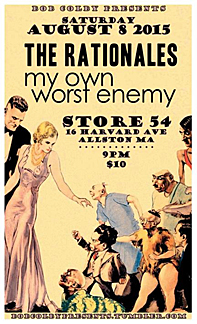 August 5 (Wednesday) remember the awesome band Wall of Voodoo? Well leading singer Stan Ridgeway will be at Johnny D's doing is current solo act. Tix here ....FB Event page here. The San Francisco Chronicle said, "He conjures "Burroughs, Bukowski and Brecht," while LA Weekly has called him "the Nathaniel West of rock."
August 5 (Wednesday) at O'Brien's you'll find Howlo, The Radium Girls, Weather Weapon and Shepherdess.
August 6-8 (Thursday - Saturday) Boston Fuzzstival 2015 is at The Middle East Down. The Fuzztival highlights "the best bands in the region that make psychedelic/fuzz/garage/surf rock" and its goal is "to build bridges within the local music community." Stay tuned for the lineup and more info keep checking their FB page!
August 8 (Saturday) - Head over to Store 54 to help Bob Colby celebrate his birthday (two days early) with The Rationales and My Own Worst Enemy!
August 8 (Saturday) - The Bush Tetras and headlining at The Sinclair and also on the bill are E, Gene Dante & The Future Starlets and DJ Gang of One (Gang of Four's Hugo Burnham) get tix here.
August 8 (Saturday) The Memphis Rockabilly Band are doing an early show at Johnny D's (FB page) 7-9PM
August 9 (Sunday) The Billy Borgioli Tribute Show will be held on this day at Cuisine en Locale starting at 2PM. Please stay tuned for updates on this.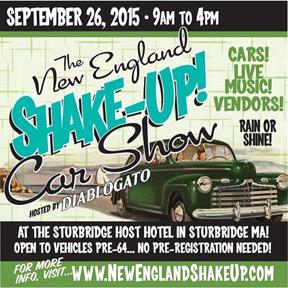 August 14 (Friday) at The Midway are The Connection, The Above, Fireking & Special guest to be announced...watch for updates on the FB event page
August 16 (Sunday) Barrence Whitfield playing a SOLO show is at the Salem Jazz Festival at Salem Willows. Ninth-annual Salem Jazz and Soul Festival a FREE, two-day music festival featuring 10 bands, a kids tent, Salem Five Bank music-education tent, more than 40 artisan vendors and a 21-plus Ipswich Ale Brewery beer garden. Here's the FB event page AND ITs FREE!!!
August 29 (Saturday) Crash Course for the Ravers on WMFO 91.5FM from 1-4PM has the Ten Foot Polecats on....
August 22 (Saturday) Memphis Rockabilly Band is at the Marshfield Fair. check out the particulars here
August 28 (Friday) Sidewalk Driver, Jenny Dee & The Deelinquents, Ruby Rose Fox and The Lights Out are at The Sinclair.
August 29 (Saturday) The Ten Foot Polecats are gonna be on A Crash Course for the Ravers with Brian Young and Mike Stewart on WMFO 91.5 - that's 1PM- 4PM.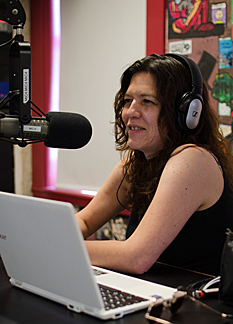 Marie Michele - Crash Course
Photo:John Keegan

August 31 (Monday) The Fake Boys, Petty Morals, BDSX, Spectre Hawk and The broken glass kids at Opus Underground Salem.

and of course The New England Shake-Up! September 25,26,27 2015! Keep yourself updated at their FB page

September 3 (Thursday) Wormwood (mem of Doomriders), Mountain God (NY), Conclave (ex Warhorse), and Livver are at Obriens

September 12 (Saturday) Amy Prohaska has Barrence Whitfield and the Savages listed as playing at the Brighton Music Hall. I dont see it on the BMH website but Amy knows more than I do so.....

September 17 (Thursday) at The Oberon this should be an amazing experience. Endation has out together a special show "The Chimera" explores musical and artistic dichotomies. Act I features the raw, intense, melodic force of two-piece Endation accompanied by movement and dance. Act II brings the audience into the dreamy, experimental world of Bent Knee as visual artists create pieces inspired by the band in real time. The Chimera invites the audience to seek their own interpretations in the disparate pieces that form one singular evening of performance. Buy tix here. Get more info on the FB event page.

September 18 (Friday) Livver, Tenafly Vipers, Dead Cats Dead Rats and Profit Margin are at Koto in Salem, MA

September 19 (Saturday) Pop Gun along with Fireking, Classic Ruins and 138 are at Koto in Salem, MA

CONTACT US AT.....misslynbgn @ yahoo.con Send us your gig listings, your news and anything else ya got!!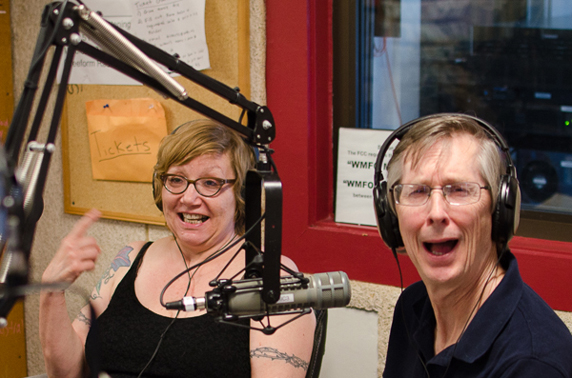 Miss Lyn and Blowfish
Photo:John Keegan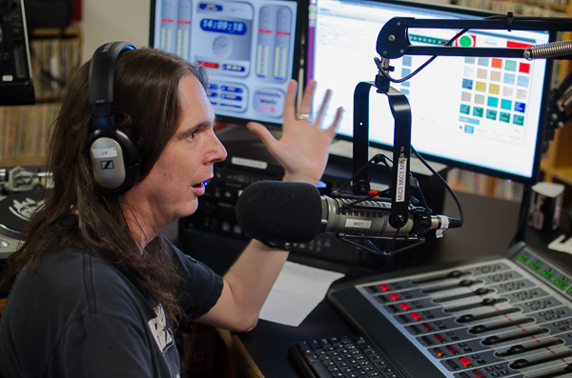 Brian Young who is Crash Course for the Ravers
Photo:John Keegan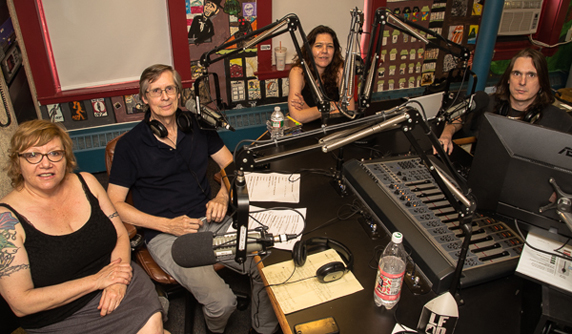 Miss Lyn, Blowie,Marie and Brian
Photo:John Keegan