The BGN News Archive
July 14, 2008
Well, Miss Lyn had to get a new computer and is now trying to find her way through the mist of VISTA. She also had to fight her way out of a short hospital visit. She's doing alright currently and will give a full account next week when she's up to speed.
We are still thinking a lot about Spencer Gates and her Memorial. The links to our pages on that are just below the news here. One of the many things you could say about Spencer is that she had the best friends ever and it was comforting to be with them and her family. There were three remembrances of Spencer on WMBR on Thursday and Friday.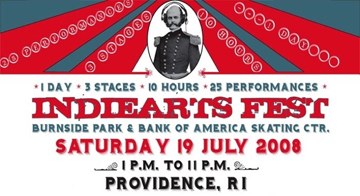 This Saturday sees an exciting event - The Providence Inide Arts/ RI Fest and yard sale. In their words: "Providence hosts the first Annual IndieArts/ri Fest, a free, day-long celebration of independently produced local art, music and performances. The festival will be held on Saturday, July 19, from 1-11 p.m. at Burnside Park, on Kennedy Plaza, and will celebrate the area's vibrant arts and cultural community.
For more information about the IndieArts/ri Fest visit www.indieartsri.org or contact Executive Director Peter Bramante at (401) 621-6127 or peter@artsandbusinessri.org. "
…but all I care about is RECORDS and CD's and they have two of the best suppliers around Weirdo Records of Somerville and Armageddon Shop of Provy, RI. . They also have all sorts of books, clothing stores and live bands. Looks like a unique time outdoors.
Earlier in the week on Wednesday we have The Freeze, Psycho, Moral Decline, & The Disquiet at Church. Church has been nicely AC'd. Thank you, Church.
….on Friday the 18th you can see some rock near the beach…not the Cape but Wollaston Beach (Woopie!...but you'll save on gas.) with Ramblin Souls, & The Dogmatics at the The Beachcomber in Quincy.
…………Then it gets real busy on Saturday with a lot of good options…... A lot of our faves are at O'Briens with Red Invasion, Classic Ruins, The Radio Knives, & The Last Second ... At Great Scots we have Muck and the Mires, The Curses, The Sprained Ankles, & The Ad Men. Muck never disappoints and The Ankles give you pizza delivered by a Werewolf. And at the Abbey you get Vagiant, Buried in Leather, & Before. We enjoyed Buried in Leather a lot when they were at the Church. The lead singer is a hoot. He goes from a metal throat singer to a sort of punk-lounge host. Weird? Yes. Fun? yes.
…And that's not all, also on Saturday is Count Zero, Gene Dante and the Future Starlets, Logan 5 and the Runners, & Peter Moore at The Church. We are big fans of Gene Dante and that is one good bill all around.