The BGN News Archive
July 14, 2014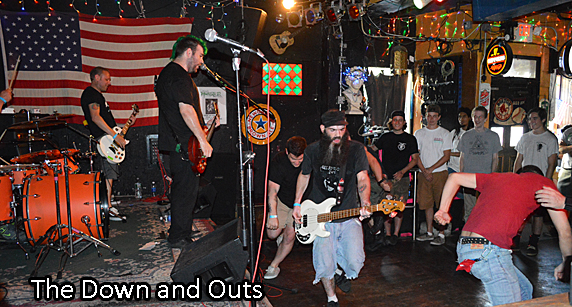 Right off the bat let us say we are so sorry to hear about the passing of Tommy Ramone. What can we say about the Ramones that you dont already know...they changed our music and helped begin a new era...that we loved, where we found out home. Also with Tommy passes the orignal members of the band like the closing of a book. But Joey, Johnny, Dee Dee and now Tommy will NEVER be forgotten. And gee Tommy rode with me in my iconic maroon Maverick from the Groupie Tower days, while the rest of the band was in the van behind us. A very nice, quiet, smart, great guy. RIP Tommy Ramone!!
In our goings on for the past week:
Neighborhood Shit played on the big Anti-Nowhere League show at the Middle East but I missed them. I was able to catch them at the Midway last Sunday after we had finished putting the BGN together.
A group was hanging outside the club as I pulled up to a spot not far from the door. That meant it was between sets and probably a small crowd. Both turned out to be true. Even though these bills have 4 and 5 groups the hardcore sets are short and there is still down time to fill the hours. I don't blame them for the short sets these groups expend a lot of energy and can only go so long, even the young ones. I saw Risk put so much into their first song they couldn't get back to that level again. ( Read this review of Risk)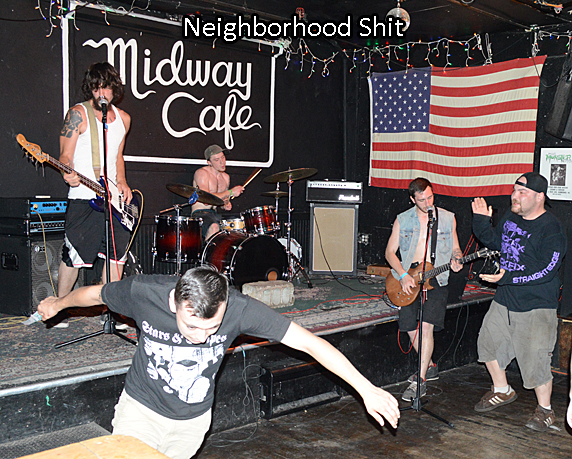 The Neighborhood Shit's lead singer was wearing an Anti-Nowhere League jacket he must have scooped at the show. The band play in a dropped D tuning and at times take advantage of that to slow down and go to the edge of sludge but not for long as they whip up the tempo and yell out some venom.
Their actual neighborhood is South Boston and they have a song that deals with the gentrification of the area. Two anti-drug songs have an extra wallop. I think these are worthy subjects to vent on. I rather hear that than more songs on the glories of drinking say, but maybe that's just me.
Click for video of two songs by Neighborhood Shit.
It shows the 'karate' dancing style at the beginning.
There were only a few guys moshing but despite that one got a bloody nose from a wayward arm. He had some flow going but after being iced for 10 minutes was back in there again. This thing of dancing with karate moves is an odd thing. See the video of Neighborhood Shit to see an example of this. The lead singer made that point that even though there were not a lot of people there these these Midway gigs are his favorite and he's glad to play to this group. I agree. Check out Neighborhood Shit Reverbnation page...
I find myself back to Midway the next Saturday. Like Willie Sutton who answered the question, "why do you rob banks?" with 'Because that's where the money is" I say I end up at the Midway because that's where the good shows are.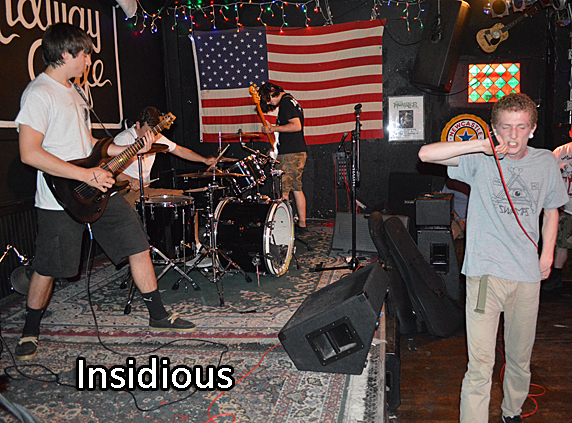 Listening to a few groups on their Bandcamp pages indicated I should get my earplugs and go. I caught the end of Insidious who are a very young group. I just heard enough to know they were hardcore and loud. The lead singer was off the stage and on the floor singing. The crowd was bigger than the last few times I've gone.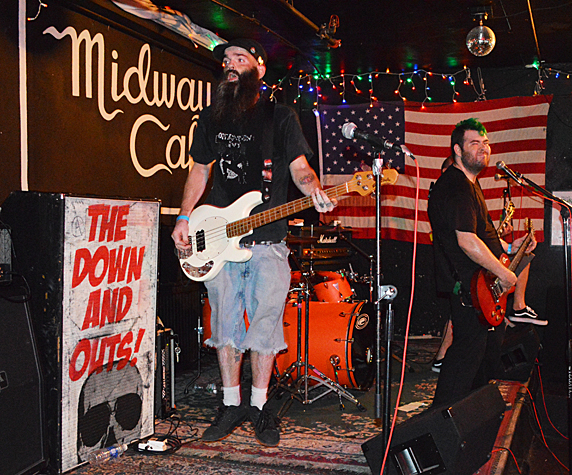 The Down and Outs are a skate punk pop band from Providence. They did one of the fastest setups I've ever seen. Like 10 minutes. Their take down? Five minutes. Never seen anything like it. They proceeded to put in a roaring, driving and jumping set. They obviously come to entertain and they have the routine down. I've never seen so much jumping on stage. They don't just jump once but four times in a row or they all jump at the same time with again multiple jumps. Be sure to look at the video to catch some of this.
Click for video of The Down and Outs at the Midway.
The bass player was careening all over the place. He was bouncing off the wall to the side of the stage just missing a hanging speaker by inches. The music was the familiar pop punk but at times got a bit too hard for that label. The guitarist has lots of technique that only shows rarely. He has a sparkly tone and wonderful touch and has all sorts of chops. He keeps all this under wraps only letting out short bursts: great restraint. I would like to hear more but they are doing what they want and it works so I should shut up. The songs are upbeat pop and the lyrics rise to attention here and there. Like the heartfelt song they have called You Probably Downloaded This Song. It pines for the old days of record stores when music had value. A lot of us feel that way and it's great to have a song like this out there. That song is on Down and Out's Reverbnation page. Thoroughly made my day. Score for the Down and Outs.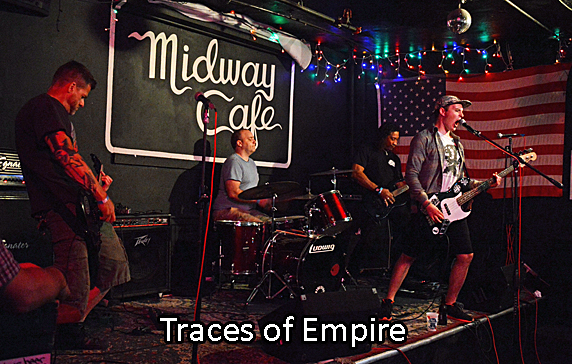 Next up wasTraces of Empire who I liked when I dipped into their music page. They are hardcore with a metal edge. I took me a while to warm up to them. It was either the influence of the Down and Outs or maybe they took a while to warm up but by the last four or five songs I was loving the unrelenting barrage of mountainous sound and in your face vocals. Somehow lately that's what I have a craving for. The Traces of Empire Bandcamp page.
In other news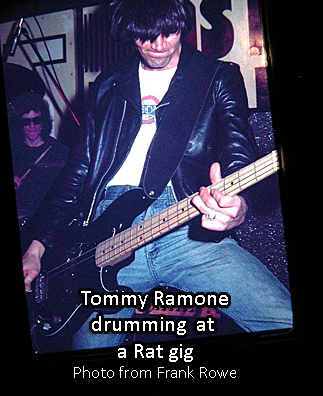 Peter Dayton is donating a Dayton designed surfboard to the 7th Annual ArtHamptons Charity Fundraiser. The board is said to be worth well well over the asking donation price of $1500.00 and besides the board you get to hang out with Peter as he gives you a tour of his studio and then sit down and chat with him about music. He will tape the chat and add it to his archives...and maybe give you a copy too!! Get out the checkbooks kiddies!! You can bid here: Surfboard
Some of you might remember the old Howard Johnson Motel that was in the Fenway area on Boylston Street just out of Kenmore Square. I'd been there with a bunch of bands over the years. Well its been refurbished and poof - now its a hipster hotel called The Verb (as in reverb) , set to open shortly. They recruited well known Boston Pheonix and WBCN big wigs Steve Mindish and David Beiber as "vibe conservators". In fact the walls of the hotel will have old Phoenix covers displayed - perfectly framed of course- to bring the guests through the years in Boston music. They've got a lot of cool ideas and one of them is that the hotel will be moderatley priced...nothing like the super cheap rooms they used to have back in the day but we're talking mid 200's a night, nowadays in Boston that's not so bad. Here's a story from the Boston Globe on The Verb
Bob Dubrow of WMBR has been working for months now to get together a giant Pipeline Party called Pipeline at 25 presents 50 years of Rock. Dates and the list of bands have finally come out! From the press release: "WMBR's Pipeline! show today announced that it will be hosting 13 nights of live music performances in the Metro Boston area this coming fall. Around 80 bands from Boston and environs, as well as a handful of neighboring Providence acts, will be reuniting to revisit the music they created in decades past. These acts have been carefully hand-picked to represent the very best from the Boston rock underground, many of whom crashed through the strata into the light to gain national recognition and major label contracts." 50 Years of Boston Rock takes place from Friday, September 12 - Sunday, October 12 at 5 or 6 different venues in Boston, Cambridge, Brighton, Somerville and Arlington. The specific nights, venues and lineups will soon be announced. To see a list of the bands and it is a long list of all great bands check out Bob Dubrow's FB page . We've heard that The Voodoo Dolls, The Bags and Kenne Highland's Gizmos will be playing the same venue and night - cool!
So what's comin' up for gigs?....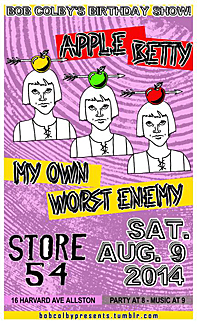 It starts right away with Punk Mondays at Church - this week they have The Pity Whores, Civil Decay, Killing Spree and Spitshiner....5 dollar cover! Cool.
This Tuesday July 15th has FuzzStompin' GarageSoul with Thee Legendary Rockin' Prophets at O'Brien's. And for this weekend there's for Saturday there's Tsunami of Sound and 9th Wave at the Plough and Ginger Ibex, Atlas of Birds and Luke Carlino at Outpost 186 which is a cool little place in Inman Square
This Saturday July 19th Great Scotts has We're All Gonna Die, Cocked n' Loaded, Murcielago, Hey Zeus and The Humanoids
Also this Saturday 7/19 Paul Robinson bring the Surfers Healing Show fundraiser for Autuism to town. ATTN: THE VENUE HAS BEEN CHANGED to the American Legion Post 19 at 124 Highland Avenue, Somerville there'll be Drive aka Talk Of The Town, Girl On Top, Stolen Lions, Richie Parsons and the Cal Cali Band. This is an afternoon show starting at Noon and going until 6PM.
Up north it's Surf, punk, jazz while you bowl and drink...The Beachcombovers, All girl glitter punk band Tiger Bomb and free jazz by Le Wildcat are at the Bayside Bowl in Portland ME for the Glam-a-Lam Festival on Saturday July 19th
There's a great punk show in Beverly at the Spotlight Tavern on Tuesday the 22nd - its an early show starting at 6PM!! - The FU's, City Mouse and The Little Richards.....
Friday July 25th at The Midway, Cincinnati band Wussy is playing along with locals Slowdim and Brother Fight.....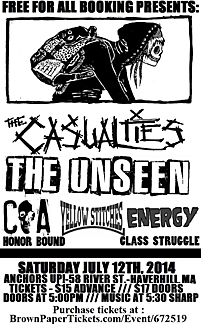 Friday July 25th has a great show at Great Scott's with Razors In The Night (Record Release Party! & we're happy to see they are out and about again!), Panzerbastard, The Blue Bloods, and Taxi Driver Friday August 1st has Tsunami of Sound, Tommy White's The Beachcombovers and Cal Cali's New Experience at Sally O'Brien's
There is just so much going on on Satuday July 26th!!! First off you can tune in to Brian Young and his Crash Course for the Ravers show on WMFO 91.5 he's gotta a bunch of folks on the show: -Cal & Al with ....Frank Rowe (Classic Ruins), Anthony Kaczynski (Fireking) -Randy Black and Vikki Porter
And then that very same evening (7/26) ....over at the Tavern at the End of the World is Cal Cali's Summertime Soiree with Fireking, Cal Cali Band, Randy Black & the Heathcroppers and Vikki Porter Band....and at the Tavern there's NO COVER!!
And at The Lily Pad in Inman Square there's Black Fortress of Opium and Martin Bisi- the show starts at 10PM. Now Martin Bisi is a musician but he is also well know as a great record producer at his BC Studio in Brooklyn, which he started with the help of Brian Eno, where he's worked with the likes of Sonic Youth, Swans, Angels of Light, John Zorn, Foetus and the Dresden Dolls. So at 2PM Saturday July 26th there is a special showing at The Brattle Theater of the film Sounds and Chaos: The Story of BC Studio. Martin will be there in person to speak and answer questions as well!
But wait there's MORE going on this night...over in Davis Sq at Johnny D's there's and early show (6 - 9 PM) with DJ Easy Ed spinning disks in between sets with Lil DeeBee and the Doo Rites
The we start off August with Beyond the Beach!! at Sally O'Brien's with Tsunami of Sound,The Beachcombovers,Cal Cali Band and Boston Monkey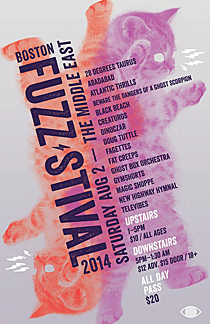 Terry Brenner's bringing The Real Kids and Nervous Eaters and Greg Allen's Fringe Religion to The Spotlight Tavern in Beverly on Saturday August 2 Thank you Terry!!
In Boston on August 2 there's the Boston Fuzzstival at the Middle East....check out this Line up…..28 degrees Taurus, Abadabad, Atlantic Thrills, Beware the Dangers of a Ghost Scorpion!, Black Beach, Creatorus, Dinoczar, Doug Tuttle, The Fagettes, Fat Creeps, Ghost Box Orchestra, Gymshorts Magic Shoppe, The New Highway Hymnal, and , The TeleVibes And At The Sinclair its suck n muck with The SuperSuckers and Muck & The Mires on Sunday August 3rd.
And in Allston on 8/2 you got the Sprained Ankles, Hope + the Husbands, Das Muerte and Tsunami of Sound at O'Brien's
There was talk from Wayne about this but now we have a date: August 8th - at Store 54 - Jerri Cain Rossi (who we all knew and loved in Black Cat Bone), Randy Black and The Heathcroppers and Monique Ortiz returns to town with Alien Knife Fight. That's gonna be a great show folks!! Here's a great write up about Jerri Cain Rossi from Ribbon Around a Bomb
Friday August 8th - awesome Rock On Cruise with Aquanutz/White Dynomite/Petty Morals
Saturday August 9th there's a excellent show at Store 54 with My Own Worst Enemy and Apple Betty.
Sunday August 10th there's an afternoon show (4-8PM) at the Midway with Greg Allen's Fringe Religion, The Swindlers, The Skeleton Beats and The Knock Ups.
Saturday August 16th over in Allston O'Brien's has The FU's, MOTO, Round Eye and Daikaidju (sounds like a wild show!!)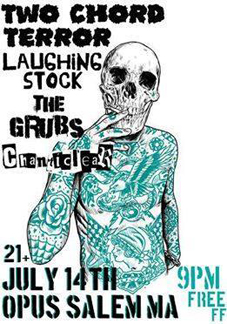 On Saturday August 23rd start the afternoon off with Brian Young and Crash Course for the Ravers Show with his special guest this day being Willie "Loco" Alexander!! (WMFO 91.5PM 1-4PM)
It's Hixxmas in August folks! On August 23rd at Club Bohemia at The Cantab it's Hixx and Psychic Dog and more bands TBA...
This should be an interesting evening...at The Cantab August 30th....The Sound Down Cellar, Nelson Slater (tentative), Annie Activator and the once a year gig by Love & Flame featuring Danny Rybar, Lady Carolyn and Joe Viglione along with Mike Quirk on bass, Kenne Highland on guitar. (they are on at 9:30) and The Guns of Brighton


We finally get to see Dave Minehan with The Replacements since they are on the bill for the Boston Calling Show September (5,6 & 7)!
But also put this on your calendar: At O'Brien's on Friday Sept 5...It's Fri Lisa & Malibu's 10 Year Anniversary Rock Off!!! Featuring: The Kurt Baker Band, The Connection, Tom Baker & The Golden Shower Band (Members of The Dirty Truckers & Watts)and ZipGun Bomber
Crash Safely is coming up in September - here's some news from Vanyaland on that!
The Legendary Shake Shakers are coming to the Middle East down September 12th.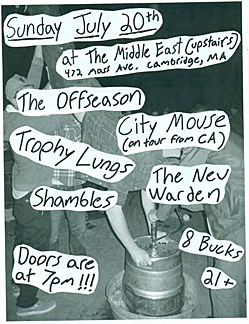 Saturday September 13th is Matt Burns' 60th Birthday Party! He's celebrating at The Lizard Lounge. So far the bill includes Litehouse, The Handymen, Kenne Highland, and more bands to come.....
There's also a excellent show at The Midway on Sept 13. Cal Cali brings us Lyres-Nervous Eaters-Cal Cali Band- The Invaders (Les Envahisseurs-from Quebec) - whew!!!
And at TT's in September there's a couple great shows coming up - Sunday Sept 21 is Queerstock 2014 with Gunpowder Gelatine, Thalia Zedek, The Kitchenettes and Fur Purse and to finish off the week on a definite , awesome actually, punk note Friday the 26th they have The Angry Samoans, Reagan Youth, Burning Streets and The Welsh Boys opening the night.
The Rat Beach Party set for September 14th& 15th you get all the info on their Facebook page
September 14th -a Sunday daytime show- at the Midway will bring us The Members!!
October 5th - a Sunday daytime show at The Midway will bring us The Vibrators!!!
And September 22nd at the Middle East up is a great show with Shonen Knife and Petty Morals.
The Damned are touring this Fall with TSOL. They are playing Halloween in NYC but playing Boston on Saturday October 25th at the Royale…tix here….
CONTACT US AT…….misslynbg@yahoo.com Send us your gig listings, your news and anything else ya got!!