The BGN News Archive
July 15, 2019
Unnatural Axe
Photo: Blowfish
We finally got to the Dorchester Art Project. This space is run by Boston Hassle. It reminded us of the New Alliance space in Union Square. The DAP is smaller but very comfortable and conducive to making art. There's art work on every wall with on room is a nicely set up gallery with white walls and there are lots of artist studio spaces also. The room for the bands seemed small initially but it also is set up well. The stage area has a half brick background that looks like a comedy club stage.
We were there for night two of the Rama Lama Ding Dong that is run by Kids Like You And Me who we interviewed last week.
Semi Sounds
Photo: Blowfish
On stage there were two people sitting down facing the audience with a bunch of electronics in front of them. There was a cheap turntable but they didn't seem like DJ's. They were Semi-Sounds and they were one big surprise. They were doing sound effects. Specifically, they made up a detailed soundscape of two semi-trailers rolling down the highway to meet at a truck stop. That's about the last thing we would have expected to hear on a night out.
It lasted about fifteen or twenty minutes. It was like seeing a live radio show. The sound was so good that you were immersed in the experience. Through some electronic pedals and some old school inventiveness they summoned up all the sounds of the trip: air brakes, air horns, regular car horns, and road sounds for trucks and cars. For some popping and hissing sounds they used a bicycle pump. For some tires on the road sounds they put a microphone without a wind screen close to a small fan. You felt like you were in the cab with some country and western music on the radio as cars rushed by and you could hear your own tires on the road. They created some CD radio chatter.
There's a short clip of this above.
We are so single minded about music that we wouldn't go out looking for this but it was an awesome experience.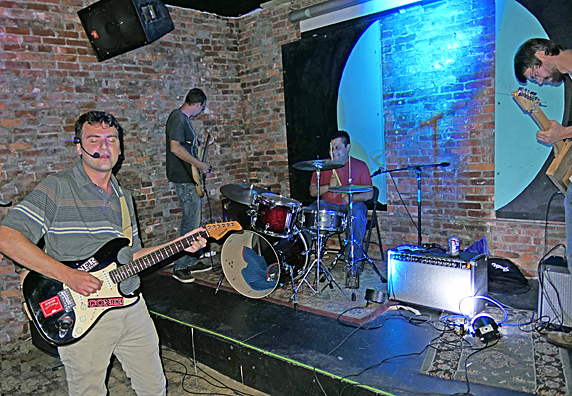 G. Gordon Gritty
Photo: Blowfish
There was only a dozen people there as G. Gordon Gritty started. Glen from KLYAM is in the group. They were pretty rough but there was one thing that was notable, Glen had a wireless microphone and guitar. He does this so he can roam around the room and/or building. A few weeks ago we saw Grade 2 and they had wireless guitars and it allowed them to move around freely in the stage area. Glen takes it a step further, he's in the audience most of the time. It seems like the technology is there and it works, so why don't others do this? Maybe this is a view into what we'll see in the future.
Main gallery at the Dorcester Art Project
Photo: Blowfish
The whole scene at the Dorchester Art Project encourages things like this wireless innovation and the workings of Semi-Sounds. This is a space where the innovative spirit can thrive. It took us a while to get there but we hope to see more shows there as time goes on.
Saturday we kept with the Rama Lama Ding Dong and did it's last day at the Cambridge Elks Lodge. That venue has been a well-known sweatbox. The good news is that it now has air conditioning. That changes everything. We'll be paying more attention to the shows there now.
The big draw for the day was Unnatural Axe. They haven't played in a while so it was a must see for us.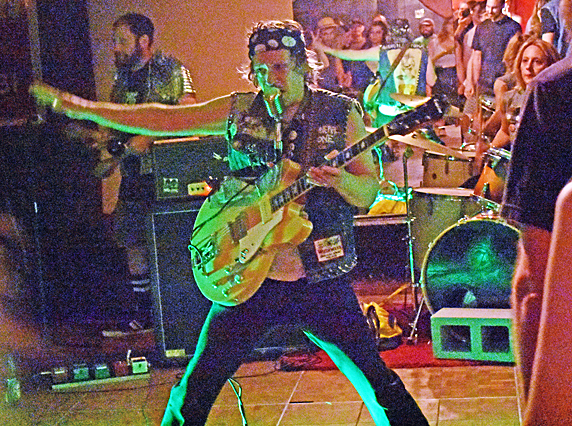 Andy California
Photo: Blowfish
We saw four bands. The first was Andy California, always an experience. Andy now has a group behind him. He was able to do a little more work on the guitar since it wasn't the only thing holding down the beat. Other than that it was the same Andy and you had to watch out for the antics, but there was no singing into someone's crotch this time. He did a lot of roaming around and bumping into people. The crowd was bunched up around him. This was the sort of venue where Andy's reputation grew. He ended with a Feat of Strength which was dragging his guitar along the ground with just his teeth.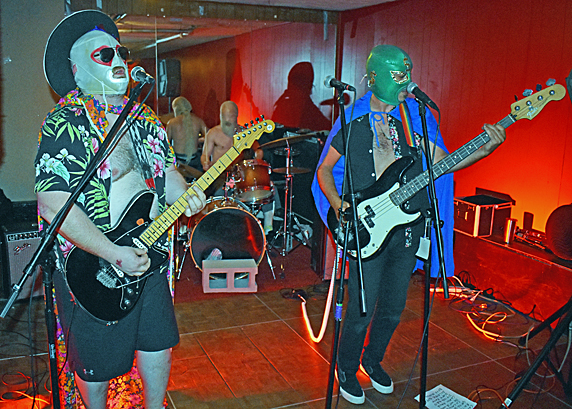 Atlantic Thrills
Photo: Blowfish
We didn't recognize the next group who were wearing masks and capes. The drummer's sheer head-covering looked like it was out of a horror show. They were playing raw garage/surf. It wasn't till it was over that we realized it was Atlantic Thrills. They've been around a while and we've seen them a few times but not recently. We saw them once at TT the Bears in 2015.
They've gone from a four piece to a trio. The guitarist had the surf tone but his playing had a wild quality not present in the more restricted surf genre. It was loose but seemed to tighten up as the set went on. The last few songs hit a groove and was an exciting wrap up of a cool set. We're game to see them again.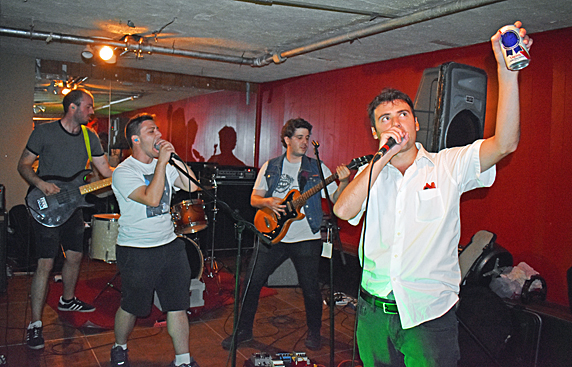 Chris and Andy with the Nice Guys
Photo: Blowfish
The Nice Guys have been playing steady lately. We saw them in January and March this year. They seemed primed to play as they came out full of energy. This was some of the sharpest playing we've seen from this always progressing group. We recognized a lot of the songs but there was some extra rawness and abandon in the playing.
They had a problem with the lead guitarist's pedals. That got fixed and indeed it was the sounds that the pedals were generating that gave the songs their character. They brought up Chris and Glen from KLYAM to sing and that made for a crazy ending.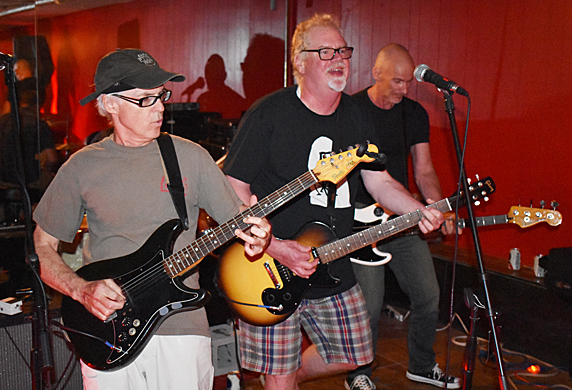 Unnatural Axe
Photo: Blowfish
That was such a good set that it set the bar higher for Unnatural Axe who didn't have the benefit of steady shows. But that uncertainty didn't last a second as the Axe was in full Axe mode from the get go. They started with the appropriate "Summertime" from that first EP in 1977. Either they practiced or they don't need to at this point but their playing was tight. These guys still have it, all of it!
This was primo Boston punk the way they did it in 1977. You could hear it in comparison to all the bands that preceded them. There's a way of playing, a way of writing a song, and an attitude that came with punk in its first incarnation and the Unnatural Axe bring that with them. We write about this here but you had to be there to get the impact of that.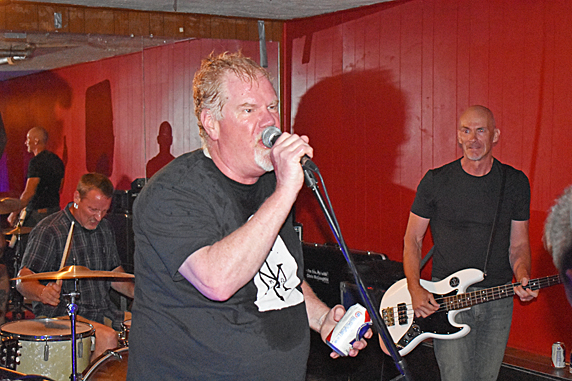 Unnatural Axe
Photo: Blowfish
We don't have a set list but the Axe did all the songs you wanted to hear. There was "Three Chord Rock", "Someone Told Me" and "The Man I Don't Wanna Be" was a highlight. Near the end of the set things got intense, as they always have, with "They Saved Hitler's Brains". It was something for us older fans to see the current generation of fans yelling in the chorus. Rita Rat (RIP) came to mind here and we got a little misty. At that point Richie became a beer spewing fountain, topped with a beer can crushing head.
There was no stopping as "The Creeper" slammed into gear. Even though it was 11 pm, the official stop time, they encored with "Hot Steel and Acid" by the Nervous Eater. The audience wanted more but it actually sounded like some equipment crashed on the stage, a suitable ending actually. The Who smashed their equipment as part of the show, the Axe equipment breaks because of the show.
There were about 50 people there. A lot of Axe fans maybe didn't know about this show and many wouldn't know the venue. Not knowing about the new AC, even we thought about it twice because we have suffered in the heat there before. There were some of the old gang there but there should have been more. This was a great show by any standard.
Chris and Glen of KLYAM did a good job with the whole Rama Lama Ding Dong festival. Just getting the Axe together for a show was a big accomplishment.
Click Here for more band photos.
---
And in other news.....
The last two Neats records have been made available again as of this last Friday. Crash at Crush and Blue Ends Blue marked the new Neats sound where they went from jangly to a punchier style.
They say that, "Each recording is accompanied by its own set of fiery live tracks, carefully restored from original master tapes, as a bonus." The releases will initially be digital only through a Bandcamp page - here.
At this point in the Neat career it was becoming obvious that Eric Martin had an amazing voice. The low key initial martial of the Neat showcased one side, these later albums revealed a ramped up bluesy side. Eric has continued in that vein to this day.
There's a lot of good material and performances in these two albums that might have got by people in the day. This is a great opportunity to get in there to appreciate and re-evaluate.
ZULUS Paradise show has been postponed...the new date is March 28, 2020. If you already bought tickets you will be receiving an email from Ticketmaster providing you with information on how to exchange or refund your tickets.
Julie Kramer has another photo show, this time at Boston Center of Adult Education on Arlington St. Boston. It's called The Basement Arcives: The Ghost of WFNX: Volume II. (The show must be good because the title has two colons in it.) There is over 100 portraits and live-concert images. The opening is July 20th. It's free but you need reservations. Which can be obtained here - https://bcae.org/eventrsvp/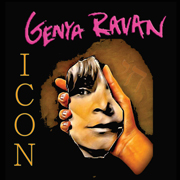 Genya Raven who has a history too long to go into here has a new album called Icon on Rum Bar. It has the song "Don't Go Into the Bathroom". The bathroom being referred to is the one at CBGB's. The song includes mentions of CBGB's regulars while always returning to that infamous bathroom. The song is hysterical and historical.
Hear it on Bandcamp - "Dont Go Into the Bathroom"
We have it on our Top Ten Songs.
Death Pesos has released a digital single: Madam "Sorceress"/"Robotrippin'". They gave it a limited release. "Madam Scorceress" is a powerful, unrelenting, riff lead song. This is some of what we hear them do live that keeps us coming back for more.
It will be available mid week at their Bandcamp page.
Wire Lines from New Bedford have a new album up on Facebook. The song "Blind" is an avalanche of post-hardcore that features powerful lyrics relevant to our current zeitgeist. Here'e the song on Bandcamp.
It made our Top Ten Songs easy.
---
Here's some good shows coming up this week.....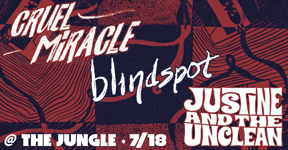 July 15 (Monday) Black Kat Boppers from the UK at Askew in Providence RI. FB page.
July 18 (Thursday) Cruel Miracle, Blindspot, Justine & the Unclean at The Jungle Union Sq Somerville
July 18 (Thursday) The Chats, Louzy at the Middle East Down
July 20 (Saturday) Thee Fightin Fish, Warthog (Ramones tribute), Charlie Don't Surf (Clash tribute), and Meat Depressed at The Midway for a 3-7PM show
July 20 (Saturday) State Line Records night at the Midway Round 2: Hudson Falcons, The Sprained Ankles, Michael Kane & the Morning Afters, Dressed for the Occasion, Coffin Salesman
July 20 (Saturday) Spring Heeled Jack, Party Bois, Diablogato, Catbite at The MIddle East Down - all ages!!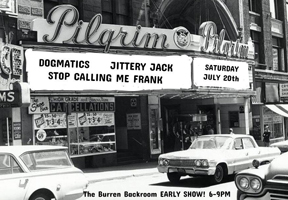 July 20 (Saturday) Dogmatics, Jittery Jack & Amy Griffin, Stop Calling Me Frank at the Back Room at The Burren Davis Sq Somerville 6-9PM folks!!!
July 20 (Saturday) Watts, Little Billy Lost, Tiger Bomb, Kid Gulliver at Once Music starts at 9PM
July 20 (Saturday) Thalia Zedek, GLiDER, Sara &the Scaliwags at The Square Root in Roslindale
July 20 (Saturday) Rockin' the Dunes Rock n Roll Beach party with Slim Jim and the Mad Cows 7:45, Muck and the Mires 7, Atlantic Thrills 6:15, Hambone Skinny 5:30, Tsunami of Sound 4:45, Jay Allen and the Archcriminals 4, + special guests at Cahoon Hollow Beach, Wellfleet, Cape Cod, Ma. Here's the FB page for all the info
July 21 (Sunday) A Bunch of Jerks, The Stigmatics, 1.4.5, TRiPLE THiCK at The Midway matinee 3-7PM
July 21 (Sunday) A Mid-Summer MessAround....this Sunday you'll see Bob Cenci playing with former band mates (Hellcats from Outer Space aka X-15- John Darga and Craig Riggs), Kenne Highland making his first MessAround visit....also Michele Johnson-Kish (The Wynotts, The Killer Abs). She'll be teaming with old pal Paul Delano (Mung) as well as Justine Covault and her Black Threadmates, Jim Scoppa and Johnny Sciacia ...there will aslo be Tom Baker and of course Jay Allen!!! 4-6PM at The Plough
And further out there is......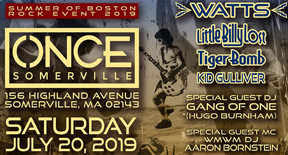 July 23 (Tuesday) Stubborn Hearts, The Essays, Street Milk, at the News Cafe in Providence.
July 24 (Wednesday) Brockton Hardcore Shows presents Hoods, Rhythm of fear, Trust in Few, Section H8, Fixation, Instigate at the Middle East Up. 7PM doors.
July 26 (Friday) Classic Ruins at Tavern At The End Of the World
July 26 (Friday) Oxblood Forge, IL Mostro and Wrought Iron Hex at Koto Salem
July 26 (Friday) Diablogato & The Gala at Askew in Providence RI
July 26 (Friday) Wormtown Ska Presents: Mixed Bill 3 - of Ska, Punk, Metal and Hardcore with 6 Foot Silence, Hobo Chili, Jimmy West Band (Worcester's Outlaw Punk), Point Blank (from NYC), Threat Level Burgundy at The Raven, 258 Pleasant St Worcester FB Page
July 27 (Saturday) M.O.T.O., Jerry's Got Jokes, Cook Bag, The Trades, The Runouts at The Midway matinee 3-7PM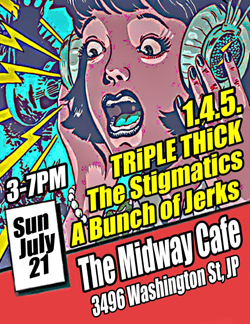 July 27 (Saturday) Les Sans Culottes, Muck & the Mires, Fireking, Hambone Skinny at The Midway - night time show
July 27 (Saturday) The Knock Ups, Motel Black, Bad at Sex at The Jungle Union Sq Somerville
July 27 (Saturday) The New England Ska Summit; Bim Skala Bim, Copacetics, Hempsteadys, El Grande at Once Ballroom
July 27 (Saturday) The Hi-End, Classic Ruins, The Stigmatics at The Square Root in Roslindale
July 28 (Sunday) Joe Harvard Memorial - 5-10PM Middle East Up. Keep checking the FB page for updates and info
July 30 (Tuesday) Pop punk/hardcore show at The Model Cafe in Allston!! No cover!! You get Stubborn Hearts (Energetic melodic punk duo from RI), Street Milk (Skate or Die), Allison & Moon (puppy dogs and pop punk) Starts at 8PM Here's the FB page
July 31 (Wednesday) Black Leather Lagoon, Poison Boys, Thee Fightin' Fish at The Jungle Union Sq Somerville
July 31 (Wednesday) Heavy Hands, Voting Yes, The Lightweight Champs, TIFFY at The Midway
August 1 (Thursday) Special Movie Night at the Brattle with Chet's Last Call: A Story of Rock and Redemption -showing at 7PM (in betwen showing of Rock'n' Roll Highschool) The Brattle Theater.
August 1 (Thursday) Chet's Last Call After Party at Once Lounge - 9:40 The Classic Ruins, 10:10 The Hopelessly Obscure with Cal Cali, 10:50 Randy Black and friends, 11:40 Esther Rose and friends...PLUS Lots of special guests - the 10 singers who are in the film will perform and Kenne Higland is the Host for the NIght. -- at Once Lounge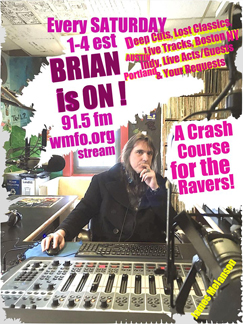 August 3 (Saturday) Rawstrum with Tensor at Sally O'Brien's
August 2 (Friday) Cleaver/Walker/Messerly (Of Wussy) with special guests Thalia Zedek and Chris Brokaw of Come at The Midway
August 3 (Saturday) Townies, Bystander, Louzy, Rusty Mullet this is a 3-7PM matinee show at The Midway
August 3 (Saturday) Oppositional Defiance, Red Mantis, Death Pesos, Wrought Iron Hex at The Midway
August 3 (Saturday) Rawstrum and Temple at Sally O'Brien's
August 4 (Sunday) Mid Summer Night's dream: Chris Brokaw & Margaret Airplanemanat Atwoord's 10PM show
August 7 (Wednesday) The Muckers, The Gobshites, Dori Cameron at the Midway
August 8 (Thursday) Green Piece, Sorry w/ slo-anne & The Callouts at The Hong Kong
August 8 (Thursday) Otto Records present 145 & The Thigh Scrapers at The Plough & Stars
August 10 (Saturday) Billy Connors Project, 61 Ghosts, Little Billy Lost at The Square Root in Roslindale
August 10 (Saturday) No Small Children, PowerSlut, and The Knock Ups, at Once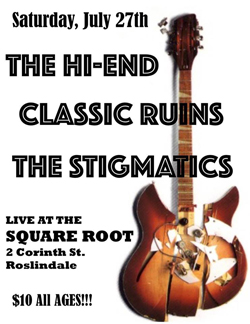 August 10 (Saturday) Muck And The Mires, Watts, The Electric Mess, and A Bunch of Jerks at Sally O'Brien's
August 14 (Wednesday) GLiDER live on Heavy Leather Topless Dance Party ! scat-tv FB page for links
August 14 (Wednesday) Deke Dickerson, Bloodshot Bill, Jittery Jack, DJ Easy Ed at Once FB Page
August 15 (Thursday) 1.4.5., Crunchtime , Glider, Sara & The Scalliwags at The Jungle Union Sq Somerville.
August 15 (Thursday) The Queers, Stubborn Hearts, Meat Depressed, The Parkwoods at Alchemy in Provi RI
August 16 (Friday) Cocked N' Loaded, Hey Zeus, Scissorfight at Great Scott
August 16 (Friday) Baabes, The Von Traps, Silver Screams, Lipstick Boys at O'Brien's Pub
August 17 (Saturday) Stop Calling Me Frank, Muck and the Mires, The Dirty Truckers Boat Party! 3:30- 7PM FB page for info and tix
August 18 (Sunday) Possum, Martin/Morell/Fredette, The Chelsea Curve, Tsunami of Sound matinee 3-7 show at the Midway
August 24 (Saturday) Waiver Wire, Bernie's Garage, Happy Just To See You, Extract 3-7 matinee show at the Midway
August 24 (Saturday) The Humanoids, Bossnova, Oxblood Forge, Renegade Cartel night show at The MIdway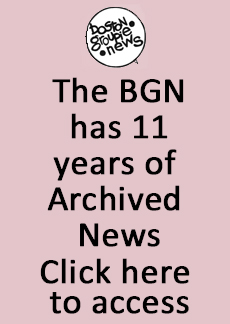 August 31 (Saturday) A Crash Course For The Ravers LIVE Saturdays 1pm to 4pm at WMFO and transmits on 91.5FM Medford. This week we have RICHARD MIRSKY!
August 31 (Saturday) Time & Place, PowerSlut, The Daylilies, Lonely Leesa & The Lost Cowboys at The Jungle - Music starts at 8PM
September 1 (Sunday) A Bunch of Jerks, Crunchtime, Zulu Lulu, The Black Souls - 3-7PM matinee at the Midway
September 7 (Saturday) Buddy Hally Birthday Bash - Performing two sets of Buddy Holly's music: Evan Shore (Muck and the Mires) - guitar, John Sheeran (Township, Fireking) - bass, Scott Pittman (Sugarblood Jinx, The Shods…) -drums, and guests Kevin Patey (Jittery Jack), Terry O'Malley (Stop Calling Me Frank) and more TBA! 10PM at The Plough.
September 8 (Sunday) Somerville Rock And Roll Yard Sale - Union Square - 11 AM – 5 PM FB page for more info
September 8 (Sunday) Private Instigators, Color Killer, Jonee Earthquake Band, The Degenerates of Punk 3-7PM show at The Midway
September 20 (Friday) Priors, Black Beach, Far Corners, Andy California at the Midway
September 21 (Saturday) PRIORS, Black Beach, Far Corners, and Andy California 8PM show at The Midway
September 21 (Saturday) Lyres and Glider at Once (TIX)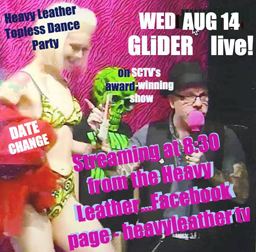 September 26 (Thursday) Baabes, GLiDER, Sara & the Scaliwags, Lily Black at O'Brien's
October 1 (Tuesday) Agnostic Front w/Prong at Brighton Music Hall
October 5 (Saturday) Mudhoney, Pissed Jeans at Brighton Music Hall 6PM doors.
October 6 (Sunday) The Sinister Six, Martin / Morell / Fredette and TRiPLE THiCK - 3-7PM show at The Midway
October 12 (Saturday) Lyres, Tiger Bomb, Glider at Sun Tiki Studios 375 Forest Avenue, Portland, Maine 04101 FB page
October 19 (Saturday) A Crash Course for the Ravers has Richard Mirsky - 1-4PM WMFO 91.5 FM
October 19 (Saturday) Avenir (French punk rock) at the News Cafe in Provi RI - check out their bandcamp page ..and here's the FB page for the show & tix etc!!!
October 20 (Sunday) Stiff Little Fingers, The Avengers at Brighton Music Hall doors 7PM
October 23 (Wednesday) Flipper with David Yow (Jesus Lizard) "40th Anniversary Show" at The MIddle East Down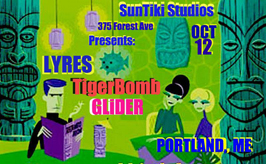 October 23 (Wednesday) 999, The Clap, Vixen 77 at The Fire Philly PA FB Page
October 25 (Friday) 999, The Clap,the Parasitix, The Transmission Now at the Catasauqua American Legion 215 PA FB page
October 26 (Saturday) The Fleshtones, GLiDER, Muck & the Mires at Once Ballroom
October 26 (Saturday) 999, The Clap, The Bobby Lees, Blank Spots at Coney Island Baby in NYC FB page
October 29 (Tuesday) 999 & The Clap at Randy Now's Man Cave 134 Farnsworth Ave, Bordentown, New Jersey 08505 FB page
CONTACT US AT....misslynbgn@yahoo.com Send us your gig listings, your news and anything else ya got!! You want your CD reviewed?? Contact us for that too.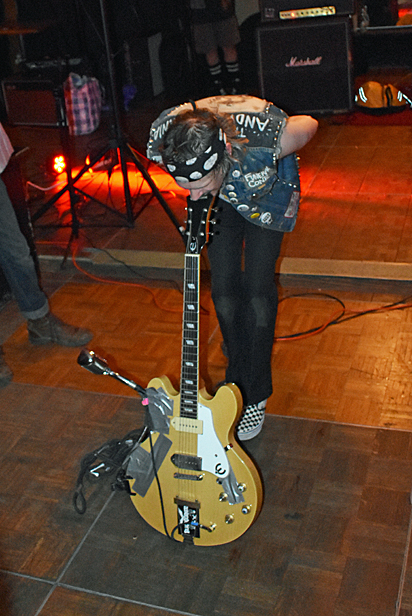 Andy Califonia
Photo: Blowfish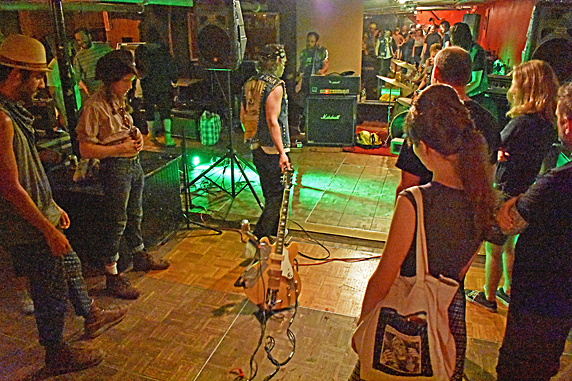 Andy California
Photo: Blowfish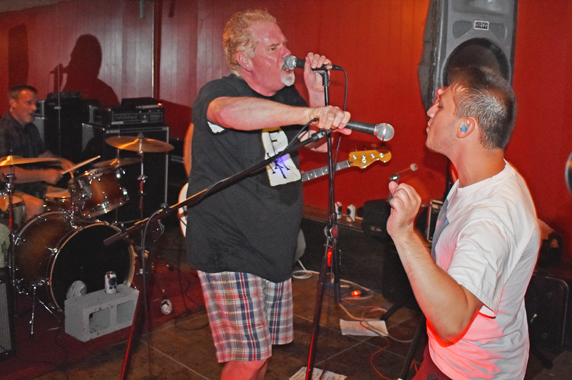 Unnatural Axe
Photo: Blowfish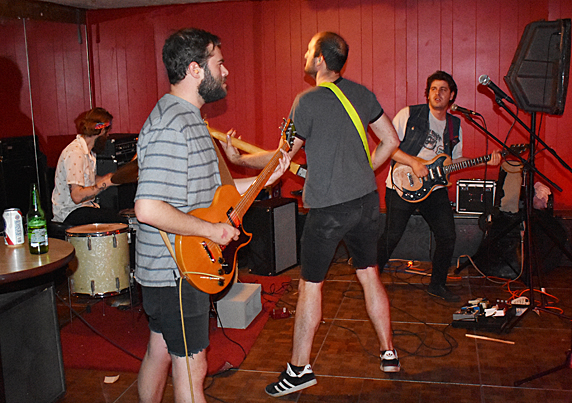 Nice Guys
Photo: Blowfish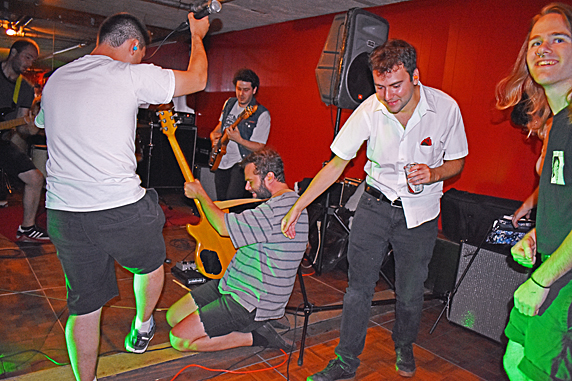 Nice Guys
Photo: Blowfish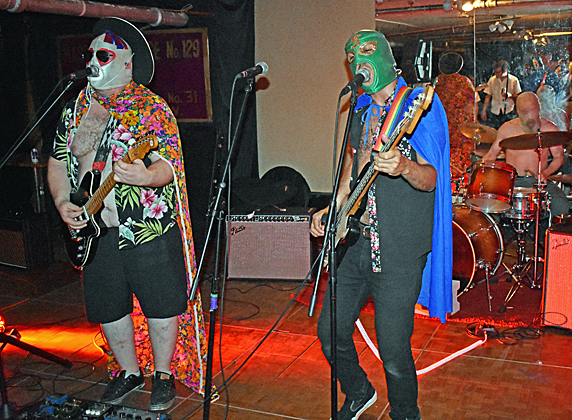 Atlantic Thrills
Photo: Blowfish