The BGN News Archive
July 16, 2012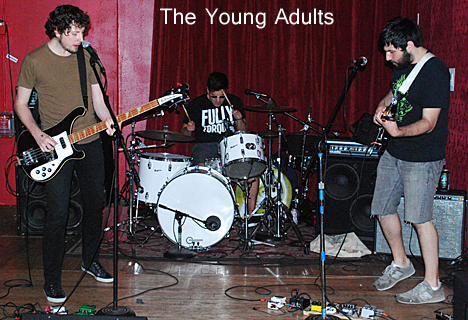 This weekend we went to Radio and Blowfish reviews:
"Last time I saw MR.B (at Joanie's Late Riser's 25 Anniversary bash) he said I had to check out The Young Adults. I paid attention and had all intentions of catching them at TT's a while back but my car crapped out that day.
Despite the 90 degree weather and the prospects of a warm club I had to check them out at Radio on Friday. Radio had the AC on. Not on high but good enough to cut the heat.
The Young Adults were first on just before 10 pm. In the course of a few songs I went from liking it to being impressed and then excited. These guys have something going on.
They are just a trio but they put out a big wall of sound. The music isn't tidy but an arty roughhewn affair: lots of sharp edges. The bass player is the most straight ahead player and he keeps things grounded. The drummer is pounding with little craft but maybe that's just the way it seems because you can't deny his power. The guitarist is turned up so that feedback is the default situation the minute he has his fingers off the strings and he uses that all the time, in the middle of songs or as filler between them. He will play high on the neck while hitting other open strings (and not gently) letting them ring, filling out the sound. His tone is very trebly no thudding fifths to keep time.
They all sing at times. I couldn't catch the words but I would be interested to hear what they are singing about.
That's the detail of it but it was the overall effect that was so exciting. The playing conveyed a buzz. The summoned up comparisons to other Boston groups and scenes even. Maybe it was me but I'm thinking they have great possibilities. Mr.B must have got the same feeling. Overall they kept reminding me of Mission of Burma. There are lots of parallels: the trio set up, the artiness, the overall sound.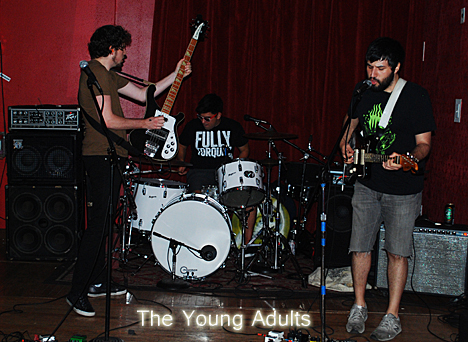 They got a very good reception but the crowd increased for the next band The Future Carnivores. They had a more populous line up with a female keyboard player, two guitarists and two drummers. The first song had a short repeating bass line that didn't change for 6 minutes and it worked as a hypnotic base to the song while the drummers kept variety with their accents. The next song seemed similar and I was just not in the mood as I was still digesting The Young Adults in my mind."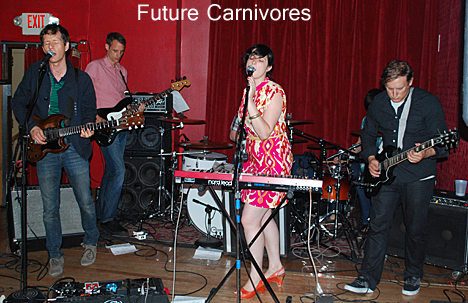 Also while there Miss Lyn moseyed up to the bar and lo and behold, there was Alan Levesque as bartender....excellent addition to an already great club.
We got an update from the guys doing the Boys From Nowhere doc…this past week: Michael Lewis (DMZ/Lyres) back from a European tour with Barrence Whitfield & The Savages--stopped by BFN headquarters and gave us an incisive interview about everything from the formation of DMZ to his time with Lyres including recording the classic AHS 1005 e.p. And then we had a fun interview with Linda Leather about her days working at the Rat and Cantone's. Linda had some funny stories, for sure." To date these guys have interviewed an impressive list of Boston rock'n'rollers and then some…like we can't wait for this project to be shown!!
THIS Thursday July 19 Surf Guitar Legend Dick Dale is at the Middle East down with Muck and the Mires
Next week is the WFNX Boston Accents Funeral Party at Great Scott's in Allston - it's a three night affair: NIGHT 1: Monday, July 23 you can see: Viva Viva, Ribs, Earthquake Party and Fat Creeps - NIGHT 2: Tuesday, July 24 is - NIGHT 3: Wednesday, July 25 is Gentlemen Hall, Black Light Dinner Party, Bearstronaut and Stereo Telescope…… They are goin' out with a wicked bang and you can get your tix here. Tickets: Three day pass: click to purchase!!
Jerry LeHane's Friends of Sisco and Cibulsky Benefit is coming up ….:
Friday night, July 27 it's The Flies (first reunion ever!), The Bristols Piranha Brothers, Sourpuss and the Hired Men (with Peter O'Halloran) .
On Saturday night July 28 it's Dogmatics, http://thedogmatics.com/ New Frustrations, Lucky 88's, and Lenny Lashley.
The show's at the Johnny D's in Somerville. Tickets can be purchased online here , and in advance for $16 at the club and if still available (coz they are going fast!!) , $20 the night of the show. The show is 18+. Proceeds go to benefit the Pan Mass Challenge and local musician Peter Sisco.
But there's a LOT Happening on the 28th -
you can start it early with a 3-8PM show at The Midway in JP - this is a good one!!: The Stretchers, Brunt Of It, Bad Lieutenants, AntiBodies and The F.U.'s
Hey also on July 28th -James Straight and The Wide Stance are playing at the Cantab along with the Beachcombovers and Litehouse ….
And then we got some stuff coming up in August you'll want to plan for:
Thursday August 2nd, Merle Allin and his band of marauders - The Murder Junkies are playing at The Cantab (oh this should be GOOD!!)
Up on the North Shore The Nervous eaters are playing at the Spotlight Tavern www.facebook.com/pages/Spotlight-Tavern in Beverly on Saturday August 4th…..
We have birthdays to celebrate in August:
Friday August 10th is Night of the Living Larry - at O'Brien's when we celebrate a 17,851 consecutive-day living streak by Larry Litigot so this also means we get to see him perform all night with Penis Fly Trap, Padded Hell and Jay Allen and The Archcriminals….also on the bill while Larry takes a break is Kermit's Finger
Of course there BC60 - The Bob Colby 60th Birthday Party at TT's - It's getting close!! Sunday August 12th- at this point there are so many bands I think the show will have to start at 9AM!!! But seriously folks it starts at Noon and goes til midnight- it's a huge ton of all awesome bands including Mary Lou Lord, My Own Worst Enemy, The Classic Ruins, Port Charles Quintet, Willie Alexander , Kenne Highland …and there'll be plenty of BC faves like Shepardess and Nina Violet….I'm taking Monday off that's for sure!! Bob says that if this show goes well (Um, Of Course it will Bob!) then he'll be booking a lot more shows in the future.
There's a couple great shows at The Rosebud (Thanks to Cal Cali & CaliCo Boston again, another one that's doing some awesome shows)
On August 11th Cal's got the Nervous Eaters at the Rosebud along with Jetset and on August 18th It's a Hixx Summer Night with Hixx, The 360's, The Illyrians and Cal Cali's New Experience and Lynette and the Longshots (which has Lynne from the Stumbleweeds up front)…..
And right from Richie Parsons: Unnatural Axe will be their ONLY Boston appearance for 2012 at Radio on September 2nd and to make it even more special he's bringing over a band called Guida…from Rome…here's their song "Number 10"
Also in September on the 21st WMBR's Late Riser's Club will be having it's 35th Anniversary (yes, that's 35th) at Radio. One of the first things to be lined up is free beer from Narragansett and Notch brewing. Rememver that 30th Anniversary?
SWANS are at The Paradise October 11th!
….And of course everyone is buzzing about the Human Sexual Response reunion…All the original members…at the Paradise on Saturday, November 10th better grab those tickets soon...
EMAIL US AT…….misslynbgn@yahoo.com