The BGN News Archive
July 16, 2018
---
On Friday there was a good line up at Thunder Road. That's a comfortable club with the advantage of a raised stage.
We missed Modern Day Idols but saw most of Watts.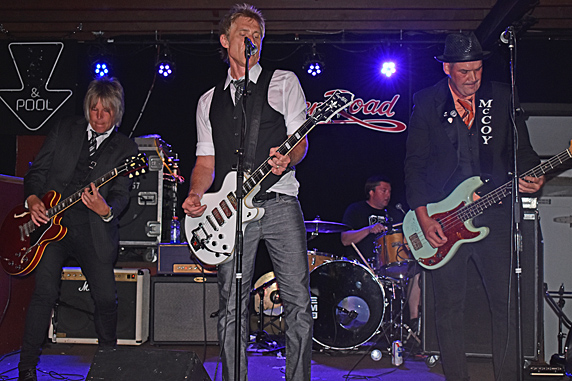 Watts
Photo: Blowfish
Watts were one revved up rock and roll machine. The overall thrust they gave is that this was rock and roll party time, it's what they do every time. Watts is full of strong talented personalities. There were times when all four were singing. They also pass the lead singing duties around. The songs stick in your head. You can be singing them days afterward. They mostly play the most resent material. They did go back to an earlier CD (The All Time Low) and played "20 to 12" and ended with that CD's fave "Radio".
Watts have pushing to win the Kiss Concert Cruise contest where they can play with Kiss. That contest is over on Monday, so we will soon know if Lynch can show his Kiss tattoos on the Kiss stage.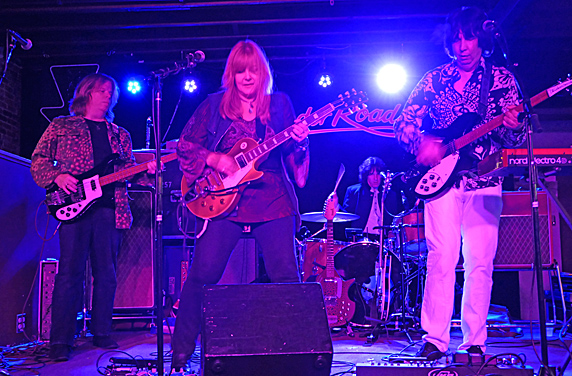 Grip Weeds
Photo: Blowfish
We had heard some of The Grip Weeds songs on The Underground Garage. They've been releasing records since 1992. Their psychedelic pop was in full bloom at Thunder Road. They have assimilated all the tricks of the sixties bands like Jefferson Airplane, The Who, The Electric Prunes etc.
Other band are doing similar things but not to the extent of the Grip Weeds. Live you could see their attention to every detail and their ability to deliver it. They had all the right equipment but anybody can buy that. It was the three part harmonies, the guitar counter melodies, the bass lines, the drum style, and the well written originals that combined to overwhelm. A few of their songs have been 'The Coolest Song of the Week' on Little Steven's show. The set sounded like a whole set of those songs.
If there was any doubt to what they could do they did a few covers (Hungry by Paul Revere and I'm a Man by Spencer Davis) that were so spot on that it was eeire.
All the playing was exemplary but we have to mention the guitar playing of Kristin Penell. She had no flash, just well-placed melodies and riffs that fit into every part of the songs that gave them depth and identity. Some of us were ogling the Coral like guitar. This was the guitar used to give a sitar like effect to songs. She played it to great effect on Beatles/George Harrison's "Within You Without You" (Video above).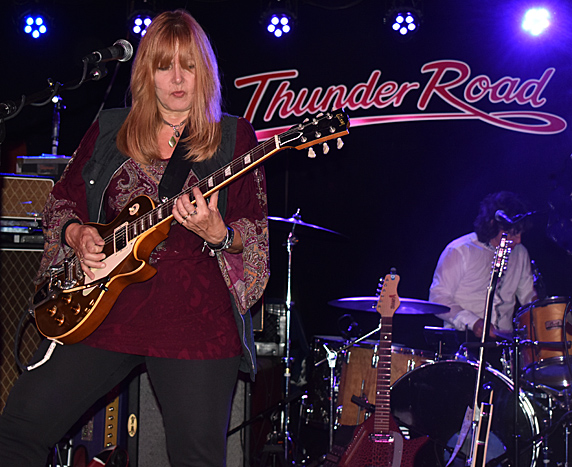 Grip Weeds
Photo: Blowfish
We also have to mention the drumming by Kurt Reil. His style is so steeped in the sixties that it was revelation to realize the difference to a current day drummer. Linda of Muck and the Mires does a similar thing but even she has an energy and attack that reflects today. Kurt's comfortable crafting of a lot of low tom tom sounds just is not done anymore. If you are sensitive to these things this was a jaw dropping performance. We think they made everyone in that room a fan with that set. They said they wanted to make it a yearly duty to come to Boston. We are all for that.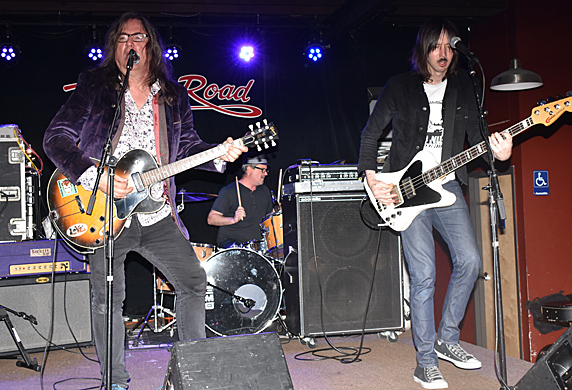 Fireking
Photo: Blowfish
That left the final set for Fireking. Tony Kaczynski has his hands in a lot of projects. We were expecting the second Fireking album by now. We think many of the songs they played were from that album, we'll see. The group line up has changed. John Sheeran of The Dirty Truckers is now on bass. The overall sound of the group is sparser now. The drummer doesn't do a lot of fills and that allowed the bass to be heard clearly.
For all the times we've seen Sheeran play, this was the first time we could hear him plainly. It was a little bit of a showcase for him in that way. He was deep into the songs. Tony writes songs with busy rhythms and moving chords, and John had bits that held all that together. His playing had an internal logic that propped up the songs to their benefit.
We loved hearing a few favorites from Double Trouble the album that introduced everyone to Fireking. Tony's booming voice, full of character, remains the gift that keeps on giving. It can wrap around a lyric and bring it to places that other voices are not able to do. Right now we sit and wait for that next album.
Metal mavens The Humanoids have a reconfiguration of personnel in Il Mostro which they describe as "Pre-Apocalyptic Post Punk n Roll" so we hit the Midway on Saturday to check them out.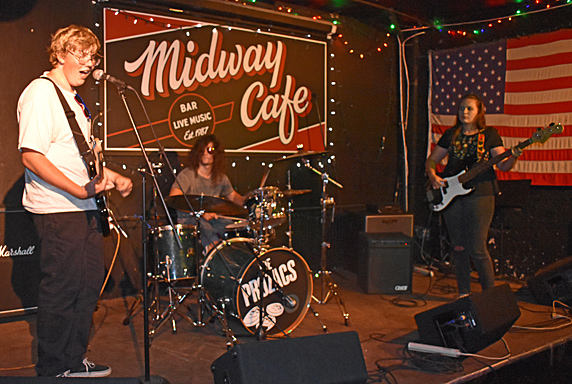 The Laces
Photo: Blowfish
We just saw one song by The Laces. It was a lose cover of a Redd Kross song. Their bandcamp page has some dirty lo-fi punk, that's spot on for us. This along with our interview of the Color Killers had us thinking that punk has some new blood and that's pretty cool.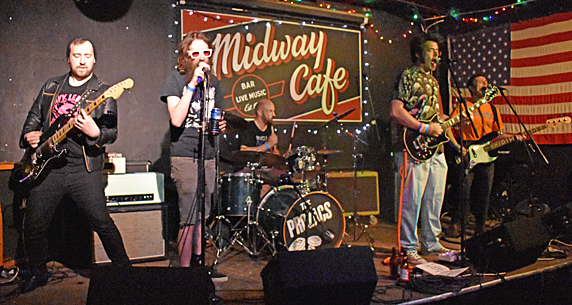 Dug McCormack and the DBs
Photo: Blowfish
As Dug McCormack and the DBs were setting up we saw the guitarist was Chris Kenneally from The Gala. That was a pleasant surprise! Dug is a very busy guy. He's responsible for the very identifiable flyers he makes that feature his art work. He took charge on stage and was visual piece of art himself in his pale blue slacks and skull t-shirt. Dug has a beefy mid tone voice that sits in the middle of all the band does.
The set changed as it went along. At the beginning it had a jerky riff orientation that brought Zappa to mind. Slowly it got punkier and one song was just about a minute long and this was the material we liked the best. There was a lot of humor in the lyrics. One song was about having three heads. The last song which we liked the best was called something like "What an Ugly Kid". It had a nice slamming groove and was punctuated in the end with a quote from "Born Under A Bad Sign" for those who could catch it. We enjoyed all of Chris Kenneally's guitar work. He had some cutting leads featuring a wonderful tone.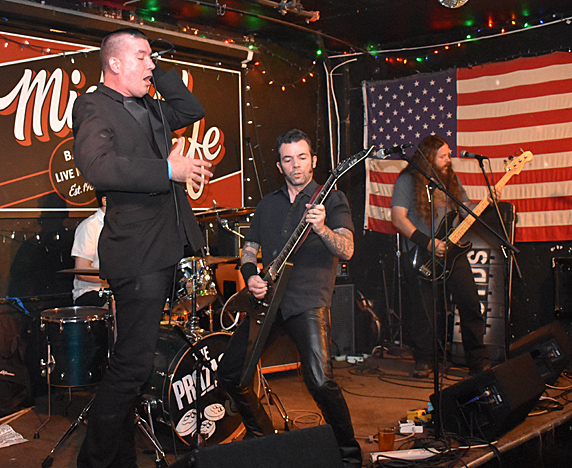 Il Mostro
Photo: Blowfish
When Il Mostro started playing it sounded just like The Humanoids to us. Slowly we could see the difference and as the set went on sure enough they got punkier.
They basically are the Humanoids with a different drummer. Mike, who plays guitar in the Humanoids, just does vocals in Il Mostro. Got that? Mike is a big guy and towers over the stage and bandmates. He was shredding his vocal chords the whole way.
Johnny Machine has made such a strong impression as the metal man that it's hard to envision him in any other way. They did one song that lasted less than a minute and you could say that was the punkiest point. In the end you would have to say they were half successful in bringing the punk but the whole set was a powerful performance in its own terms.
---
And in other news ....

What to make of Color Killer, a band whose average age is 10? They came to our attention at the Lillingtons show when Lincoln played with them onstage. That was a mind bender right there, but then we find out there is the band!!

They're playing The Warped Tour this year – the youngest band to do that – and their album of all originals is out July 20. It's pop punk that takes a lot from their favorites like Green Day. The only give away on age is the vocals but the playing is as good as any other band out there and better than a lot. They don't fumble with their instruments, they know how to play. Their video shows you that.

To help us all get up to speed we have an interview with the band: Lincoln, Matt, Dylan and Nate. They are a young band in every way. You get an insight into their situation and their way of thinking. They have to think about things we don't like.....

What's more important – homework or band practice?

L – Band practice. But I always do all my homework too.
N – Band practice, it's way better than homework.
M - Band practice all the way. Homework sucks.
D - They are both important. Band practice is just my band homework. I make sure I have time to do both even if that means doing extra homework one night if I have band practice the next night. I play lacrosse in the spring also, so it can be a little busy on the day that I have lacrosse, homework, band practice and school. But I get it all done!

Click photo below for the whole interview.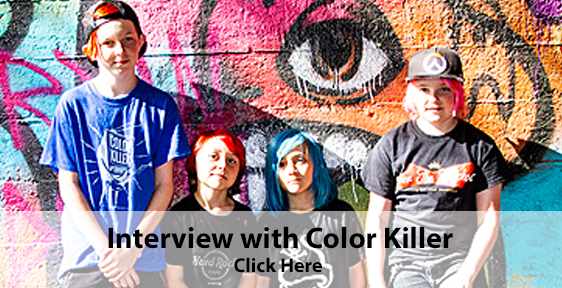 Curt Florczak of the Hi End is moving to San Fran!! He says he will be spending time on both coasts actually. He will still be doing some guitar repair work here and we imagine he'll doing a gig or two.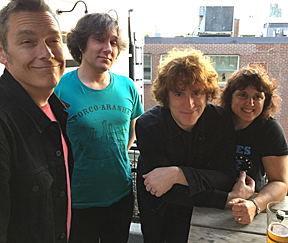 Lets's see if we can keep up with Rum Bar this week….. Lou, the leader of the pack, announced that, in the fall, Muck and the Mires will be releasing a 4 song EP/10 inch called Muckus Maximus. Ha, we love it right there. The Mires have toured in South America and prepped the crowd at the Burger Boogaloo in San Fran.
Duck and Cover has their Rum Bar album up for sale here We have "Live It Up" on our Top Ten Songs The album also has the great "Stand Corrected" on it also.
You must just go and listen to the Cheap Cassettes song "Kiss the Ass of My Heart" just so you can say you have listened to a song with that title. Only on Rum Bar! They also have releases by The Right Here and Buckley.
---
Here's some good shows coming up this week.....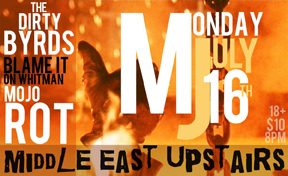 July 16 (Monday) The Dirty Byrds, Blame It On Whitman, Mojo Rot at The Middle East Up
July 18 (Wednesday) Thee Fightin' Fish, Wired Up & Captain Martini at Opus/Salem
July 20 (Friday) Boston Massacre 2018 with the Straw Dogs, Mung, Jerry's Kids and more TBA at the Middle East
July 20 (Friday) Crimespree, Noogy (TX), Secret Spirit & Straight Eights at Club Boho at the Cantab
July 20 (Friday) Crunchtime, Doug MacDonald, Highway Chapel at Sally O'Brien's
July 20 (Friday) Kid Gulliver, OTP, The Knock-Ups & The Surprise Party at KOTO/Salem
July 21 (Saturday) Kermit's Finger, The Grommets, The Only Things, The Instamatics 4-8PM at the Midway
July 21 (Saturday) Hub City Stompers, Brunt Of It, Barfight Champs early show at 6:30PM at The Middle East Up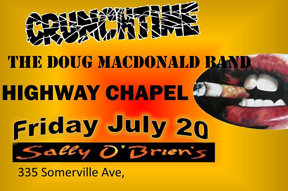 July 21 (Saturday) The Monseiurs are playing Fenway Park with The Foo Fighters!! That should be interesting. Andy won't be able to walk into the crowd for his usual close up contact.
July 21 (Saturday) It's O'Brien's' Grub Sweat and Beers weekend - Day 1- Saturday is Bible Of The Devil, Sasquatch, Sundrifter, Hey Zeus, Birnam Wood, Scaphism, The Northern Skulls, Labor Hex, The Humanoids, Test Meat, Red Mantis = 15 bucks starts at 3PM
July 21 (Saturday) Hummingbird Syndicate, Andy Stone, Billy Connors, Stigmatics at Ralph's in Worcester
July 22 (Sunday) It's O'Brien's' Grub Sweat and Beers weekend -Day 2 Sunday - Wolfsmyth, Mollusk, The Rupert Selection, The Heave Ho, Witchkiss, Backwoods Payback, Set Fire, Diablogato, Freak On! Starts at 2Pm - 10 bucks
July 22 (Sunday) CD Release party for Color Killer's new album Generation Z. at O'Hearn's Tavern in Marlborough, 6-8PM. FB page.
And further out we have...
July 26 (Thursday) Distressor, Offside, Psychic Weight, DNZL at O'Brien's
July 26 (Thursday) The Runouts, Sonic Libido, Mercury on Mars, KCUF at Club Boho at The Cantab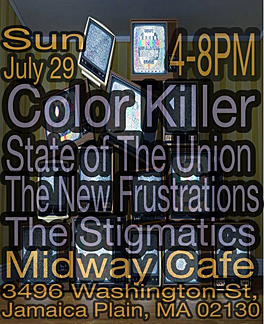 July 26 (Thursday) Radium Girls, Thrust Club, Lonely Leesa and the Lost Cowboys, Yes Commander at Once Ballroom
July 26 (Thursday) D.O.A 40th Anniversary Tour at The Middle East Up- doors are at 7PM
July 27 (Friday) The F.U.'s, Grey Matter, Scare City at Ralph's Rock Diner, Worcester
July 27 (Friday) Hixx & RoadSoldier at Beatnicks in Worcester 7/28
July 28 (Saturday) Punk Night at The Chit Chat with The Radiator Rattlers, Jonee Earthquake Band, Kermit's Finger, Wkeah, The Lipstick Boys at the Chit Chat Lounge Haverhill, MA
July 28 (Saturday) Rockin' The Dune Tunes with Sport Shakes, Love Strangers, Carissa Johnson, Cordobas at Whitecrest Beach Wellfleet Cape Cod 5-9PM FB page
July 29 (Sunday) Color Killer, State of the Union, The New Frustrations, The Stigmatics at The Midway for a Matinee Show 4-8PM
August 3 (Friday) Carissa Johnson & The Cure-Alls, The Life Electric, Psychic Dog, The Appleyards at The Middle East Up
August 3 (Friday) Bim Skala Bim, The Dogmatics & the World premiere of the film Chet's Last Call at Grumpy's Pub in Falmouth, MA FB page for more info
August 3 (Friday) Blondie are playing out at Mass MOCA also on the bill And The Kids Mass MOCA page WOW!!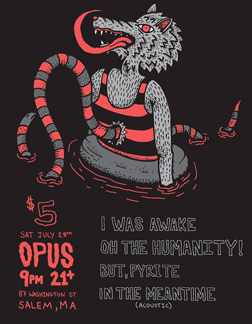 August 3 (Friday) PanzerBastard, Taxi Driver, Brix'n Mortar and The Downhauls at Opus in Salem
August 4 (Saturday) Nervous Eaters, Jeremy and The Harlequins, Justine and The Unclean at The Middle East Up- early evening show- doors at 6:30
August 4 (Saturday) Muck and the Mires, Tiger Bomb, The Gala at Sally O'Brien's
August 4 (Saturday) DJ Easy Ed presents The Fathoms, Trabants, The Fearless Leaders at The Midway
August 4 (Saturday) Descendents w/ A Wilhelm Scream & Pavers at State Theatre, Portland, Maine FB page
August 5 (Sunday) Richie Parsons presents a Sunday afternoon acoustic duo show! Featuring Martin-Morell (Eric Martin of The Neats and Steve Morell of The Del Fuegos)
, Richie Parsons Duo, David & Therese (feat. David Fredette from The Upper Crust), Eamonn McKeever & Linda S. Viens - this is an early show starting at 4PM
August 8 (Wednesday) The Blasters come back to ONCE - according to Once this show IS happening.
August 11 (Saturday) Tigerman WOAH!, Threat Level Burgundy, The Screw-ups do a matinee show at the Midway 4-8PM
August 11 (Saturday) Billy Squire presents: A Night On The Delta featuring Andy California, Billy Squire, Detroit Rebellion, Hambone Skinny, and Red House at The Midway
August 11 (Saturday) MATB, The Lost Riots, The Prozacs, Wretched Hive at The Hotel Vernon in Worcester.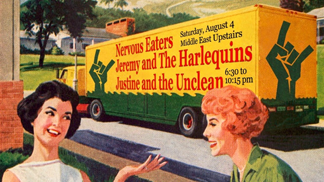 August 13 (Monday) Agent Orange, Fea, and more at Ralph's Diner in Worcester FB page
August 15 (Wednesday) Agent Orange are at the Brighton Music Hall TIX! Silver Screams will be opening up for them. TIX here.
August 16 (Thursday) Agent Orange w/ FEA, MOTO and Zero Holds at Alchemy in Provi, RI
August 16 (Thursday) Michael Kane & The MAs, Reverand Dan, Volstead Act, Jonee Earthquake at the 13th Floor Music Lounge -JJs Tavern Florence, MA
August 17 (Friday) Wreckless Chords presents: Gang Green & The Dogmatics...with...Diablogato, Antibodies, Worm- at the C Note in Hull - start time is 7 PM
August 17 (Friday) Richie Parsons Band, Tiger Bomb, Random Ideas at The Bayside Bowl in Portland, ME
August 24 (Friday) Actor|Observer (Record Release) w/ Long Time at Great Scott
August 24 (Friday) Lyres, Glider, Pop Gun, Knock Ups at Koto in Salem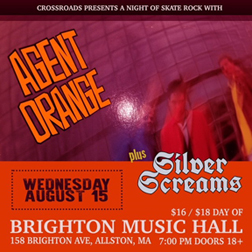 August 25 (Saturday) Silver Screams, The Black Cheers, Rockin Bob Punk Band, Grand at the Midway for a matinee show 4-8PM
August 25 (Saturday) Stop Calling Me Frank, Hi-End, The Stigmatics, The Legendary Cazbats at Club Boho at The Cantab
August 26 (Sunday) Sunday Matinee with Reason To Fight, Abductors, BFC, Pint Killers at the Midway 4-8PM
August 28 (Tuesday) In The Whale, Tied To A Bear, Blood Built Empire at O'Brien's Pub
August 28 (Tuesday) FAVL (from Italy), Brix N' Mortar, The Martians, Union Boys at Opus in Salem
August 30th to September 2nd 6th Annual Rat Beach Party The C-Note on Nantasket Beach! More info to come later!!
August 31 (Friday) Battery Bridge, Elle Zee, Corrola DeVille, Screw Cart and Fat Randy at Club Bohemia
August 31 (Friday) MATB, After The Blackout, Time Out Timmy, Color Killer, Cook Bag at Beatnik's in Worcester
September 2 (Sunday) Banshee, Funeral Cone, Feedbag, Time Out Timmy, Sewer Buddies day show 4PM- at The Midway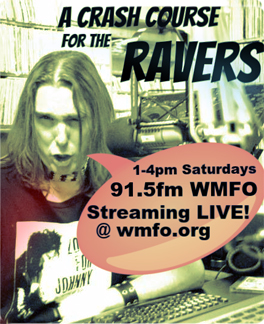 September 8 (Saturday) Richard Mirsky's CD Release Party at the Midway (night show)
September 8 (Saturday) The Queers on a boat!! doing the Rock On! Concert Cruise FB page for tix etc
September 9 (Sunday) The Queers, The Prozacs, CityState, Color Killer, Wretched Hive at the Waterfront Tavern Holyoke MA FB page doors at 7Pm
September 11 (Tuesday) Killing Joke on their 40th Anniversary Tour at the Paradise FB page
September 12 (Wednesday) Cheetah Chrome's new Dead Boys, The Ghost Wolves at Sonia.
September 13 (Thursday) MC50 presents Kick Out The Jams - The 50th Anniversary Tour - whoa!! This is Wayne Kramer celebrating the 50th Anniversary of the MC5...with special guests!! At the Paradise. FB page
September 13 (Thursday) Fall-Fest 5 Day 1: featuring The Avengers! also on the bill - Silver Screams, Boot Rot, City Problems and a bunch more bands. It's at Alchemy. Music starts at 8PM Here's the FB page
September 13 (Thursday) Hudson Falcons, Genuine Rust, Sonic Libido and more TBA at This is an ALL AGES Matinee! at Thirsty First: Tavern & Grill, Lowell.
September 18 (Tuesday) Cheetah Chrome's "Dead Boys" with The Ghost Wolves are at Sonia
September 18 (Tuesday) ALL AGES MATINEE- 1-6PM : Hudson Falcons, Genuine Rust, Sonic Libido, Losers Circle at the Thirsty First Tavern in Lowell.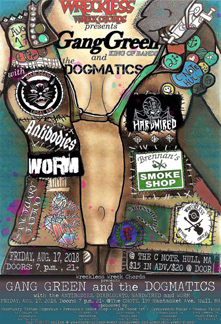 September 23 (Sunday) The McGunks, Quiggs, Port City Saints, The Martians do a Sunday day show at the Midway 4PM
September 28 (Friday) Stop Calling Me Frank, Soraia, Hambone Skinny & The Connection at Sally O'Brien's
October 12 (Friday) Salem Horror Fest After Party with Diablogato, Gray Bouchard and the Dedications and Petty Morals at Opus in Salem
October 15 (Monday) Jagger Holly, MATB, The Prozacs, Mongorellis, Color Killer at Beatnik's in Worcester.
October 15 (Monday) Jagger Holly, Mongorellis, The Prozacs, Jimmy Jacked, Color Killer at Opus Salem
October 18 (Thursday) The Proletariat, Savageheads, Silver Screams at Sonia
October 20 (Saturday) Nervous Eaters, Indonesian Junk, Duck & Cover at the Middle East Up
October 27 (Saturday) Lyres, GLiDER, the modifierS at The Middle East Up- Early show doors at 6:30PM
October 27 (Saturday) The Descendents w/ Teenage Bottlerocket at The Palladium in Worcester FB page for tix etc
November 2 (Friday) Roky Erikson at Once. Tix here.
November 10 (Saturday) The FUs, GLiDER, Classic Ruins and Screw Cart at Club Boho @ The Cantab. This is show 1 in a series called The Rosebud Rocks...remembering and celebrating our beloved Rosebud in Davis Square that was sold 4 years ago.
CONTACT US AT....misslynbgn@yahoo.com Send us your gig listings, your news and anything else ya got!! You want your CD reviewed?? Contact us for that too.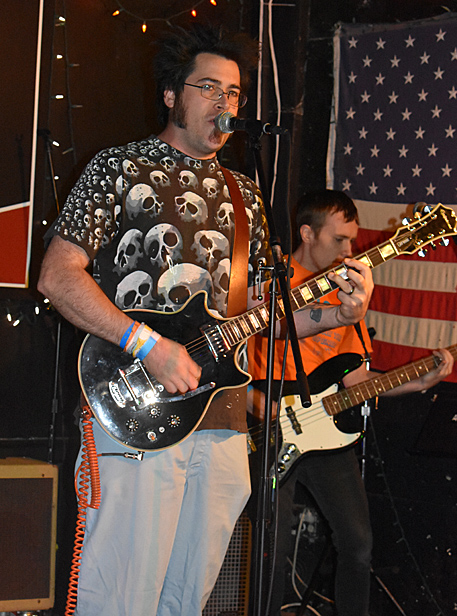 Dug McCormack
Photo:Blowfish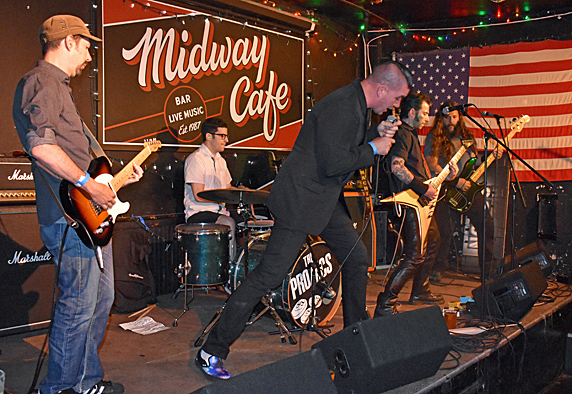 Il Mostro
Photo:Blowfish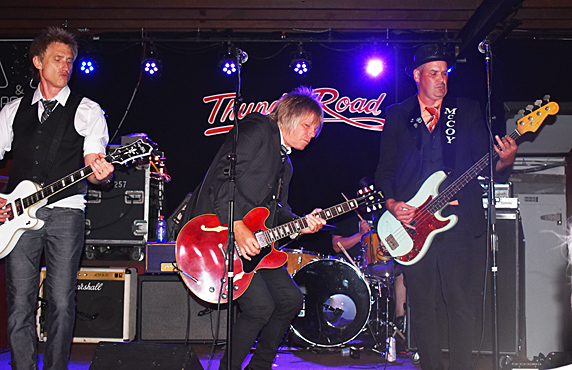 Watts
Photo:Blowfish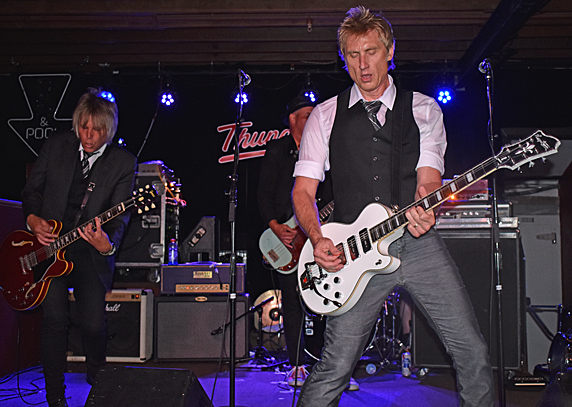 Watts
Photo:Blowfish