The BGN News Archive
July 20, 2015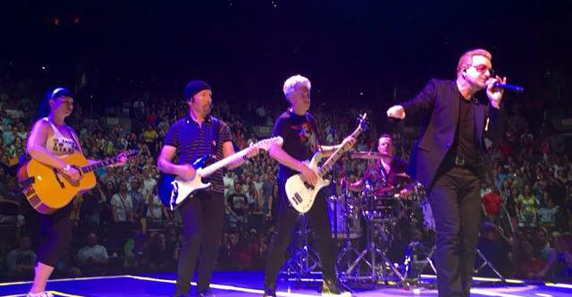 Gretchen Shae and U2
This was a crazy week full of big shows leading up to the beginning of the TT's Farewell Blowout. The U2 shows at the TD Garden were all over the media. U2 often calls on an audience member or two on stage. Tuesday night it was Gretchen Shae of the Knock Ups on TV and You Tube, up there with Bono and the rest of the band! Gretchen told her story to Boston.com. She was able to catch Bono as he was entering the Garden for sound check. She gave him a Knock Ups CD and told him she played guitar. And it finally happened - she got called on stage! Quite a moment! She was in front of 15,000 people. Now you can catch her and The Knock Ups in a local club (Middle East July 26th!) like John Keegan did at the Spotlight in March. Blowfish saw them at the Milky Way in May. To top it all off on Wednesday at the Garden Adam Clayton was wearing a Knock Up's T-shirt.



Gretchen Shae and U2




Adam Clayton wearing a
Knock Ups shirt
One piece of late breaking news we want ot pass on is that another club is closing. Johnny D's in Somerville will call it quits in January or February 2016. There's lots of stories there that will comming out as the days go on I'm sure. This is the Globe article. Our next order of business is the show that was there this week.
As Gretchen was on stage at the Garden John Keegan was at Johnny D's for the Rezillos, Petty Morals and Casanovas in Heat. It's so great that The Rezillos are still together and doing their thing which John aptly pegs as "B52's on punk"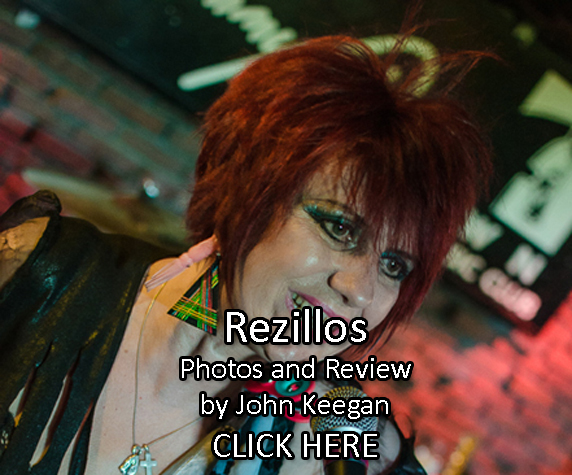 Blowfish was not at the Garden or Johnny D's but at the Middle East for a gig run by Illegally Blind. The draw was a surf group from Boston called Beware the Dangers of a Ghost Scorpion. A weird name but their Bandcamp page showed a novel surf style worth investigating. After they set up they exited the stage and a few minutes later made a dramatic entrance wearing matching shirts and bandanas worn as a mask. They never spoke and never removed the masks only lifting them to take a swig of beer every now and then.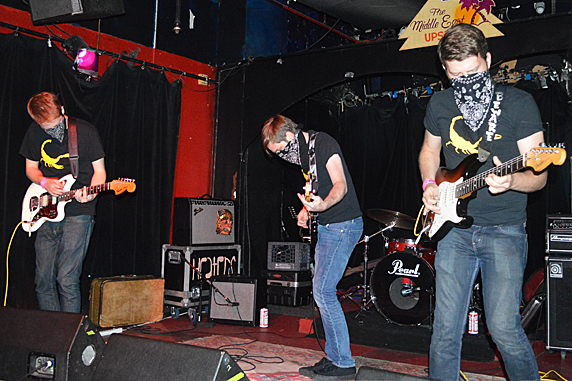 Beware the Dangers of a Ghost Scorpion
Their name actually reflects this band's persona and the music which had a sinister edge to it. They did surf that kept many of the conventions but with added dimensions in songwriting and dynamics. The dynamics were aggressive and that's not something you usually in surf. The volume was up and the dual guitars sharp and sometimes noisy.
The songwriting took off from where the usual material ends. They didn't trot out the 1-4-5 progression often and when they did they made sure to dress it up with a convoluted turn arounds and extra sections. They weren't as melodic as the Insect Surfers I saw just a while ago but they were in the same territory. Another thing I loved about them was that the two guitars only had one pedal each and I think they were just tuners. The sound was Fender guitars through amps. I loved that sound and it was a tip to tradition.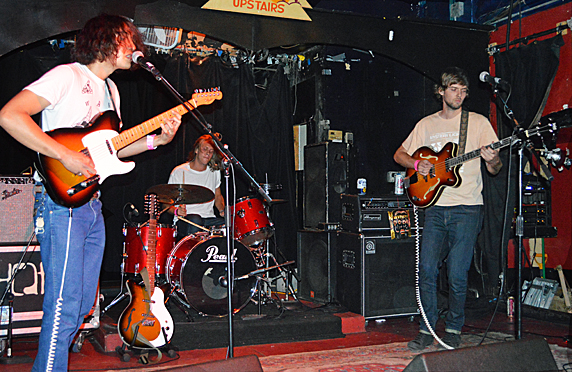 The Heaters
The headliners Heaters were from Grand Rapids, Michigan and what the Dangers of a Ghost Scorpion did for surf they did for San Francisco psychedelic rock. Lots of groups are playing psych and I've heard a lot of them but no one nails the San Fran sound like these guys. I could feel overtones of the Jefferson Airplane especially. This song on Bandcamp gives an example of that. I was constantly reminded of my Boston Tea Party days in 1968. There were lots of riffs that struck me but no knock out songs. That might have been because the vocals were lost in the mix. They, like many other current psych groups, slather on the echo. It gives some atmosphere to the sound but dulls the overall effect – for me anyway.
Friday and Saturday were filled with things to do. Friday had Upper Crust, The Bristols and Last Stand at TT's, our faves The Black Souls and Greg Allen's Fringe Religion were at Cantab, The Dents, Dirty Truckers and Jay Allen were at Midway and it was like that all over town! Saturday had the Foo Fighters/MOB/Bosstones at Fenway. The Bosstones did a somewhat surprise show at TT's Blowout later that same night.
Friday night we knew we were going to interview David Minehan on Saturday afternoon so we kept it low key and Sally O'Brien's is where we went. Richie Parsons was playing along with Asa Brebner.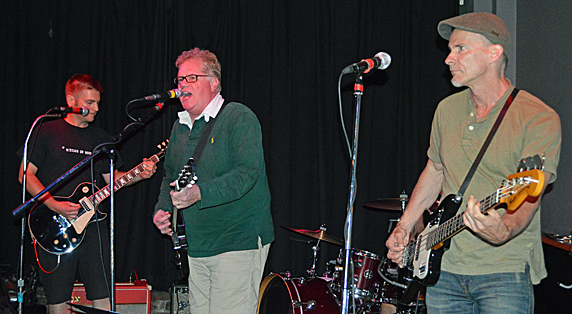 Richie Parsons
Richie's group this time was just four players. Without Brother Cleve on keyboards the sound was bare and intimate which was perfect for the setting. Tom Long on drums knew to keep things in miniature, his restrained playing set the tone. Close up we could see more of what was going on with the guitars. There were a few moving chord shapes with open strings that give these songs their distinctive texture.
We've mentioned Frank Dehler's bass playing in this setting before and with the subdued volume his playing was easy to actually hear and is pretty amazing. In Evangeline he played some fill in riffs during the slow chord sections that were gorgeous. They were melodic with a warm tone. Most other times he would play long ascending/descending lines that lead you through the songs. Great playing. Doug, on guitar, was following Frank's ideas by playing longer melodic solos rather than riff rocking. It really hit the spot tonight.
All that was to support the main things which are the songs and Richie's vocals. Richie was in good vocal shape and delivered on all the lyrics. Most of these songs have a specific feel or mood. Blue Sands was a stand out. If you were ever at the Blue Sands you know it's possible for the place to inspire a song like this. He ended a my favorite from the CD; Love Letters. The audience wanted an encore, and a specific one; they were actually asking for the Axe song Summertime and that's how the set ended.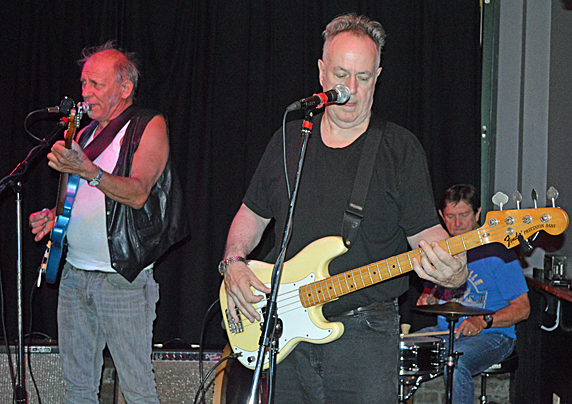 Asa Brebner
There's so much history, and music entwined with history, that Asa Brebner carries with him. His between song banter is riddled with references to local musicians and scene happenings. His creativity flows into his playing and song writing and even his writings on-line. He writes some great pieces on Facebook and sends out hilarious emails to promote his shows (you should Try to get on that list) .
Tonight he starts with a Natalie Flanagan song. It's a good one. Natalie showed up later. Asa's solos are as sharp as his Strat's tone. We left early because of the Minehan interview but it's with regret as Asa is obviously just warming up.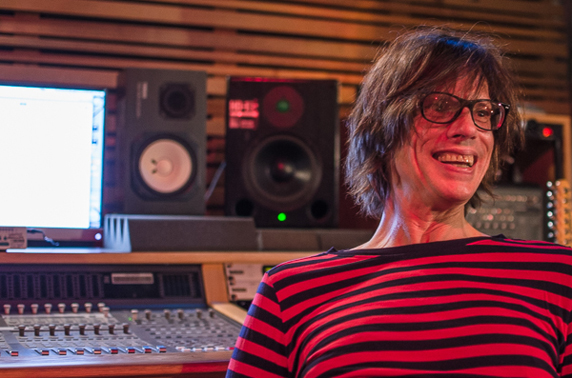 David Minehan at Wooly Mammoth
On Saturday we went to Wooly Mammoth Studios to talk to David Minehan. We had a great interview, it was a long one filled with loads of great stories. David has lots to say. We talked about the Replacements, the studio, and some of his personal life. Of course The Neighborhoods stories intertwined with all those subjects. It will take a while to get that interview transcribed, but stay tuned. We'll get it to you as fast as we can.
People have been asking about the Rat Beach Party this year. Michael Weddle has posted a notice. He is working on it and it will be moved to the C Note.
Michael Weddle says: "Although the negotiations and details are still being worked out, we are looking toward October 9th to October 11th for the Third Annual Rat Beach Party, to help build the Rat Musicians Scholarship Fund. It'll be held at the C-Note at Nantasket Beach (Hull, Mass.). I'm also hopeful to organize a Rat Luau Beach Party at The Red Parrot, also on Nantasket Beach, for February (REMEMBER: The beach is best when it's only you and a select group of friends at it -- great musical video opportunities!). Stay tuned ... I'll be putting out a call for bands very soon!"
Here are some shows that are happening this week....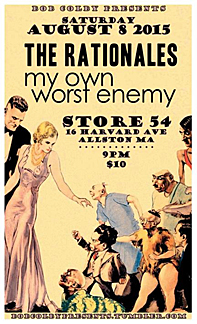 July 19 (Sunday) TT's Farewell Blowout: The Daily Pravda, Bearstronaut, Animal Talk, Spirit Kid, The Sterns, The Luxury, Paddy Saul

July 20 (Monday) The Detroit Cobras and Fireking are at Great Scott - Get your tix here.
July 20 (Monday) TT's Farewell Blowout: Mike The Considerate & The Interns, TT's Staff House Band!, Mary Lou Lord (with Annabelle Lord-Patey), Jules Verdone and Matt & The Lower Standard
July 21 (Tuesday) TT's Farewell Blowout: Runner & The Thermodynamics, Thalia ZedekBand, The Dazies, Evan Dando, Willy Mason and The GrownupNoise
July 22 (Wednesday) Jaz Coleman founding member of Killing Joke is doing a Spoken Word performance at The Middle East Down. its al about his new book: "Letters from Cythera". Jaz will delve into his many experiences that have influenced his philosophical outlook on life and also discuss, Supersynthesis, a principle which has facilitated his many accomplishments including acting, conducting, singing, composing, geometry, architecture, and occult history. Tix available here. This one will be different, there's seating and VIP seating tix for this show.
July 22 (Wednesday) TT's Farewell Blowout: The Lights Out, Ad Frank & The Fast Easy Women, Parlour Bells, Francine and Cujo (featuring Jen Trynin)
July 22 (Wednesday) up North in Portland ME at The Space Gallery (538 Congress St, Portland, Maine 04101) are Kid Congo Powers & the Pink Monkey Birds with Tiger Bomb and Cheerwine Here's the FB page for this one.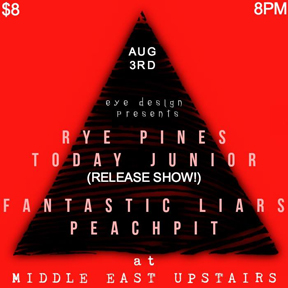 July 23 (Thursday) TT's Farewell Blowout: Harris, Emergency Music, Vic Firecracker, Orbit, Field Nurse (featuring TT's bartender John!) and Atomic Spectra
July 24 (Friday) Bim Skala Bim and the Pajama Slave Dancers are at The Middle East Down along with Brunt Of It, Zeme Libre and The Porter Squares
July 24 (Friday) TT's Farewell Blowout: The Dogmatics, The Neighborhoods, Howie & The Scrapes, Martin & Morrell (members of The Neats & Del Fuegos) and Bleu
July 24 (Friday) at The Midway - BrownBoot, Barbusters and Hambone Skinny
July 25 (Saturday) A Crash Course For The Ravers is featuring Ajda The Turkish Queen! That WMFO 91.5 from 1PM - 4PM.
July 25 (Saturday) The final day of TT The Bear's Place...and they have Scruffy The Cat this night!!
July 25 (Saturday) Muck & The Mires, The Nervous Eaters and Richie Parsons are at The Midway (FB event page)
July 25 (Saturday) The Shambolics, Greg Allen's Fringe Religion, Jay Berndt & The Orphans are at Sally O'Brien's
July 26 (Sunday) a Matinee Show at the Middle East Up - 1PM doors with Band Without Hands, The Knock Ups, Radio Compass, and Happy Little Clouds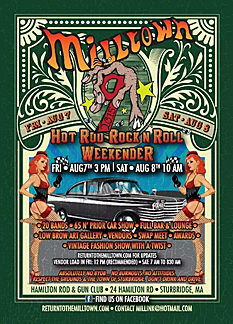 July 26 (Sunday) Screeching Weasel, plus The Queers and The Mr. T. Experience are at The Royale. You can get tix here. This is a 6PM show!!
July 26 (Sunday) Matinee show at The Middle East Up with Band Without Hands, The Knock Ups, Radio Compass, Happy Little Clouds. Doors are a 1PM
And after that we have.....
July 30 (Thursday) There's a mega hardcore show at Cuisine en Locale with Power Trip, Foreseen, Boston Strangler, Peacebreakers, Freedom, Fury, Red Death, Intent, CIAC and Take Control. Music starts at 6:30 SHARP doors are at 6.
July 30 (Thursday) X, with all original members, are at The Sinclair Tix here
July 31 (Friday) "THE DAMNED: Don't You Wish That We Were Dead" documentary is FINALLY playing in Boston!! It's at the Regent Theater at 7:30. You can buy tix here. Watch the trailer here.
August 1 (Saturday) Tiger Bomb is on Crash Course for the Ravers on WMFO 91.5FM from 1-4PM
August 1 (Saturday) The Static Dynamic, The Wrong Shapes, Hope & the Husbands and Alchemilla at The Middle east (FB page for upcoming updates)
August 2 (Sunday) A Punk Show at Koto with USA Waste (ex A Global Threat), Adults, The Earbleeds, Gravel and Farce!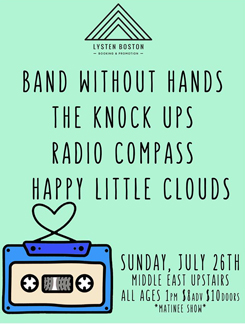 August 3 & 4 (Monday and Tuesday) Darkbuster returns!! at The Sinclair. Well, no tix available anymore congrats to Darkbuster for two night of sold out shows!!!c
August 3 (Monday) Tsunami of Sound and The Vista Cruisers are at Opus Underground, Salem.
August 6-8 (Thursday - Saturday) Boston Fuzzstival 2015 is at The Middle East Down. The Fuzztival highlights "the best bands in the region that make psychedelic/fuzz/garage/surf rock" and its goal is "to build bridges within the local music community." Stay tuned for the lineup and more info keep checking their FB page!
August 8 (Saturday) - Head over to Store 54 to help Bob Colby celebrate his birthday (two days early) with The Rationales and My Own Worst Enemy!
August 8 (Saturday) - The Bush Tetras and headlining at The Sinclair and also on the bill are E, Gene Dante & The Future Starlets and DJ Gang of One (Gang of Four's Hugo Burnham) get tix here.
August 8 (Saturday) The Memphis Rockabilly Band are doing an early show at Johnny D's (FB page) 7-9PM
August 8 (Saturday) at The Spotlight Tavern in Beverly The Charms, The Knock Ups, and Mary Lou Lord (FB event page )
August 9 (Sunday) The Billy Borgioli Tribute Memorial Show at Cuisine en Locale. Doors are at 2:30 PM. Oedipus will be DJ extraordinaire for the event. Also playing will be Steve Cataldo and Rob Skeen doing an All Star Jam, Classic Ruins with Pete Taylor on drums , GLiDER , Richie Parsons Band, Arthur Freedman -film - live performance footage of Billy and Cheryl Eagan-Donovan film - interview with Billy. For times and updating info as more bands are added see the FB page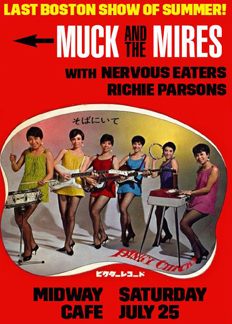 August 14 (Friday) at The Midway are The Connection, The Above, Fireking & Special guest to be announced...watch for updates on the FB event page
August 22 (Saturday) Memphis Rockabilly Band is at the Marshfield Fair. check out the particulars here
August 29 (Saturday) The Ten Foot Polecats are gonna be on A Crash Course for the Ravers with Brian Young and Mike Stewart on WMFO 91.5 - that's 1PM- 4PM.
August 31 (Monday) The Fake Boys, Petty Morals, BDSX, Spectre Hawk and The broken glass kids at Opus Underground Salem.
and of course The New England Shake-Up! September 25,26,27 2015! Keep yourself updated at their FB page
September 3 (Thursday) Wormwood (mem of Doomriders), Mountain God (NY), Conclave (ex Warhorse), and Livver are at Obriens
September 18 (Friday) Livver, Tenafly Vipers, Dead Cats Dead Rats and Profit Margin are at Koto in Salem, MA
September 19 (Saturday) Pop Gun along with Fireking, Classic Ruins and 138 are at Koto in Salem, MA
CONTACT US AT......misslynbgn @ yahoo.con Send us your gig listings, your news and anything else ya got!!
Miss Lyn, Minehan and Blowfish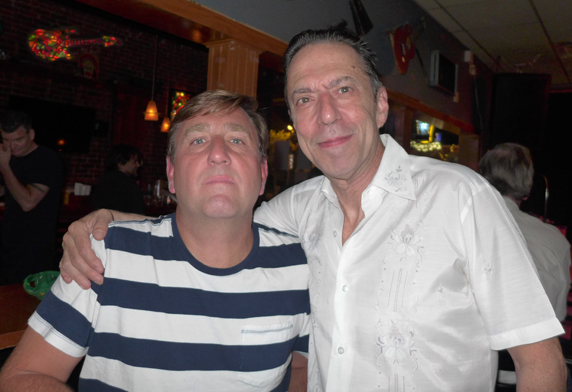 Tom Long and Wayne Viens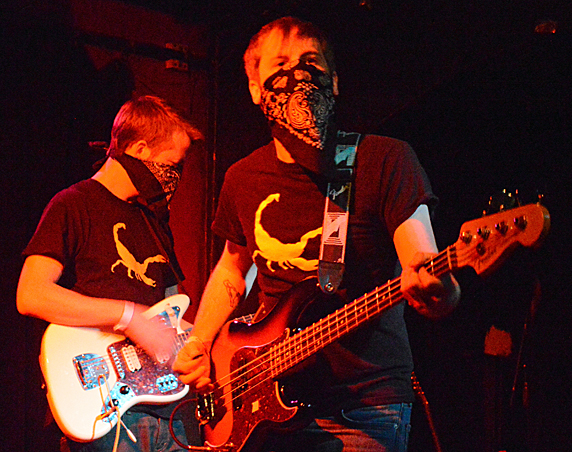 Dangers of a Ghost Scorpion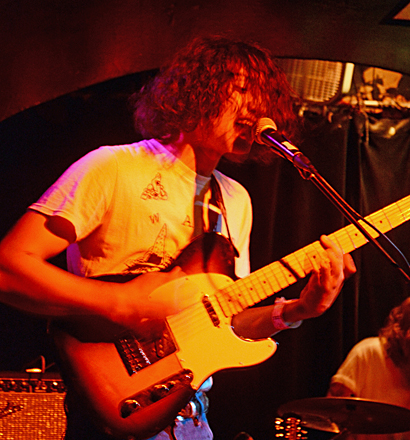 The Heaters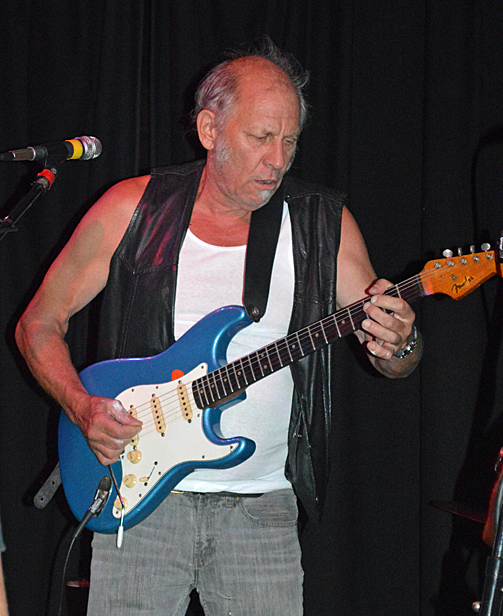 Asa Brebner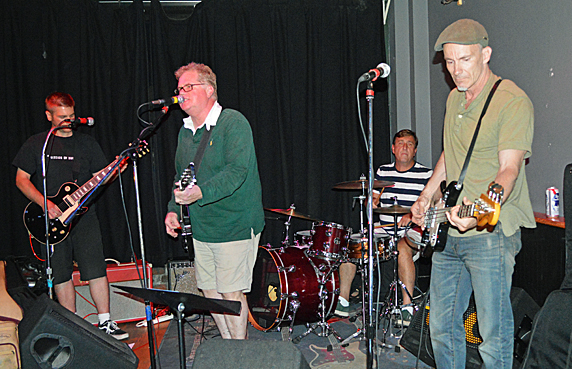 Richie Parsons