The BGN News Archive
July 13, 2020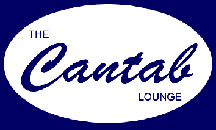 We get this news via the Boston Poetry Slam website. Link to story on website. The Poetry Slam get together at the Cantab Lounge. They have been informed that the Cantab is going up for sale. The reasons are all the obvious ones: "The global pandemic, the fluctuation of official response to the health crisis, and the impossibility of guessing the shape of live art to come".
There it is, the Cantab is closing. It seemed like an institution that would always be there. It's hard to imagaine that part of Mass Ave without it. What sort of entertainment world are we heading into?
The Club Bohemia is a separate entity which has been in other locations before, so this does not mean the end of that. Mickey Bliss says,""We want to thank everyone for all the support over the years, we wish you well, and we will keep the Bohemia website open. Please send us your ideas as how we can continue promoting artists during this COVID-19. And we'll see what happens".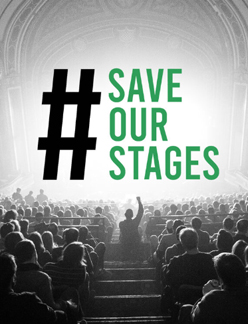 "Save Our Stages" by NIVA, The National Independent Venue Association is a push to get The RESTART Act approved and signed by Congress. It's designed to help small independent venues survive this pandemic. They are asking for signatures!

We all want the venues to survive and re-open so we can hear live music but they provide some pretty interesting info on their site:
Venues are forecast to lose up to $8.9 billion of revenue if the rest of 2020 were to remain dark
Arts and culture contributed $877.8 billion, or 4.5 percent, to the nation's gross domestic product ...and...
Independent music venues are economic multipliers, community builders, and beloved institutions. A Chicago study estimated that $1 spent at a small venue resulted in $12 of economic activities for neighboring restaurants, hotels and retail shops. Venues drive revenue to other businesses in cities and towns across America.
You can help by going to https://www.saveourstages.com/ and sending a note to your representative to support this bill. All you have to do is enter your name etc, the letter is written for you!!
Here's a long interview with Big Dipper going over the situation regarding their album Slam. They think the reception might have been better if the album was released on an indie label rather than a large label. A lot of details on being in the position of the "big break" but then the break never comes.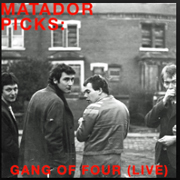 According to Rolling Stone and Consequence of Sound Gang of Four is teaming up with Matador Records for a new archival campaign. To kick off the partnership, Gang of Four's first three studio albums — Entertainment! from 1979, Solid Gold from 1981, and Songs of the Free from 1982 — have been added to online streaming platforms like Spotify, Apple Music, and TIDAL (which is offering a 60-day free trial right now).
In addition they are releasing 14 live albums from 1979 to 1981. There some primo stuff in there judging by the Spotify playlist they have as a sample of the material. The Spotify playlist is here. There are many more streaming samples on the Consequence of Sound site.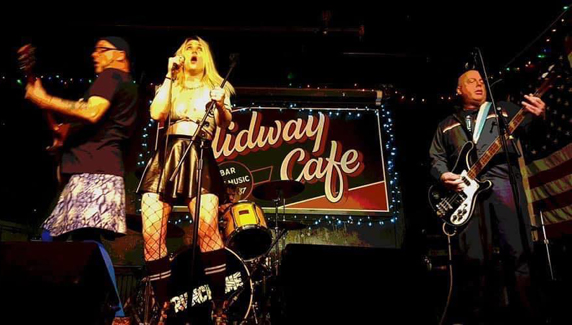 A Bunch of Jerks
The Midway has been doing some regular live bands streaming. Tuesday July 28 they will have A Bunch of Jerks to a set from 7 to 9 pm. Opening will be Dna's Evolution. Go to the Facebook page for the event!
A Bunch of Jerks is one of those groups that are bursting with energy and have continued to look for every opportunity to play and whatever platform is available. You can find inspiration there. You can also find all the Midway Live streaming shows here.
This week Color Killer did an entire set on video! You can catch it here. and of course they rock!! The boys are growing up too!
The Damned Show Episode #24 has Paul Gray playing the bass line to "Jeckyll & Hyde" of the Black album. These Gray vids are very illuminating to us non-bass players. You get to see how the bass adds to the song.
The Damned Show Episode #25 has Monty Oxymoron playing some medleys on the keyboard (Part 3 of this).
The Damned Show Episode #26 has Paul Gray showing off his 8 String Bass. It was a new sound for us. Interesting.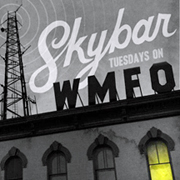 It took a few months but finally Skybar has made a podcast of his show Rising. It's on the Anchor platform (like Bay State Rock). WMFO is still not going to allow DJ's to broadcast until maybe Fall. Skybar got fed up and went to Anchor. Hear the podcast here: Rising with Skybar He played a new song by The Downhauls that we didn't know was out there. It's called Lost Soul. All sales of the song go to Black Lives Matter. Listen here: Lost Soul
Skybar's stationmate Brian Young got on the wagon earlier by getting his Crash Course for the Ravers on OutbreakDJ's a while ago. Now he's on at least twice a week and more if a slot opens up. On Saturday he was showing his usual wide range of rock. He goes from current local releases to faves like the Dolls and Stones. Then there's the left field hit like "Parchment Farm" by Blue Cheer.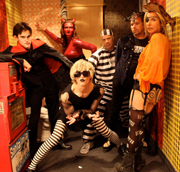 He also threw in The Barbarellatones doing " Just Another Emo Day". That got our attention. There's not a lot about the Barbarellatones out there. They do have a Facebook page . And a SoundCloud page but the Emo song is not on it.
Oh and BTW...National EMO day in coming up on December 19th.
Looking for the song we couldnt find we did find this awesome Podcast: Punk Rock Demonstration. He's got on his playlist: G.G. Allin And Antiseen, The Freeze, The Barbarellatones doing " Just Another Emo Day" and a ton of other great bands.
We caught some new music by Scotty Saints and the True Believers in Thrash n Bang We liked "Reach For the Sky" the best on their Damaged Heart album.
They managed to record during the last few months and it holds up. We have "Reach For the Sky" on our Top Ten Songs. Scotty Saints Bandcamp page
Lawrence Arms has a new album called Skeleton Coast. There's not a lot of releases during this period so this by a major group is very welcome.
We don't' know what "Last, Last Words" s about specifically but it still hits hard. "Quiet Storm" is another that shows how good Lawrence Arms are.
Strike Anywhere's Nightmare from the West is another case of a major band getting a release out this month. This is just an EP. Listen to this song called "Dress the Wounds" – it's full strength with no compromise.
We caught Tommy and the Commies at the Midway and were blown away by their snarly punk. And that's what you get on their new 4 song ep Hurtin' 4 Certain. They have the delivery down pat and it does it's magic on us. Sara J also played this song on her WMBR Gorilla Got Me show this Friday. Her show is archived here. Here's Tommy and the Commies Bandcamp page.
---
Coming up.....
Online/Live Streaming stuff:
Wednesday July 22 - 8 PM - Martin Atkins How to Make an Extra $100k in the Next Year Creative Entrepreneurship in the time of Crisis on Once Virtual Venue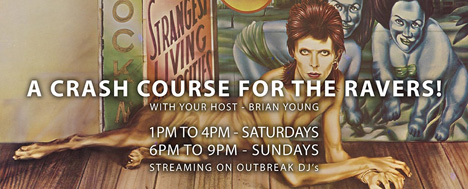 Thursday July 23 - Boston Emissions with Anngelle Wood + ONCE VV Presents DJ VJ 8PM - Facebook page

Thursday July 23 Idiot Prayer: Nick Cave Alone at Alexandra Palace FB page tix $20.

Tuesday July 28 - A Bunch of Jerks from 7 to 9 pm. Opening will be Dna's Evolution. Go to the Facebook page for the event!

Thursday July 23 -8 PM - Boston Emissions with Anngelle Wood - DJ VJ: Boston Emission's Anngelle Wood hosts a night of local music videos, commentary and more. FB page to get tix on Eventbrite.

Wednesday August 5 -8 PM (Rescheduled time) Martin Atkins - PiL chat on flowers of romance - Creative Entrepreneurship in the Time of Crisis on Once VV.
---
Gigs possibly, hopefully coming up....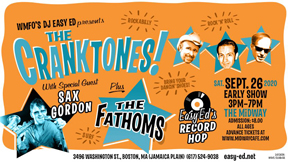 September 26 (Saturday) The Cranktones, Fathoms, Sax Gordon, DJ Easy Ed! for a matinee show at The Midway 3-7PM
October 11 (Sunday) 145, Amplifier Heads, The Stigmatics and The Thigh Scrapers at the Midway - matinee 3-7PM
October 28, (Wednesday) Einstürzende Neubauten - The Year of the Rat Tour - The Wilbur Theater Facebook Page
Thursday December 17 -7-9:30PM - Talkin' to Dracula and his Crew: Goth subculture and horror, a lecture - Miskatonic Institute of Horror Studies Brooklyn NY FB page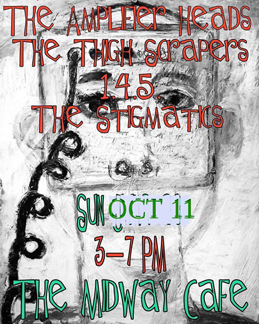 January 16, 2021 (Saturday) New Date - The Schizophonics, Muck and the Mires at ONCE Lounge Early Show: 5:30 PM – 8 PM
February 17, 2021 (Saturday) Rescheduled - Swans w/ Anna von Hausswolff at the Paradise
April 19, 2021 (Monday) Rescheduled - Dead Can Dance at The Wang Theater
April 29, 2021 (Thursday) Circle Jerks Plus Special Guests at the paradise (this is a reschedled show) FB page
CONTACT US AT....misslynbgn@yahoo.com Send us your gig listings, your anything else ya got!! You want your CD reviewed?? Contact us for that too.
---