The BGN News Archive
July 21, 2008
Ah well, hello again, its been a while…but I am back after all the crap that has befallen me!!…..New computer and relatively good health….here we go….
I just have to say: I am sadly missing the fabulousness that was Spencer Gates on this earth, RIP Spencer dear!!….
Before my compoooter went kaput, Beatgirl and I went out to see the Rockabilly night at TT The Bear's with a killer line up of Nate Gibson & The Gashouse Gang (with Tony Savorino on guitar!), Rocky Velvet, The Stumbleweeds and The Swinedells……I have got to say that all the bands that night were incredible, really, they were ALL great but by far my fave was Rocky Velvet. Everyone in the band is having such a good time and the lead singer is so down to earth and makes you feel…happy to be there AND they sound fantastic…next time they are in town DOOOOO go to see them!!!! I got some picks of the night from me and from Beatgirl to share......
TT the Bears - Rockabilly Night



Nate Gibson & The Gashouse Gang
Photo:Miss Lyn




The Swinedells
Photo:Beatgirl




Rocky Velvet
Photo:Miss Lyn




Rocky Velvet
Photo:Beatgirl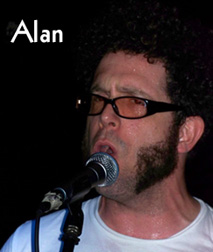 Now this weekend Blowie and I headed on out to O'Brien's …man I haven't been there in years, pretty nice…AND excellent air conditioning on a sweltering horrid night, even the bathrooms!!! So we saw The Radio Knives, Classic Ruins and Red Invasion ("my boys, my BOYS!" As Uncle Monty said in Withnail & I ) …this was an excellent line up, very well put together show, I like that! …Radio Knives did a very long set, which was cool coz they are so great. I just LUV the way Alan Levesque plays the bass, he does an awesome job in this trio!! As I was thinking about how he was a great bass player I was also thinking that I just might find HIS facial hair acceptable, since it is on the sides…check out the pic…and then he announces he's wearing his tight pants in case I showed up….um Alan, those pants were not "tight", sorry hun….please see attached photos as reference for properly TIGHT pants…. (the secret: peg 'em like the old days! Hey I got a sewing machine if you need help, even!)….anyway the band was ON and sounded fab as usual…and we were talking to Matt Burns of The Coffin Lids about how great they were when he mentioned they Alan's playing reminded him of Kiss (we're talking early cool Kiss) and BINGO! He's right!! I bought the first two Kiss albums and played 'em down to nothing I loved 'em so much!! ….then The Classic Ruins piled up on stage…man, talk about bass players….no one in this town surpasses Carl Biancucci .
Hey other bass players out there: there are 4 strings on the damned thing…go see Carl play and LEARN!!!
But the whole band sounded really excellent tonight and they had a special guest, Joe Sheehan, on drums, the Cry Babies drummer who really leant an excellent hand for the evening.


Proper Tight Pants Illustration

| | |
| --- | --- |
| Joey of Red Invasion | Frank Rowe |
I was happy to see Jessy Drastic and Vik from the Mess Me Ups right up front watching the old guys and taking it all in; Vik , have you learned how to TUNE the guitar yet?????, I'd say that might be one of the first things you should get down…..
so THEY were together and cuddlin'…does that means we'll see The Mess Me Ups on stage again soon?? I hope so!
And I just gotta say Jessy is such a fashion plate…I absolutely LOVE the way she looks and dresses…every time I see her I love her outfit! she is THE coolest looking female in town no question about that!!!!!…
oh yeah and then all the guys from Red Invasion were up front too….checking out and taking in everything they could, way to go guys, and did I say they are ALL hot??, oh my….
O'Briens - Classic Ruins



The Mess-Me-Ups take in the Ruins




They covered the Axe's
Man I Don't Wanna Be