The BGN News Archive
July 21, 2014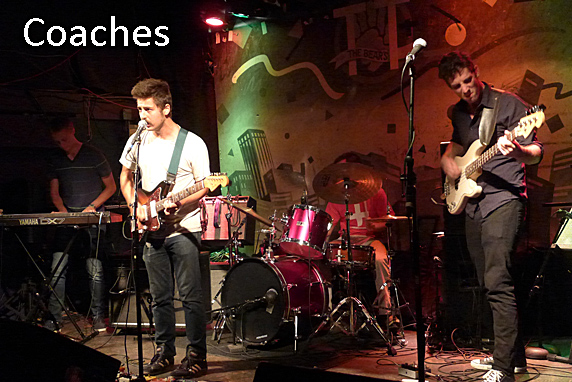 Last Friday TT's had 5 bands and a DJ closing the evening. One of the bands said they had just driven 16 hours to get to the gig. I hope it was worth it. How much can these bands make? It's just a reminder of the sad truth on how much time and effort these bands expend for less money than ever I would guess. There were less than twenty people lined up in front of the stage as locals Coaches started up.
The Coaches describe themselves as a noise pop band and indeed that's what it was. Not a combination I would think was workable but I'm wrong. They turned out to be an effective unit with an exciting new twist on things. The set up a noisy background but based on a usual pop structure as the singer sings not too out there melodies.
The first batch of songs seemed to be relationship based (one lyric I caught, "all and all she was very self-involved.") and they had real emotions in them that the band would pick up on and then drill down by upping the energy and volume. They all had their heads down and concentrating. These times of focus are the key to their power. They have a synth player which I'm not big on but this player added a lot on the lower end and added just a little color on the upper registers. They also had a song for Elizabeth Warren which perked my interest. Hey, she's a high profile personality and should be the subject of comments/art. I thought it was a pro Warren song but the end lyrics were something like, "You say you are for everyone, but you are only for one." Pro or con they made a mark with the song. I think Coaches got something going with their pop without a pinch of wimp.
I saw some the following group called of all things; Titanics. Around here that name is owned by Nat Freedberg but there have been many bands with that name in the singular and plural. This band is from Albany. They are a duo with guitar and synth. They have a drum machine - big turn off. They had straight ahead songs and sounds which was not bad but after the Coaches I just couldn't abide. I left after a few songs.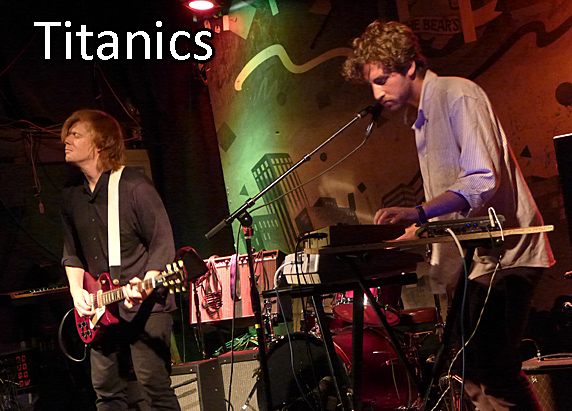 In other news:
Alan Lewis clued us into this radio interview with Binky Philips who played in a band at CBGB's with the Ramones. He has some interesting things to say about the passing of Tommy Ramone, the Ramones and the NYC scene.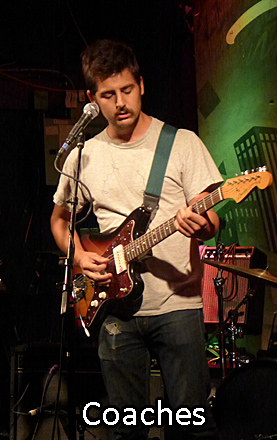 There's a new single by Watts called Flash of White Light...and its on white vinyl. This is preceding an eventual CD. It's on Rum Bar Records. You can hear Watts' Flash of White Light here…
Here's a great photo of the club Green Street Station to bring back some memories…and a story about Nirvana playing Boston in their very early days (one of the venues was Green Street!) ….
Merge Records has just released a live recording of Volcano Suns from 1986 called Old Pain(t): Live at City Gardens. You can buy it here and listen to Tree Stomp
We loved the cool article in the Boston Herald about some of our local rockers and their day jobs...they interview Tad from Sidewalk Driver, Chrissy from Petty Morals, Sasha from When Partciles Collide and John Powhida! There's an interviews and photos!
Chris Atwood has a show on WATD 95.9 FM (The South Shore's Radio Station) The Alternative featuring 70s Punk, 80s New Wave, and 90s Brit Pop. He's releasing a compilation CD on Russian Winter Records and it has Boston bands James Straight and the Wide Stance and The New Frustrations on it. Hear and buy it here….
We just found out about this...StoreNVY.com puts on a Punk Rock Swap Meet Up every sunday from Noon to 8PM. Where is it?? well all we know are the directions: "Take the T to Green Street and look for the signs!!" You might also be able to garner some info from Boston Punk Night, ther's cool stuff there!! And this is a community things too so you are invited to bring food to grill as well!
Don't forget to check out Kenne Highland at Large as he rambles on about his goings on about town.....always an interesting read.....
And so is John Keegan's articles (and always awesome photos!) ....a different take on the bands he sees...such as his most recently foray to Portland ME for Dinosaur Jr.
So what's comin' up for gigs?....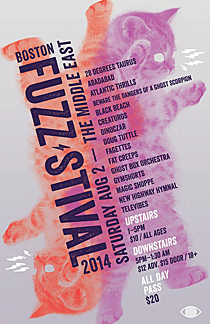 There's a great punk show in Beverly at the Spotlight Tavern on Tuesday the 22nd - its an early show starting at 6PM!! - The FU's, City Mouse and The Little Richards.....
Friday July 25th at The Midway, Cincinnati band Wussy is playing along with locals Slowdim and Brother Fight.....
Friday July 25th has a great show at Great Scott's with Razors In The Night (Record Release Party! & we're happy to see they are out and about again!), Panzerbastard, The Blue Bloods, and Taxi Driver
There is just so much going on on Satuday July 26th!!! First off you can tune in to Brian Young and his Crash Course for the Ravers show on WMFO 91.5 he's gotta a bunch of folks on the show: -Cal & Al with ....Frank Rowe (Classic Ruins), Anthony Kaczynski (Fireking) -Randy Black and Vikki Porter.....they are doing the show as a pregig to.....
the Tavern at the End of the World is Cal Cali's Summertime Soiree with Fireking, Cal Cali Band, Randy Black & the Heathcroppers and Vikki Porter Band....and at the Tavern there's NO COVER!!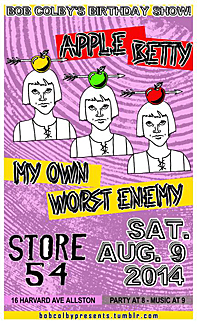 And at The Lily Pad in Inman Square there's "Double Trouble" with Black Fortress of Opium and Martin Bisi- the show starts at 10PM. Now Martin Bisi is a musician but he is also well know as a great record producer at his BC Studio in Brooklyn, which he started with the help of Brian Eno, where he's worked with the likes of Sonic Youth, Swans, Angels of Light, John Zorn, Foetus and the Dresden Dolls. So at 2PM Saturday July 26th there is a special showing at The Brattle Theater of the film Sounds and Chaos: The Story of BC Studio. Martin will be there in person to speak and answer questions as well!
But wait there's MORE going on this night...over in Davis Sq at Johnny D's there's and early show (6 - 9 PM) with DJ Easy Ed spinning disks in between sets with Lil DeeBee and the Doo Rites
and....more: at The Cantab there's Greg Allen's Fringe Religion, Mary Lou Lord, Love Love, and The Great Ak
And way up north, namely Portland, ME with their great music scene they have a Bloody, Bloody Garage Fest at Gino's with a cross-section slice of the finest New England garage rock bands like The Banditos (NH garagepunk punk ass kids), jonee earthquake band (Manchester NH pirate punks!), THEE ICEPICKS Portland's masked surf punks, The Fervents (Cal Clark of I BARBARIAN, no bass/two guitar garagepunk), The Grubs (Haverhill, MA garagepunk), Tiger Bomb (featuring Chris Horne of The Brood) and The Evil Streaks
phew that's quite a night!!
Friday August 1st has Tsunami of Sound, Tommy White's The Beachcombovers and Cal Cali's New Experience at Sally O'Brien's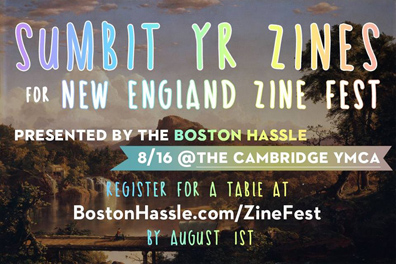 Also on 8/1 in Allston at O'Brien's there's Penis Fly Trap, Kermit's Finger and jonee earthquake band nd the BAnditos. This could be PFT's last show so don't miss 'em!!
Terry Brenner's bringing The Real Kids and Nervous Eaters and Greg Allen's Fringe Religion to The Spotlight Tavern in Beverly on Saturday August 2 Thank you Terry!! (we're honored you used all Blowfish BGN pics for your poster Terry!)
In Boston on August 2 & 3 there's the Boston Fuzzstival at the Middle East....check out this Line up…..28 degrees Taurus, Abadabad, Atlantic Thrills, Beware the Dangers of a Ghost Scorpion!, Black Beach, Creatorus, Dinoczar, Doug Tuttle, The Fagettes, Fat Creeps, Ghost Box Orchestra, Gymshorts Magic Shoppe, The New Highway Hymnal, and , The TeleVibes
And in Allston on 8/2 you got the Sprained Ankles, Hope + the Husbands, Das Muerte and Tsunami of Sound at O'Brien's
And At The Sinclair its suck'n'muck with The SuperSuckers and Muck & The Mires on Sunday August 3rd.
There was talk from Wayne about this but now we have a date: August 8th - at Store 54 - Jerri Cain Rossi (who we all knew and loved in Black Cat Bone), Randy Black and The Heathcroppers and Monique Ortiz returns to town with Alien Knife Fight. That's gonna be a great show folks!! Here's a great write up about Jerri Cain Rossi from Ribbon Around a Bomb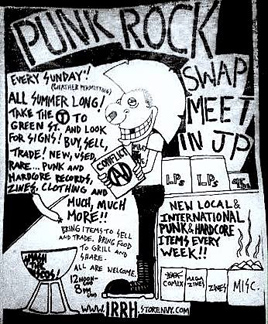 Friday August 8th - awesome Rock On Cruise with Aquanutz/White Dynomite/Petty Morals
Saturday August 9th there's a excellent show at Store 54 with My Own Worst Enemy and Apple Betty.
Sunday August 10th there's an afternoon show (4-8PM) at the Midway with Greg Allen's Fringe Religion, The Swindlers, The Skeleton Beats and The Knock Ups.
Saturday August 16th over in Allston O'Brien's has The FU's, MOTO, Round Eye and Daikaidju (sounds like a wild show!!)
On Saturday August 23rd start the afternoon off with Brian Young and Crash Course for the Ravers Show with his special guest this day being Willie "Loco" Alexander!! (WMFO 91.5PM 1-4PM)
It's Hixxmas in August folks! On August 23rd at Club Bohemia at The Cantab it's Hixx and Psychic Dog and more bands TBA...
August 29th has a good show at Church with Petty Morals, Tigerman WOAH, When Particles Collide and Miss Geo.
This should be an interesting evening...at The Cantab August 30th....The Sound Down Cellar, Nelson Slater (tentative), Annie Activator and the once a year gig by Love & Flame featuring Danny Rybar, Lady Carolyn and Joe Viglione along with Mike Quirk on bass, Kenne Highland on guitar. (they are on at 9:30) and The Guns of Brighton
We finally get to see Dave Minehan with The Replacements since they are on the bill for the Boston Calling Show September (5,6 & 7)!
But also put this on your calendar: At O'Brien's on Friday Sept 5...It's Fri Lisa & Malibu's 10 Year Anniversary Rock Off!!! Featuring: The Kurt Baker Band, The Connection, Tom Baker & The Golden Shower Band (Members of The Dirty Truckers & Watts)and ZipGun Bomber

And you definitely want to hit this show: Richie Parsons performing his Honey & Tears songs along with The Dictators NYC on September 5th at the Middle East down. Kim Ackland posted on Facebook about this "NYC" version: "No Top Ten, it's a new band with Dick, Thunderbolt, Ross, Daniel REY from Shrapnel ROCKS and Dean Rispler, as Ross said "the best bass player on the planet". They're awesome" ...and I love what Johnny Angel wrote about Honey & Tears on Facebook..."Listened to Richie Parsons' new disc "Honey and Tears" in the car. Buy the thing. It's one of the few things I've ever heard that pays loving tribute to 60's folk, psych and pop in the artist's own voice without descending into period piece parody. Buy the thing." So where can you get it?? You can download it from iTunes for one.....or Bandcamp.....where you can download or order the CD or the vinyl! or hunt Richie down and buy one from him. Or you can get one at this gig if you can wait that long.
Oh yeah on Tuesday September 9th at the Midway Brian Young hosts a show with Johnny & The Hartebreakers, The Classic Ruins and Tsumani of Sound....so um, this "Johnny and The Hartebreakers" better be good......or Mr. Harte may say "Who needs you" I hope they make me shake out of control.
Crash Safely is coming up in September - here's some news from Vanyaland on that!
The Legendary Shake Shakers are coming to the Middle East down September 12th.
Saturday September 13th is Matt Burns' 60th Birthday Party! He's celebrating at The Lizard Lounge. So far the bill includes Litehouse, The Handymen, Kenne Highland, and more bands to come.....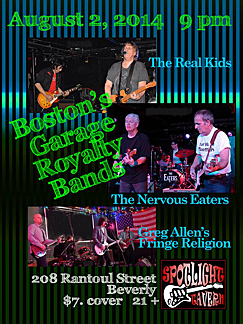 There's also a excellent show at The Midway on Sept 13. Cal Cali brings us Lyres-Nervous Eaters-Cal Cali Band- The Invaders (Les Envahisseurs-from Quebec) - whew!!!
And at TT's in September there's a couple great shows coming up - Sunday Sept 21 is Queerstock 2014 with Gunpowder Gelatine, Thalia Zedek, The Kitchenettes and Fur Purse and to finish off the week on a definite , awesome actually, punk note Friday the 26th they have The Angry Samoans, Reagan Youth, Burning Streets and The Welsh Boys opening the night.
The Rat Beach Party set for September 14th& 15th you get all the info on their Facebook page
September 14th -a Sunday daytime show- at the Midway will bring us The Members!!
October 5th - a Sunday daytime show at The Midway will bring us The Vibrators!!!
And September 22nd at the Middle East up is a great show with Shonen Knife and Petty Morals.
The Damned are touring this Fall with TSOL. They are playing Halloween in NYC but playing Boston on Saturday October 25th at the Royale...tix here....
CONTACT US AT.......misslynbg@yahoo.com Send us your gig listings, your news and anything else ya got!!