The BGN News Archive
July 22, 2013
This past week I think we were all just beaten down to a bloody pulp in a pool of sweat by the freaking horrible heat!! We got nuthin' to report except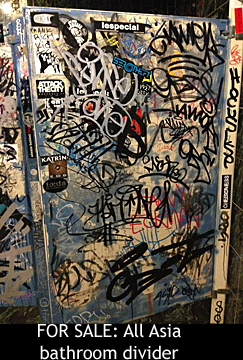 All Asia had a Liquidation Party this past weekend and was selling stuff from the club....um, eeewwww!!! the Men's & Ladies rooms bathroom dividers??? If you were in the club recently you'd be grossed out too!! Here's photos and a list of items
its gettin' busy folks...lots of amazing shows to see!
Wayne Viens has a stellar event this Wednesday July 24th at 8PM at Store 54...Byron Coley and the prolific Chris D (of LA punk band the Flesh Eaters) will be doing a reading
This very Thursday 7/25 The Weisstronauts are at The Plough & Stars....
Sidewalk Driver headline at TT The Bear's this Friday the 26th
This Saturday July 27th - After a very successful Punks for Pets show down in Providence RI and a Sunday delivery supplies to Pet Shelters there - Jenn Kitten and her band The Sour Do Dahs come to Boston (well, Somerville) to play at PA's Lounge in Union Square with The Lyres and Detroit Rebellion alright!!
If you want to do something on the north shore that night there's Two Saints, The Ungraded & Greg Allen's Fringe Religion at the Sand Bar Grille & Tiki Bar in Lynn (714 Washington Street, Lynn MA) ....
Duck & Cover plays on July 29th at O Brien's with the Pity Whores!
I'm going to officially make Wednesday July 31st an August night because this August has some crazy awesome gigs happening: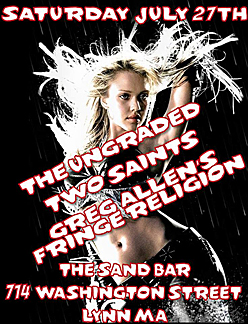 Sonny Vincent is coming back to town!!!He's at Radio (downstairs) on Wednesday July 31st!! and he's sharing the bill with The Classic Ruins-who have special guest JJ Rassler on guitar for the night- awesome! And you can thank Kim Ackland for getting this gig together!! That last show in May 2012 was killer!!
Friday August 2nd with Ragged Old Flag (Jesse Von Kenmore on drums!!), is at The Midway with Slaughter House Chorus and Southern Lust Club
Saturday, August 3rd is another night of many amazing shows: there's an awesome bday party for Frank Strom at Radio Up with The Lyres, Muck & The Mires, The Monsieurs, and The Sprained Ankles!!
The Middle East Down has a great show with Cocked N' Loaded (its their 10th Anniversary!), Mellow Bravo, Motherboar (this is their farewell show), Bearstronaut, Wild Zero (its their reunion show) and I Am Become Death- phew!!
Moose and the Mudbugs at Seaport Cafe in Salem - on the 3rd
O'Brien's has another BBQ on Sunday August 4th it's the Boston Bloghead Punk 'N' Roll BBQ with The Darker Hues, Horse Mode, A Minor Revolution, Cult 45, Acro-brats, Zip-Tie Handcuffs, Tired Old Bones, Dead Cats Dead Rats and The Old Edison
Bob Colby's Second Thursday is a good one on August 8th at the Cantab, the focus is on garage and old-school Boston rock, four bands for $7 (cheap!) Oh yeah and its for The Grave Dancers, My Darling Pet Munkee, Moose & The Mudbugs and Kenne Highland and his Clan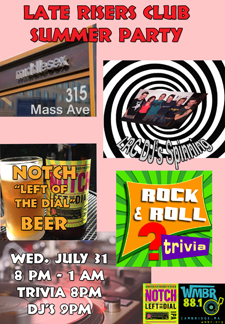 Friday August 9th is another fun and crazy Nicole Tammaro event at Radio - it's the Johnny Cask Corned Beef Hash Cook Off yup you read it right my friends...get there at 8PM to sample some fine corned beef hash and cast your vote for the best one...she's got 10 cooks a cookin'....then you can listen to the following perform excellent Johnny Cash songs for the rest of the night: Jay Allen and the Archcriminals, Rick Walker, The Civil Warblers, Dave Wells, Ian & Smokey from Spectrehawk and Josh &Jenna from Spit Shiner
August 10th the Sour Do Dahs are at Radio down....get over there and check out they are great!!
Thursday August 15th is your chance to catch The Upper Crust along with Devil on Horseback at Precinct...remember that place?...another nice club that barely ever has any good gigs nowadays.
And the good gigs just keep coming with Gurlzzz night (with a couple of guys thrown in for good measure) at TT's Friday August 16th - on the roster you got Petty Morals, The Charms and B.L.O.W.W.
Saturday August 17th DJ Easy Ed presents a very special night with Roy Sludge's Roots Rock Spectacular!!! Starring Leah and her J-Walkers, the Roy Sludge Trio with Jim Hagerty and Judd Williams!!!, The Barley Hoppers with special guest Frankie Blandino on steel!!! And Easy Ed's Record Hop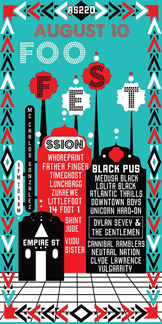 Watts are supporting Cheap Trick at the Hampton Beach Casino Ballroom on August 25th.
Friday August 30th The Queers are at Church (with The Dwarves)
and there's a great show at Radio UP with Ragged Old Flag, The Scars and Radiator Rattlers....
Oh yes Mark the calendars folks coz James Straight & The Wide Stance are on A Crash Course for The Ravers (WMFO 91.5 FM) from 1-4PM on Saturday August 31st ....and as The Reverand Joe Fagan says: "This is web streamed folks so you can tune in on your smarty pants phone from where ever you are!"
Richie Parsons is getting visited by his friends in Italy again and luck for us they also are in great bands and play gigs in town when they are here...Sunday Sept 1 at Radio Giuda will be headlining also on the bill The Kurt Baker Band and The Legendary Rockin' Prophets and Dan Garrison...we hear the Axe will be playing too....
Pere Ubu is at Brighton Music Hall Saturday, September 4th!!!
There's a special show on Monday September 30th at Charlie's Kitchen with Unnatural Axe, Kepi Ghoulie and special guests all the way from Italy: Miss Chain and The Broken Heels...Richie says he has loads of new material they'll be performing!
Richie also has said on FB that " since 2007 I have been writing a ton...and have been recording with many friends over the last 2 years. Usually about boring stuff like old guys do. ...some covers,stuff like wanting to feel the feeling of falling in love for the first time, again. My trips to Italy & meeting so many wonderful people fueled this. "
To do those new songs he has booked OCTOBER 1st at the Beachcomber, Quincy with Kepi Ghoulie, Miss Chain and the Broken Heels, New Frustration, and Richie Parsons 10 Song Set.
October 12th - Cal Cali's Rat Reunion - save the date....Master of Ceremonies: Oedipus!!
There's also a Rat Beach Party brewing for sometime in early September though there is no specific date as yet...though they do have a beach front venue at Nantasket Beach....
EMAIL US AT....misslynbgn@yahoo.com