The BGN News Archive
July 23, 2012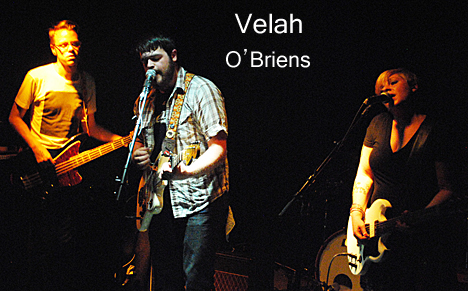 Story for this week - Blowfish and Miss Lyn go to O'Brien's:
Blowfish: We had one of the joys of mid July on Saturday, that is to say a parking space on Harvard Ave right near O'Briens. That all changes in September but that's Boston for ya.
Miss Lyn: There were a few spaces around….amazing!!
Blowfish: O'Briens was about half filled and Velah was on. They have a sound that many groups are going for lately a moody fuzzy slightly psychedelic soundscape. To get this you use effects pedals of which I counted about 27 on three homemade boards. All in all I thought it worked. They weren't overpowering but had good volume and put in a good punch when they got worked up. The woman singer had a clear high voice that topped and cut through the echoed sound to give focus to the songs.
Miss Lyn: I liked Velah…they really brought to my mind the Cocteau Twins especially with Jen Johnson (formerly of Static of the Gods) singing a lot of the songs…though she had a very different delivery from Elizabeth Frazer, harder I would say. Their bass player switches from bass to keyboards during the set and I definitely preferred the sound of the band as a whole when he was on bass. The keyboards sounded a little shrill. But I still listen to the Cocteau Twins so I was liking this band. I've actually been waiting years for a band in Boston to sound like this…a band I could see live - Velah made me happy!
Blowfish: The audience gave them plenty of attention and a good response. But immediately after their set a lot of the audience bailed - leaving a smaller crowd for The Suicide Dolls.
Miss Lyn: I frankly can't remember why I have been wanting to see the Suicide Dolls…maybe I saw them on some bills with other bands I liked or maybe it's their name…but we tried to see them a couple/few months ago at Radio and either missed them or the bass player wasn't with them that night…we left confused…
Blowfish: This band had more of an image. The bass player had the red streaked hair and black dress, the guitarist was real scruffy looking. They start with a wash of feedback. They too had some sections of psychedelic sound sculpting but much harder edged than Velah. They had a lot a moments where it worked. It didn't move me a lot but I liked it good enough and felt like I had a satisfying dose of the rock for a July night.
Miss Lyn: More of an image??? Um…the bass player Michelle Montavon completely carried the image this band had...she looked wicked cool, had an great stage presence and I liked her bass playing. The guitarist and the drummer wore those awful neo hippie polyester patterned shirts and the guitarist hadn't washed his hair in easily 6 months. And it's too bad the guy has amazingly piercing pale blue eyes and he also does some awesome stuff on the guitar!! And he didn't have a mega sized effects board either - he just knew how to play it….they had a oft hypnotic sound happening with lots of interesting lead guitar bits in here too!! I really loved this band…and was happy after several months of trying to see them to finally catch the Suicide Dolls!!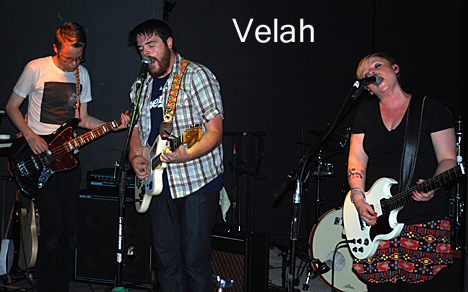 Now for what's up out there…
Well there's a couple interesting Kickstarter projects we want to tell you about:
Ducky Boys are raising money to record a new full length 'album' Hey for $1 you get a high five from a band member and of course as the pledge amunt goes up the gifts get way better!!
John Surette (Boy's Life) is putting together a Punk Rock Opera called "Tomorrow The World" and his list of musicians is very impressive: The musicians and singers appearing in the Rock Opera are Johnny Blazes (the Pretty Boys), Dennis McCarthy (Ape Hangers, Prime Movers), Bo Barringer (Future Carnivores,Me and Joan Collins, BRO), David Minehan (Neighborhoods, Woolly Mammoth), Mali Sastri (Jaggery), Marnie Hall (Robin Lane), Joel Simches (Count Zero, BRO) Tee Jay (Walter Sickert and His Army of Broken Toys, Pretty Boys) a reunited BOYS LIFE!!!!! John Surette, Robert Weiner, Chris George, Neal Sugarman (Sugarman 3, Sharon Jones, Amy Winehouse). They are at the halfway mark and and need your help to finish!!!
So its final - WFNX is no longer - WFNX Boston Accents Funeral Party at Great Scott's in Allston - it's a three night affair: NIGHT 1: Monday, July 23 you can see: Viva Viva, Ribs, Earthquake Party and Fat Creeps - NIGHT 2: Tuesday, July 24 is - NIGHT 3: Wednesday, July 25 is Gentlemen Hall, Black Light Dinner Party, Bearstronaut and Stereo Telescope…… They are goin' out with a wicked bang and you can get your tix here. Tickets: Three day pass: click to purchase!!
Jerry LeHane's Friends of Sisco and Cibulsky Benefit is here this ….:
Friday night, July 27 it's The Flies (first reunion ever!), The Bristols Piranha Brothers, Sourpuss and the Hired Men (with Peter O'Halloran) .
On Saturday night July 28 it's Dogmatics, New Frustrations, Lucky 88's, and Lenny Lashley.
The show's at the Johnny D's in Somerville. Tickets can be purchased online here , and in advance for $16 at the club and if still available (coz they are going fast!!) , $20 the night of the show. The show is 18+. Proceeds go to benefit the Pan Mass Challenge and local musician Peter Sisco.
there's a LOT Happening on the 28th -
you can start it early with a 3-8PM show at The Midway in JP - this is a good one!!: The Stretchers, Brunt Of It, Bad Lieutenants, AntiBodies and The F.U.'s
Hey also on July 28th -James Straight and The Wide Stance are playing at the Cantab along with the Beachcombovers and Litehouse ….
And then we got some stuff coming up in August you'll want to plan for:
Thursday August 2nd, Merle Allin and his band of marauders - The Murder Junkies are playing at The Cantab (oh this should be GOOD!!)
Up on the North Shore The Nervous Eaters are playing at the Spotlight Tavern in Beverly on Saturday August 4th…..
We have birthdays to celebrate in August:
Friday August 10th is Night of the Living Larry - at O'Brien's when we celebrate a 17,851 consecutive-day living streak by Larry Litigot so this also means we get to see him perform all night with Penis Fly Trap, Padded Hell and Jay Allen and The Archcriminals….also on the bill while Larry takes a break is Kermit's Finger
Of course there BC60 - The Bob Colby 60th Birthday Party at TT's - It's getting close!! Sunday August 12th- at this point there are so many bands I think the show will have to start at 9AM!!! But seriously folks it starts at Noon and goes til midnight- it's a huge ton of all awesome bands including Mary Lou Lord, My Own Worst Enemy, The Classic Ruins, Port Charles Quintet, Willie Alexander , Kenne Highland …and there'll be plenty of BC faves like Shepardess and Nina Violet….I'm taking Monday off that's for sure!! Bob says that if this show goes well (Um, Of Course it will Bob!) then he'll be booking a lot more shows in the future.
There's a couple great shows at The Rosebud (Thanks to Cal Cali & CaliCo Boston again, another one that's doing some awesome shows)
The August 11th Cal's got the a pretty amazing show: he's got Nervous Eaters at the Rosebud but also on the bill is Billy Rath ( former Heartbeakers!!) along with The New Frustrations
and on August 18th It's a Hixx Summer Night with Hixx, The 360's, The Illyrians and Cal Cali's New Experience and Lynette and the Longshots (which has Lynne from the Stumbleweeds up front)…..
And right from Richie Parsons: Unnatural Axe will be their ONLY Boston appearance for 2012 at Radio on September 2nd and to make it even more special he's bringing over a band called Guida…from Rome…here's their song "Number 10"
SWANS are at The Paradise October 11th!
….And of course everyone is buzzing about the Human Sexual Response reunion…All the original members…at the Paradise on Saturday, November 10th better grab those tickets soon...
EMAIL US AT…….misslynbgn@yahoo.com