The BGN News Archive
July 24, 2017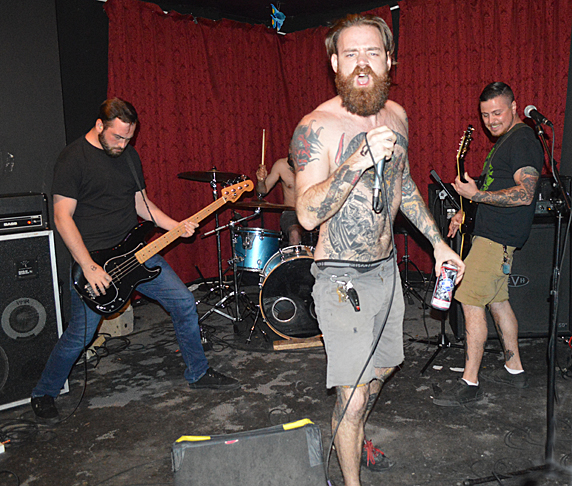 Ritual Blade
Photo: Blowfish
It was a hardcore bill at O'Brien's on Wednesday that got us out. As we got there the group on stage was on its last song. Near the end of that the singer ran off the stage through the crowd and out the door. The band was still playing. People were laughing. It reminded us of March 2005 when Richard Nolan of Third Rail did the same thing but in his case he ran out of the club into a frigid cold night!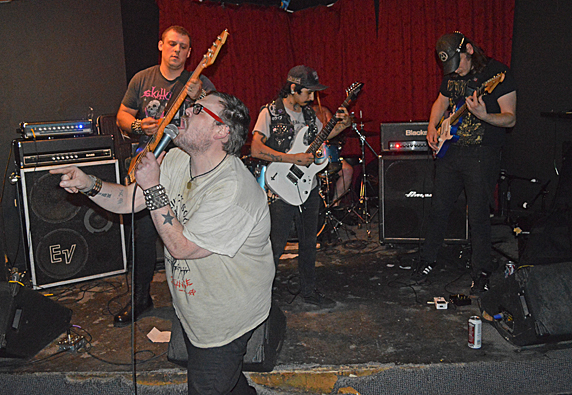 Compassion Fatique
Photo: Blowfish
The next band up was Compassion Fatigue. The drummer was dressed in a mere G-string. (Oooo- lookie here)
While the band was setting up there was a tired looking guy in front walking around. Turned out he was the singer and while he wasn't the most athletic guy in the world he had a lot of energy and it was all centered on his vocal chords. He was pacing on the floor in front of the stage and occasionally getting in people's faces. He reminded us of Larry Lifeless of Killslug at times. We learned to love him.
The band's hardcore sound was chaotic but they were actually disciplined. They were starting and stopping on a dime. It was all worked out. They did a lot of segues that were led by the bass player who was nimble fingered even though his sound was distorted and aggressive.
The singer kept stealing the spotlight. Lyrically it was a lot of F this and F that and we heard him yelling about a nightmare at one point. They faked an ending and then the singer flailed around and there was a sort of coda. Entertaining.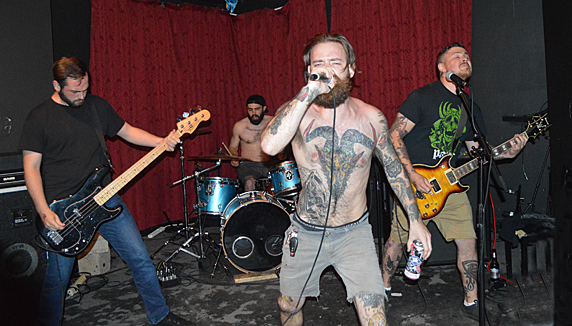 Ritual Blade
Photo: Blowfish
Ritual Blade was serious hardcore. It was that fast, loud and intense version that makes you feel like you are getting hit with something. The lead singer was bare chested as he sang like his life depended on it. You can get the idea on their bandcamp page but this is best experienced live. Nothing compares with getting the full brunt of the attack. There was some moshing and at O'Brien's there's not a lot of room but it was controlled enough.
You always wonder how a singer like this one can yell at the top of his lungs for so long. This guy was full bore and only slacked off a bit on the last song as he was drained. Alas that's the video we have but it will still give you an idea of how they sound. This was a band to catch again.
It was back to O'B's the next day. We walked into a fullish club and it was hopping with the Nice Guys doing their lose garage punk. It was their last song. We misjudged the begin time and missed the set. We do wish they would post the set lists on the O'Brien's site. (hint hint hint)
Zip Tie Handcuffs
Photo: Blowfish
We did get to catch another set by Zip Tie Handcuffs. We love this corner of psych pop punk that they've made their own. The lyrics can be oddball yet interesting, like what happens when you fall down a hole that goes through the earth? They have the ability to summon up a frenzy with the first note. It's a combo of the busy drums and the way the bass player hits his notes with up and down strokes. There's a lot of chords too. There is a lot of creativity and rule breaking in the songwriting. A song lurches in an unexpected direction or even just stops cold. Sometimes the chords seem to change in a mechanical way, like three steps up – one over – back, then three down. And they know how to make that work. They're a clever bunch. The crowd gave them a vocal response like they did with the Nice Guys.




Easy Ed
Photo: Blowfish


We try never to miss one of DJ Easy Ed's nights. The Midway had one on Saturday as part of this month's Dirty 30 Anniversary for the club. It was a lineup of four Rockabilly bands with Easy Ed spinning cool tunes in between.
As Ed was spinning his records we were trying to ID them. They're on the unusual side so we fail. We wish he would posted a set list somewhere so we would some way to knowing what he was playing. Other than that we just listen and love it.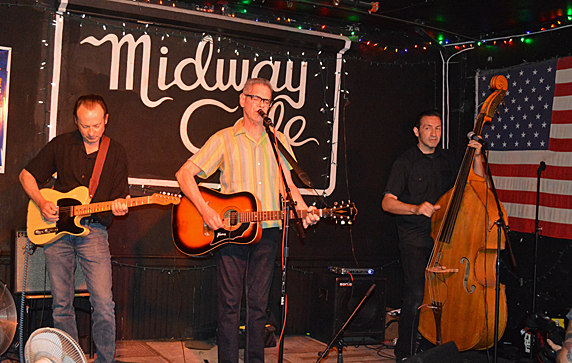 Roy Sludge
Photo: Blowfish
Roy Sludge started the night. Roy performs in many configurations. This night it was a trio. He had Johnny Sciascia (of the Cranktones) on bass. The guitarist was Jim Scoppa, who was the first in a line of superior guitarists for the night. He played fills all through the songs and his touch was smooth as silk. He was in Duke Levine territory and there aren't a lot of people in that territory. His playing earned many rounds of applause.
Outside of the fact that you are in guitar heaven Roy has his humorous truck songs. He did his hits like Back the Truck Up an ode to the trucks going down Storrow Drive and hitting the low bridges.
Roy is known for his naturally low voice. It's always a shock how low he can go no matter how often you hear it. At one point he closed a song with must have been his lowest note. That note is the lowest tone we have ever heard issued by any living entity. It rattled your innards.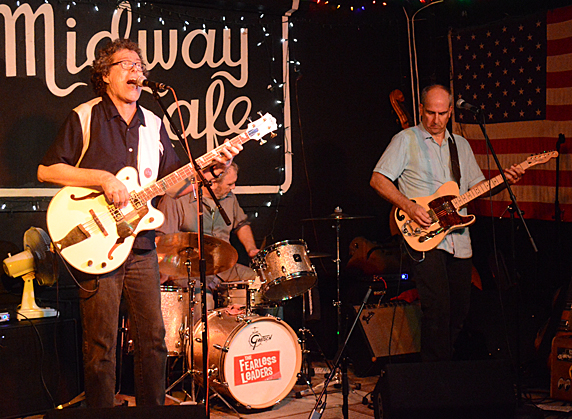 The Fearless Leaders
Photo: Blowfish
The Fearless Leaders from Worcester added English Invasion into their Buddy Holly influenced rockabilly. They went back and forth. The English Invasion material was very much in the early Beatles Cavern style. The other material was in the Buddy Holly/Tex Mex area. They covered Farmer John by the Premieres but transformed it with their own distinctive bass line.
They had the same good time attitude as the other groups tonight but stuck out because of the their distinctive combo of influences.
The Barley Hoppers
Photo: Blowfish
Providence's Barley Hoppers do their thing without a drummer. In our regular punk world this is heresy but when they do it we don't even notice. How the hell? It's that they play with such easy grace and natural rhythm. This is music that makes you feel good. They do Lonesome Town that captures it's wallowing-in-solitude mood. On this guitarist Ray Reniere places notes slowly bent with the whammy (on his orange Gretsch) that mimic the way Rick Nelson approached a note. Ray has tons of fills that he rolls our effortlessly.
They do Seven Nights to Rock (also done recently by the Connection) the 1956 ditty by Moon Mullican. They go into country with a covers of Johnny Cash twice (Ring of Fire was one song) and Honky Tonk Blues by Hank Williams. The Barley Hoppers did what all the groups did on this bill; make sure the song is quality and sung to perfection and then lay on a plethora of guitar riffs. It works for us.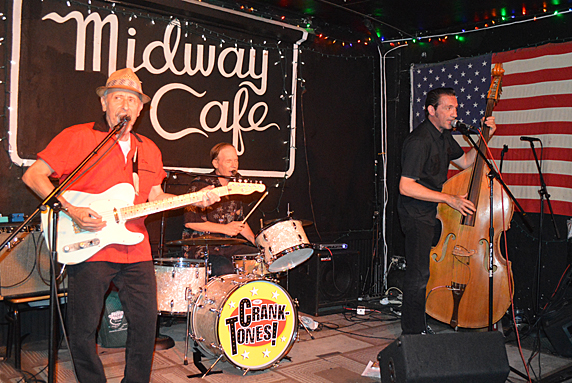 The Cranktones
Photo: Blowfish


The Cranktones are the headliners and they are the royalty as far as New England rockabilly is concerned. You don't have to be told how good guitarist Cranky Frankie Blandino is, it's obvious after seconds of playing. It's not just the riffs but the way he delivers them with the light touch of a virtuoso. He brings in his knowledge of rockabilly, surf and jazz and they get blended together for his jaw dropping playing.
They did an instrumental (don't know the name) which had some deft playing that recalled the best of Nokie Edwards of the Ventures.


You think you might get guitar fatigue after the three previous groups but when the Cranktones startup it's all new again. The bass player was Johnny Sciascia who did double duty which was also the case for drummer Stan Kozlowski who also played guitar for the Barley Hoppers.

We were glad the club was full up for this bill. We tell you every time to hit these Easy Ed shows and we're telling you again.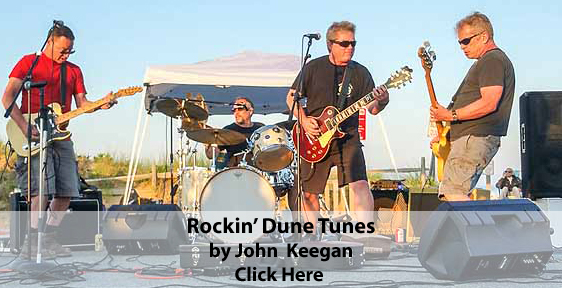 ---
And in other news ....
Again we want wish The Midway a Happy 30th as they go intot heir 2nd week of their Dirty 30 Celebration!! Here's a great article on the club from WBUR: Read it here.
---
Here's some good shows coming up .....

July 17– July 30: The Midway's Dirty 30th Anniversary Celebration Spectacular (see below for particulars)
July 26 (Wednesday) Thrust Club, sister, Death Cloud and Double Star are at The Midway
July 26 (Wednesday) Black Beach, Bike Thiefs, The Owens at O'Brien's
July 26 (Wednesday) Hammydown, Colbis the Creature, Ozlo at O'Brien's
July 27 (Thursday) Actor|Observer, Born Without Bones, No Hope / No Harm, Backwards Dancer at Great Scott
July 27 (Thursday) Brain Solvent Propaganda Presents: Una Bèstia Incontrolable, Bombers, Video Filth, Innocent at The Middle East Up.
July 27 (Thursday) The Upper Crust, Supersuckers and Salem Wolves at ONCE Ballroom
July 27 (Thursday) Hambone Skinny, Detroit Rebellion and Jon Bach are at The Plough & Stars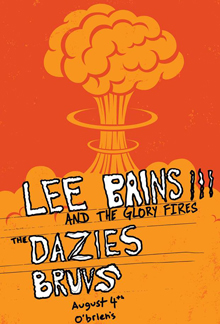 July 28 (Friday) The Scandals, Neutrinos, Burning Streets at Dusk in Provi...early show 7-10PM
July 28 (Friday) My Aim Is True turns 40 - A Night of Elvis Costello covers with three SUPER Groups you won't want to miss - members include Anthony Kaczynski, Jonathan Screnci, John Sheeran, Melissa Gibbs, Charles Hansen, Tom Baker, Linda Shore- and more!! At Sally O'Brien's check otu the FB page
July 29 (Friday) The Knock Ups, Endation, Dalton Deschain and Girl On Top at PAs Lounge
July 29 (Saturday) The Scandals, Burning Streets, Michael Kane & TMA and The Lot at The Midway - afternoon 4-8PM show
July 29 (Saturday) The Electric Queens record release party with pals Creaturos, Beware the Dangers of Ghost Scorpion and Dandy Sherman at The Lilypad Inman Square. 10PM start.
July 29 (Saturday) The Real Kids, Muck & The Mires, Watts and Gene Dante & The Future Starlets night 13 of the Midway Dirty 30!!
July 29 (Saturday) Night Birds x Peacebreakers, Conmen x Western Addct, Wound Man at 55 Bishop Allen Dr, Cambridge, MA 6PM-11PM
July 29 (Saturday) Out in wistah at Ralph's - State of the Union
And further out....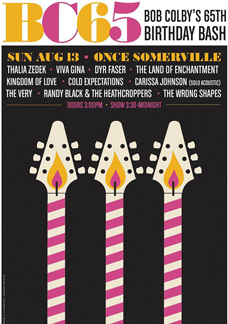 July 30 (Sunday) Fast Times Nervous Eaters, BarRoom Heroes, The Revilers -4-8PM at The Midway!! Night 14 of the Midway Dirty 30. at The Midway
August 5 (Saturday) Brian Young's A Crash Course for the Ravers has Carissa Johnson - on WMFO 91.5 from 1-4PM
August 5 (Saturday) Coffin Lids, Downbeat 5, Other Girls, Bunch of Jerks at Sally O'Brien's
August 5 (Saturday) The Silver Mirrors, Instant Shawarma, The Facc-Tones and The Sound Down Cellar at The Midway
August 5 (Saturday) The Knockups, The Caught Flies, Black Hatch and the Labor Pains are at The Chit Chat Club in Haverhill
August 5 (Saturday) Rancid and The Dropkick Murphys are at the Brockton Fair! 4:30-9Pm check out the FB page
August 6 (Sunday) Loser's Circle's Record Release Show! they are back from their US tour and celebrating their new release on CD and vinyl! at The Midway FB page
August 6 (Sunday) World/Inferno Friendship Society with Diablogato and Stars Like Ours at The Middle East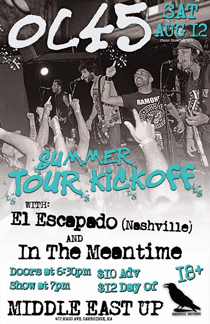 August 8 (Tuesday) Weakened Friends are at O'Brien's
August 8 (Tuesday) Poptone...which is Daniel Ash and Kevin Haskins from Bauhaus, Tones on Tail and Love and Rockets are at The Paradise
August 11 (Friday) The Way Ways (EP Release), Today Junior, Andy Sadoway at Great Scott
August 11 (Friday) Michael Kane and the Morning Afters, Scotchka, Kreisau Circle, Kato Kaelin at O'Brien's
August 12 (Saturday) They're on the road again - OC45 Summer Tour Kickoff! feat. El Escapado, In The Meantime at the Middle East Up for an early-ish show 6:30 PM - 11:55 PM
August 12 (Saturday) The Modern Voice, Black Helicopter, Wrought Iron Hex, Scuzzy Yeti at The Midway
August 13 (Sunday) Pinkerton Thugs all ages punk show at The Middle East = also on the bill The Warning Shots and Duck and Cover. This is a daytime show- 1-6PM Check the FB page for more info as it is posted.
August 13 (Sunday) - This is Bob Colby's 65th Birthday Extravaganza - it is also he LAST show in Boston!! Viva Gina, DYR FASER, The Land of Enchantment, Kingdom of Love, Cold Expectations, Carissa Johnson (solo acoustic), The Very, Randy Black and the Heathcroppers and The Wrong Shapes. At Once in Somerville and the show runs 3PM until Midnite! FB page
August 14 (Monday) The Silver Mirrors, Spo, Scotty & The Gang at Great Scott
August 15 (Tuesday) No Time, Concrete Elite (tx), Savageheads, Cinderblock and Piss Dogs at Ralph's in Worcester.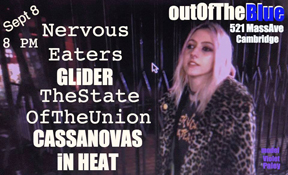 August 16 (Wednesday) Salem Wolves, North by North and Day Grazer at O Brien's
August 19 (Saturday) Ocelot Records Presents: The Tenafly Vipers, Bucky Harris, A Minor Revolution, The `88 Rangers at O'Brien's
August 22 (Tuesday) OI!! - Rixe (France), The Brass, Bombers, Security and The Stance at The Middle East Up
August 24 (Thursday) The Surfrajettes, Tsunami of Sound and The Beachcombovers are at Regent Theater in Arlington (FB page)
August 25 (Friday) Eyehategod and The Cro-Mags at The Middle East Up (FB page)
August 25 (Friday) When Particles Collide and Petty Morals at Fury's Publick House in Dover NH
August 27 (Sunday) Stop Calling Me Frank, State of The Union, The New Frustrations, The Only Things at The Midway - afternoon show 4-8PM
August 27 (Sunday) Brian Young's A.C.C.F.T.R. featuring Casanovas in Heat! 91.5 WMFO 1-4PM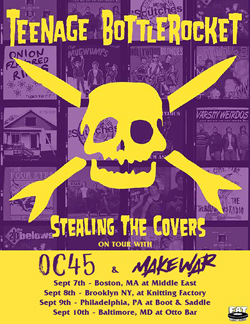 September 7 (Thursday) Teenage Bottlerocket, OC45 and MakeWar at The Middle East
September 8 (Friday) The Nervous Eaters and Glider , State of the Union and Casanovas in Heat at Out of the Blue Gallery Central Sq. here's the FB page to get updates.
September 9 (Saturday) The Stigmatics are on A Crash Course for the Ravers on WMFO 91.5 from 1-4PM
September 9 (Saturday) The Gala, Future Carnivores, Stars Like Ours and Courters at O'Brien's
September 10 (Sunday) A Giant Dog, The Dazies, Boston Cream at O'Brien's
September 10 (Sunday) GBH and The Casualties at The Brighton Music Hall
September 11 (Monday) Roky Erickson at the Brighton Music Hall. WOW!! Get yer tix here.
September 16 (Saturday) Boston vs Tokyo Rock n Roll Showdown with Muck And The Mires, The Fadeaways (from Japan), Mellvins (from Japan), Jittery Jack at O'Brien's Pub
September 16 (Saturday) Chameleons VOX At the Middle East Also on the bill: Soft Kill , Way Out and The Milling Gowns FB Page
September 18 (Monday) Duck & Cover and the Quiggs are at Once with a fake version of The Dead Boys...no Stiv no Jimmy Zero -how can you call that the Dead Boys?? sad.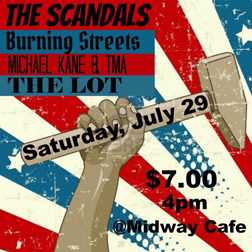 September 20 (Wednesday) X doing their 40th Anniversary Tour- at the Brighton Music Hall
September 22 (Friday) The Ataris and The Queers at The Middle East - this is an early show- 6PM -10Pm
September 28 (Thursday) Stiff Little Fingers are doing their 40th Anniversary tour they have Death by Unga Bunga opening for them - at the Brighton Music Hall
October 8 (Sunday) Petty Morals are having a Ballroom Blitz at Once Ballroom with a Flea Market and Art Show -also on the bill Muck & The Mires, The Dazies and Lady Pill (set times and more are on the FB page) It's 2PM- 8PM
November 4 (Saturday) Human Sexual Response at HOB
November 9 (Thursday) The Proletariat at ONCE Ballroom w/ Siege and Black Beach
November 10 (Friday) The Proletariat are at Narrows Center for the Arts w/ Black Beach in Fall River, MA (FB page for info)
CONTACT US AT....misslynbgn@yahoo.com -Send us your gig listings, your news and anything else ya got!! You want your CD reviewed?? Contact us for that too.
At Easy Ed's Rockabilly night:
Nicole Tammaro, Linda (Muck and the Mires) and Linda LeFever wearing a Sock It To Me dress from the 60's
Photo: Blowfish
Cranky Frankie
Photo: Blowfish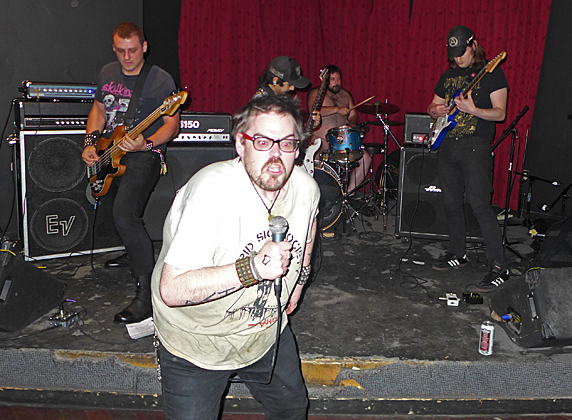 Compassion Fatique
Photo: Blowfish