The BGN News Archive
July 26, 2010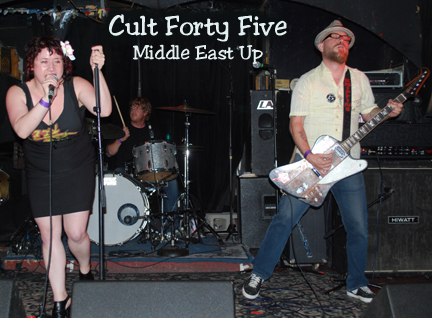 Went to the Middle East up this weekend for a chance to check out Treasure Maps and Cult 45. Treasure Maps were pretty interesting, sounded good, ....I liked the killer and powerfully heavy sound from the guys in Cult 45 but the singer didn't match. I kept thinking she should have been in a blues band or something. We owe the Treasure Maps some more listening time. We did hear 3 songs that had a west coast folk psych sound a la Buffalo Springfield say.
Coming up:
A BENEFIT FOR JOE COUGHLIN
Date: Friday, July 30, 2010
Place: The Midway Cafe, 3496 Washington St., Jamaica Plain
Featuring: John Powhida, Chandler Travis, Lenny Lashley, Roy Sludge, Richie Parsons, Classic Ruins, Philly Roy All-Stars, and a long awaited reunion of Johnny and The Jumper Cables….
$10 cover (more $ always welcome!) Every dime goes to Joe. IF you can't make it to the Midway there's a great night at The Rosebud in Davis Square on Friday, with Jay Allen and The Archcrimminals, The Coffin Lids and The Curses .
Also a very interesting PsychoBilly show at the Middle East down with Nekromantix, The Howlers and The Mutilators...whew!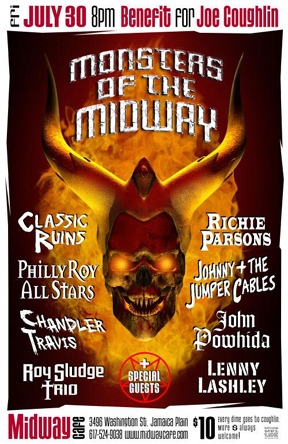 And next night, on Saturday July 31 there's a Nancy Neon Nite at the Cantab with Flashback 69 w/ former members of Thee Psychodaisies, The Last Ones , Jetset and Kenne Highland's Mad Dogs and Scotsman...
And this coming Sunday, August 1st at The Middle East Up there's an all ages afternoon (as in 1PM) show with Channel 3 and The F.U.s!! and in August we got a Union Sq weekend: with The Sprained Ankles, Muck & the Mires, The Opiods (formerly Black Mosettes)! on Friday, August 6 at Precinct.....
then the Somerville Rock'n'Roll Yard Sale 2010 is during the day: Saturday August 7 (in Union Square Somerville):
With tons of vendors selling everything from Vinyl Records and other music memorabilia, Vintage Eyewear and Apparel, to Local DIY Handmade Goods. See you there!!!
Also during the day omn Saturday August 7th is an excellent all ages punk matinee at the Middle East again, this one has Blood Stained Brindle, Bloodshot Hooligans, Revilers and Word for Word.
Saturday , August 21 is a big Nancy Neon Birthday Bash, at the Cantab with Ramones (former members of The Ramoniacs), The Varmints, Sticky Business" A Bubble Gum Tribute, The Arch McDonald Quintet and the Port Charles Quintet (this is their first gig with new guitarist Greg Allen)
And don't forget...the show at Club Lido in Revere on August 29th.
In celebration of the film: xxx ALL AGES xxx and it is also a Gallery East Reunion!
Boston pioneer hardcore punk bands DYS, Jerry's Kids, Gang Green and FUs will perform with New York City's Antidote and guests for a monumental reunion show ...AND the show will be featured in the film xxx ALL AGES xxx.
Rich Mirsky tells us that there is a new CD of The Devotions on Crazy 8 Records! Available now at Newbury Comics and online at CD Baby, Amazon, Itunes and more. Featuring 15 songs of the kind of blistering rock n roll you'd expect from John Felice. We won't let you down!!
Oh, there are so many fine products out there for us to purchase these days…beat the throngs to Aggronautix's for new 2010 GG Allin throbblehead doll!
"This ghoulish effigy is a smaller version of the original G.G. "1991" limited edition throbblehead that quickly sold out. The figure stands at 5 inches tall and is made of a lightweight polyresin. GG is accurately sculpted right down to the tattoos, blood, and filth. Mount him on your dash or on your hood, carry him in your pocket, take him everywhere!" and for only $14.95 he's a steal!! Oh and PRE ORDER NOW! (Shipping at the end of July.)
And if you haven't ordered yet: Lawless Records Axe & Nasties disc available! Here's the lowdown: a split 45 with Boston punk legends Unnatural Axe and the smoking hot, sexy Nasties from Italy.
Two songs each. A brand new Unnatural Axe song "I Am The Way". Their first newly recorded material in over 28 years!!! The second song they cover the Nasties "Back To L.A.'.
The Nasties side has a Nasties original, "Maybe" and a cover of Unnatural Axe's "The Creeper". There are only 290 pressed on mint julep green vinyl. Hand numbered. AND they are only $8 ppd for the U.S. and Canada. You can pay by paypal - contact Eric Law ...... also contact him for paying by check or money order.
OK, that's it.....

.... you can email us at: Miss Lyn email......