The BGN News Archive
July 27, 2009

We wanna wish the fabulous BeatGirl a wonderful birthday!! And then the sad news....an RIP for the Michael "Mikey Frustration" Scaglarini' Singer of The New Frustrations .....the band is bravely carrying on as a four piece for now....Here is a report on the New Frustrations gig in Provencetown on Saturday by Dave at Dave's Photo Blog.

also they are bringing rock n roll to the boonies now, this past weekend the Boize and Girl On Top played at a club out in Shirley Mass, woo, like where the hell is THAT??? wayyyyy out west my friends but these brave souls went out there and we got a pic of Karen DiBiassi...you may not recognize her since she has CLOTHES on they aren't black or lace or fishnet....that's an exclusive!! thanks Billy! I know the Boize are working on a new gig in Boston too....and we look forward to catching them soon!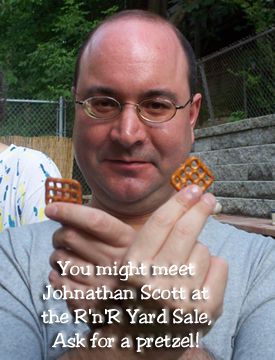 Here's a little "Where are they now for ya: we want to say HI to some people we haven't heard from in years and years...John Pitingalo!! Bass player for The Frantics, M.I.A.s, Moulin Rouge, The Assassins and The Fighting Cocks….he is married and has a bass playing son and is doing quite well out in Illinois!! Good to hear from you John!!... Also we heard from Paul Gaudreau!! Wow, he was one of our Kids Are Alright stars back in the day, he worked at Spit and had a great spikey hair and an awesome nose!!..glad to hear he is doing well too!!....
Hey so take note that every Friday Jordan Valentine is spinnin' soul music over at the Rosebud in Davis Square...check out the info at the Red Rose Soul Club site and get over there to move and goooooove baby....
The Crybabies return to the stage at The Midway Café THIS Friday July 31st and they have a new line-up: Artie Sneiderman- Lead vocals, Steve Aquino - Guitar, Danny McCormack - Guitar, background vocals, Kevin Mahoney (from Lucky 57 and Diamond Platinum Rings)on Bass, and Richee Johnson- drums.....don't miss 'em!!
THIS SATURDAY!! August 1st is the return of The Rock'n'Roll Yard Sale to Union Square Somerville! 3-7pm In Union Square Somerville...
the Somerville Rock & Roll Yard Sale is a free celebration of independent art, live music & other performances and is a showcase of the Somerville Arts & Cultural community. there will be a large number of varied sellers offering great music-related stuff as well as handmade DIY Art & Crafts along with lots of vinyl records & compact discs, silk-screened Posters t-shirts, vintage & locally designed clothing & accessories eyeglasses, jewelry, handmade cards & prints, etc . . . (and there'll be live music as well!!
Sunday, August 2, Spitzz are at O'Brien's ....
Thursday August 6th at The Cantab Club Bohemia it's the Frank Strom's Birthday Bash!!!! This party starts early with Corolla DeVille on at 8PM, then Hotrod Fury, , Black Mosettes and the Sprained Ankles
And of course coming up Friday, August 7th, at Church is Faster & Louder that's Richie "Swinging Dick" Parsons - vocals, "Fritz the Boss" Erickson - guitar, Johnny "Top 20" Black - guitar, Lee "The Lawman" Harrington - bass and "Johnny Rock" Lynch - drums
They will play the entire Bloodbrothers album by the Dictators and a few more 'Tators tunes.
and Saturday, August 8th at O'Brien's in Allston are The Curses, 007 Hundred Club, The Egos and Jay Allen and the Arch-Criminals

And in August, the 21st, At The Middle East UP to be exact it is the return of THE MARVELS!!! (here's their MySpace site) , Along with Dirty Truckers, Vagiant and Pulp 45....that is a most awesome show my friends and only to be equaled by....,
the NEXT night, Saturday August 22nd, at ME Up with the Midnight Creeps, Red Invasion and a couple other bands...OH...I'm at the ME that weekend!!
and to continue excellent music in to the week, on Monday, Aug. 24th, Charlie's Kitchen has The Curses, The Acrobrats and Noble Rot...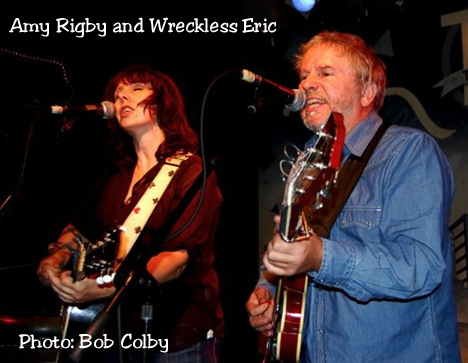 Wreckless Eric and Amy Rigby at TT The Bears.........by Blowfish


Not a crowd but a respectable amount of fans out for Wreckless Eric and Amy Rigby at TT the Bears on a Tuesday night. It's been so many years since Whole Wide World was a hit, but even now I couldn't let the chance go by. I neglectfully let another appearance go by about a year ago.
I was afraid that Rigby would dilute the Wreckless Eric experience but it was to the contrary. She added depth and feeling into the songs that probably wouldn't be there without her and two of the highlights of the night were lead by her; a version of Broken Doll and a surprise, You Tore Me Down, the Flaming Groovies' song.
Eric did many of his favorites: Semaphore Signals, Reconnez Cherie ,Take The Cash, Hit 'n' Miss Judy and of course - Whole Wide World.
Add Amy's songs in there, especially Dancing With Joey Ramone and it was a great collection of songs.
But a song list doesn't' tell the story. It was a funny and intimate night lead by the charming Eric. This is one funny guy. Any comment would spur him on to a story told in one of those Enlglish accents that just make you laugh right off. It would have been a great night just hearing him talk. The show lasted two hours and it went by in a flash.
Next time he comes to town, I'm there.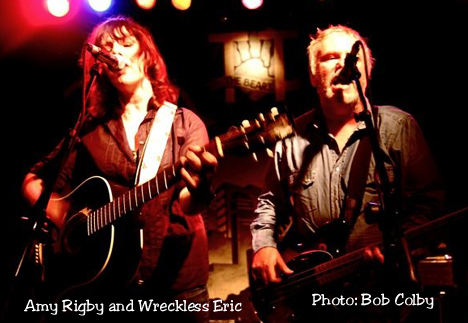 and here's some news...Cam Ackland and Dennis McCarthy's new band The Port Charles Quintet do their first show October 17th along with The Last Ones at The Cantab!!!
AND here's some interesting news...I got it straight from the band that The Real Kids will be playing some gigs at the end of summer/early fall and they will play ALL NEW SONGS, they are working on and practicing 10 new songs already! YAY...we look forward to that!!.....
Ok folks, that's it for this week.....click and write me!.... Lyn