The BGN News Archive
July 27, 2020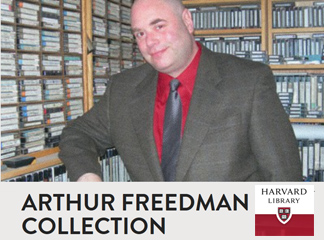 There's really only one person who has the problem of their large punk archives solved. That would be Arthur Freedman who has all his videos and tapes at the Harvard Film Archive. They are slowly getting the collection of videos in order and digitizing them. Right now they've added a series of vids at the bottom of the main page . Including Asa Brebner, Robin Lane, The Joneses, Mickey Clean and the Mezz and Classic Ruins.
Arthur also has his audio recordings at the Loeb Music Library at Harvard U.
Both of these collections need to have a lot of added info. Just before the Covid-19 hit Harvard was going to have a public wiki search at the Boston Public Library to fill in more info. They are now retooling that to a virtual online search party. But any band that was filmed by Arthur should go to the Harvard sites and see if they can add more info into the database. They need dates, playlists, posters etc. Contact Peter Laurence at the Loeb.
Boston really needs some kind of organized archive or museum to save all the amazing music coming out of our scene!!
The clubs may be closed but there are things to watch/hear online: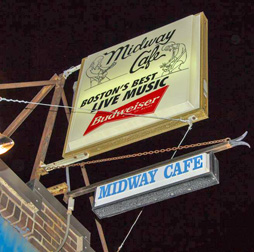 The Midway is further cranking up their regular streaming. A reminder that this Tuesday July 28 they will have A Bunch of Jerks do a set from 7 to 9 pm. Opening will be Dna's Evolution.
They've added another stream on Wednesday 7 to 9 pm with Linnea's Garden and Tysk Tysk Task. Here's the FB page with links.
And hey you must be dying to see Stop Calling Me Frank again! They're doing the Midway live stream on Sunday, August 2 from 6 to 9p. The Covid 19 pandemic came just as SCMF was to do an album release party. Here's the FB page with links
That gloriously messy Mess-Around continues to bring the good spirits with another show, a Poolside Mess-Around on Saturday, August 8 at 4 PM – 6 PM. They'll have Jittery Jack and Miss Amy Griffin, Johnny Carnevale, Dan Kopko, Justine Covault, Tom Baker and Jay Allen - Here's the FB page with
links These are always well done with fast moving sets and good audio.
The promo outfit Kids Like You and Me also have a podcast. On July 21 they did an interview with Hilken Mancini. Hilken has had a lot of experience on the punk scene. She had major label attention with Fuzzy, she's the guitarist in the Monseiurs, she does Punk Rock Aerobics, she even owns a vintage clothing store. They talk about Hilken's history and the Covid situation and what may be in store in the future. Listen here. And if you want more nfo on Kids Like You and Me...we interviewed them a while back. Here's that interview.
And speaking of interviews ...Olivia Deng of Boston Art Review interviewed Miss Lyn and Blowfish this past spring. That interview is in the current issue of the magazine (Issue #5 Summer 2020). Olivia is interested in the current punk music zines around Boston. We never go on about ourselves but we do consider The BGN to be the first and central zine on the Boston Punk scene and are proud to be positioned in a historically important time and place.
Olivia goes through some history and gets our opinions. She also interviewed Al Quint and Suburban Voice. Al is always interesting. Boston Arts Review is newish and does a great job in featuring interesting artists around town. There's a refreshing wide diversity in the art and artists, just what we need now. They look like they are capturing the present and the future to us. Check out their website and issue #5 here. You'll have to purchase a hard copy to see the Deng article though.
Every year there's New Zineland which is a place where all the current zines gather to show their material. It's run by SEEK + FIND Boston .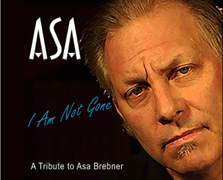 Larry Newman got generous air time on the Mike on the Mic show this past Saturday at 9 am. They played a generous amount of songs and Larry got all the time he needed to talk up the Asa Brebner tribute CD. We learned that Ralph Fatello did the cover/liner insert. There's a wellspring of good feeling and interest on Asa and his songs and his art.
Glider covers "Babes in the Bar" and put a Velvets backdrop on it. The recording is here.
Larry is also rehearsing with Andy Pratt, drummer Tom Symancyk and Billy Loosigian. We'd love to hear the results of that collaboration. Some new songs with Loosigian would do a lot for our frame of mind.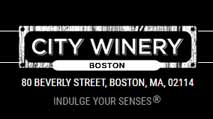 More clubs close ..... City Winnery is going into what they call a 'temporary pause'. On July 20: "In light of current challenging conditions and in the interest of public safety, we have temporarily paused our operations at City Winery Boston. The length of the temporary closure is unclear at this time, but we are optimistic that it will only last a short while. Ultimately, that timing will be dictated by uncontrollable factors that we are hopeful will work in our favor sooner than later." They still have and outdoor wine garden where they serve wine.
The Squealing Pig in West Roxbury is closing. They had the occasional rock act and DJ's like Easy Ed.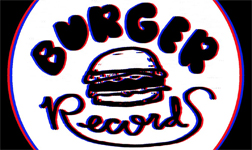 There's a disgusting and depressing story of sexual abuse on the punk scene out recently in Consequence of Sound. Members of Burger Records and bands on the label have been accused of … "curating" a breeding ground for predatory behavior and sexual misconduct. Additionally, sexual assault allegations have been made specifically against Burger Records signees and their associates, including members of The Growlers, The Frights, The Buttertones, SWMRS, and Cosmonauts, among others." It's hard to read. You think this behavior would be beyond the pale in this day and age….even though we know that's not true. Read it here. and ...It looks like Burger Records is going to shut down. Good call.

The Damned Show EP#27 has an early video of "Smash It Up"

The Damned Show Episode #28 has an instructional guitar lesson on how to play the intro to "Smash It Up".

The Damned Show Episode #32 reveals the hidden side of trainspotting by the Damned!!!

Far Out Magazine talks about Patti Smith's cover of "My Generation" . They say it is "the epitome of punk" and ..."It may sound a little obvious, but it's fair to say that Patti Smith is the Godmother of punk rock. Way before Johnny Rotten was spitting on anything that resembled an establishment, Smith was creating rock and roll that designed to agitate, performed to perfection, and filled with the impassioned intelligent destruction." How true!! Far Out talks about the version on the flip side of "Gloria". They go on about how great it is….we don't need the reminder but gladly listen to this anytime.

We saw Patti do My Generation (and the rest of her set) at the Paul's Mall/Jazz Workshop in January 1976!! it was an incredible show. And check it out here's the set list for that show.....and there's even a recording of one of the three shows she did then.

We have to give more attention to the Yum Yums' album For Those About to Pop! We just got to listen to the whole album beyond the teaser singles. We gotta tell you that this album is solid the whole way. It's bubblegum punk. It's fun and bouncy. All 14 songs are equally catchy. Like one and you like them all. They mine a lot of seventies pop styles and in "Say You Will Be Mine" they take up some 50s songcraft and that's a gem too.

Every now and then rock presents a singer with a big voice. We're talking the likes of Jay Black of Jay and the Americans or Tom Jones. Rum Bar is dishing up another example in the form of Freddie Dilevi from Seville, Spain. That's vocalist Pablo Velázquez, he hams it up on Teenager's Heartbreak. There's a nice cutting solo to keep up the interest. The CD will be released August 2020. You can preorder now at RumBar.

Mook on WMBR's Late Risers Club played The Unfit from Seattle on Friday. The song "Spin It" was a raw garage tune with a fantastic guitar tone. Going to their LP on Bandcamp we could hear that they carried those qualities all the way through the album. "Spin It" is still our favorite but the whole album is garage gem. Nice to see we can still get something like this in 2020. We have it on our BGN Top Ten Songs

And for your viewing pleasure check out the latest Muck & The Mires video Take Me Back to Planet Earth
---
Coming up.....
Online/Live Streaming stuff: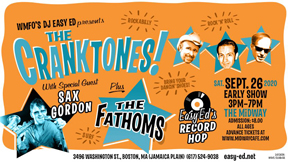 Tuesday July 28 - A Bunch of Jerks from 7 to 9 pm. Opening will be Dna's Evolution. Go to the Facebook page for the event!
Thursday July 23 -8 PM - Boston Emissions with Anngelle Wood - DJ VJ: Boston Emission's Anngelle Wood hosts a night of local music videos, commentary and more. FB page to get tix on Eventbrite.
Wednesday August 5 -8 PM (Rescheduled time) Martin Atkins - PiL chat on flowers of romance - Creative Entrepreneurship in the Time of Crisis on Once VV.
---
Gigs possibly, hopefully coming up....
September 26 (Saturday) The Cranktones, Fathoms, Sax Gordon, DJ Easy Ed! for a matinee show at The Midway 3-7PM
October 11 (Sunday) 145, Amplifier Heads, The Stigmatics and The Thigh Scrapers at the Midway - matinee 3-7PM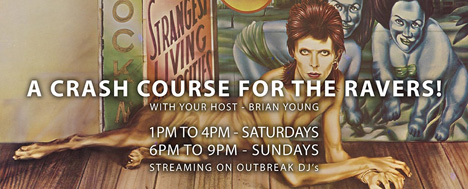 October 28, (Wednesday) Einstürzende Neubauten - The Year of the Rat Tour - The Wilbur Theater Facebook Page
Thursday December 17 -7-9:30PM - Talkin' to Dracula and his Crew: Goth subculture and horror, a lecture - Miskatonic Institute of Horror Studies Brooklyn NY FB page
January 16, 2021 (Saturday) New Date - The Schizophonics, Muck and the Mires at ONCE Lounge Early Show: 5:30 PM – 8 PM
February 17, 2021 (Saturday) Rescheduled - Swans w/ Anna von Hausswolff at the Paradise
April 19, 2021 (Monday) Rescheduled - Dead Can Dance at The Wang Theater
April 29, 2021 (Thursday) Circle Jerks Plus Special Guests at the paradise (this is a rekedged show) FB page
CONTACT US AT....misslynbgn@yahoo.com Send us your gig listings, your anything else ya got!! You want your CD reviewed?? Contact us for that too.


---