The BGN News Archive
July 28, 2014
There was a full club of fans at Great Scotts this past Friday July 25th, with this hardcore line up of The Blue Bloods, Taxi Driver, PanzerBastards and Razors in the Night. There were lots of tats and studded jackets but only one green mohawk in this younger than usual crowd.


PanzerBastards had an earth shaking low rumble and not much on the higher end. The singer was doing rants like a WWF meet. It prompted some moshing and it was very entertaining. They had one song where they shouted, 'bastard', over and over; I liked that.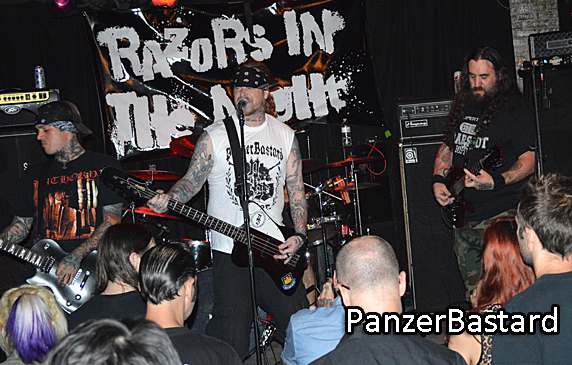 PanzerBastard were cartoonish but that is so not the case with Razors in the Night; they are more real. Everything is ramped up with them. It's more power, intensity, camaraderie and interaction. The mosh pit opened up and the energy increased. Troy the lead singer jumped into the middle of it a few times. This is a real band. Everyone contributes.
The drumming is busy and thundering and Swid is feeding the thunder with his always moving bass lines. The guitarists give the crunch and the fills. We always talk about Swid but every member has a stage presence (including Caleb the drummer which is unusual). Each could be a lead man in any group but of course this group has Troy. Muscled to the max, he's jumping and moving everywhere and doing whatever it takes to make the show work.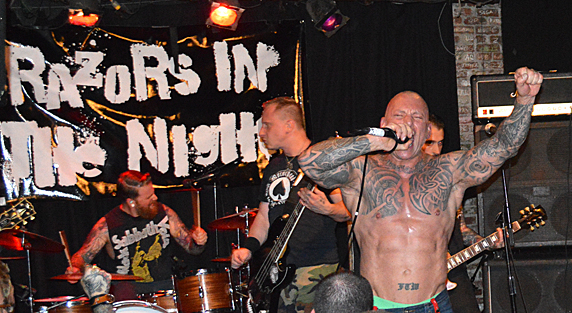 The songs are better than average. They capture things like the new song Doored about a bike rider getting injured from a suddenly opened door. Basement Brigade is about basement shows. Then there are many rousing anthems of solidarity and encouragement that are their bread and butter. They have the right material for shows like this night. Musically I think they were better last time I saw them at the Brighton Music Hall. That was a tremendous performance but energy wise tonight gets the nod. This was very exciting and memorable.
Razors have a new LP out called Never Give In. I imagine a CD of it will be coming but the vinyl is beautiful and it's in a handsome quality sleeve and the vinyl itself is in several different color schemes.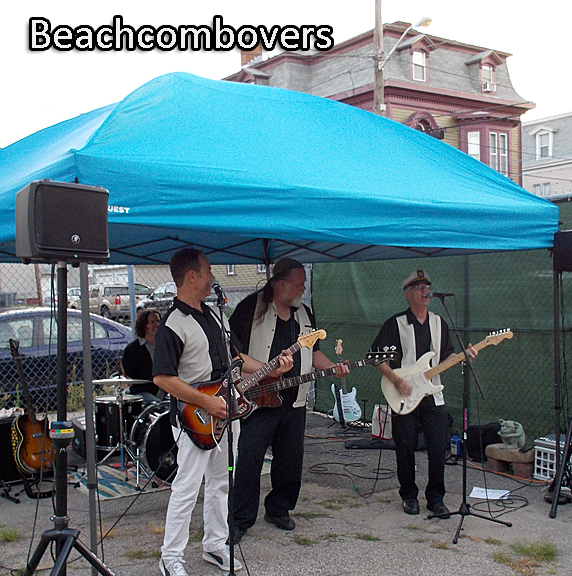 On Saturday abunch of Boston folks took a little road trip on down to Providence, RI to celebrate a Happy Birthday with Michele Meadows. The Beachcombovers played their fun surf sound for two sets keeping the neighbors entertained. Who would ever complain about that kind of music outside their window?? No one did!! There was a crew of familiar faces and names Amy Prohaska, Beatgirl Aimee (who we hardly ever see anymore - and miss!!) , Ken Kaiser, Jonathan Butterscott, Judy Wilburn, John Keegan, Ed Moose Savage, and a host of others. Ed Savage told us he's about to have back surgery but figured he'll be raring to go in time for the Rat Beach Party in September. So we wish Ed the best of luck and a speedy recovery! John Nikolai, was in attendance and we discussed his planned move to California....Boston needs a Nikolai so that's sad news but we still have several months with him in our presence.
We had to high tail it outta there to get to Boston to get to the Lily Pad. Our intention being to check out Martin Bisi and Black Fortress of Opium.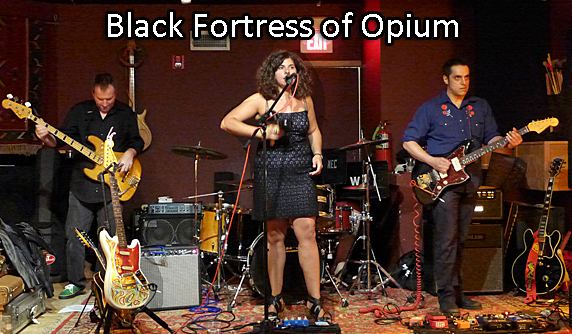 The Lily Pad is a small space that has booked unusual and eclectic acts. It's pretty cool that way. Unfortunately we didn't make it inside before Bisi's set ended. We did hear him from out front though and he was doing a sort of atmospheric, psychedelic art rock sound....very interesting stuff. We did get to hear Black Fortress of Opium (last time was at Precinct). Talk about eclectic....for this group that is their mission. They start with an exotic eastern sounding piece. Tony Savorino playing the odd scale with an ebow on the quitar that accents its sinuous nature. Then it's a country blues with dirty slide. A song about the Model Café has a country and western setting. Now, it's a gorgeous excursion into pop that gets into Big Star territory.
The band has the chops for all this. They don't care if they don't rock even if it does get loud. They concentrate on the song and give it what it wants. There's a lot of intelligent arrangement going on from everybody.
Ajda is a focus with her singing and mandolin/guitar playing. Savorino is a guitarist's guitarist, navigating all genres with a studied ease. I'm sure there were countless hours of practice to get where he is now. His take on the Country song was a gem as he coupled leading tones in his chording while hitting string pulls. It was sophisticated take on the style like Duke Levine. His use of pedals allows him to get all the different tones for the wide variety of genes. This was a long way from Razors in the Night!!

Don't forget to check out Kenne Highland At Large as he talks about havin' a wild weekend....and some unusual events he's been to, seeing his brother Tom and half brother Ted, walkin' down Mass Ave...I bet you can't get all his musical references and name droppings!! .....always an interesting read.....
The BGN's John Keegan took in Guided By Voices....here's his take....Guided By Voices at the Paradise.
So what's comin' up for gigs?....Wow August is almost here folks.....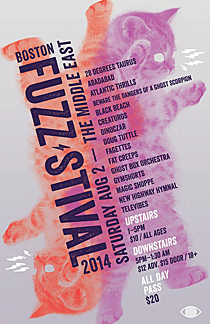 Damn, I don't kow how I missed this show up til now...Sean Coleman is back in town this Thursday July 31st with his band The Quazars at The Paradise ...they are opening up for rockabilly songstress Imelda May
This Friday August 1st has Tsunami of Sound, Tommy White's The Beachcombovers and Cal Cali's New Experience at Sally O'Brien's
Also on 8/1 in Allston at O'Brien's there's Penis Fly Trap, Kermit's Finger and jonee earthquake band and the Banditos. This could be PFT's last show so don't miss 'em!!
Terry Brenner's bringing The Real Kids and Nervous Eaters and Greg Allen's Fringe Religion to The Spotlight Tavern in Beverly on Saturday August 2 Thank you Terry!!
In Boston on August 2 & 3 there's the Boston Fuzzstival at the Middle East....check out this Line up…..28 degrees Taurus, Abadabad, Atlantic Thrills, Beware the Dangers of a Ghost Scorpion!, Black Beach, Creatorus, Dinoczar, Doug Tuttle, The Fagettes, Fat Creeps, Ghost Box Orchestra, Gymshorts Magic Shoppe, The New Highway Hymnal, and , The TeleVibes
And in Allston on 8/2 you got the Sprained Ankles, Hope + the Husbands, Das Muerte and Tsunami of Sound at O'Brien's
And At The Sinclair its suck'n'muck with The SuperSuckers and Muck & The Mires on Sunday August 3rd.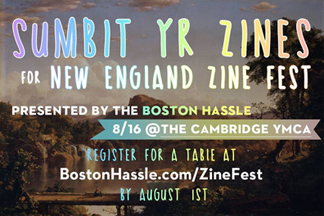 Also on August 3rd, starting at 1PM...it's O'Brien's Annual Punk Rock BBQ!! Check out this list of bands: Burning Streets, Dead Cats Dead Rats, The Hideout, Psychic Dog, A Minor Revolution, Zip-Tie Handcuffs, The Digs, Bucky Harris, Supersona, Patrick Simas, The Down And Outs and Horse Mode AND when you go you also get a compilation album and there's BBQ!!
There was talk from Wayne about this but now we have a date: now its Thursday August 7th at Store 54 - Jerri Cain Rossi (who we all knew and loved in Black Cat Bone), Randy Black and The Heathcroppers and Monique Ortiz returns to town with Alien Knife Fight. That's gonna be a great show folks!! Here's a great write up about Jerri Cain Rossi from Ribbon Around a Bomb
Also on Friday August 8th - awesome Rock On Cruise with Aquanutz/White Dynomite/Petty Morals
Saturday August 9th there's a excellent show at Store 54 with My Own Worst Enemy and Apple Betty.
Sunday August 10th there's an afternoon show (4-8PM) at the Midway with Greg Allen's Fringe Religion, The Swindlers, The Skeleton Beats and The Knock Ups.
And on Sunday August 10th Roy Sludge is playing for FREE at State Park in Kendall Square
Friday August 15th there's a good show at The MiddleEast UP with Goddamn Draculas, Gozu, Await Rescue, Interrobang, and Replacement Friends then on Saturday the 16th there's Uzuhi
The Radicals (Record Release), The Pity Whores, Tensor, and Loser's Circle upstairs also!!
The New England Zine Fest is comin' up on Saturday August 16th. It's presented by Boston Hassle at its at The Cambridge YMCA in Central Square. They'll be workshops, skillshares and table upon table of zines! It's 1-6PM.
Saturday August 16th over in Allston O'Brien's has The FU's, MOTO, Round Eye and Daikaidju (sounds like a wild show!!)
On Saturday August 23rd start the afternoon off with Brian Young and Crash Course for the Ravers Show with his special guest this day being Willie "Loco" Alexander!! (WMFO 91.5PM 1-4PM)
It's Hixxmas in August folks! On August 23rd at Club Bohemia at The Cantab it's Hixx and Psychic Dog and more bands TBA...
August 29th has a good show at Church with Petty Morals, Tigerman WOAH, When Particles Collide and Miss Geo.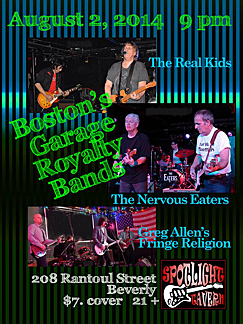 This should be an interesting evening...at The Cantab August 30th....The Sound Down Cellar, Nelson Slater (tentative), Annie Activator and the once a year gig by Love & Flame featuring Danny Rybar, Lady Carolyn and Joe Viglione along with Mike Quirk on bass, Kenne Highland on guitar. (they are on at 9:30) and The Guns of Brighton
Tuesday Sept 2 there's a punk show at The Middle East UP with Bishops Green, Hammer and the Nails, For the Worse, Yellow Stitches, The Damn Garrison *NOTE: its a slightly ealier than usual show with 7:00 PM Doors


Please put this on your calendar and go folks- Viva La Eva Dos...another benefit for Eva Lipton you was in a horrible car crash and remains in a rehab facility....please go...on the bill are Joe Queer & Friends, The Dogmatics, The Downbeat 5, Classic Ruins, Parlour Bells, Moose & The Mudbugs, and Sonomatics ...see you there!!
We finally get to see Dave Minehan with The Replacements since they are on the bill for the Boston Calling Show September (5,6 & 7)!
But also put this on your calendar: At O'Brien's on Friday Sept 5...It's Fri Lisa & Malibu's 10 Year Anniversary Rock Off!!! Featuring: The Kurt Baker Band, The Connection, Tom Baker & The Golden Shower Band (Members of The Dirty Truckers & Watts)and ZipGun Bomber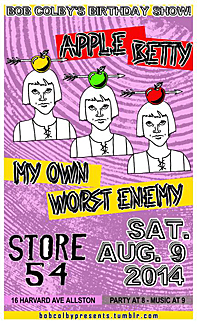 And you definitely want to hit this show: Richie Parsons performing his Honey & Tears songs along with The Dictators NYC on September 5th at the Middle East down. Kim Ackland posted on Facebook about this "NYC" version: "No Top Ten, it's a new band with Dick, Thunderbolt, Ross, Daniel REY from Shrapnel ROCKS and Dean Rispler, as Ross said "the best bass player on the planet". They're awesome" ...and I love what Johnny Angel wrote about Honey & Tears on Facebook..."Listened to Richie Parsons' new disc "Honey and Tears" in the car. Buy the thing. It's one of the few things I've ever heard that pays loving tribute to 60's folk, psych and pop in the artist's own voice without descending into period piece parody. Buy the thing." So where can you get it?? You can download it from iTunes for one.....or Bandcamp.....where you can download or order the CD or the vinyl! or hunt Richie down and buy one from him. Or you can get one at this gig if you can wait that long.
Oh yeah on Tuesday September 9th at the Midway Brian Young hosts a show with Johnny & The Hartebreakers, The Classic Ruins and Tsumani of Sound....so um, this "Johnny and The Hartebreakers" better be good......or Mr. Harte may say "Who needs you" I hope they make me shake out of control.
Crash Safely is coming up in September - here's some news from Vanyaland on that!
The Legendary Shake Shakers are coming to the Middle East down September 12th.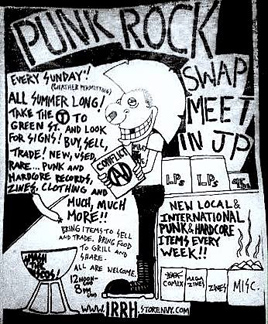 Saturday September 13th is Matt Burns' 60th Birthday Party! He's celebrating at The Lizard Lounge. So far the bill includes Litehouse, The Handymen, Kenne Highland, and more bands to come.....
There's also a excellent show at The Midway on Sept 13. Cal Cali brings us Lyres-Nervous Eaters-Cal Cali Band- The Invaders (Les Envahisseurs-from Quebec) - whew!!!
And at TT's in September there's a couple great shows coming up - Sunday Sept 21 is Queerstock 2014 with Gunpowder Gelatine, Thalia Zedek, The Kitchenettes and Fur Purse and to finish off the week on a definite , awesome actually, punk note Friday the 26th they have The Angry Samoans, Reagan Youth, Burning Streets and The Welsh Boys opening the night.
The Rat Beach Party set for September 14th& 15th you get all the info on their Facebook page
September 14th -a Sunday daytime show- at the Midway will bring us The Members!!
October 5th - a Sunday daytime show at The Midway will bring us The Vibrators!!!
And September 22nd at the Middle East up is a great show with Shonen Knife and Petty Morals.
The Damned are touring this Fall with TSOL. They are playing Halloween in NYC but playing Boston on Saturday October 25th at the Royale...tix here....
CONTACT US AT........misslynbg@yahoo.com Send us your gig listings, your news and anything else ya got!!