The BGN News Archive
July 30, 2012
Well…we were not able to make the big Sisco/Cibulsky benefit at Johnny D's this past weekend but by all reports it was a huge success…check out the page for pics and vids… .like Eric Martin with the Bristols And Valdez the Sinner with The Flies!!
In case you haven't seen it (we just learned about it recently) we wanted to share a great website …one that is quite apropos for most of us…Rocker - "The Lifestyle Zine for Mature Hipsters". What a great concept!! and really great this site addresses lots of interesting issues, as well as awesome music… Amy Prohaska and Bret Milano are involved so you know its good…..
Now for what's up out there….well its August come mid-week and …
OH! It starts out with a bang at the Stinky Old Cantab: Thursday August 2nd, Merle Allin and his band of marauders - The Murder Junkies are there ….
Up on the North Shore The Nervous Eaters are playing at the Spotlight Tavern in Beverly on Saturday August 4th…..
And a serious sad note…as you know we lost Marky Mayhem earlier this month…if you knew Marky you know Sue Blake…in lieu of a traditional funeral or service (as Marky would like it I am sure) she is having a celebration of his life and music at their house in Randolph this Sunday August 5th at 6PM…if you need further info please email us for the address and contact info
We have birthdays to celebrate in August:
Friday August 10th is Night of the Living Larry - at O'Brien's when we celebrate a 17,851 consecutive-day living streak by Larry Litigot so this also means we get to see him perform all night with Penis Fly Trap, Padded Hell and Jay Allen and The Archcriminals….also on the bill is Kermit's Finger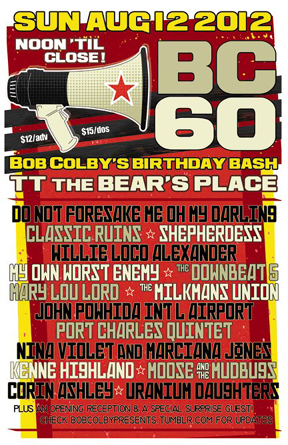 Of course there BC60 - The Bob Colby 60th Birthday Party at TT's - It's getting close!! Sunday August 12th- The festivities start at Noon and goes 'til midnight- it's a huge ton of all awesome bands including Mary Lou Lord, My Own Worst Enemy, The Classic Ruins, Port Charles Quintet, Willie Alexander , Kenne Highland …and there'll be plenty of BC faves like Shepardess and Nina Violet….I'm taking Monday off that's for sure!! Bob says that if this show goes well (Um, Of Course it will Bob!) then he'll be booking a lot more shows in the future.
There's a couple great shows at The Rosebud (Thanks to Cal Cali & CaliCo Boston again, another one that's doing some awesome shows)
The August 11th Cal's got the a pretty amazing show: he's got Nervous Eaters at the Rosebud but also on the bill is Billy Rath ( former Heartbeakers!!) along with The New Frustrations
and on August 18th It's a Hixx Summer Night with Hixx, The 360's, The Illyrians and Cal Cali's New Experience and Lynette and the Longshots (which has Lynne from the Stumbleweeds up front)…..
And on Sunday August 19th The Somerville Rock'n'Roll Yard Sale will be in Union Square Somerville again…this is always a great event with Vinyl records, vintage memorabilia and lots of DIY vendors…it runs 11AM t 5PM (rain date the following Sunday).
On Friday, Aug 3rd Thee Cuban Heels Return to TOAD (Boston's largest venue when seen through the wrong end of a telescope) in Porter Sq. They start to play at 10, go all night long and get paid appropriatly... check this clip, shot by Lenny, from the Bayside Bowl... http://www.youtube.com/watch?v=41uAcTSZFSo
And Unnatural Axe will be making their ONLY Boston appearance for 2012 at Radio on September 2nd and to make it even more special he's bringing over a band called Guida…from Rome…here's their song "Number 10"
SWANS are at The Paradise October 11th!
….And of course everyone is buzzing about the Human Sexual Response reunion…All the original members…at the Paradise on Saturday, November 10th better grab those tickets soon...
and there are more Kickstarter projects to add to the list: Hixx is working on a full length release…help 'em out here….
Ducky Boys are raising money to record a new full length 'album' Hey for $1 you get a high five from a band member and of course as the pledge amount goes up the gifts get way better!!
John Surette (Boy's Life) is putting together a Punk Rock Opera called "Tomorrow The World" and his list of musicians is very impressive: The musicians and singers appearing in the Rock Opera are Johnny Blazes (the Pretty Boys), Dennis McCarthy (Ape Hangers, Prime Movers), Bo Barringer (Future Carnivores,Me and Joan Collins, BRO), David Minehan (Neighborhoods, Woolly Mammoth), Mali Sastri (Jaggery), Marnie Hall (Robin Lane), Joel Simches (Count Zero, BRO) Tee Jay (Walter Sickert and His Army of Broken Toys, Pretty Boys) a reunited BOYS LIFE!!!!! John Surette, Robert Weiner, Chris George, Neal Sugarman (Sugarman 3, Sharon Jones, Amy Winehouse). They are at the halfway mark and and need your help to finish!!!
EMAIL US AT…….misslynbgn@yahoo.com