The BGN News Archive
August 1,2016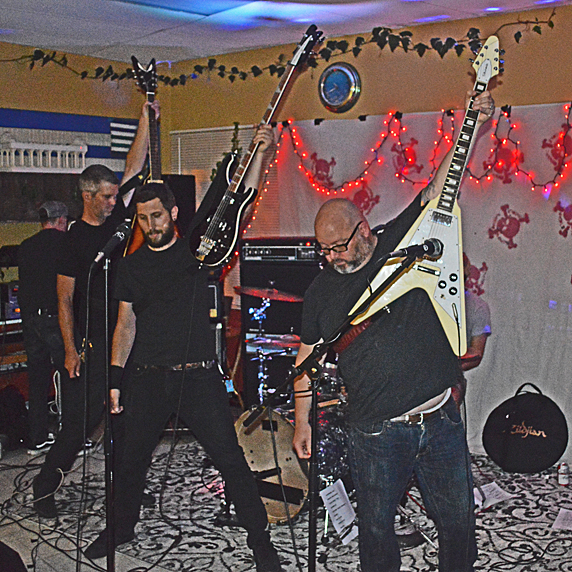 Tenafly Vipers
Photo: Blowfish
Friday it was back to the Greek American Club where we were last with the Late Risers' Club Triva Party. The bill was four rockin' bands: Quiggs, Duck and Cover, Tenafly Vipers and Warning Shots.
We saw Duck and Cover in the same place in 2015 . This night they put in an exciting and blistering set. They've been together long enough and have a lot a stage experience that they are super tight. They had the R n' R Rumble experience and that helps groups to up their game. The two features we always mention are Chris Brat's voice and the songs. Chris has a distinctive voice that not only puts the songs across but appeals on its tone alone. It stamps the whole experience with its own identity. When you hear it your memory takes you to all the previous times you have heard it. That's a big plus in distinguishing yourself from the pack.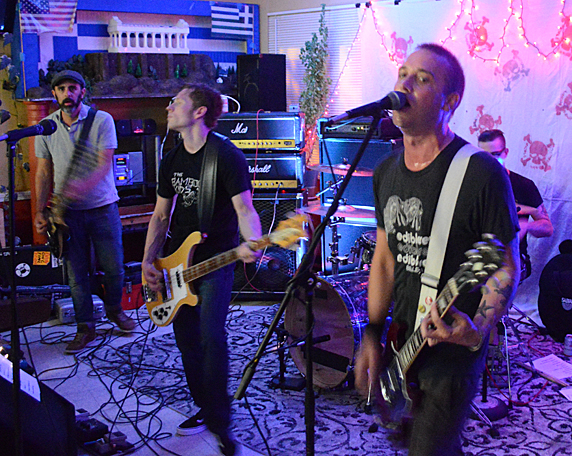 Duck and Cover
Photo: Blowfish
The songs are punk plus, the plus is extra chords and frills. The songs are always more than the classic three chords. They're power chords but move fast and are saved from sameness by the addition of arpeggios, twin lead lines and staccato punctuation. Often these extras come in rapid succession giving you a reward for close listening. But you don't have to listen close because the overall effect gives the music its excitement factor. It also gives the group sound a tweak of pop. This was the best set yet by a group we already like a whole lot.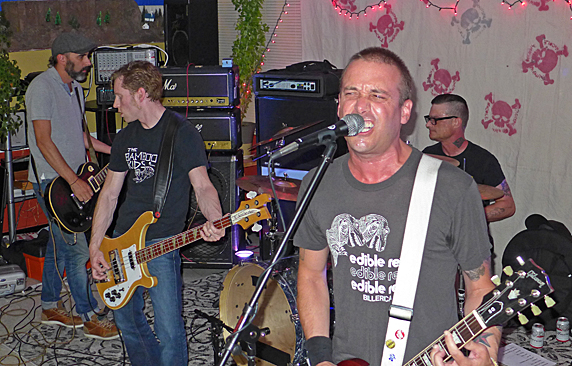 Duck and Cover
Photo: Blowfish
A highlight was Stand Corrected which has gotten a lot of local airplay. They played a new song called Wasted that was the best song of the set. That's a great indication that the group is vital. Chris said that an EP of new material should be out before the summer is over. Check out their Bandcamp page -Duck & Cover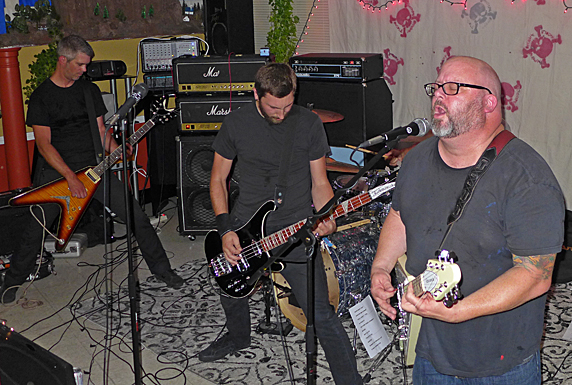 Tenafly Vipers
Photo: Blowfish
Next to play was Tenafly Vipers. I can barely remember seeing them before at Church in 2010. What I liked about them then was their volume and that's what a liked this time too. They turn up those Marshalls and blast out the riffs. It's a head cleaner. The sound guy turned them down a tad. It was over the top for a hall like this but hey, it's rock. They are a hardcore/metal/punk mix. The vocalist has a clear voice that rides over the top of the roar. Different from the throat singers you usually get and a welcome change. You can hear these things on their Bandcamp page
They change up things now and then and those were good moments. Like once where the guitar, bass and drums kept a simple sludgy beat for an extended time giving the lead guitarist the platform to do his thing. It was a good set and very compatible to Duck and Cover. The whole bill was nicely put together. We missed The Quiggs and Warning Shots (with Mark Lind) but that was a rocking line up.
Saturday nights there were parking spots around Harvard St as I hit Great Scotts. That's a sure sign the students are gone and people are on vacation. Inside the club there were not many people. During the bands there were 20 people in front of the stage and less in the back of the club. That's almost inconceivable normally.

Sun Parade
Photo: Blowfish
The Sun Parade from Northampton were doing songs with an indie psych combination. It was too loose for me, but had its moments. Check them out on their Bandcamp page.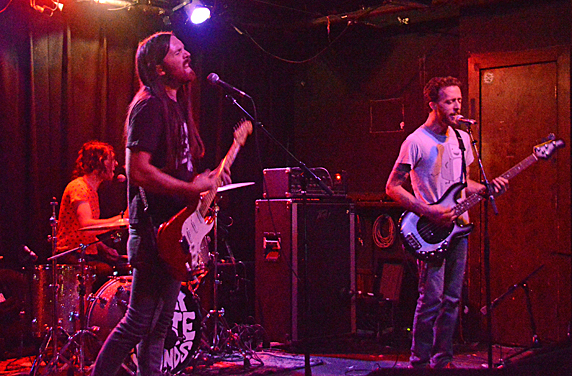 Zip-Tie Handcuffs
Photo: Blowfish
I came to see Zip-Tie Handcuffs. I enjoyed them last at O'Brien's. For the first half of the set the music didn't seem to have a center. It was upbeat but a bit of a jumble. Then they played a song I heard last time about a hole in the earth and that's when things changed. From then on the music had punch. Everything started working and the small crowd reacted in turn. They're musical rebels, they don't seem to follow any style. The songwriting is off center and that's cool. They often sing in falsettos like nobody else does. They're a little wacky and seem like they're having a ball on stage. Can't we get more than 20 people out for these rocking Rumble winners? They said that they have new CD coming out in August. Zip Tie Handcuffs Bandcamp page
In other news....
There's been a few stabs at doing video commercials for low key punk shows. But this one below for an August 27th Viv'd punk matinee show at the Middle East up is the best I've seen.
Then we saw that Zip-Tie Handcuffs did one for their upcoming CD "Headspace". See the video below.
This is a great idea and we figure it'll be more and more common as time goes by.
| | |
| --- | --- |
| Punk show | Zip Tie Handcuffs. |
Dave Tree has new material from his band See This World. We saw them at the Midway in January. It's punk/hardcore/metal. You can hear the lyrics which is unusual for this type of music. Check it out on Now is the Time on Bandcamp
Porchfest turned out to be a popular idea. Roslindale is having their second one on Sept 17 with rain date on Sept 18. They're going to have an indoor After Party to top it off. Info atroslindalearts.org/porchfest/



There are a million punk songs, this is just one.


Up Against the Wall is from the Cyandie Pills CD of 2013. This English band is doing the old punk thing. They even co-op the themes like boredom with the CD's title Still Bored.
The lyrics describe a futuristic clamp down on the privileged. I love the vocal and the tone on the guitarist in the solo. To top it off they give it a false ending. Here are the lyrics

Cyanide Pills
"Up Against the Wall"
The Facebook page for Boston Underground posted two interesting videos from back in the day. Neither are from the Underground but whatever. One is a full set by the all woman Bound and Gagged. The other is a song by Proletariat. See the videos below.
| | |
| --- | --- |
| Bound and Gagged | Proletariat |
Here's some good shows coming up .....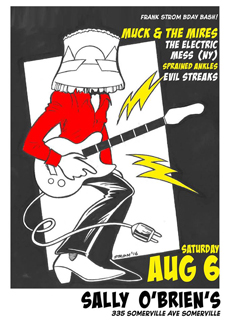 August 1 (Monday) The Schisms and Sassy Goose both from Austin TX along with The Knock Ups are at the Midway. This should be an interesting show!!
August 3 (Wednesday) David J. of Bauhaus and Love and Rockets fame reads from his memoirs Who Killed Mr. Moonlight? at Symposium Books in Downcity Providence. Event is FREE and his book will be available there. More info here
August 4 (Thursday) David J. of Bauhaus and Love and Rockets fame will be performing in a living room style show at Firehouse 13 in Providence. Tickets must be purchased in advance HERE Aug 3 & 4 are David 's ONLY New England appearances.
August 6 (Saturday) Muck & The Mires, Electric Mess (NY), The Evil Streaks and the Sprained Ankles are at Sally O'Brien's
August 6 & 7 (Sat & Sunday) The Boston Rock Opera presents Stardust to Blackstar: The Lives of David Bowie at Once Ballroom: a concert dedicated to the late rock god David Bowie. "David Bowie taught us all so much about performance and stagecraft. If B.R.O. is going to, like Lazarus, rise up again then it should be to honor and celebrate his amazing music." The night begins with fellow B.R.O. co-founder Mick "Mondo" Maldonado directing and performing Bowie's "The Rise and Fall of Ziggy Stardust and The Spiders from Mars" with a full band and guest vocalists. Following that, is an original live arrangement of Bowie's final opus work "Blackstar" performed by an all star band and chorus under the direction of Either/Orchestra's Russ Gershon. The evening continues with a celebration of songs from Bowie's vast catalog as even more Boston musicians take the stage to perform.

August 11 (Thursday)& August 12 (Friday) Rock Fete Des Femmes at Once Ballroom with Erin Harpe and the Delta Swingers, Abbie Barrett & Band, Stars Like Ours and The Other Girls on Thursday and Sarah Borges, Jenny Dee & The Deelinquents, Andrea Gillis Band and Ruby Rose Fox - solo with The Steinhams on Friday
August 12 (Friday) The Handymen are at The Plough & Stars
August 13 (Saturday) FRANK ROWE's 65th BIRTHDAY PARTY!!! starring: Kenne Highland, Stop Calling Me Frank, The Dogmatics, Classic Ruins, Richie Parsons Band, and The Stigmatics - at The Midway
August 15 (Monday) X are at The Brighton Music Hall - nice venue to see them!!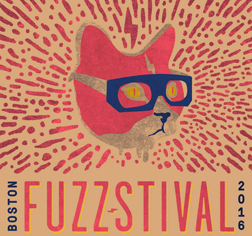 August 19 & 20 (Friday & Saturday) The 4th annual Boston Fuzzstival takes place on August 19/20 at The Middle East Downstairs. Fuzzstival is a celebration of our regional music scene and local music community. Bands are Doug Tuttle, Lyres, The Monsieurs, Mr. Airplane Man, Mini Dresses
Painted Zeros, Black Beach and a whole lot more...check out the FB page for updates etc
August 19 (Friday ) Hopelessly Obscure, Tsunami of Sound and Tokyo Tramps at Sally O's!
August 20 (Saturday) The Road Devils C.C. Boston Massacre Pre-Party!!! featuring Taxi Driver, The Hi-End AND MORE!!! FB page for more info as it develops
August 20 (Saturday) There's a great daytime (4-8PM) show at the Midway with The Lost Riots, The Scrapes, Whoopi Sticks, Go Blank and Point Blank
August 20 (Saturday) The Upper Crust, Devil on Horseback, Watts, Gymnasium at The Middle East Up.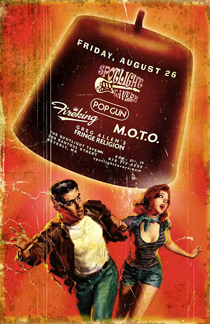 August 20 (Saturday) Warn The Duke, Diablogato Dan Webb & The Spiders and Bundles are at O'Brien's
August 26 (Friday) Pop Gun, Fireking, Greg Allen's Fringe Religion, and MOTO are at The Spotlight Tavern in Beverly
August 27 (Saturday) Idiot Genes, Duck & Cover, Silver Screams and Jack Widows at O'Brien's
August 27 (Saturday) Fuzbrains Presents: The Time Beings, The Hopelessly Obscure, The Flipsides and The Performers at The Hotel Vernon in Wistah!!
September 1 (Thursday) Thalia Zedek Band, Minibeast, Black Helicopter and Positive Negative Man at O'Brien's
September 17 (Saturday) Huntingtons, Mongorellis, 138, and Profit Margin are at Koto in Salem.
September 27 (Tuesday) Buzzcocks at the Royale ...they played this very room back in 1980! And we were there then too!
September 29 (Thursday) Barrence Whitfield & The Savages and Diablogato are at ONCE Ballroom
September 29 (Thursday) through October 1 (Sunday) The "Rat" Beach Party in Hull. Check it out on Facebook for bands and times etc
October 15 (Saturday) Idiot Genes, Duck & Cover, Chanticlear and Jack Widows are at O'Brien's
October 15 (Saturday) The Upper Crust, Hickoids, The Grannies & Devil On Horseback at Once
October 21, 22 & 23 (Fri., Sat & Sun) The Boston Rock Opera presents Hair at Once Ballroom.
September 1 (Thursday) Thalia Zedek Band, Minibeast , Black Helicopter, Positive Negative Man are at Great Scott
CONTACT US AT....misslynbgn@yahoo.com - Send us your gig listings, your news and anything else ya got!!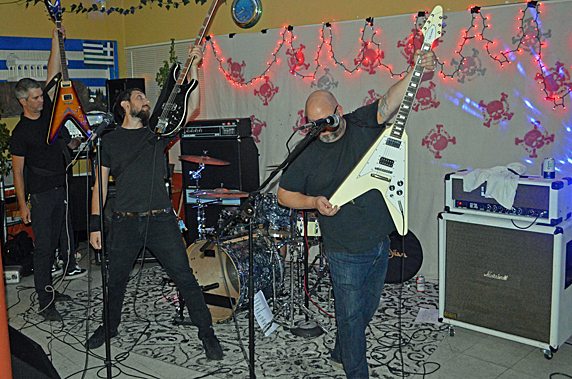 Tenafly Vipers
Photo: Bob Cenci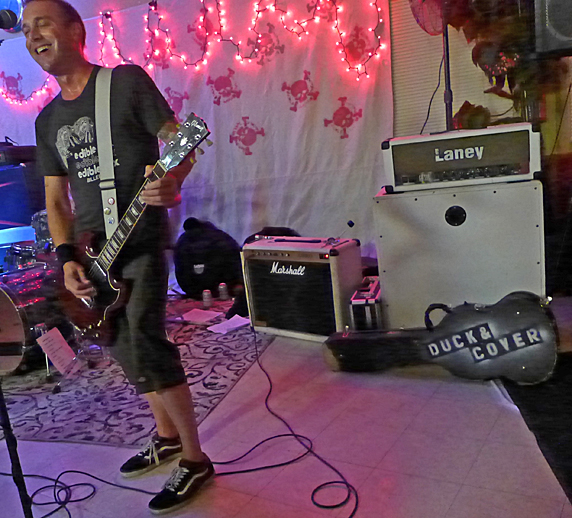 Duck and Cover
Photo: Blowfish