The BGN News Archive
August 3, 2009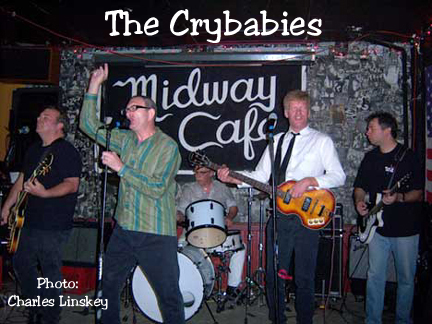 Friday night Blowfish headed into JP top The Midway to see the debut of the Crybabies new line-up....we must mention this night was also the 22nd Anniversary of the Midway!! Congrats guys!!...
BLOWFISH SAYS....

No more weeping for me. One of my favorite groups is back - The Crybabies. Leader Artie has a great new crew including Richee Johnson (Boize) on drums. Now, there are two strong guitarists: Danny McCormack and Steve Aquino. The new members bring a more muscular sound. They have included some old favorites but had mostly new songs. I'm assuming there were many covers but they were obscure (even for me) and no one was talking about where the songs came from. One gets a sense that they will build on to what they have and time will make them even better. They managed to get the small crowd dancing and even Artie was doing some James Brown style sliding around on stage!
Saturday afternoon we headed on over to the Rock'n'Roll Yard Sale in Union Square Somerville! and as promised there were a large number of varied sellers, much more than last year in fact, offering great music-related stuff as well as handmade DIY Art & Crafts along with lots of vinyl records & compact discs, silk-screened Posters t-shirts, vintage & locally designed clothing & accessories eyeglasses, jewelry, handmade cards & prints, some things that really stuck out were
Vagabond Jewelry rings and necklaces and bracelets made out of recycled materials like bike spokes, steel and gorgeous unusual copper ...just fabulous stuff...check out the site and find out where they are showing next, this stuff begs to be seen in person...
also Fusion Ethos Fashion...she has jewelry also out of recycled items like measuring tape, computer keys, popcorn, beer bottle caps etc...very cool!!...

loads of cool stuff and there was an awesome turn out....I looked around many times to just take in the types of people there...and I love this kind of event because all of us that are "different" come out for this sort of thing and I really , for nice, feel in my element...its nice to know there are so many of us.......check it out next time 'round!!
Here's a page of pictures of the Rock and Roll Yard Sale...CLICK

Saturday night our roving reporter BeatGirl made it on over to Church for the Lyres, Muck & The Mires, Coffin Lids show...and snapped some pics of The Coffin Lids too....more pics to come from our other roving reporter Kim Ackland of the rest of the bands from that night!!...... Oh yes the weather may be oppressive but we sure do have some fun shows coming up and I'm happy there air-conditioned clubs coz I ain't got no air conditioning at home!: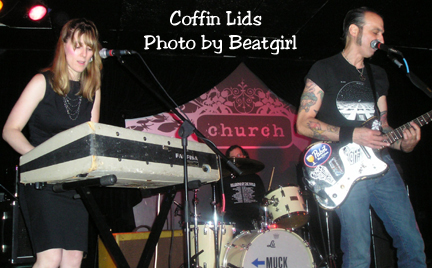 This Thursday August 6th at The Cantab Club Bohemia it's the Frank Strom's Birthday Bash!!!! This party starts early with Corolla DeVille on at 8PM, then Hotrod Fury, , Black Mosettes and the Sprained Ankles
And of course coming up THIS FRIDAY , August 7th, at Church is Faster & Louder that's Richie "Swinging Dick" Parsons - vocals, "Fritz the Boss" Erickson - guitar, Johnny "Top 20" Black - guitar, Lee "The Lawman" Harrington - bass and "Johnny Rock" Lynch - drums
They will play the entire Bloodbrothers album by the Dictators and a few more 'Tators tunes. This should be an excellent and fun evening, hope to see you there!!
and then next night, Saturday, August 8th at O'Brien's in Allston are The Curses, 007 Hundred Club, The Egos and Jay Allen and the Arch-Criminals
And on August, the 21st, At The Middle East UP to be exact it is the return of THE MARVELS!!! (here's their MySpace site) ,I'M PSYCHED!!!! Also on the bill are Dirty Truckers, Vagiant and Pulp 45....that is a most awesome show my friends and only to be equaled by....,
the NEXT night, Saturday August 22nd, at ME Up with the Midnight Creeps, Red Invasion and a couple other bands...OH...I'm at the ME that weekend!! The air conditioning had better be working!@
and to continue excellent music in to the week, on Monday, Aug. 24th, Charlie's Kitchen has The Curses, The Acrobrats and Noble Rot...
Ok folks, that's it for this week.....click and write me!.... Lyn