The BGN News Archive
August 4, 2014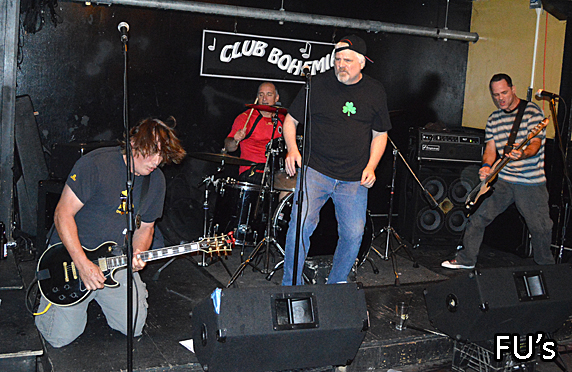 Friday night some of the BGN staff headed out to Sally O'Brien's check out for a Beyond the Beach party with Tsunami of Sound, The Beachcombovers and Cal Cali's band and WMFO's Brian Young as MC. There was a good crowd there and Tsunami of Sound was up on stage doing a great surf set. One of their fab go go girls, Cha Cha, joined them on stage which brought the energy level up a few notches. It was a fun set.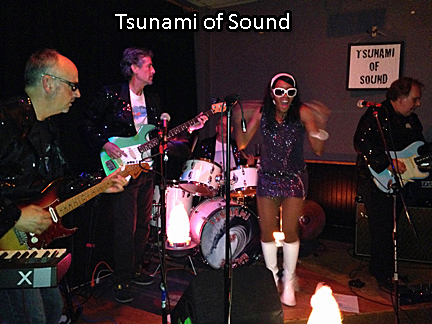 Then The Beachcombovers got up on stage with two old friends joining them; Ken Kaiser on guitar and Bob MacKenzie on drums. So, since Bob and Tommy were in the Mighty Ions together, besides the usual vintage surf sounds they did a couple Mighty Ions songs including Australopithecus - cool, the Ions were always a favorite band and Miss Lyn misses Carl Square!!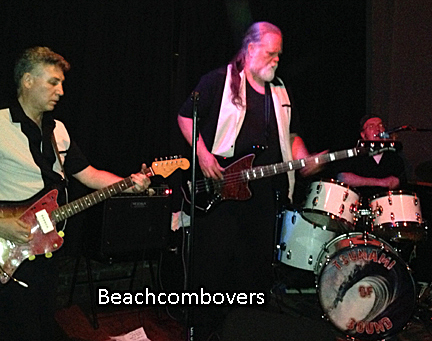 Then Cal Cali's band came on stage. He too had some new stand in members in his band...Frank Rowe on guitar...rhythm guitar most...what??? Yeah rhythm guitar. It was kind of strange seeing Frank in that position but he and Cal Cali go way back to high school together and Cal needed a guitarist so Frank graciously did the deed. Also as a guest, on bass, was Yukiko Fujii of the Tokyo Tramps! She added a strong blues punch to the sound.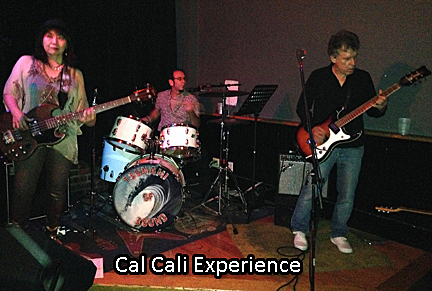 Lots of old friends made it a very fun night besides all the great music.
There were lots of interesting shows on Saturday: 7 Seconds/Zero Boys at the Brighton Music Hall (heard a report that it was rocking and crowded but there were still tickets at the door), the Fuzzfest at the Middle East, The Real Kids, Nervous Eaters and Fringe Religion at the Spotlight on the North shore, and Lily Pad, O'Briens and Sally O'Briens all had good shows and there even was Katy Perry at the Garden if for some reason that's your pleasure.
We ended up at the Cantab to check out the FU's. We've missed them on some bills because of timing and the last we heard them was at the end of a longer night at the Beachcomber.
On stage as we get there is The Guilloteenagers who are not teenagers as one might expect. There was an old 60's band called The Guilloteens . So we figure somehow they got their name based on that knowledge. The band consists of Matt LeBel from HookerClops on guitar and vox, Ali Quinlin previously in Descend Upon the Insane, on bass and Paul Ryan on drums (not THAT Paul Ryan). They are claiming that they are back together after a 30 year hiatus and that they started playing in 1971. We can't see how that's possible unless they were playing when they were like 8 years old. But they do sound like a late seventies punk band; very bare and basic. Ali, the bass player was noticeably pregnant and that was mentioned on stage. In fact this will have been their last show for some time since she is officially on 'maternity leave'. They brought a huge jar of Cheese Balls for the show - they made Whisky Cheese BallShots from them, people were also throwing them around while others got serious and snacked on them.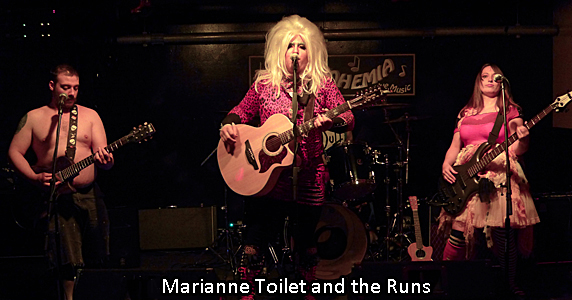 That was just the beginning of the weirdness as Marianne Toilet and the Runs hit the stage. "Marianne" is a large man in drag who walks and talks like a regular guy so the dichotomy is funny right off. The bass player is dressed like a colorful doll, the guitarist is bare chested with a lizard hat and the drummer is decked out in a Duff Man muscle suit. Got that? Check the photos to be sure you understand. Musically they hit a few genres like metal, 80's power ballads and traditional rock. Lyrically they talk about sex, nasty sex, sick sex, gross sex, prison sex tricks and Tourette's. Marianne also simulated a sex act or two up there. They backed up the theatrical act with good playing. If you like that sort of show they would be good for a fun night.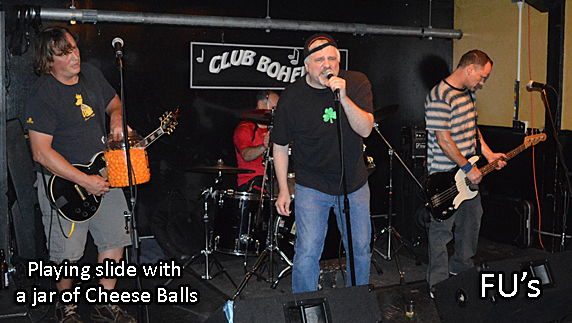 Now we're really ready for the FU's. We asked John Sox how he planned on following Marianne Toilet. He said in the early days at the Channel they followed an act called Jazz from Hell that was a duo of sax player and nude singer, so nothing new for John. We know that Ed Lynch is the new bass player of only a month or so but then we see Bob Cenci who is filling in on guitar because the regular guitarist (the son of the original guitarist!) had a hand injury on his job as a lobsterman.
You would never know this as they barrel through a pile of songs with conviction. It isn't until about two thirds through the set that they falter but by that time they had won over the crowd. The FU's are part of the original Boston hardcore explosion and still play fast and furious. They cover material from all their LP's and This is Boston Not LA too. Cenci whips through the insane number of chord changes in the rapid tempos the drummer is pounding through and Ed on bass is the MVP of the night. He sounds like he's been playing the set for years by not just knowing and hitting the changes but doing it with style and glee. This guy is good, of course he's played with Psycho and GG Allin so he's seen it all and is ready for anything.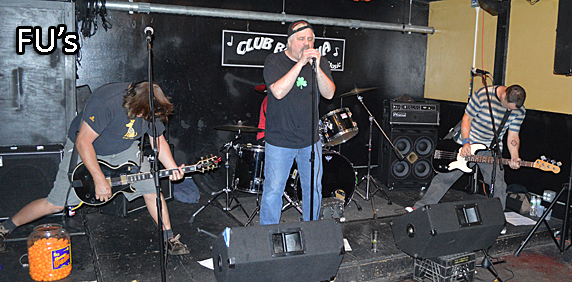 At the center and holding it together is John Sox. He's not just holding it together tonight but he's been doing this since the early eighties. We did a FU's profile in our last print issue #29 around 1982. Tonight John doesn't hold back. He's singing as loud as he can and yelling outright, while pumping his arm to rev up the group. He's still got the spirit and energy. The band and the audience are feeding off that, if he didn't have it, the whole thing could evaporate. I find that very inspiring.
The highlight of the set for me was Young, Fast, Iranian. Longer than their original core songs it stands out as their best. Cenci does some slide guitar using the oversized Cheese Ball jar - funny. They stumble through the Motown hit My Girl that gets faster as it goes on, but where did that cover come from? They play Ballad of the Green Berets which is an old cover of theirs.
Lack of rehearsed material stopped them but it was definitely a good set. We could have been at 5 other clubs but the FU's made us happy we were at the Cantab.

Don't forget to check out Kenne Highland At Large as he goes on about his strange life for the past week.

And John Keegan went to check out Nashville Pussy ...he's got a great write up and photos for your reading pleasure here....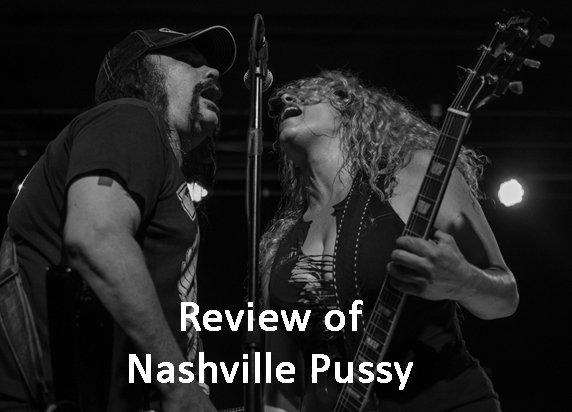 We just got new info on the Pipeline! HUGE 25th Anniversary Celebration! - it's going to be 13 shows featuring close to 80 reunited Boston-area bands performing at 5 venues over 5 weekends from September 12 to October 12!! So get ready now. 50 Years of Boston Rock takes place from Friday, September 12 - Sunday, October 12 at the Paradise Rock Club in Boston, The Middle East downstairs in Cambridge, the Brighton Music Hall, the Regent Theatre in Arlington, and Cuisine en Locale in Somerville, a new ballroom-like space with a capacity of 425. There are current plans to add a 14th night to the series. Tickets for the Middle East shows are now available, with the other clubs offering their own nights' tickets this coming week.
Click to see the insanely long list of line ups HERE.
So what's comin' up for gigs?.........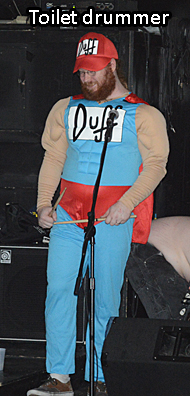 SO it's this Thursday August 7th at Store 54 - Jerri Cain Rossi (who we all knew and loved in Black Cat Bone), Randy Black and The Heathcroppers and Monique Ortiz returns to town with Alien Knife Fight. That's gonna be a great show folks!! Here's a great write up about Jerri Cain Rossi from Ribbon Around a Bomb
This Friday August 8th - there's an awesome Rock On Cruise with Aquanutz/White Dynomite/Petty Morals....also the Ten Foot Polecats are at The Plough and Stars.
This Saturday August 9th there's a excellent show at Store 54 with My Own Worst Enemy and Apple Betty. This is Bob Colby' s BIRTHDAY celebration so make sure to wish him a happy one.
Bob Colby does a promo video - CLick Here.
Sunday August 10th there's an afternoon show (4-8PM) at the Midway with Greg Allen's Fringe Religion, The Swindlers, The Skeleton Beats and The Knock Ups.
And on Sunday August 10th Roy Sludge is playing for FREE at State Park in Kendall Square.
Friday August 15th there's a good show at The MiddleEast UP with Goddamn Draculas, Gozu, Await Rescue, Interrobang, and Replacement Friends then on Saturday the 16th there's Uzuhi
The Radicals (Record Release), The Pity Whores, Tensor, and Loser's Circle upstairs also!!
The New England Zine Fest is comin' up on Saturday August 16th. It's presented by Boston Hassle at its at The Cambridge YMCA in Central Square. They'll be workshops, skillshares and table upon table of zines! It's 1-6PM.
Saturday August 16th over in Allston O'Brien's has The FU's, MOTO, Round Eye and Daikaidju (sounds like a wild show!!)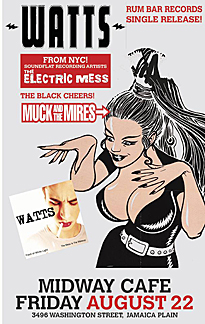 Friday August 22nd there's a great show at the Midway with Muck And The Mires, Watts, The Electric Mess (from NYC) The Black Cheers!
On Saturday August 23rd start the afternoon off with Brian Young and Crash Course for the Ravers Show with his special guest this day being Willie "Loco" Alexander!! (WMFO 91.5PM 1-4PM)
It's Hixxmas in August folks! On August 23rd at Club Bohemia at The Cantab it's Hixx and Psychic Dog and more bands TBA...
August 29th has a good show at Church with Petty Morals, Tigerman WOAH, When Particles Collide and Miss Geo.
This should be an interesting evening...at The Cantab August 30th....The Sound Down Cellar, Nelson Slater (tentative), Annie Activator and the once a year gig by Love & Flame featuring Danny Rybar, Lady Carolyn and Joe Viglione along with Mike Quirk on bass, Kenne Highland on guitar. (they are on at 9:30) and The Guns of Brighton
Tuesday Sept 2 there's a punk show at The Middle East UP with Bishops Green, Hammer and the Nails, For the Worse, Yellow Stitches, The Damn Garrison *NOTE: its a slightly earlier than usual show with 7:00 PM Doors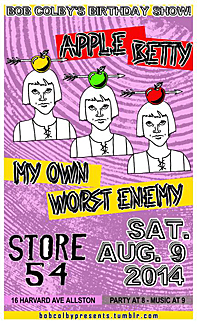 Please put this on your calendar and go folks- Sept 4 at TT's Viva La Eva Dos...another benefit for Eva Lipton you was in a horrible car crash and remains in a rehab facility....please go...on the bill are Joe Queer & Friends, The Dogmatics, The Downbeat 5, Classic Ruins, Parlour Bells, Moose & The Mudbugs, and Sonomatics ...see you there!!
We finally get to see Dave Minehan with The Replacements since they are on the bill for the Boston Calling Show September (5,6 & 7)!
But also put this on your calendar: At Tavern at the End of the World on Thursday Sept 4...It's Fri Lisa & Malibu's 10 Year Anniversary Rock Off!!! Featuring: The Kurt Baker Band, The Connection, Tom Baker & The Golden Shower Band (Members of The Dirty Truckers & Watts)and ZipGun Bomber
And you definitely want to hit this show: Richie Parsons performing his Honey & Tears songs along with The Dictators NYC on September 5th at the Middle East down. Kim Ackland posted on Facebook about this "NYC" version: "No Top Ten, it's a new band with Dick, Thunderbolt, Ross, Daniel REY from Shrapnel ROCKS and Dean Rispler, as Ross said "the best bass player on the planet". They're awesome" ...and You can download Honey and Tears from iTunes for one.....or Bandcamp.....where you can download or order the CD or the vinyl! or hunt Richie down and buy one from him. Or you can get one at this gig if you can wait that long.
Oh yeah on Tuesday September 9th at the Midway Brian Young hosts a show with Johnny & The Hartebreakers, The Classic Ruins and Tsunami of Sound....so um, this "Johnny and The Hartebreakers" better be good......or Mr. Harte may say "Who needs you" and I hope they make me shake out of control.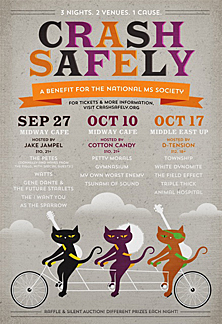 Crash Safely is coming up in September/October - night #1 is at The Midway on Saturday September 27th with Pete Donnelly, Pete Hayes and John Powhida (Aka The Petes), Watts, Gene Dante and The Future Starlets, The I Want You and As The Sparrow
The Legendary Shake Shakers are coming to the Middle East down September 12th.
Saturday September 13th is Matt Burns' 60th Birthday Party! He's celebrating at The Lizard Lounge. So far the bill includes Litehouse, The Handymen, Kenne Highland, and more bands to come.....
There's also a excellent show at The Midway on Sept 13. Cal Cali brings us Lyres-Nervous Eaters-Cal Cali Band- The Invaders (Les Envahisseurs-from Quebec) - whew!!!
And at TT's in September there's a couple great shows coming up - Sunday Sept 21 is Queerstock 2014 with Gunpowder Gelatine, Thalia Zedek, The Kitchenettes and Fur Purse and to finish off the week on a definite , awesome actually, punk note Friday the 26th they have The Angry Samoans, Reagan Youth, Burning Streets and The Welsh Boys opening the night.
The Rat Beach Party set for September 27th& 28th you get all the info on their Facebook page
September 14th -a Sunday daytime show- at the Midway will bring us The Members!!
And September 22nd at the Middle East up is a great show with Shonen Knife and Petty Morals.
October 5th - a Sunday daytime show at The Midway will bring us The Vibrators!!!
Friday October 10 is Night 2 for Crash Safely Benefit this one's at the Midway again...and there's a great line up with Petty Morals, Gymnasium, Tsunami of Sound and My Own Worst Enemy.
Friday October 17th is Night 3 of Crash Safely Benefit...this time its at the Middle East Up and wow, the line up again is killer with Township, White Dynomite, The Field Effect, Triple Thick and Animal Hospital!!
The Damned are touring this Fall with TSOL. They are playing Halloween in NYC but playing Boston on Saturday October 25th at the Royale...tix here....
CONTACT US AT.......misslynbg@yahoo.com Send us your gig listings, your news and anything else ya got!!