The BGN News Archive
August 6, 2012
This Wednesday over at The Midway is a honky tonk show down with Roy Sludge and Lucky Tubbs…
We have birthdays to celebrate in August: First:
This very Friday August 10th is Night of the Living Larry - at O'Brien's when we celebrate Larry Litigot's birthday! He performs all night with Penis Fly Trap, Padded Hell and Jay Allen and The Archcriminals….also on the bill is Kermit's Finger
The there's an awesome show on Friday August 11th a Cal Cali gig with Nervous Eaters at the Rosebud with Billy Rath ( former Heartbeakers!!) and The New Frustrations
Steve Cataldo had some words for a club owner on FB....he sounds revved up and raddy to rock, people. "OH, the cat who owns the Spotlight Tavern, the club has an unlisted phone # can you dig that?, what a MORON! Everyone is asking me if the gig is still on , and it certainly is. By the time we finish our set, the guy will never need a phone, cause he will be deaf as a Carp!"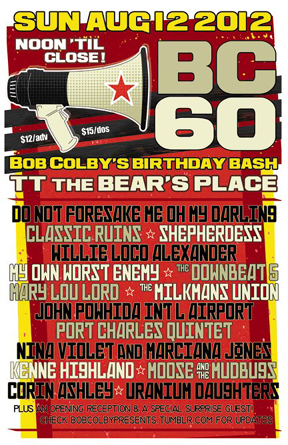 The other birthday….BC60 - The Bob Colby 60th Birthday Party at TT's - It's finally here…THIS Sunday August 12th- The festivities start at Noon and goes 'til midnight- it's a huge ton of all awesome bands including Mary Lou Lord, My Own Worst Enemy, The Classic Ruins, Port Charles Quintet, Willie Alexander , Kenne Highland …and there'll be plenty of BC faves like Shepardess and Nina Violet…
Tonight (Sunday 8/5) Bob will be have a BC60-promo appearance on BAY STATE ROCK with Bay State Rock Carmelita and Mary Lou Lord! This is getting bigger than Woodstock, Man! Another great show coming up: Paul Collins Band , Muck & The Mires and Electric Mess and Fat Creeps…..at Precinct!!
on August 18th It's a Hixx Summer Night at The Rosebud with Hixx, The 360's, The Illyrians and Cal Cali's New Experience and Lynette and the Longshots (which has Lynne from the Stumbleweeds up front)…..
And on Sunday August 19th The Somerville Rock'n'Roll Yard Sale will be in Union Square Somerville again…this is always a great event with Vinyl records, vintage memorabilia and lots of DIY vendors…it runs 11AM t 5PM (rain date the following Sunday)
on Sunday September 2ndthere's a lot going on: Unnatural Axe will be making their ONLY Boston appearance for 2012 at Radio on September 2nd and to make it even more special he's bringing over a band called Guida…from Rome…here's their song "Number 10"
SWANS are at The Paradise October 11th!
….And of course everyone is buzzing about the Human Sexual Response reunion…All the original members…at the Paradise on Saturday, November 10th tix have finally gone on sale!!
Rich Gilbert has a successful career going on in Nashville. How good do you have to be to be a successful guitar player in Nashville? Holy cow!
Kickstarter projects : Hixx is working on a full length release…help 'em out here….
Ducky Boys are raising money to record a new full length 'album' Hey for $1 you get a high five from a band member and of course as the pledge amount goes up the gifts get way better!!
John Surette (Boy's Life) is putting together a Punk Rock Opera called "Tomorrow The World" and his list of musicians is very impressive: The musicians and singers appearing in the Rock Opera are Johnny Blazes (the Pretty Boys), Dennis McCarthy (Ape Hangers, Prime Movers), Bo Barringer (Future Carnivores,Me and Joan Collins, BRO), David Minehan (Neighborhoods, Woolly Mammoth), Mali Sastri (Jaggery), Marnie Hall (Robin Lane), Joel Simches (Count Zero, BRO) Tee Jay (Walter Sickert and His Army of Broken Toys, Pretty Boys) a reunited BOYS LIFE!!!!! John Surette, Robert Weiner, Chris George, Neal Sugarman (Sugarman 3, Sharon Jones, Amy Winehouse). They are at the halfway mark and and need your help to finish!!!
EMAIL US AT…….misslynbgn@yahoo.com