The BGN News Archive
August 7, 2017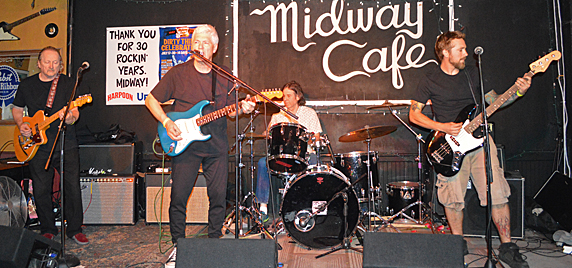 Nervous Eaters
Photo: Blowfish
Last Sunday we rushed to get the BGN on-line with the material from Saturday night's show at the Midway so we could get back there for the last day of the Midway Dirty 30 Celebration with the Nervous Eaters headlining. This was the debut of a new line up with guitarist Alan Hebditch's son Nick Hebditch on bass.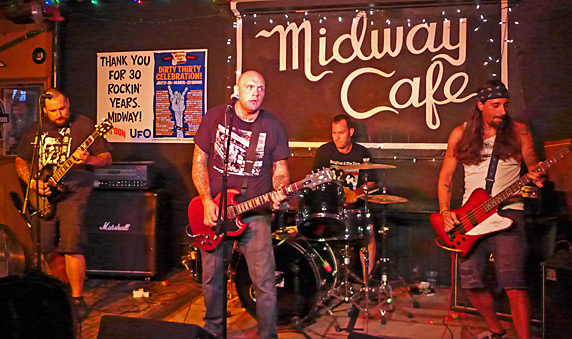 The Revilers
Photo: Blowfish
We missed Nick's group Fast Times, who played first. We did see a bit of another Cape Cod punk band The Revilers who were putting out the punk, and the mostly youngish crowd was right with them. They did a version of the Dead Boys What Love Is. If the new line up of the Dead Boys coming to town can do as good, we'll be lucky. One song that seemed like their own, maybe called Consolation, was notable. Wish we could see them again but they don't play Boston much.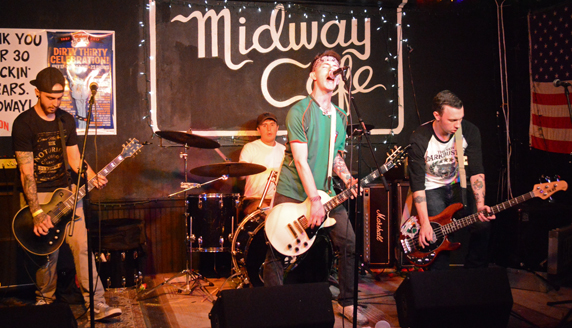 Barroom Heroes
Photo: Blowfish
We were just talking between sets when we heard bagpipe music. We thought it was a recording but no, there was a bagpiper on stage. It was the intro to the set by the Barroom Heroes. The rest of the group kicked in and the bagpiper went to his position as the bass player. We were much impressed when we akso saw them last year at the Midway. They've been together since 2007 and have opened for the Dropkick Murphy's and The Street Dogs. They've got the Celtic feeling running through the material but it's way too punky most of the time to tell. They ended with a loose version of Dirty Water.
Here's a video of Dirty Water and one other song.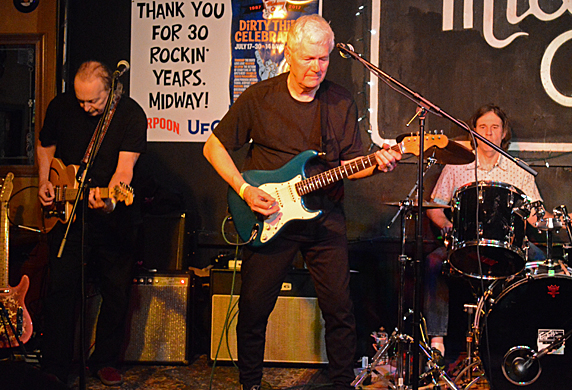 Nervous Eaters
Photo: Blowfish
The last time we saw the Eaters at the Midway they had Alan filling in on bass and played as a trio. Now they have Nick filling Rob Skeen's place on bass. We just love the idea of father and son Hebditch being in the same group. We know the Eaters and we've seen Nick play in Fast Times but what would the combo sound like? Rockin' - would be the answer. The Eaters delivered the old songs with punch and Steve Cataldo's leads were stinging. Time after time Steve carved out a minute of trebled riffs in the middle of a song. We just live for that.
David McClean on drums was playing crisp and in the pocket. When we saw David, all those early days of the Boom Boom Band came flooding back. There's a lot a memories in those Willie gigs that Dave was part of.
We were impressed with Nick on bass. Many 6 string guitarists play the bass the wrong way (i.e. too many notes). Nick, however, knew what he was doing and kept to the groove. You could hear the echoes of Rob Skeen's bass lines and Nick said he did study them. The extra perk was that Nick has a strong voice and added a lot to the background vocals. We're saying that it was the best we've ever heard from the Eaters. How great is that?
They played some familiar tunes: Degenerate, Just Head, Shit for Brains, Last Chance, On the Avenue and No More Idols. They also played one new song. They also played other very old songs which were old Eaters songs from back in the day that never got recorded. They're now recording those oldies for the next album coming out. Alan said it's a slow process but it's coming along. The audience of mostly younger people was cheering the Eaters all the way along. In the end there was a lot of yelling and they had to come back for an encore, and that was Loretta (first video above).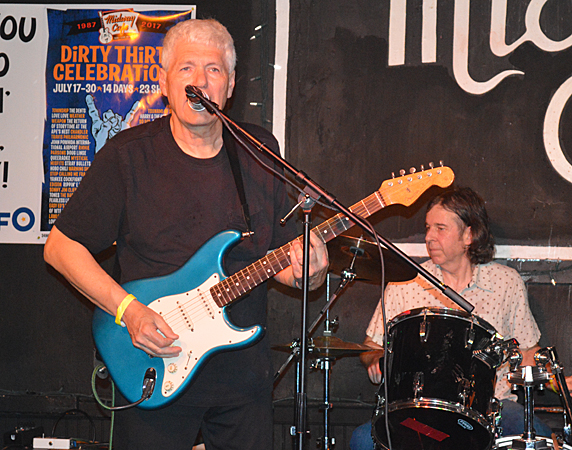 Nervous Eaters
Photo: Blowfish
There were just a few of the older gang in the audience, Matt Burns, Steven O'Donahue, and Slimedog. Where were the rest of our usual suspects? The Eaters will be playing a few gigs coming up. The next one is at The Out of the Blue Gallery on September 8.
We went to the Cantab on Thursday. Listening on-line to the bands on their bill revealed some possible good sounds. We talked to Mickey Bliss for a while and got some of his background story. Mickey was in and out of the scene for years until he clicked with The Kirkland. Since then, it's been one long stretch at Club Bohemia.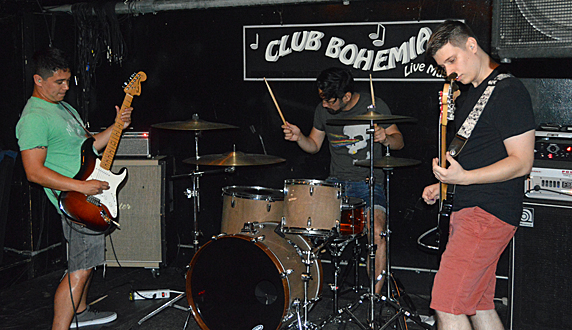 Miracle Blood
Photo: Blowfish
This Thursday it was an EP release party for Miracle Blood. Like a lot of new groups they don't fit a clear category but there's enough punk there along with some indie and mainstream influences. They often did the soft/loud Pixies trick and it worked. The singer did a lot of yelling and we love yelling. Our favorite song was the most punk: Slow Death (not the Groovies song). It had a fast descending line that they hit hard. It's stupendously simple and super effective. They throw the line back and forth between the guitarist and bassist. Another plus is the song is a short 2:07 minutes long. Check it out right here! We're throwing that right on our Top Ten Songs list. You can hear some Hendrix influence in their song No Lullaby which was their last song of the night because the bass player broke a string. There were about 35 people in the audience for Miracle Blood.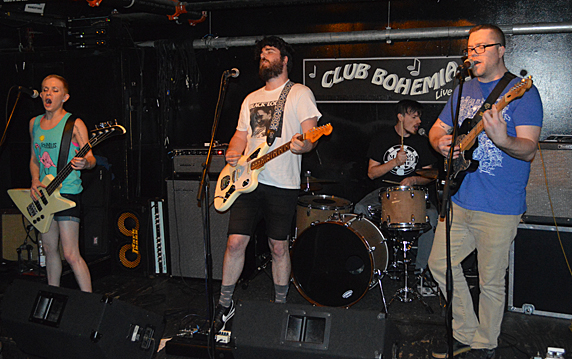 Blame Shifters
Photo: Blowfish
Many left before Blame Shifters and that's a shame because they played a set worth staying for. We're always amazed at how many good groups are out there that we don't know. This band was one of them. It was a high energy set with good songs and excellent playing. The drummer was making the drums 'crack', no 'thumping' for this guy. At some points he was hitting the two/four with both sticks so as to avoid any misunderstanding about what was important. The bass player was alternately playing simple roots or melodically, as she desired.
The focus was the lead singer who was yelling just like the Miracle Blood singer was. Again we loved it. At times all four members were singing. They put both punk and hardcore in their self-description. I would add a little indie in there that I heard in the guitars at times. An early song was Domesticating the Tiger which was a realistic/pessimistic look at being in a band. "All I thought I needed was a cheap guitar / And three chords repeating in a two minute song / But the debts stack up and before too long / You're making all these compromises that you can't come back from" Check out all the lyrics at Bandcamp. You can hear their aggressive attack on their Bandcamp songs.
That was two rocking bands on a hunch. It made driving through all of this summer's road construction detours worthwhile.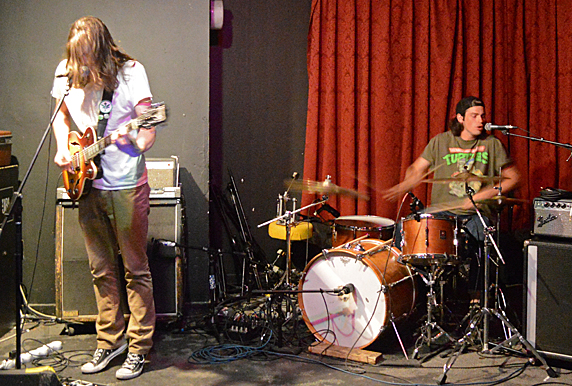 The Bruvs
Photo: Blowfish
Yeah well, it was back into those summer traffic backups on Friday. It was father/son last Sunday with the Nervous Eaters and at O'Brien's it was also family with The Bruvs. They are a drum/guitar duo and they are brothers. That makes getting together for practice easy maybe. We saw them before in November of last year. White Stripes would be the go to group to compare them to and they do deliver some of the same perks as them. However in the end, the Bruvs are doing their own thing.
The songs are more personal. The singing makes the melodies work and the lyrics have enough content to make you want to catch them in the noisy mix. The guitar is blasting with a few effects adding extra tones to fatten up the sound. The drummer is a busy player who also adds backup singing. The last two songs were the best as they ramped up the excitement and went a bit crazy.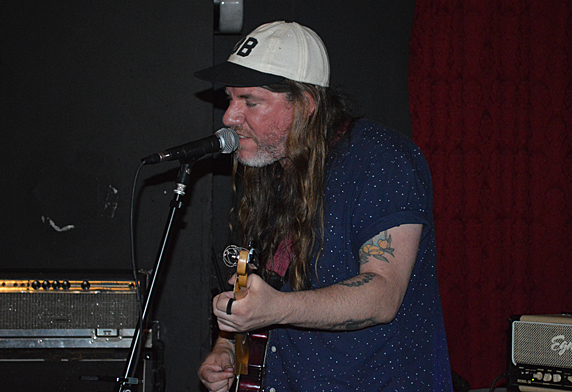 Mikey Holland
Photo: Blowfish
We were looking forward to The Dazies but for some reason the group was absent and it was up to lead man Mikey Holland to play a solo set. TThe Dazies are a garage band that usually have a free-for-all time on stage so we were stunned to hear a set of controlled and structured material. Many of the songs lyrics dealt with Holland's growing up in Lawrence and they resonated with feeling. Also the melodies came out in the solo setting. You could also see some interesting fretwork. Who knew? Outside of some Billy Bragg, we never went for the one man on guitar setup but we would go out of our way to hear Holland do this again.
Lee Bains III and the Glory Fires
Photo: Blowfish
At one point Eric Law arrived. He was hot on the heels of a scoop that headliners Lee Bains III and the Glory Fires were up and coming. They hail from Alabama and had a lot of the Southern rock sound mixed equally with punk. We're not big on the Southern rock/alt country style but there was no denying the wallop of their attack. It was a simultaneous slamming by four excellent musicians playing with the pedal to the floor. Eric's prediction is that next time they swing around it will be a show at Sinclair. This night they played to 25 people.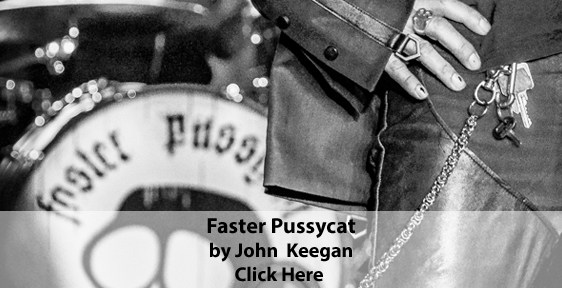 ---
And in other news ....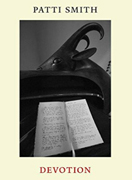 Our Boston boy- Johnny Angel's latest effort is an EP called Smutt and Politics- and he notes:" Recorded under duress, as Mr JAW was suffering the residual effects of pneumonia as he sang atop a damaged leg (later diagnosed with Deep Vein Thrombosis)" well that's a tough mix. Ooo boy, give it a listen!! The link above takes you to Bandcamp.
Patti Smith has another book out: Devotion (Why I Write). It's "an exploration of the nature of creative invention" and she'll be appearing again at the Back Bay Events Center Sept. 28- tix include a copy of the book. We went to her discussion of M Train and it was really worth it!!
Also, sadly, Sam Shepard passed away this week and Patti wrote a wonderful essay about Sam entitled My Buddy for The New Yorker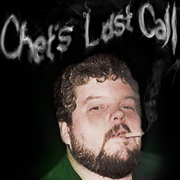 and....here's Patti Smith talking with David Lynch!!
On Please Kill Me there's a interesting interview with Glen Matlock in which he talks about the Sex Pistols' early days, and his post-Pistols life playing with Iggy Pop, Johnny Thunders, Clem Burke, Zak Starkey and many more!
The Chet's Last Call doc is moving forward - go here to check out the trailer and maybe part with a few bucks to help it move along and come to fruition...
---
Here's some good shows coming up .....
August 8 (Tuesday) Weakened Friends are at O'Brien's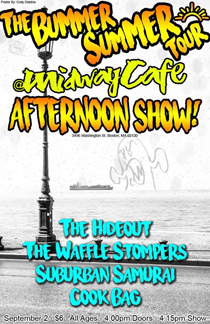 August 8 (Tuesday) Poptone...which is Daniel Ash and Kevin Haskins from Bauhaus, Tones on Tail and Love and Rockets are at The Paradise
August 11 (Friday) The Way Ways (EP Release), Today Junior, Andy Sadoway at Great Scott
August 11 (Friday) Michael Kane and the Morning Afters, Scotchka, Kreisau Circle, Kato Kaelin at O'Brien's
August 12 (Saturday) Brian Young's A.C.C.F.T.R. featuring M.O.T.O.! 91.5 WMFO 1-4PM
August 12 (Saturday) They're on the road again - OC45 Summer Tour Kickoff! feat. El Escapado, In The Meantime at the Middle East Up for an early-ish show 6:30 PM - 11:55 PM
August 12 (Saturday) The Modern Voice, Black Helicopter, Wrought Iron Hex, Scuzzy Yeti at The Midway
August 13 (Sunday) Pinkerton Thugs all ages punk show at The Middle East = also on the bill The Warning Shots and Duck and Cover. This is a daytime show- 1-6PM Check the FB page for more info as it is posted.
August 13 (Sunday) - This is Bob Colby's 65th Birthday Extravaganza - it is also his LAST show in Boston before he leaves town and heads to the south!! Thalia Zedek, Viva Gina, DYR FASER, The Land of Enchantment, Kingdom of Love, Cold Expectations, Carissa Johnson (solo acoustic), The Very, Randy Black and the Heathcroppers and The Wrong Shapes. At Once in Somerville and the show runs 3PM until Midnite! FB page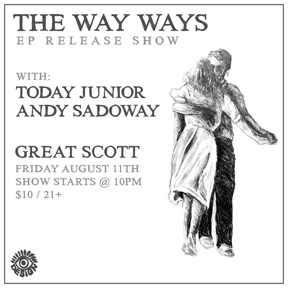 August 13 (Sunday) Casual Burn, Andy California, Love Strangers, American Whip Appeal at Deep Thought in JP. FB PAge for directiosn etc.
And further out....
August 14 (Monday) The Silver Mirrors, Spo, Scotty & The Gang at Great Scott
August 15 (Tuesday) No Time, Concrete Elite (tx), Savageheads, Cinderblock and Piss Dogs at Ralph's in Worcester.
August 16 (Wednesday) Rock DJ Carter Alan, author of The Decibel Diaries: A Journey Through Rock in 50 Concerts, will do a reading and book signing at the Quincy Historical Society at 7 p.m. (8 Adams Street, Quincy, MA 02169
August 16 (Wednesday) You People (Album Release) w/ E at Great Scott
August 16 (Wednesday) Salem Wolves, North by North and Day Grazer at O Brien's
August 19 (Saturday) Ocelot Records Presents: The Tenafly Vipers, Bucky Harris, A Minor Revolution, The `88 Rangers at O'Brien's
August 19 (Saturday) Screw Cart, Musclecah, Broken Toys, Mongorellis at Koto /Salem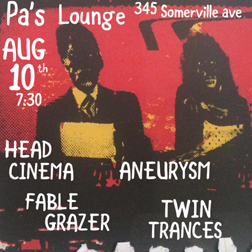 August 22 (Tuesday) OI!! - Rixe (France), The Brass, Bombers, Security and The Stance at The Middle East Up
August 22 (Tuesday) The Legendary Flamin' Groovies w/ Muck & The Mires & The Downbeat 5 are at Ralph's in Worcester you can get tix here
August 24 (Thursday) The Surfrajettes, Tsunami of Sound and The Beachcombovers are at Regent Theater in Arlington (FB page)
August 25 (Friday) Eyehategod and The Cro-Mags at The Middle East Up (FB page)
August 25 (Friday) Billy Connors Project, Club Linehan A Go Go, Corolla De Ville at The Spotlight Tavern/Beverly
August 25 (Friday) When Particles Collide and Petty Morals at Fury's Publick House in Dover NH
August 27 (Sunday) Stop Calling Me Frank, State of The Union, The New Frustrations, The Only Things at The Midway -matinee show 4-8PM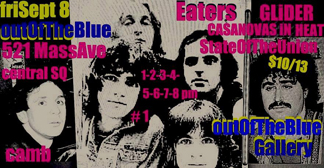 August 27 (Sunday) Brian Young's A.C.C.F.T.R. featuring Casanovas in Heat! 91.5 WMFO 1-4PM
September 7 (Thursday) Teenage Bottlerocket, OC45 and MakeWar at The Middle East
September 7 (Thursday) Thrust Club, Burnt VIllage, Psychic Dog and Cook Bag at O'Brien's
September 8 (Friday) The Nervous Eaters and Glider , State of the Union and Casanovas in Heat at Out of the Blue Gallery Central Sq. here's the FB page to get updates.
September 9 (Saturday) The Stigmatics are on A Crash Course for the Ravers on WMFO 91.5 from 1-4PM
September 9 (Saturday) The Gala, Future Carnivores, Stars Like Ours and Courters at O'Brien's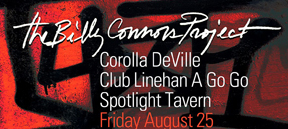 September 10 (Sunday) A Giant Dog, The Dazies, Boston Cream at O'Brien's
September 10 (Sunday) GBH and The Casualties at The Brighton Music Hall
September 11 (Monday) Roky Erickson at the Brighton Music Hall. WOW!! Get yer tix here.
September 15 (Frirday) Cold Expectations, Justine and the Unclean, Ten Dollar Mistake at The Tavern at the End of the World - FB page
September 16 (Saturday) Boston vs Tokyo Rock n Roll Showdown with Muck And The Mires, The Fadeaways (from Japan), Mellvins (from Japan), Jittery Jack at O'Brien's Pub
September 16 (Saturday) Chameleons VOX At the Middle East Also on the bill: Soft Kill , Way Out and The Milling Gowns FB Page
September 18 (Monday) Duck & Cover and the Quiggs are at Once with a fake version of The Dead Boys...no Stiv no Jimmy Zero -how can you call that the Dead Boys?? sad.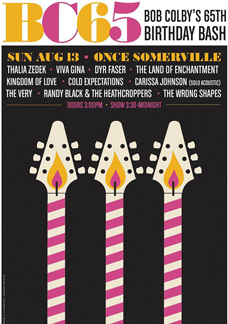 September 20 (Wednesday) X doing their 40th Anniversary Tour- at the Brighton Music Hall
September 20 (Wednesday) Kris Rodgers and Soraia are At O'Briens
September 22 (Friday) The Go Set, Beantown Boozehounds, The Pint Killers, The Disquiets at O'Brien's
September 22 (Friday) The Ataris and The Queers at The Middle East - this is an early show- 6PM -10Pm
September 22 (Friday) The Hi-End, Corin Ashley, Modern Day Idols, The Curtis Mayflower at the Midway
September 28 (Thursday) Stiff Little Fingers are doing their 40th Anniversary tour they have Death by Unga Bunga opening for them - at the Brighton Music Hall
September 29 (Friday) Il Mostro, Silver Screams, BDSX and The Von Traps at O'Brien's
October 8 (Sunday) Petty Morals are having a Ballroom Blitz at Once Ballroom with a Flea Market and Art Show -also on the bill Muck & The Mires, The Dazies and Lady Pill (set times and more are on the FB page) It's 2PM- 8PM
November 4 (Saturday) Human Sexual Response at HOB
November 9 (Thursday) The Proletariat at ONCE Ballroom w/ Siege and Black Beach
November 10 (Friday) The Proletariat are at Narrows Center for the Arts w/ Black Beach in Fall River, MA (FB page for info)
November 11 (Saturday) Hasselfest #9 this year has Pere Ubu and a ton of other bands at Once- get the info on the FB page here.

CONTACT US AT....misslynbgn@yahoo.com -Send us your gig listings, your news and anything else ya got!! You want your CD reviewed?? Contact us for that too.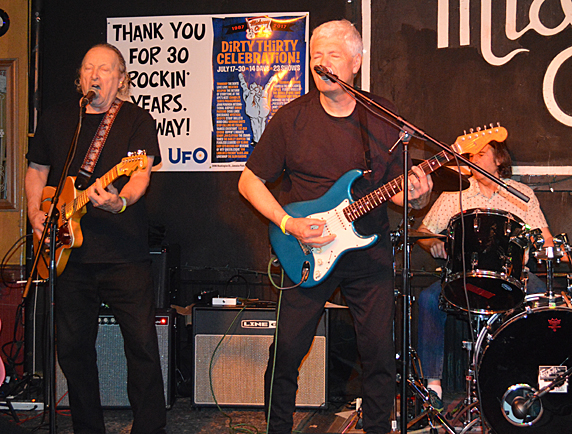 Nervous Eaters
Photo: Blowfish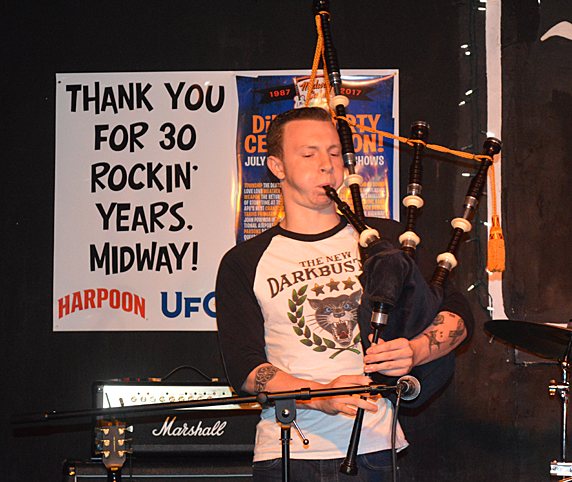 Barroom Heroes
Photo: Blowfish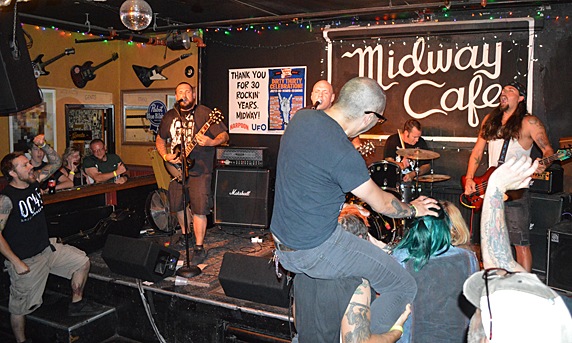 Revilers
Photo: Blowfish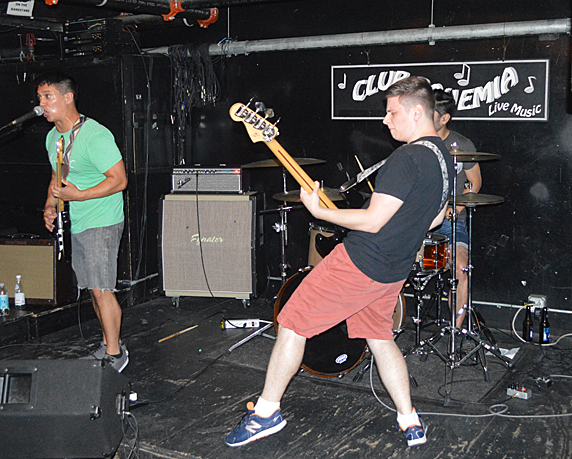 Blame Shifters
Photo: Blowfish
The Bruvs
Photo: Blowfish
Lee Bains III and the Glory Fires
Photo: Blowfish