The BGN News Archive
August 8, 2011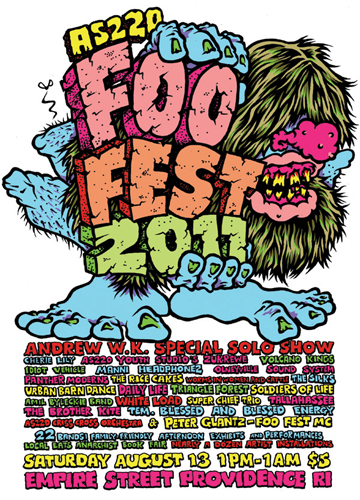 As you know Frank Rowe's ...big birthday bash is this very Saturday. We wish Frank a fab fab fantastic birthday and beyond!!....and this is a really great line up over at the Midway in celebration: The Dogmatics Sourpuss... (feat.The Dogmatics' Jerry Lehane and The Turbines' Jack Hickey) And Lenny Lashley's Gang of One ...: The Midway on Saturday, August 13th Oh its gonna be a excellent evening....
This Saturday it's the 17th year for the Foo Fest run by AS220 in Providence. We're late to the party for this but did check it out last year and it was a perfectly run event. They block off a street and charge about $5 and have two bands going all day (one inside and one outside). There's plenty of food vendors. It's a great chance to check out the downtown and some Providence music. The FOO FEST WEBSITE.
on Sunday, the 21st, 11AM - 5PM the Rock'n'Roll Yard Sale in Union Square, Somerville in August Some of New England's best Record Sellers will be joined by excellent Vintage and DIY Handmade Vendors, making for a unique shopping experience where attendees will find great one-of-a-kind items available nowhere else. There will be all sorts of Music-Related Items including many different formats of Vinyl Records, CDs, Cassettes + 8-Track Tapes. there will also likely be Music + Audio Gear plus rare Music Magazines, Silk Screened Posters + Promotional Items. There will also be lots of classy Vintage + Re-Fashioned Clothing + Accessories in addition to lots of amazing Local DIY Crafts. We are in some really tough economic times these days, but the DIY Movement is growing and artists and creative businesspeople are taking to events like this to find an audience for what they do. This is a perfect way to support DIY & Independent Small Businesses! And the reason it is on a Sunday thisd year is so it can be pen for lonfewr hours than on a Saturday!!
And on August 26th another Birthday Bash, this one for Nancy Neon is a great night at the Cantab - the line up now consists of Port Charles Quintet and Classic Ruins, Sticky Business AND James Straight and The Wide Stance!! Excellent!!
And on Saturday August 27th @ the Dillboy V.F.W. Post in in Davis Square , Cadillac Heart is doing a show with with Girl on Top. This show is actually going to be The Rayboy Fernandes Going Away Party!!! He's moving to the land of WKRP...yup Cincinnati.
up north in New Hampshire there's gonna be a killer show comes September 3rd at Milly's Tavern in Manchester, NH
The southern kings of Destructo Rock Antiseen make their first EVER appearance in New Hamshire!! The Jabbers(that's GG Allin's original band to you!), Meatsaw and the mighty Caught Flies!! As they are saying: This show will eat yer babies!!!

Hey remember Digney Fignus and The Girl with the Curious Hand ??? Well he's at Johnny D's Sept 9th!! His sound now is Americana roots type New Orleans sounding stuff....
Hey stay in touch huh? ...Email us click click click