The BGN News Archive
August 9, 2010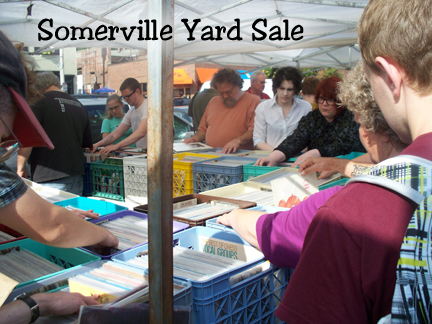 Well of course I went over to the Rock'n'Roll Yard Sale this past weekend.
There was loads of vinyl vendors there...vinyl will never die...YEAH!! Saw lots of people I knew, lots of people I recognized and lots of people I didn't kwo at all…there were LOADS of people there which was fantastic and there were tons of vendors, a great variety too! Scroll down to click on a link to a page about the Yard Sale!!!...


Click for full page on The Somerville Yard Sale


So.., what's coming up, huh? This coming Friday the 13th at Church, Agent Bishop Presents a night of epic mayhem: the Lucky 13 Bash! with an excellent line-up of Liptease, Gene Dante and the Future Starlets and Sidewalk Driver.

Coming up later in August is Mondo Generator, Roadsaw, Cocked N' Loaded and Cult 45 Friday, August 20 at Middle East Upstairs

Saturday , August 21 is a big Nancy Neon Birthday Bash, at the Cantab with Ramone5 (former members of The Ramoniacs), Sticky Business - A Bubble Gum Tribute, The Arch McDonald Quintet and the Port Charles Quintet (this is their first gig with new guitarist Greg Allen

also on the 21st is a great show at The Rosebud: 5-Point and Brownboot...

And don't forget...the show at Club Lido in Revere on Sunday August 29th at 2PM.
In celebration of the film: xxx ALL AGES xxx and it is also a Gallery East Reunion!
Boston pioneer hardcore punk bands DYS, Jerry's Kids, Gang Green and FUs will perform with New York City's Antidote and guests for a monumental reunion show ...AND the show will be featured in the film xxx ALL AGES xxx.

And remember that Bandwidth TV episode #50 featuring Razors in the Night will be showing all of August on Cambridge Community Television (CCTV) Ch 10 Cambridge and on public access stations in Boston, Somerville, Brookline, Belmont and Malden. You can also watch the full episode here

Lastly but not leastly ...., if haven't yet donated $$$ for Joe Coughlin to help him out with all his frightful hospital bills you can do it!! Just go to Paypal and click on "Send Money" (this link takes you there) you fill in Joe's email which is:
joeradio (at) ix (dot) netcom (dot) com
(put the symbols in for the words in parenthesis, you know the drill) And just like magic Joe will get the dough...don't be embarrassed if you just want to send like 10 or 20, that will definitely help too, it all adds up my friends!! And Joe says Thank You VERY Much!!!
OK, that's it.....

... you can email us at: Miss Lyn email......