The BGN News Archive
August 12, 2013
This weekend we have nothing to report as far as seeing bands goes...but we did spend saturday night talking about music and the Boston Scene when we were interviewed by Cat Mooney who is doing her Master's Thesis on Punk, Post Punk, and New Wave in Boston in the late 70's to the early 80's. Who knew huh? But she is doing some amazing research and will eventually have an interactive site where you can clik on venues and see what bands played when, with who, and all sorts of other information!! How cool! Can't wait to see it! We'll share a link as soon as we have one!
This Tuesday the Punks Not Dead at The Ramrod folks are having a party to celebrate the First Issue of a new hard-copy print (as in actual paper like the old days) fanzine called Life is Poser, at Machine
But Eric Law says we should all head over to Precinct for Crazy and The Brains and The Little Richards on Tuesday 8/13.
It's here - Thursday August 15th is your chance to catch The Upper Crust along with Devil on Horseback at Precinct…
This Friday August 16th is Gurlzzz night (with a couple of guys thrown in for good measure) at TT's - on the roster you got Petty Morals, The Charms and B.L.O.W.W.
Also this Friday at The Tavern..End of World is the Cal Cali Bob Cenci duo playing some new originals as well as Clash covers…
Saturday August 17th you could spend a whole lotta time at the Midway- starting at 3 Pm is a very interesting show: "Concert Recital- An Afternoon of Punk Rock and Story Telling" with music by Duck & Cover, The Old Edison and Loser's Circle AND Storytelling by Mark Lind and Ken Reid and the cover is only 6 bucks!

Then…. 9 PM starts DJ Easy Ed's very special night with Roy Sludge's Roots Rock Spectacular!!! Starring Leah and her J-Walkers, the Roy Sludge Trio with Jim Hagerty and Judd Williams!!!, The Barley Hoppers with special guest Frankie Blandino on steel!!! And Easy Ed's Record Hop
Thursday 8/22 at the Middle East up- Union 13, The FU's, Red Line Rebels and Brunt of It…..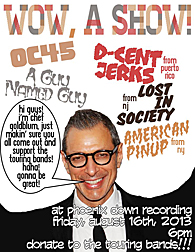 Watts are supporting Cheap Trick at the Hampton Beach Casino Ballroom on August 25th.
Weds Aug 28th is a Benefit Show for the Lets Go To The Rat movie….at Johnny D's …show starts at 7:30
But wait- WHAT?? Roy Rubenstien is moving to Asheville NC!!! So bid him a fond adieu at his going away party at Radio on Weds, Aug 28th!! Amy Prohaska is putting it together and so far she's got My Own Worst Enemy, Corin Ashley, The Vivs and Kevin Stevenson providing the music for the night…
Friday August 30th The Queers are at Church (with The Dwarves)
and there's a great show at Radio UP with Ragged Old Flag, The Scars and Radiator Rattlers….
Also on 8/30 The Monsieurs are having a "Tape Release Party" at O'Brien's with The Thick Shakes, Radio Control and Psychic Yardsale…
Oh yes Mark the calendars folks coz James Straight & The Wide Stance are on A Crash Course for The Ravers (WMFO 91.5 FM) from 1-4PM on Saturday August 31st ….and as The Reverand Joe Fagan says: "This is web streamed folks so you can tune in on your smarty pants phone from where ever you are!"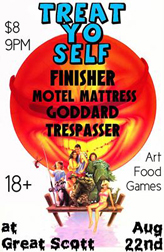 and in the evening - (7PM-11PM) there's a very special show at the Middle East up with Continental, Duck & Cover and The Scrapes…
Richie Parsons is getting visited by his friends in Italy again and luck for us they also are in great bands and play gigs in town when they are here…Sunday Sept 1 at Radio Giuda will be headlining also on the bill The Kurt Baker Band and The Legendary Rockin' Prophets and Dan Garrison…we hear the Axe will be playing too….
Pere Ubu is at Brighton Music Hall Saturday, September 4th!!!
Sept 7th Saturday at Club Bohemia at the Cantab down - The FU's, Psycho, Insult & Oblivion...
Saturday 9/7 Middle East Down - Barrence Whitfield and The Savages LP Release show with Special Guests too!!
Also on 9/7 James Straight & The Wide Stance return to Copperfield's on Brookline Ave in Boston…https://www.facebook.com/events/1405460629666516/ Check out our write up and pics from the last time they played there - its actually a great place to see these guys!
another Awesome show alert!!:9/21 Upstart Fest 2013 - The Northeast's Biggest and Best Punk Rock Party will be at the Middle East Down with Koffin Kats, Hudson Falcons, Turbo AC's, Two Fisted Law, American Pinup, New Red Scare, Svetlanas (U.S.S.R.), Cry Havoc, The Old Edison and OC45 - DOORS AT 5PM!!!
If you are not in Boston don't despair…this show is touring and may be coming to a city near you check out their website!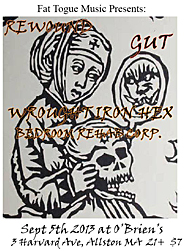 Also on the 21st - At Radio is a celebration of Joan Jett's Birthday!! So its Ladies of the 80's cover songs night…
It's Official!! The Rat Reunion Beach Party
9/14 & 15 At The Red Parrot , Nantasket Beach in Hull September 14th (Saturday noon to 6 pm) -- Rat Musicians Cookout/Small Jam!, September 14th (Saturday 6 pm to close) -- Red Parrot (Beach Bar) Rat Jam! , Sunday, September 15th (noon to close) -- The Main Event -- Rat Veteran Bands in All Rooms of The Red Parrot!
So far the band list is as follows Slow Children, The Beachcombovers, The Boize, The Derangers, Cindy Daley, formerly of Lovelace, Liz Borden, JetSet, The GraveDancers , State of The Union, The Workers (w/ Sev Grossman, David McClean!), The Kenne Highland Clan, FoxPass, Red House, Tsunami of Sound, Heavy Weddle & Sweet Release - and the list continues to grow!
There's a special show on Monday September 30th at Charlie's Kitchen with Unnatural Axe, Kepi Ghoulie and special guests all the way from Italy: Miss Chain and The Broken Heels…Richie says he has loads of new material they'll be performing!
11th Annual Ponderosa Stomp is this October 3, 5 and 5 at The Rock n Bowl in New Orleans check out their site for a list of performers etc....
October 12th -WAS going to be Cal Cali's Rat Reunion - but he's moving it because of Spit Reunion #2!!! On October 12th At Bill's Bar on Landsowne St…..DJs will include Tony V, Paul V and Steven Strick and music so far will be by Robin Lane and Lizzie Borden & The Axes..get info timeline and buy tix at their website
And here's a Fun item on BBC documentary on Rt 128 and how it inspired Jonathan Richman's Roadrunner. It was 15 minutes long and played Sunday afternoon. Can it be accessed now? I don't know.
And here's the Official Trailer for the CBGB Movie...ha, should be good for a laugh if nothing else.
EMAIL US AT…….misslynbgn@yahoo.com
Past postings of this news page are in the BGN ARCHIVES