The BGN News Archive
August 12, 2019
Every Monday you know there will be a punk show at Charlie's Kitchen. Now it seems that every Thursday is the show day for the Hong Kong in Harvard Square.
This Thursday line up was all new bands to us. They all sounded promising on their online music offerings.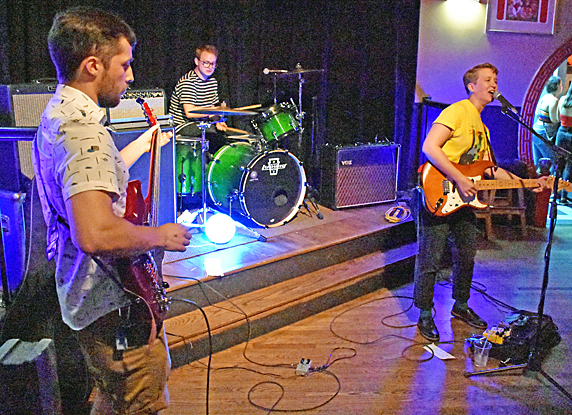 Slo Anne
Photo: Blowfish
Slo Anne was on when we got there. They're a three piece playing indie rock. The guitarist was moving partial chords around and that had a pleasing sound. We only heard a few songs but came to like them pretty fast. We'll try to catch a full set in the future.
There was a back line for all the groups and the amps were medium sized (because no one wants to lug a big sucker up those two flights). That kept the sound at a less punishing level than usual. This has been the case all the times we have been to the Hong Kong. Because of that or because of the sound man, the bass in all the groups was level with the guitars. All the bands benefited from that.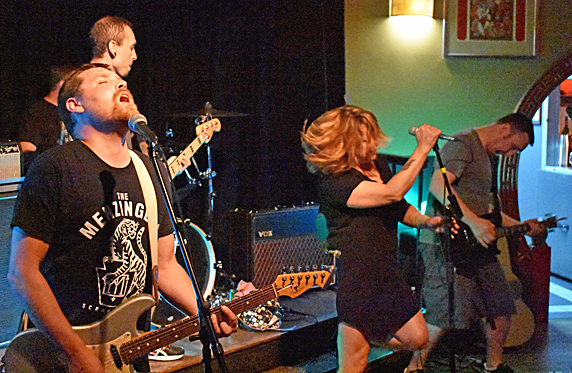 The Callouts
Photo: Blowfish
The Callouts are from Providence. They were all excellent players and had a notable two guitar line up. The singer's voice was clear and always spot on key and was used to deliver some superior songs. It was that line up of so many good songs in a row that really impressed us. We're going to spend some time digesting their latest album which is available on Spotify, I-tunes and Bandcamp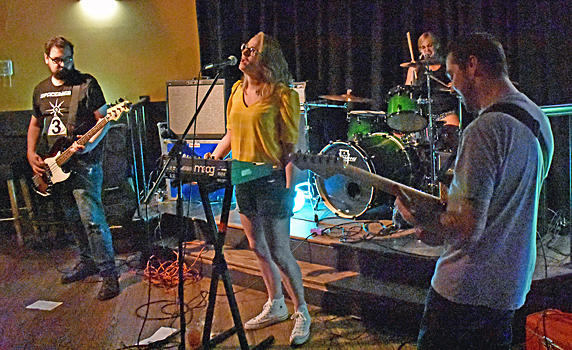 Green Piece
Photo: Blowfish
Green Piece are from Lowell. They did some tuneful art rock. What lifted them up was the notable drum work, it was busy and driving. The band were very happy with the crowd (which was 40 to 50 people) and their reaction. The audience was giving every band a big applause. It was a happy bunch and it made the night a real pleasure to take in.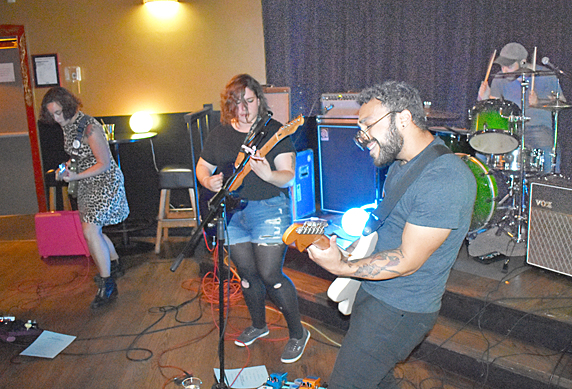 Sorry
Photo: Blowfish
Sorry was the next band. We're wondering if they know there used to be a hardcore band called Sorry (from '82 to '86) who have a Facebook page. We guess not, and so it goes.
This Sorry had a good kick to them. The guitars put up a dissonant cloud. A lot of bands do that but in Sorry they had some conventional type vocals going on also.
At the beginning it just seemed messy but about halfway through it all settled in for us. There were a few songs where they hit some magic spots you were swept up with the vocals. You felt you were inside that distorted cloud. At those times the bass playing, which was clear in the mix, was very creative: some melodic lines, some short figures and sometimes just chord tones. Outside of a jazz situation you don't hear playing like that. Those are the moments you wish for, to be caught up in the music and lose yourself. Sorry's Bandcamp page.
That was another worthy night at the Hong Kong. We getting used to hitting Harvard Square again.
Saturday it was another four bands that were new to us. It was an all punk show with a few Mohawks and studded jackets on display.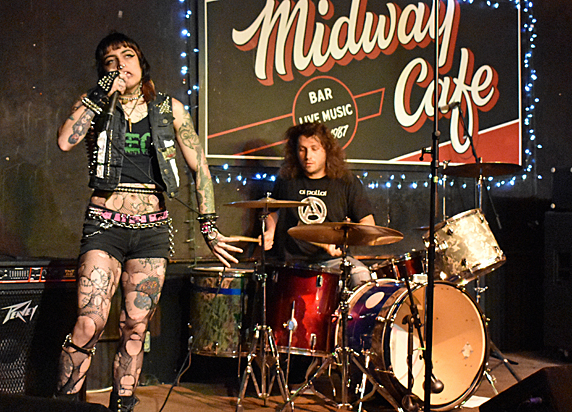 Flashback
Photo: Blowfish
Flashback is a three person band with no bass. Not having a bass did effect the overall sound although the guitarist had the chops to cover it up. To make up for it they had a singer who was captivating. She has a slight frame, showing a lot of tattoos. Emanating from her was was some of the deepest throat singing we've ever heard!! We did catch her unwrapping a throat lozenge and popping one in every now and then during the set.
We were riveted the whole time even though we didn't actually understand one word. They didn't talk on stage, not even to say who they were, until the end. They finally said thank you and the singer revealed that this show was her first time ever on stage as a singer. Wow!! We look forward to watching her evolve as a performer up there.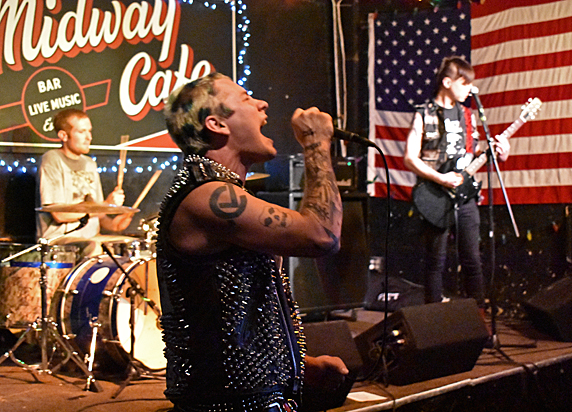 The Ear Bleeds
Photo: Blowfish
Next up were The Ear Bleeds from Kennebunkport, Maine. The singer and guitarist were all punked out, that added to the feel of the set. They must get some attention walking around Kennebunkport like that. The band pumped it out hard and the singer spent most of his time on the floor. The drummer played busy but clean and added some pop elements into the mix. The song that got our attention the most had a chorus of "Fuck you". Maybe it's just us but that does seem to be the magic phrase sometimes. It brings out the best angst. They announced a song they were going to play called "Heinous Crimes" but someone in the audience heard it as "Anus Crimes" and shouted that out. Others picked it up and half the place was yelling it out. Ah, fun times.
We liked all the songs; they were all just a minute and a half packets of punk. Their Bandcamp material is all like that too. We definitely want to see these guys again!!
The club was far from full. We think some of that was because the night show was going to be full of bands you want to see like, The Pint Killers, The Von Trapps, and See This World. We wanted to see that show too but did the day thing instead.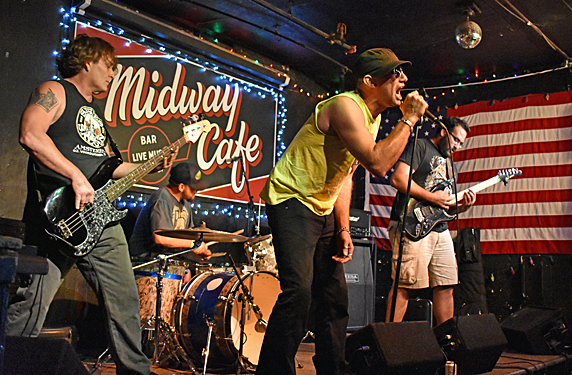 Lewd
Photo: Blowfish
Lewd has members of Honest John and Sick Joke. They were the tightest band of the night by far. They dole out the hardcore with some metal guitar. Aaron on vocals reminded us of a combination of Wimpy from The Queers and Jason from Baabes. He had that punk sneer on his face and in his vocals that we love. We dipped into their album on Bandcamp before the show and loved some of the lyrics. So we knew that along with the vocal delivery he serving up some sharp comments too.
Even their first song there called "Facebook Robot Twitter Feed" pegs a whole lot of social and political posturing. Time and again they are on the mark and absolutely talking about what's happening to us right now. Hardcore has always been political and Lewd are forwarding that tradition. Many of the lyrics are posted with the songs in Bandcamp. Live, all that was there, but the words were hard to catch which is always the case but Aaron's performance was speaking volumes on its own.
Most of the audience left during their set. Aaron asked "What, do you have to have a spikey jacket to get some respect today?" ... and we think that was the case as the crowd filtered back for the next set. This kind of speaks volumes as to some audiences. Just because a band ins't wearing a particular uniform doesn't mean they aren't worth listening too.
That was a full punk show and to think there was another one to follow immediately makes us love the Midway on Saturdays!!!
Click Here for more band photos.
---
And in other news.....
This week we heard the news of the loss of another member of the Boston music scene...Jonathan Sprague. Many of you will remember him playing keyboards in the Prime Movers and even The Phantoms. While he unplugged from the music world in the 90s, Jonathan always had many fond remembrances of the bands he was in, and all the good times at the clubs in Boston and beyond. He was a quite guy...one of the 'still waters run deep" kind. He had many talents...one among them music. Here is his obituary. We will keep you posted as to a memorial in the future.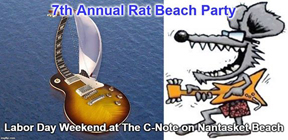 Coming up is the 7th Annual "Rat" Beach Party. It starts on Thursday August 29 goes four days till Sunday September 1st then skips a few days and wraps up Friday September 6th. The idea of the Rat Beach Party has slowly changed and now accommodates some local high school bands that play next to the veteran Rat bands which is good for everybody. There are over 40 bands in the roster, including: Hixx, Larry Newman, Tsunami of Sound, Doug MacDonald Band, Gary Shane, Bob Cenci, The Count's Love and Flame, Joe Perry, The Fringe, Baabes, Glider, Hardwired, Club Linehan a Go Go, Stigmatics, 1.4.5. and Charlie Don't Surf. It's all happening at the C Note in Nantasket. Here's the FB page. The Website.
Dick Dale grew up in Quincy so it makes sense to have this Dick Dale Memorial Surf Guitar Festival at the Squantum Yacht Club, 646 Quincy Shore Drive from 4 to 8pm. They say: "All surf-oriented musicians welcome" Drums, amps, PA provided. Food, beer available for purchase". It's on Saturday August 24. Tix here.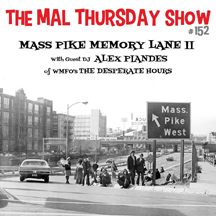 The Mal Thursday Show (from Austin) has a Boston music special called the Mass Pike Memory Lane II. It has songs from Boston and songs about Boston, it's has a wide range and an interesting one. They have a Prime Movers' song in there – (RIP Jonathan Sprague) And Mal had WMFO's Alex Piandes as a guest DJ. The playlist includes a ton of awesome songs from Boston bands you will want to hear! Listen to Mass Pike Memory Lane!!
Ken Stringfellow one of the originators of the Posies will be at The Lilypad on Friday September 20. Tix here
There's a 'pre order package' for the Brix'n Mortor upcoming CD called Poison Words. It includes the CD+download, T-shirt, buttons and patch. And when you go to Bandcamp check out the song "Wasted" . This is going to be one great CD.
---
Here's some good shows coming up this week.....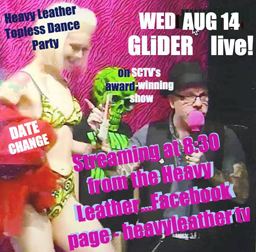 August 14 (Wednesday) GLiDER live on Heavy Leather Topless Dance Party ! scat-tv FB page for links
August 14 (Wednesday) Deke Dickerson, Bloodshot Bill, Jittery Jack, DJ Easy Ed at Once FB Page
August 15 (Thursday) 1.4.5., Crunchtime , Glider, Sara & The Scalliwags at The Jungle Union Sq Somerville.
August 15 (Thursday) The Queers, Stubborn Hearts, Meat Depressed, The Parkwoods at Alchemy in Provi RI
August 15 (Thursday) Coffin Salesman, Cuidado, Sunsinger, PCP (On Tour From CO) at Opus Underground Salem.
August 16 (Friday) Cocked N' Loaded, Hey Zeus, Scissorfight at Great Scott
August 16 (Friday) Baabes, The Von Traps, Silver Screams, Lipstick Boys at O'Brien's Pub
August 16 (Friday) FREE show and party in Gloucester with U-ey at the Buoy (Ex members of Jerry's kids), Rawstrum, Junior Beef at the Magnolia Pub 24 Lexington Ave Gloucester.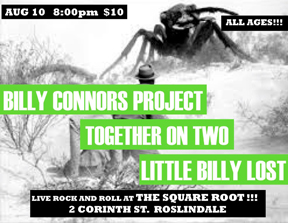 August 17 (Saturday) Stop Calling Me Frank, Muck and the Mires, The Dirty Truckers Boat Party! 3:30- 7PM FB page for info and tix
August 18 (Sunday) A very special Everyone Behave My Mom's here Mess-Around with Cam and Kim Ackland from The Black Souls joined by Anthony Kascinski and Billy Connors. Also - Kelly Riley w/John Pfister (bax/vox) & Jim Treacy (percussion) and - Julie & Donna from The Very... And returning, Tad Overbaugh w/Chuck Vath. Tad will also be joined by his mega-talented daughter, Chloe for a few songs. And yes Jay Allen's mom and sister will be in the audience!!
August 18 (Sunday) Possum, Martin/Morell/Fredette, The Chelsea Curve, Tsunami of Sound matinee 3-7 show at the Midway
August 18 (Sunday) Muck and the Mires live "On Stage with Mantis" 6-7PM streamed live at https://youtube.com/mantiskhiralla/live
And further out there is.....
August 19 (Monday) Coffin Salesman, blindspot, Radio Compass, Motel Black at Charlie's Kitchen
August 22 (Thursday) OC45, El Escapado, The Runouts, Sick Minds are at O'Brien's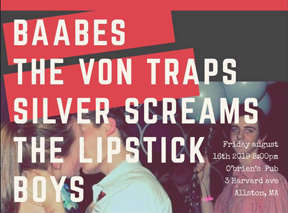 August 23 (Friday) Barstool Preachers, The Raging Nathans, Art Thieves, Loser's Circle at O'Brien's
August 24 (Saturday) Waiver Wire, Bernie's Garage, Happy Just To See You, Extract 3-7 matinee show at the Midway
August 24 (Saturday) The Humanoids, Bossnova, Oxblood Forge, Renegade Cartel night show at The Midway
August 24 (Saturday) The Legends of Punk returns to Clash City with Warthog, Charlie Don't Surf and No Future at Maggy's in Quincy FB page
August 28 (Wednesday) Social Distortion & Flogging Molly at the Rockland Trust Bank Pavillion FB Page
August 29 (Thursday) Death Pesos, Zip-Tie Handcuffs, Sundrifter, Jessica Rabbit Syndrome at O'Brien's
August 31 (Saturday) A Crash Course For The Ravers LIVE Saturdays 1pm to 4pm at WMFO and transmits on 91.5FM Medford. This week we have RICHARD MIRSKY!
August 31 (Saturday) Time & Place, PowerSlut, The Daylilies, Lonely Leesa & The Lost Cowboys at The Jungle - Music starts at 8PM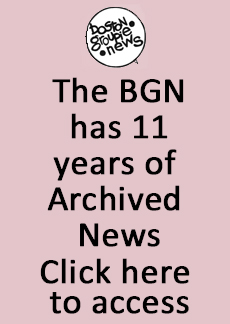 August 31 (Saturday) Fk the Str8 Parade w/ When Particles Collide, Salem Wolves, Big Nothing at OBrien's
September 1 (Sunday) A Bunch of Jerks, Crunchtime, Zulu Lulu, The Black Souls - 3-7PM matinee at the Midway
September 5 (Thursday) The Vibrators are at O'Brien's Tix here.
September 6 (Friday) Muck & the Mires, Jittery Jack & Amy Griffin, Bad Larrys at Sally O'Brien's
September 7 (Saturday) Mick Lawless & Reckless Hearts,Tsunami of Sound, Gene Dante & Future Starlets at The Square Root Roslindale.
September 7 (Saturday) Buddy Hally Birthday Bash - Performing two sets of Buddy Holly's music: Evan Shore (Muck and the Mires) - guitar, John Sheeran (Township, Firekinf) - bass, Scott Pittman (Sugarblood Jinx, The Shods…) -drums, and guests Kevin Patey (Jittery Jack), Terry O'Malley (Stop Calling Me Frank) and more TBA! 10PM at The Plough.
September 8 (Sunday) Somerville Rock And Roll Yard Sale - Union Square - 11 AM – 5 PM FB page for more info
September 8 (Sunday) Private Instigators, Color Killer, Jonee Earthquake Band, The Degenerates of Punk 3-7PM show at The Midway
September 8 (Sunday) Vinnie Earnshaw Memorial featuring Greg Allen's Fringe Religion, Heidi Nirk Band, Neal Vitullo and the Vipers, Bob Angell, All Star Jam featuring Duke Robillard, Tim Taylor, BickerSins at The Met in Pawtucket RI. FB Page for info etc
September 9 (Monday) The Subhumans w/ FEA and Savageheads at Once Ballroom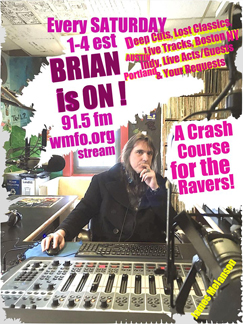 September 12 (Thursday) Fireking, Hi-End, Radium Girls at The Jungle
September 13 (Friday) Screw Cart, Doug MacDonald Band, State of the Union at The Jungle
September 14 (Saturday) The Cotones, Kid Gulliver, Why Try?, Mosaic Mirrors at The Jungle
September 14 (Saturday) Punks for Pets!! with Stubborn Hearts, The Essays, Mike Donovan, Sex Coffee, Artist Jackie featuring BeatCo.ViaMental, Panzerchocolate, The Hangovers at The News Cafe in Providence RI FB page
September 19 (Friday) Baabes, Fur Purse, North By North (Chicago), Sadie Vada at O'Brien's
September 20 (Friday) Priors, Black Beach, Far Corners, Andy California at the Midway
September 21 (Saturday) PRIORS, Black Beach, Far Corners, and Andy California 8PM show at The Midway
September 21 (Saturday) Lyres and Glider at Once (TIX)
September 26 (Thursday) Ritualists (NYC), GLiDER, Sara & the Scaliwags, Lily Black at O'Brien's
September 26 (Thursday) The Runouts, Thee Fightin Fish, Muck and the Mires, Seawolf at The Jungle
September 26 (Thursday) Mick Lawless & Reckless Hearts,Tsunami of Sound, Gene Dante & Future Starlets at The Square Root.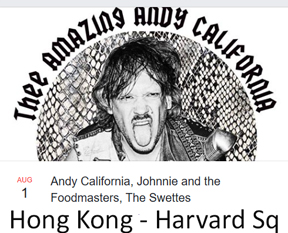 September 28 & 29 (Sat & Sun) The Boston Local Music Fest 10AM-6PM both days at Government Center. Check website for updated listings. They say: "There will be a variety of musical genres represented, as well as artists and artisans, food trucks, a beer garden, and a community of people supporting, experiencing, and celebrating our local music culture." We'll see.
October 1 (Tuesday) Agnostic Front w/Prong at Brighton Music Hall
October 4 (Friday) Cold Expectations, M.O.T.O., Little Billy Lost at The Jungle
October 5 (Saturday) Mudhoney, Pissed Jeans at Brighton Music Hall 6PM doors.
October 6 (Sunday) The Sinister Six, Martin / Morell / Fredette and TRiPLE THiCK - 3-7PM show at The Midway
October 10 (Thursday) Kid Gulliver, State of the Union and The Chelsea Curve at The Jungle
October 11 (Friday) Sister Suzie (from the UK) Jittery Jack & Amy Griffin at O'Brien's
October 12 (Saturday) Lyres, Tiger Bomb, Glider at Sun Tiki Studios 375 Forest Avenue, Portland, Maine 04101 FB page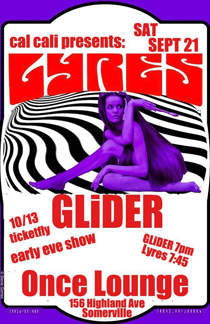 October 19 (Saturday) A Crash Course for the Ravers has Richard Mirsky - 1-4PM WMFO 91.5 FM

October 19 (Saturday) Avenir (French punk rock) at the News Cafe in Provi RI - check out their bandcamp page ..and here's the FB page for the show & tix etc!!!

October 20 (Sunday) Stiff Little Fingers, The Avengers at Brighton Music Hall doors 7PM

October 20 (Sunday) The Vivian Girls are at Once

October 23 (Wednesday) Flipper with David Yow (Jesus Lizard) "40th Anniversary Show" at The MIddle East Down

October 23 (Wednesday) 999, The Clap, Vixen 77 at The Fire Philly PA FB Page

October 25 (Friday) Flamin' Groovies, Richard Lloyd Group, Tiger Bomb at ONCE

October 25 (Friday) 999, The Clap,the Parasitix, The Transmission Now at the Catasauqua American Legion 215 PA FB page

October 26 (Saturday) The Fleshtones, GLiDER, Muck & the Mires at Once Ballroom

October 26 (Saturday) 999, The Clap, The Bobby Lees, Blank Spots at Coney Island Baby in NYC FB page

October 29 (Tuesday) 999 & The Clap at Randy Now's Man Cave 134 Farnsworth Ave, Bordentown, New Jersey 08505 FB page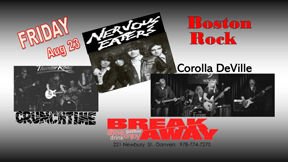 November 8 (Friday) Muck & The Mires, The Gotham Rockets, Tiger Bomb, Gene Dante at Alchemy in Providence RI FB page.
November 9 (Saturday) The Von Traps, Salem Wolves, blindspot, Jakals at Opus in Salem
November 21 (Thursday) Robert Gordon with special guest Chris Spedding at Once
January 10 (Friday) The Mercy Case, Bystander, blindspot, Foxes at Koto Salem
March 28 (Saturday)The Zulus at The Paradise
CONTACT US AT....misslynbgn@yahoo.com Send us your gig listings, your news and anything else ya got!! You want your CD reviewed?? Contact us for that too.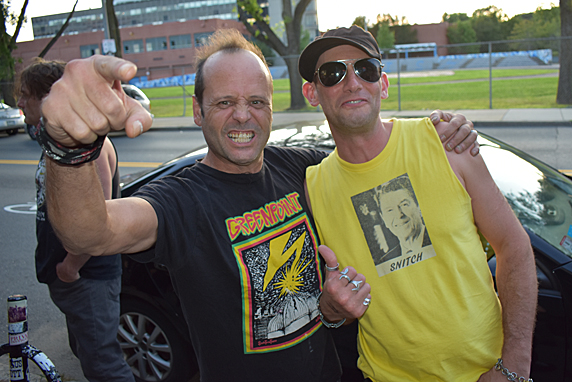 Dave Tree and Aaron from Lewd
Photo: Blowfish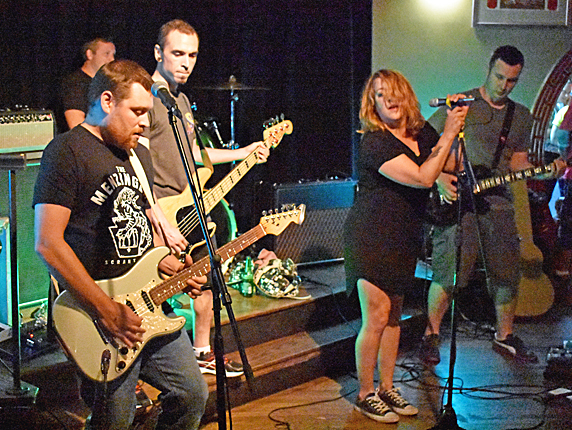 The Callouts
Photo: Blowfish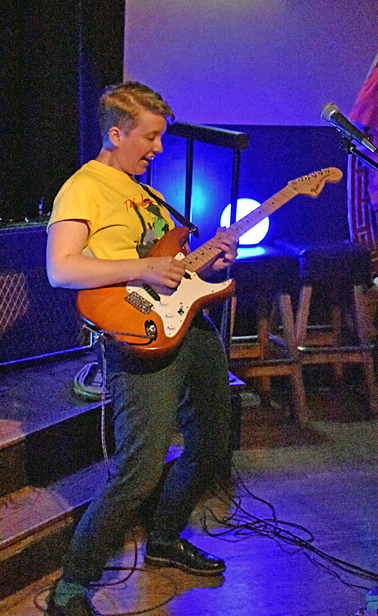 Slo Anne
Photo: Blowfish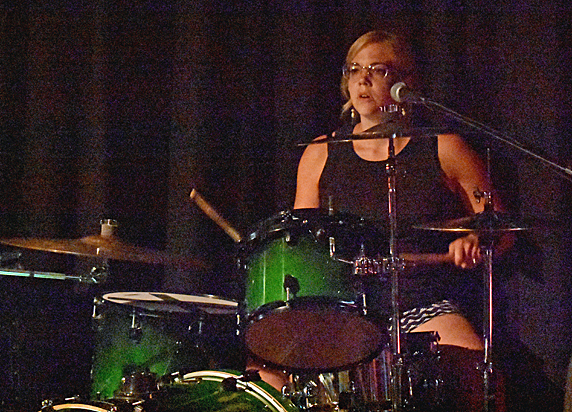 Green Piece
Photo: Blowfish
Green Piece
Photo: Blowfish

Sorry
Photo: Blowfish

The Ear Bleeds
Photo: Blowfish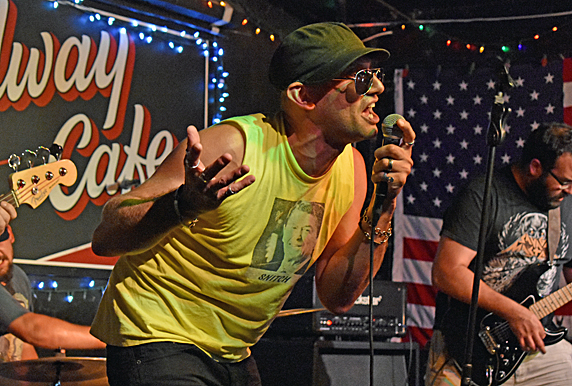 Lewd
Photo: Blowfish
Lewd
Photo: Blowfish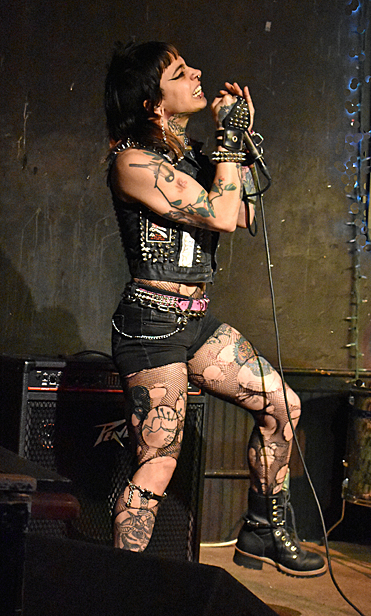 Flashback
Photo: Blowfish