The BGN News Archive
August 13, 2012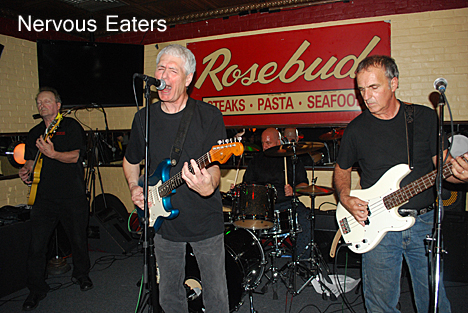 We had a big weekend folks...of course it was BC60!! Bob Colby's bday fete at TT's but Saturday we had to go to The Rosebud for a great Nervous Eaters/Billy Rath bill as well. Here's our story:
It's a hot humid August weekend and we have gigs on both days.
Saturday is a show at the Rosebud lined up by Cal Cali headlining the Nervous Eaters who sound energized, even on line in their Facebook postings.
We walk in on The New Frustrations who we haven't seen in a while. They have a good taste in covers and write neat tunes that show they learn the lessons of those songs. I think I know a lot of punk songs but am always stumped by their covers. One tonight was from a Scottish band I didn't know and another song I thought was a cover was an original. That song will be on their next 45 (Marsman likes vinyl).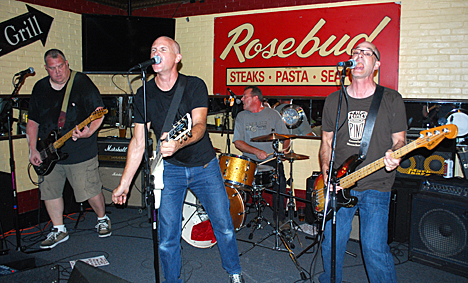 In tribute to Bob 'The Boob' Colby whose festival sized show is the next day they cover The Real Kids 'Do The Boob'. I originally thought of the song as a sort of throw away ditty but that has turned out not to be true. It's turned out to have a long life maybe because the man himself, Bob Colby, is a living legend himself.
The singer sings with the perfect phrasing and attitude and the rockin' band dishes up a great dance tune that gets everyone moving. They do an encore of The Who's Substitute and Springa jumps up on stage and gives a surprise boost to the performance.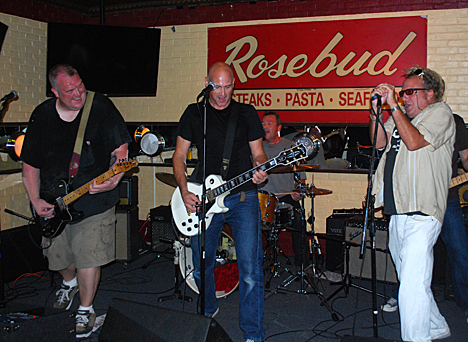 Springa looks healthier than he has in some time. He said he has a band in Chicago where he has lived for the last 20 years and has an upcoming gig with Iggy Pop.
Do you think the Cal Cali plays out enough? It seems like every week. Tonight we get a taste of JetSet. Despite their rag tag performances there is always something of note. They need some more rehearsals, even Cal says that. This time there were two notable original songs. One was a Flipper like slow dirge occasionally punctuated with a simple "Just shut up!". It worked. Another one sounded like an old punk song saying very bluntly, "I was abused as a child". I thought that was pretty amazing and hard hitting. We listen to a lot of fluff, that was a strong statement.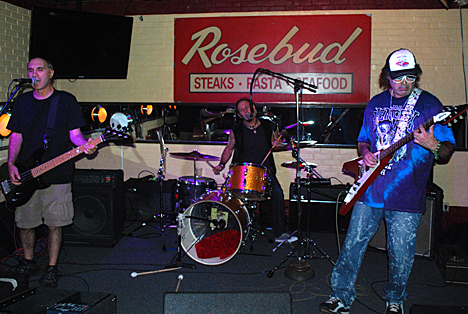 As the Nervous Eaters line up we see...could it be? Rob Skeen! For those of us from 'back in the day' seeing Rob brings it all back. He was in the original Eaters line up but has been missing in action as we have seen the Eaters go on. In fact he had told several people he would never play again! As they start playing you can hear those original bass lines and tone and his voice in the harmonies. It was a rewarding moment for us old standbys. We are glad to see him back up there on stage.
Whether it was Rob or something else, the Eaters are on fire tonight. Everyone is smiling because it's obvious. Rick Harte yells over a song that "this is the best so far" confirming it. Steve is injecting those slash and burn leads into the great songs both new and old and that's one of the great things about the Eaters, half of the set is newer songs that fit in and you want to hear just as much as the seventies ones.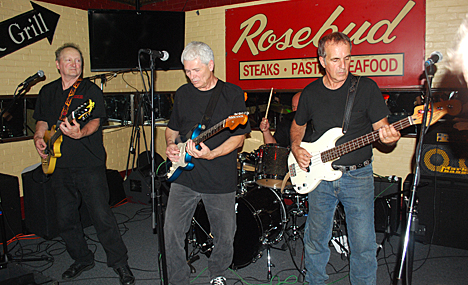 A stand out as usual was Last Chance. Jeff Erna (Drop Kick Murphy's) on drums got one part of that unique song just right and that is the unrelenting two/four on the snare. It starts at the beginning and doesn't vary right to the end about 5 minutes later. It's the personification of the fate that follows the characters in the song and by extension - us; a great song that stands by itself, a true classic. They now always include 528 in their set; a later song about The Rat. Listen to that and hear references to people and places that have come and gone and that many people in the room this night remember. It really resonated to me. I always wonder what people outside our circle hear or relate to in a song like that.
They play Shit For Brains, the losers anthem, "I've got shit for brains." The crowd was hand pumping and singing back the refrain, Steve seems very surprised to hear that and the crowd sang it louder the next time around, that was a great moment. They closed with Loretta.
One of the great sets.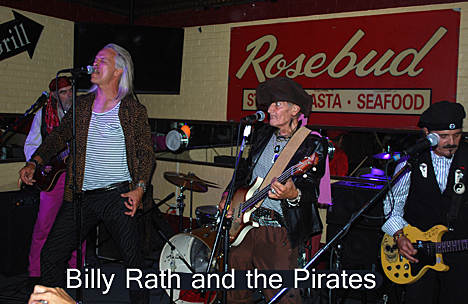 Now, tonight Billy Rath and The Street Pirates are also playing. Billy was the bass player from the original Heartbreakers. He was on the L.A.M.F. album and toured with The Heartbreakers for the Anarchy Tour in the 70's. All night we see these odd characters dressed as pirates, turns out that's the band! Now Rath in the day was a notably handsome man who had the girls swooning but a combination of illnesses has taken its toll. There is a quite a story there (here's a cool interview on Critical Mass) but what do we get tonight?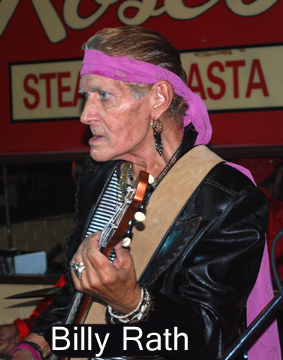 Leading the very odd collection of pirates is a lead singer with huge facial features; he looked like a combination of Mark Sandman and Klaus Kinski, very distinctive. They begin with Pipeline. One of the songs on the LAMF LP. Despite the pedestrian tune Rath does fashion a different, moving bass line but overall it's no big shakes.
The lead singer has over the top stage moves, he's a Jagger wanna be, he's entertaining enough in a freakishly odd way but I didn't find much to care about in the music. Meanwhile the crowd is hanging in there and likening it. Being a Hearbreaker carries a lot of weight to many scenesters. People love the whole Johnny Thunders world and still get off on the LAMF LP. Marsman puts that album in his Top Ten, as do many. The band seems to be the personification of rag tag/oddities....it is unfortunate that Billy can't get a better band to back him. Despite his ravaged facade he is still amazingly riveting!!
After a few songs we split. We have a potential 12 hours of music tomorrow at The Bobfest at TT's.
Now it's Sunday, it's still hot and humid.
At the Rosebud we had AC but today at TT's that's not happening. People are complaining about it....and this being a 12 hour gig we could use the comfort of the AC. That does put a crimp in the event and everyone suffers needlessly but what can you do?
Some of the people at the BC60 were at the Rosebud last night (Springa, Rick Harte, Brett Milano, Paula Worsley, Janice C., Mitch from Triple Thick) and others who were at the Mission Of Burma gig at the Beachcomber at Wellfleet yesterday (everyone said it was a great show) which means they had to get off the Cape and back to Boston. Eric Van was at MOB and never did get to sleep afterwards, he was awake for 20 hours by 4PM. Michele Meadows got stuck in Sunday bridge traffic.
We walk in on Mary Lou Lord doing an acoustic set. Her last song was especially effective with a metaphor of overflowing banks and flooding caclled Flood Warning. She gave a lot of attention to Bob as others do all day.
Bob interacts with the musicians he likes. All the acts are Colby favorites which made a love fest for Bob and good music for us. I'm often overawed by Bob's dedication and boosterism to local musicians, way beyond what I would do, and I've been on the scene since 1964, put out a fanzine for years and do this website!
About 5 PM we get one of the main draws of the day, Willie Loco. He plays piano and has Cal Cali on drums. Cal has been cloned and has one copy at every club every day - or it seems to me. Willie, who keeps a tap to the fountain of youth in an upstairs closet in his house (or however he does it) looks fantastic. He plays a handful of tunes. Pup Tune evokes the "Live at the Rat" LP and era. A version of Kerouac brings us back to the beginning of the scene itself circa 1975. Cal manages to follow and add a welcome beat. Others have made the trek up to Gloucester where Willie lives now to catch a show but I haven't so it had been a long time since I'd seen him. Chock up another coup for Bob.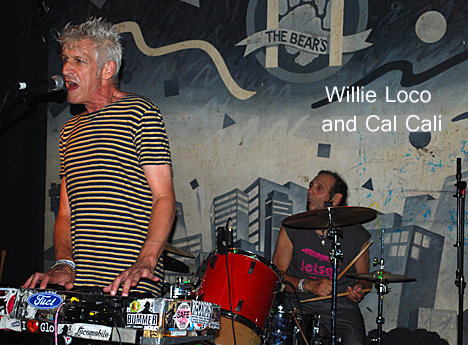 Moose and the Mudbugs are another act that hasn't played in a while especially with a whole band. Ed's on stage antics are undiminished. To quote The Fall - he's totally wired. The band is kicking pretty good as they play Crawfish With a Vengeance and Milk Crate Takeover. He says he going to do a love song. He's joking, right? No, he does one, and you know what? It's heartfelt and moving. Wow, I wasn't expecting that.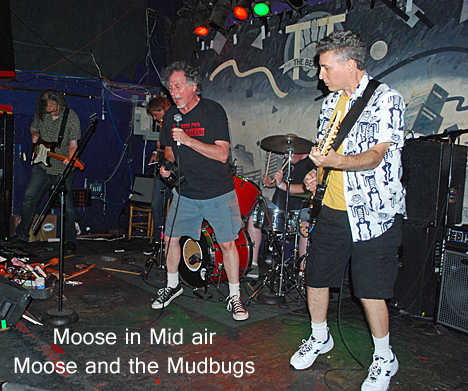 I think of Ed Moose and then: Willie, Bob Colby, Springa, Kenne Highland, Cal Cali, and on and on...do we have the characters in town or what? This city breeds them.
Now it was time for a singular event...the diner break. No gig I ever went to had a diner break. That break was for us? No, I say it was for Bob himself, otherwise he would miss an act and that's not going to happen to Bob!!
After diner or a 45 minute sweat or both, the Classic Ruins hit the stage. We're soooooooooo happy that Jeff Crane had the good sense to quit his recent job and the whole responsible life he was trying to live and get back to the important business of filling out the sound for the Ruins. They were in good form playing some of their gems. (Note: Jeff has also been to Urban Outfitters to snatch up a pair of amazingly tight jeans....looks great as does Frank in his tight jeans as well! Urban Outfitteres; go buy a pair guys!!)
Kenne Highland has been playing a few gigs. Some down in Quincy but I've missed them so here's a chance to catch up with his situation. He's got a nice band. Mike Quirk on bass is a strong player and force on stage. Rhythm guitarist Jody Moore has a sunny stage presence. Matt Burns on drums never sounded better. Kenne is a one man history of rock and that comes through on stage and in his music.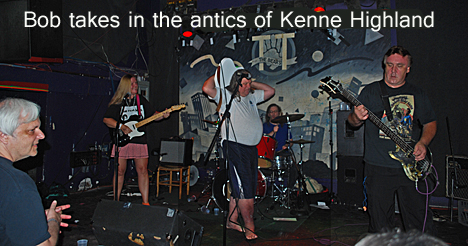 One of the things he does in his writing is to steal...OOps sorry: I mean meld older rock influences into his songs. He tells you this, very specifically to the point that as he is playing the songs he is annotating the riffs out loud. He goes, "this is from the 13th Floor Elevators second album", "and this is from Lou Reed and the Velvet Underground". It's funny and true. For years Little Richard was on talk shows and always would go on about how he invented rock and roll and everyone was stealing what he invented. Well, Kenne says, "yes, Little Richard, I did steal from you" and proceeds to play a blatant Long Tall Sally rip off. He then plays a double steal, his version of My Girl in the style of Waiting for the Man. It's hysterical off-the-wall genius stuff all the while Kenne is talking rat-a-tat rag time stuff in between songs. Very entertaining. Is that enough? Not quite.
Bob has booked the Real Kids. Ok... there's so much in play here, where do I start? You want to book the Real Kids but even if you do they would say no and even if they did say yes they would back out and even if they didn't back out they wouldn't show. So, would you bother? Maybe- only if you were Bob Colby; who is not only the number one Real Kid fan but in reality the Real Kids FIRST fan, him being there at ground zero and all.
I'm outside getting air (not much better than inside air truth be told) talking to Rick Harte (very interesting tales) when up walks John Felice. That stops everyone in their tracks because now it gonna happen. One minute later Billy Cole ambles up. He's looking good. People are now excited. Someone says, "Lock the doors" meaning, they're in there don't let them out before they play.
Well, I tell ya. It happened. They played and they played Do The Boob with Bob right there. It was special. They came for Bob and gave us all a thrill. All in all about 5 songs sounding only the way Felice can do it. You know, what do we ask for? World peace? No, just some music we like. Should be simple but often times it isn't.
This weekend we had to sweat a bit for it. I left after the Real Kids although there was hours more and more great bands to go.
Not that people didn't say it enough on Sunday...Happy Birthday Bob Colby.
Hey we got a new report from the crew at Boys From Nowhere, looks like they snagged one of THE most important interviews for their doc: "This morning BFN's amphibious division speeded over to East Boston for a shipboard interview with Jim Harold owner of the legendary Rathskeller aka the Rat. Jim talked about the Rat's beginnings, Rat Records, the great "Live at the Rat" double lp, and lots of other stuff. One of the best interviews we've done--thanks very much to Jim!" https://www.facebook.com/boysfromnowherefilm
Oh yeah Jimmy just loves his boat!! Check out our interview with Jimmy, it was on his boat as well! http://bostongroupienews.com/JimmyHarold.html
We also got a report from ELaw about The first Murder Junkies Show on their tour...at a "Gourmet Oriental" Chinese Restaurant in Weymouth ....he told us it was a special gig for a guy graduating from police academy and it was as you can imagine crazy!! There was a woman there taking photos who mid-set pulled out a single edge razor and carved the letters GG in her left breast, dipped the razor in alcohol then tastefully carved a square around the letters - seems the girl had design sense!! - then she proceeded to take the bottle of alcohol and throw pour it over the newly carved artwork....there was a chinese food buffet set up for the occasion and someone took a huge vat of fried rice and threw it at the band.....and of course, to finish off the set- Merle and crew left the stage and drummer Dino Sex played for a while longer then came out from behind the drums, pulled down his pants and stuck his drumsticks up his butt! There was no encore.....Yup sounds like true Murder Junkies action to me... check out our report of the Murder Junkies and The Jabbers for the 10th Anniversary of GG's Death. http://bostongroupienews.com/GGAllenGig.htm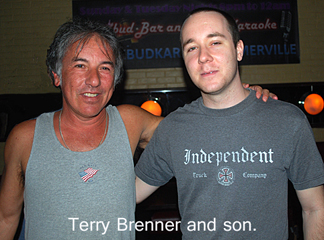 And as an added note Merle posted this info on his FB page: "Tonight at The Corktown Tavern in Detroit will be a first Murder Junkies history when Dino Sex (who just became an ordained minister today) will perform his first wedding ceremony naked on stage during our performance." And in case you are interested he adds: "Dino will also be taking booking in the very near future." So all you couples that haven't tied the knot as yet...now is you chance to make it a very special occasion!!
This Thursday over at The Rosebud Artie & the Amoebas and the Fearless Leaders are playing...The Amoebas go on at 9PM sharp by the way!! So plan accordingly! Another great show coming up: Paul Collins Band , Muck & The Mires and Electric Mess and Fat Creeps.....at Precinct!!
on August 18th It's a Hixx Summer Night at The Rosebud with Hixx, The 360's, The Illyrians and Cal Cali's New Experience and Lynette and the Longshots (which has Lynne from the Stumbleweeds up front).....
And on Sunday August 19th The Somerville Rock'n'Roll Yard Sale will be in Union Square Somerville again...this is always a great event with Vinyl records, vintage memorabilia and lots of DIY vendors...it runs 11AM t 5PM (rain date the following Sunday)
on Sunday September 2ndthere's a lot going on: Unnatural Axe will be making their ONLY Boston appearance for 2012 at Radio on September 2nd and to make it even more special he's bringing over a band called Guida...from Rome...here's their song "Number 10"
SWANS are at The Paradise October 11th!
...And of course everyone is buzzing about the Human Sexual Response reunion...All the original members...at the Paradise on Saturday, November 10th tix have finally gone on sale!!
Kickstarter projects : Hixx is working on a full length release...help 'em out here....
Ducky Boys are raising money to record a new full length 'album' Hey for $1 you get a high five from a band member and of course as the pledge amount goes up the gifts get way better!! They are within about $700.00 now!
John Surette (Boy's Life) is putting together a Punk Rock Opera called "Tomorrow The World" and his list of musicians is very impressive: The musicians and singers appearing in the Rock Opera are Johnny Blazes (the Pretty Boys), Dennis McCarthy (Ape Hangers, Prime Movers), Bo Barringer (Future Carnivores,Me and Joan Collins, BRO), David Minehan (Neighborhoods, Woolly Mammoth), Mali Sastri (Jaggery), Marnie Hall (Robin Lane), Joel Simches (Count Zero, BRO) Tee Jay (Walter Sickert and His Army of Broken Toys, Pretty Boys) a reunited BOYS LIFE!!!!! John Surette, Robert Weiner, Chris George, Neal Sugarman (Sugarman 3, Sharon Jones, Amy Winehouse). They are at the halfway mark and and need your help to finish!!!
EMAIL US AT.......misslynbgn@yahoo.com
home | interviews | photos | features |BGN issue list | reviews
links | contact us

Copyright © 2012 Paul Lovell. All rights reserved.